Living in a country where the pollution and heat are at their highest, it is very essential to give your skin a proper cleanse inside out. Charcoal and Clay, both are great ingredients to attract the junk out of our skin to deeply cleanse our pores. When I saw this product being raved by beauty enthusiastic I knew I had to try this. So after trying out ample times, in today's post, I am going to be sharing my thoughts on the L'Oreal Paris Pure Clay Mask Detoxify. Let's dig into the details without wasting any time.
What does the L'Oreal Paris Pure Clay Mask Detoxify claim to do?

New Loreal Paris Pure Clay Mask Detoxify is a 10-minute instant skin fix for an upcoming big event. It has charcoal and clay in it which gives you a fresh brightened look while cleansing your skin thoroughly.
L'Oreal Paris Pure Clay Mask Detoxify Price:
Where To Buy?  Nykaa.com and Amazon.in and various offline stores.
L'Oreal Paris Pure Clay Mask Detoxify Review
Packaging: The L'Oreal Pure Clay Mask comes in a transparent glass jar with a green plastic lid. The packaging is quite good but feels heavy and it can break and get everywhere. So this is not very great to take it during travel. The jar comes enclosed in a carton box which has the ingredient list printed on it.
Colour and Texture: The L'Oreal Paris Pure Clay Mask Detoxify is dark grey in colour and has a very thick lotion type of sticky texture, which feels kind of rough when applying onto the face. The roughness is very mild but it's definitely there.
Fragrance: The mask has a very unpleasant chemical smell which I don't like at all. It does go away after several minutes but it can cause quite a headache. Sensitive skin types may have to stay away from this product.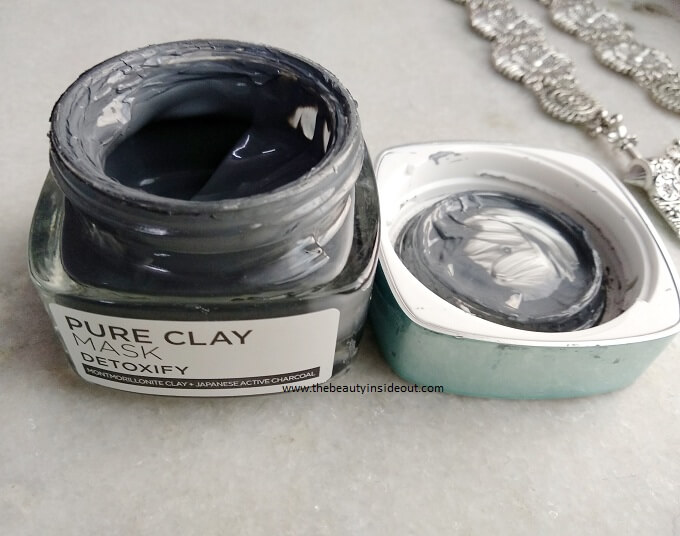 My Experience:

L'Oreal Paris Pure Clay Mask Detoxify has charcoal and clay in it which definitely helps to get rid of any traces of pollution from your face. It is great for deep pore cleansing. The first time I used this I was blown away by the reduction of blackheads and whiteheads from my face. I use this freshly washed face, after cleansing the skin with a face wash. Once the mask starts drying, it shows how much deep it got into the pores. And let's be honest that looks oddly satisfying. I leave on the L'Oreal Clay Mask on for about 10-15 minutes. I don't recommend leaving it on for too long as being a clay mask, it i s prone to dry out your skin. Myself I have very dry skin so I felt like the mask made my skin more and more dry which is the major downside. After using any clay mask, it is a must to moisturize your skin with a good moisturizing cream, be it any skin type.
My skin felt smooth and very clean after the usage. But definitely, there were no traces of brightening. For obvious reasons I looked fresh for 5 minutes but then my skin looked very dull and lifeless. The clay mask is quite expensive for a college student like me and for the quantity we get, you will go through it with less time because as I said the mask doesn't apply very smoothly so you have to put quite a lot of products to spread the product properly all over the face. Typically this mask is for someone who has oily skin, is exposed to frequent pollution and like the tightening effect on the skin. This mask certainly cleans the skin but that is all it does.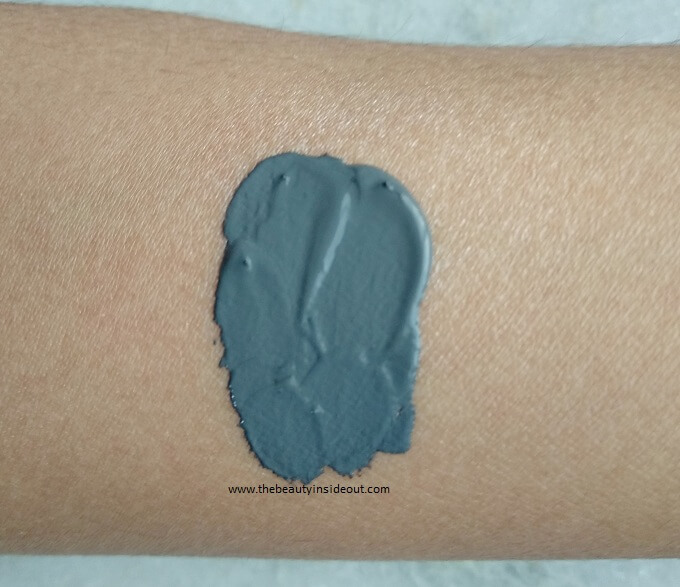 Pros:
Good for deep pore cleansing.
Reduces blackheads and whiteheads.
Availability.
Cons:
Bad chemical smell.
Less quantity, hence gets used up fast.
Rough texture.
Can dry out the skin.
No brightening effect.
Skin can look dull and lifeless after a while
Not budget friendly.
Rating:  2.5/5
Would I Recommend/ Repurchase? I am not going to repurchase but oily skin people can get this when it is on sale. An affordable yet effective clay mask that you can try is the Lotus Clay Mask.
Let me know if you have tried this in the comments section below.