In a good move to support animal welfare, India banned the import of animal tested cosmetic products in 2014 thus becoming the second cruelty-free cosmetics zone in Asia. Even though not all Indian makeup brands are offering cruelty-free makeup products, it's good to see that many brands who are endlessly working towards providing us with cruelty free options. So here is a list of Cruelty Free Makeup Brands in India. I have tried to include the Vegan Options Included.
Note that Cruelty Free Does Not Mean the product is Vegan and vice versa. The terms are explained below.
Cruelty Free : Products are not tested on animals. They may or may not contain animal by products like honey, milk, beeswax, etc.
Vegan : Products are not tested on animals and do not contain any sort of animal or animal by products.
Some of the brands that are both Vegan and Cruelty Free are listed below.
10 Vegan and Cruelty-Free Makeup Brands in India
Azafran
BeYu
Blue Heaven
Bon Organics
Coloressence
Disguise Cosmetics
Myglamm
Ruby's Organics
Plum Goodness
YBP Cosmetics
Related:
20+ Cruelty Free Makeup Brands in India 2020
1.Lotus Herbals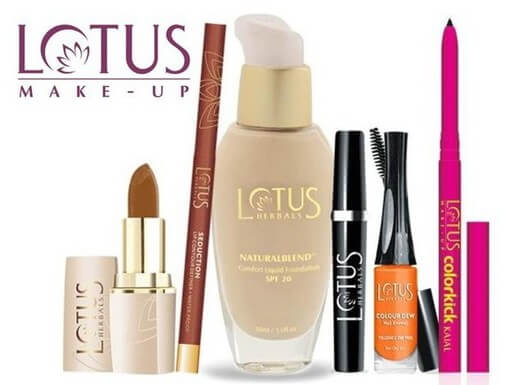 Lotus Herbals is one of India's leading natural cosmetics company started in 1993 under Mr.Kamal Passi. Best known for their sunscreens in the market, Lotus herbals offers makeup products that use herbal ingredients and are cruelty-free. This is one of the brands that has a complete range of makeup products which includes foundations, compacts, blush, lipsticks, eyeliners, kajals, eyeshadows, sindoor, nail enamels and makeup removers. Even though their foundations and compacts have limited shade range, I love that they are catered particularly for Indian skin tones. Buy their products HERE.
2.Shahnaz Husain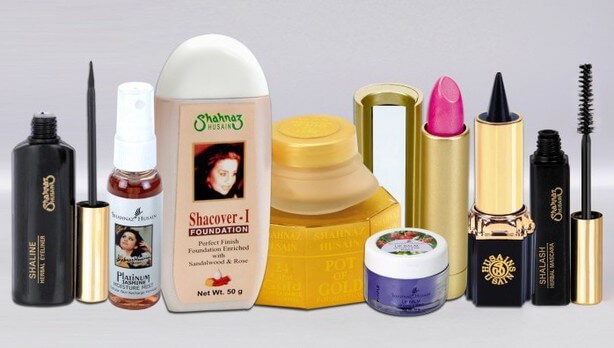 Shahnaz Husain, a pioneer in the organic beauty care industry launched her own cosmetics line that follows Ayurvedic systems and texts which has been extensively tested over the years. Recognized by PETA as cruelty-free, her products are free from animal fat, fungal free and environmental friendly. Apart from skincare products, she has her own makeup range that includes foundation, eyeliner, mascara and lipsticks. Explore their products HERE.
3.Coloressence
Coloressence from the brand of Nature's essence has its own cosmetic line for face, eyes and lips. It is a cruelty-free brand that contains no animal ingredients and are 100% vegetarian. Their range of products includes foundation, pan stick, compact powder, loose powder, blusher, lipsticks, kajal, eye shadow pencil, eyeliner, mascara, face and body illuminator. Their products are super affordable making it easy on the pocket for every college goers. Coloressence was one of the first brands I tried when I started using makeup as a beginner. Explore more HERE.
4.Colorbar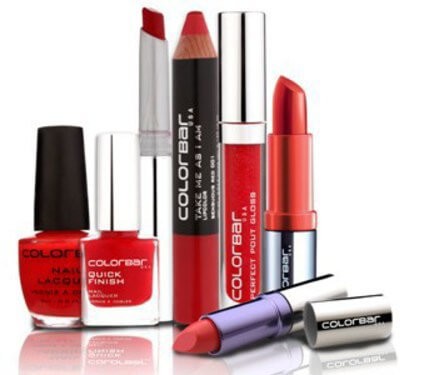 Often perceived as a brand from USA, Colorbar is one of the most popular cosmetics brand from our very own land that gives heads up competition for Revlon, L'oreal and Maybelline. The brand's founder Samir Modi have stated that they do not test their products on animals nor have suppliers who test on animals when the ban was announced in 2014. Colorbar offers full range of makeup products from primers to eye shadow pencils to lipsticks. Their products are easily available on their exclusive counters as well as online. Find their products HERE.
5.Iba halal
After intensive research for 2 years, sisters Mauli and Grishma Teli launched Iba halal care in 2014. It is India's first halal certified cosmetics company which is considered to be pure and safe. Their cosmetics are completely organic, alcohol free, free from animal fat and animal derived products such as keratin, gelatine and collagen. They do not test their products on animals and are completely vegan. They offer basic makeup products such as liquid foundation, kajal and lipsticks at a very affordable price. Buy them HERE.
6.Soultree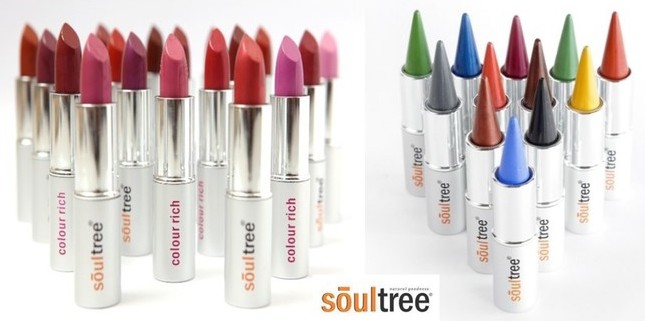 Soultree is a certified natural brand that predominantly offers skincare products. They have an exclusive range called Mohini that offers 12 colorful kohl kajals and 19 lipsticks made from ingredients that are obtained from organic farming. These are absolutely free from lead, dyes, artificial colors, petrochemical carbon and animal fat carbon. Find them HERE.
7.Bio Organics & Natural (BON)
With an aim to provide an alternative to chemical makeup, BON introduced an eye-shadow made of interesting ingredients such as Activated Charcoal of Bamboo, Cocoa Powder and Shea butter all of which are Certified Organic. It is multi-purpose product which can be used not only as an eye-shadow but also as brow filler and eyeliner. These are 100% natural and handmade. It is available in two shades Earthy which is beautiful brown and Midnight which is jet black.
8.Plum Goodness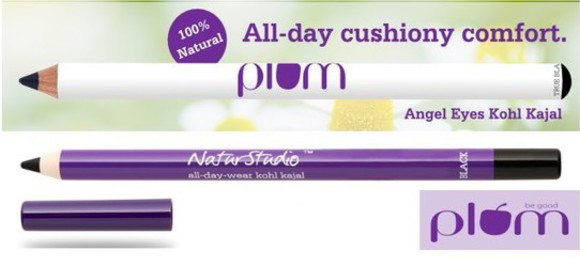 Founded by a chemical engineer in 2013, Plum Goodness have been doing the rounds in the blogosphere for their natural kajal. Plum Goodness offers two varieties of kajal – Angel Eyes Kohl Kajal and NaturStudio All Day Wear Kohl Kajal, both of which are a hit among many kajal lovers. These are 100% natural, free of chemicals and not tested on animals. Buy their products HERE.
9.Blue Heaven Cosmetics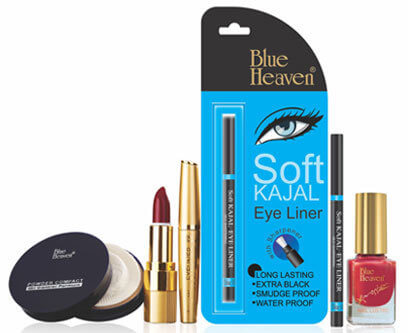 Started by two young brothers Mr.Charanjit Singh and Mr.Gurnam Singh in 1974, this is one of the most affordable cruelty free brands of India. Their products are super cheap that can be a possession of every college goers and beginners. They have a huge selection of products from sindhoor to foundations to nail paints. Explore their entire range of products HERE.
10. Nykaa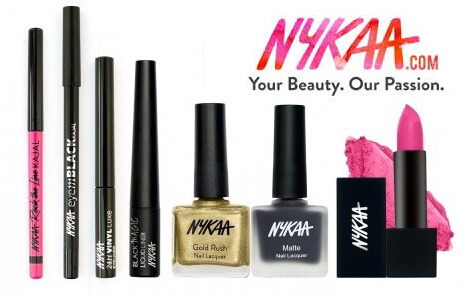 Nykaa, an e-commerce store that was started in 2012, recently launched their own in-house products. Their products were an instant hit among many young ladies. Nykaa.com houses nail paints,matte lipsticks, eyeliners and kajals. They consistently add on shades to their already existing collection which is why everyone loves them a lot. Explore them HERE.
11. Sugar Cosmetics
Many of you would have thought that Sugar Cosmetics is an international brand. But it isn't. Sugar Cosmetics is a Mumbai Based Brand hailing from the same house of the popular Beauty subscription box – Fab Bag. Sugar Cosmetics has quickly gained the loyalty of customers with their high quality cruelty free products. They have a complete range of makeup ranging from foundations to eye shadows to lip crayons. The brand frequently launches new products every now and then. This is also a brand that I would personally recommend trying it out as their products are so good. Explore their entire range of products HERE.
12.Ruby's Organics
Ruby's Organics is the only Made in India Organic, Cruelty-Free Makeup Brand that provides us with makeup staples made devoid of chemicals. They provide Paraben Free and 100% vegetarian makeup. Their products are infused with Natural Clays, Butters and Bio-Active oils which go beyond makeup and provides value added skincare benefits. Ruby's Organics specializes in designing makeup to suit our Indian Skin Tones and Textures as well. There is no reason why you shouldn't try this organic brand. Their product range includes Concealers, Blushes, Lip Crayons and so on. Explore their entire range of products HERE.
13. Azafran Organics
14. Barva Skin Therapie
15. Bella Voste
16. Disguise Cosmetics
17. Eyetex Dazler
18. Myglamm
19.NELF
20. Seasoul Cosmetics
21. YBP Cosmetics
22. Gala Of London
I hope you find this post useful. If you know any other Indian Brands that offers cruelty-free makeup products, feel free to comment and share your thoughts in the comments section below.


Looking for other similar posts?