Lakme is a household name in India. Most of us actually got into makeup and skincare through Lakme. While the performance and ingredients of Lakme skincare never really wowed me, I feel nostalgic and open to have a newer perspective every now and then. Lakme with its affordable price and availability gives us much bigger exposure than most brands. Needless to say in this Covid lockdown I finished all my moisturizers and desperately needed something for my dry skin. I've used Lakme moisturizers in the past and they didn't break me out so I decided to get this Lakme Peach Milk Moisturizer Soft Cream. Read on to know my experience with this product.
Product Description:
Lakme Peach Milk Soft Cream is enriched with Peach Extracts and Vitamin E which gives hydration and a lightweight feel. Its new special formula has the ability of 24-hour moisture lock to give a soft glowing look all day long.
Lakme Peach Milk Soft Cream Ingredients: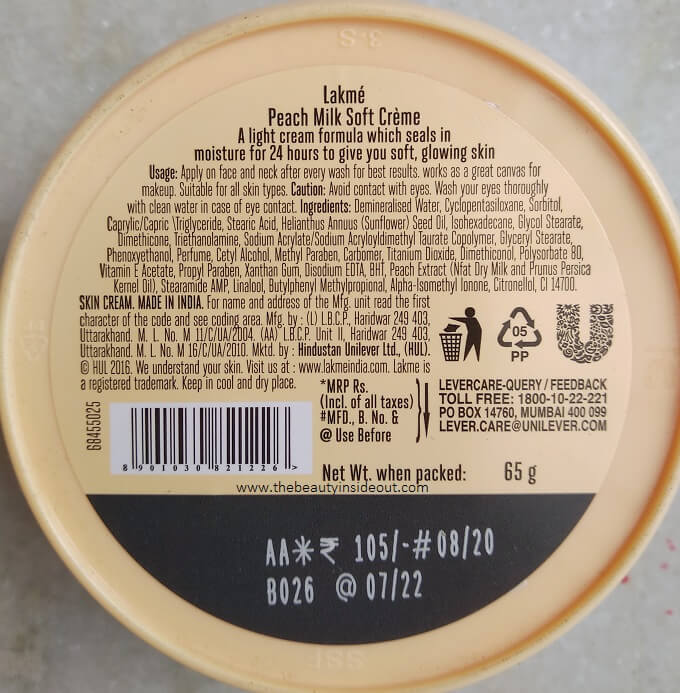 Lakme Peach Milk Moisturizer Price: 
Lakme Peach Milk Moisturizer Soft Cream Review
Packaging: The Lakme Peach Milk Soft Cream comes in a plastic peach & crème colored tub. All the ingredient lists and manufacturing details are mentioned on the back of the tub. I actually like the tub packaging, except for the fact that I have to use my finger every single time you use this.
Texture: It has a very thin gel-like crème texture that feels very soft on the skin. I apply it on damp skin and it gets absorbed like nobody's business. It doesn't feel oily but rather hydrates my skin well and gives a dewy look. However, my skin feels fresh and glowy for 5-10 minutes, and then it goes back to its own dull and lifeless nature. The moisturizer works well in combination with other products. Makeup goes on smoothly on top of this and my sunscreen doesn't pill.
Fragrance: It has the signature scent of the Lakme Peach Milk Moisturizer range. It definitely smells artificial but it's not overpowering, although it stays for quite some time on the skin. The scent has a sweet undertone. Personally, it doesn't bother me much, but someone with sensitive skin may find it bothersome.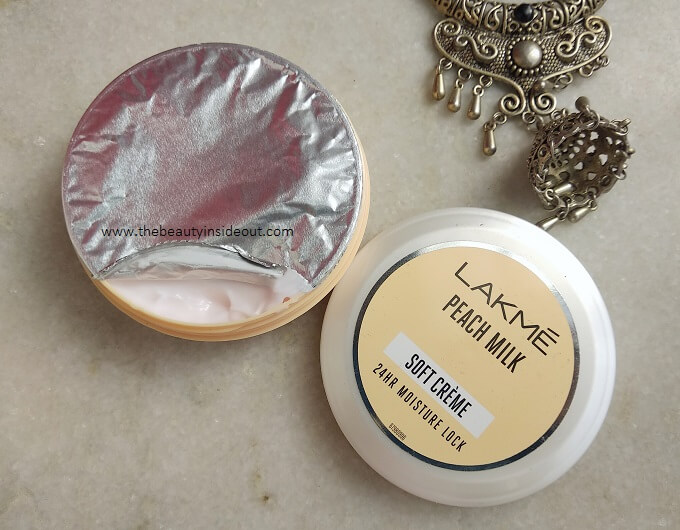 Efficacy:
The Lakme Peach Milk Soft Cream doesn't have impressive ingredients, except for the Vitamin E and Peach Extract. Both of which are listed way below in the ingredient list, which usually means they are in lower concentrations. But still with the ingredient list alone, one cannot decide its efficacy, formulation matters. So I gave this product a try, much to my disappointment.
For me, the Lakme Peach Milk Soft Cream was a mediocre product. Yes, it does moisturize my skin with a non-sticky feel. However, it did make my skin feel dry halfway through the day, despite using way more quantity than I use my other creams. I had to use another moisturizer for better hydration. I think oily skin people will have better use out of this. I currently use this as a layering product to boost hydration in general. I didn't like how this cream my skin look dull and lifeless after a while. Overall I would skip this moisturizer.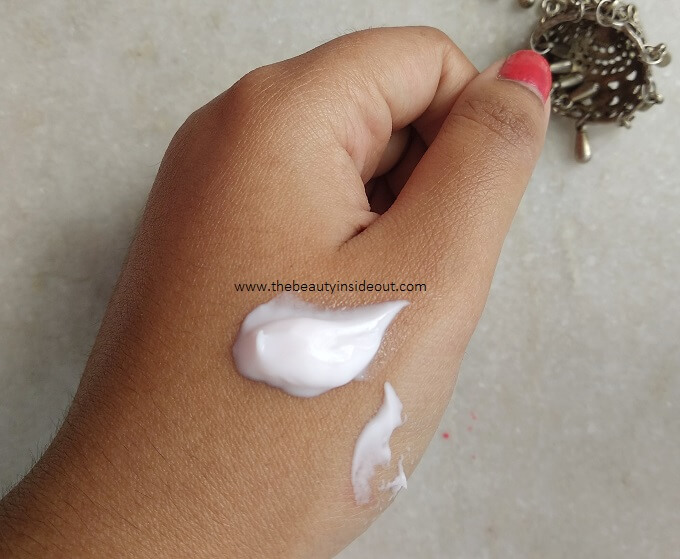 Pros:
Non-sticky lightweight feel.
Provides good hydration.
Skin feels fresh upon application.
Goes well under makeup.
Easily available everywhere.
Cons:
Mediocre ingredients.
No antioxidant effects.
Not hydrating enough for nighttime routine and dry skin.
Contains fragrance.
Rating: 3.5/5
Would I recommend it? No, I don't recommend this product.