"If I had to teach someone just one thing about lip colour, it would be this: Find a lipstick that looks good on your face when you are wearing absolutely no makeup." says Makeup Artist, Bobbi Brown. I have been totally obsessed with lipsticks. I think one can carry a bold "red lip" and just be a show stopper at any place any time. This time I decided to warm it up a bit with this "red under-tone" Freedom Makeup London Pro Lipstick in RED 108 Expression. Freedom Makeup London is a cosmetics brand from London which has some affordable range of beauty products. I had used Freedom Pro Highlighter and was mesmerized with the glow that product gave to my cheeks. When I came across this lipstick, I was in as it appeared to me more like a cherry red lipstick. I am one of those who would love to wear a 'bold cherry red lipstick'. Let's find out how this shade turned out!
Product Description:
Freedom Makeup London Pro Lipstick is a Professional Lipstick that deliver on colour and impact. Perfect for experimenting with colour or to have your favourite shades always handy. Swiping on this lipstick makes you feel beautiful and confidence.
Ingredients: Not mentioned.
Price: Rs 450/- for 3.5g
My take on Freedom Makeup London Pro Lipstick:
Packaging: Freedom Makeup London Pro Lipstick comes in a basic black lipstick tube. It has a durable packaging and the size of the product makes it quite travel friendly, as it can slip in your bag easily. The black bullet packaging makes it really classy and reminds me of those old Revlon Lipsticks. I was simply in love with them and I loved the packaging of this product as well.
Shade: Red 108 Expression is a cherry red shade that has a creamy-glossy finish. It appears to be dark cherry red from the outside. However, on application it gives a light cherry red shade. It has to be re-applied again to build up the colour. I tend to use it on my red or black lip liner in order to get the dark lip-shade that I need for this season.
Texture: It has a creamy formula hence it glides on smoothly on my lips. The brand claims that this lipstick hydrates and moisturizes the lips as it contains "argan oil". True to that, it quite moisturizing on my lips; therefore, they appear glossier and making me look younger.
Application: I usually moisturize my lips well before applying any lipstick. But since this product contains Argan oil, I didn't require it. You can apply it directly from the bullet or use a brush for defined lips. Sometimes I like to line my lips with a black lip liner, and contour my lips in order to make this lip shade more appealing dark red shade. When I'm not in for a glossy finish, I top it off with a setting powder for a matt finished look.
Staying Power: Freedom Makeup London Pro Lipstick has an average staying power. Since reds have so much pigment that it's easy for them to stick on, this color tends to stay on. I have worn it for evening parties and it almost survives eating, the inner edges of the lipstick do wipe off, but the rest is ok; still I would reapply after 3-4 hours.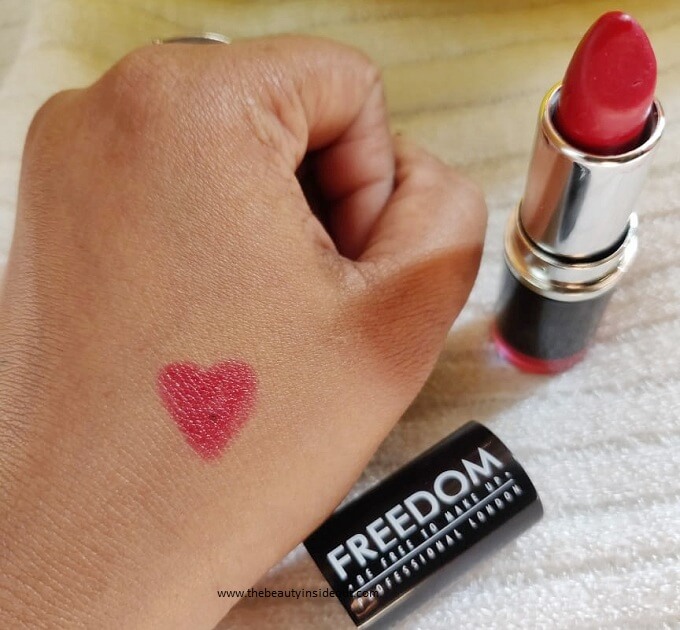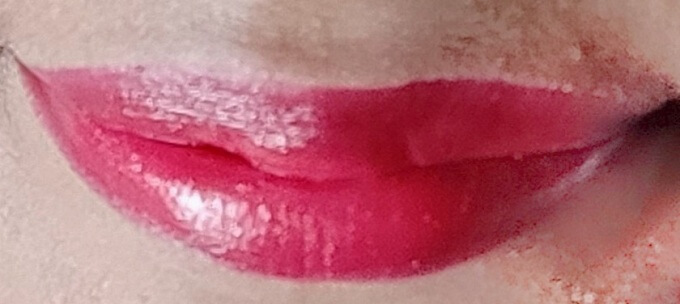 Pros:
Affordable price.
Argan Oil keeps the lips moisturized
Nice shade range.
Easy to apply.
Cons:
Available only online.
Average Staying Power.
Would I recommend? I must say it is a value for money! With a price tag like this you get a professional brand. It has an elegant packaging. It is for all my beauties who love to wear lipstick over and above any other make-up. The moment you apply it is gives a youthful glow on your face. It works well with my olive skin tone. I will recommend this product for girls looking for an affordable red to pinkish colour lipstick. The beauties who are obsessed with matt red lipstick, it is not the right kind of red you might me looking for.
Rating: 3/5
Have a great day! I hope the review helps you.
Guest Author: Madhumita