We'll see a quick review of this widely available face wash from Ponds. This Ponds Pimple Clear Face Wash is promoted to reduce pimple in just 3 days. Sounds too good to be true. Anyways, let's get into the details first.
Product Description:
This face wash, with active Thymo-T Essence strengthens skin and offers pimple sufferers beautifully smooth, clearer skin in just three days.
Price: Rs.75 for 50 gms.
Ingredients: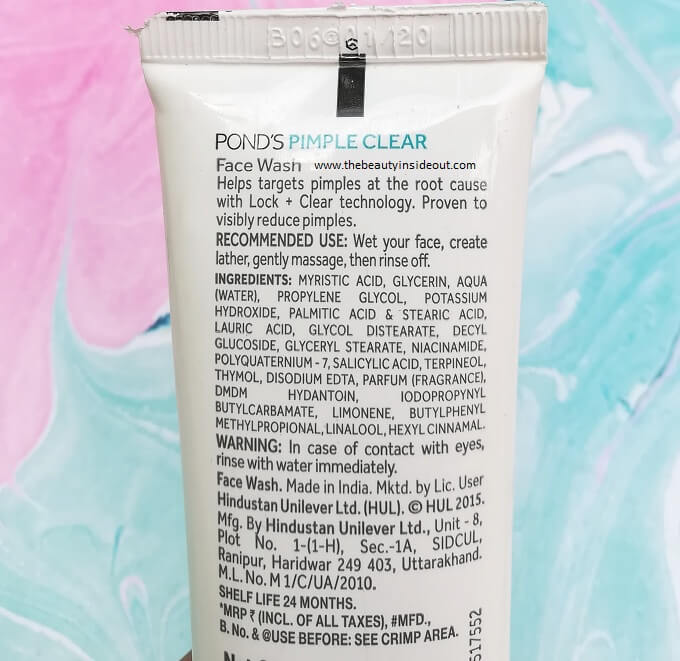 How to use Ponds Pimple Clear Face Wash?
Just like any other face wash, take a little of the product, rub in between your fingers and gently massage for a minute or two on damp skin.
Rinse thoroughly and pat dry.
My take on Ponds Pimple Clear Face Wash:
Ingredients Analysis: It contains some good acne fighting ingredients – Salicylic Acid, Niacinamide and Thymol. On the other side, the first ingredient Myristic Acid is a pore clogging ingredient with a high comedogenic rating. Ponds Pimple Clear Face Wash also contains some not so good ingredients like Parfum (Fragrance), DMDM Hydantoin (a formaldehyde) and Disodium EDTA.
Packaging: Ponds Pimple Clear Face Wash comes in a basic white plastic tube with a flip cap. The product packaging is very handy and travel friendly as well. It holds necessary details about the face wash on the back of the tube.
Color, Texture & Fragrance: Ponds Pimple Clear Face Wash is a pearly white colored creamy face wash. The scent is similar to its counterpart Ponds Pimple Clear Leave On Expert Face Gel. It has a synthetic floral fragrance which is a bit bold but vanes away soon after rinsing.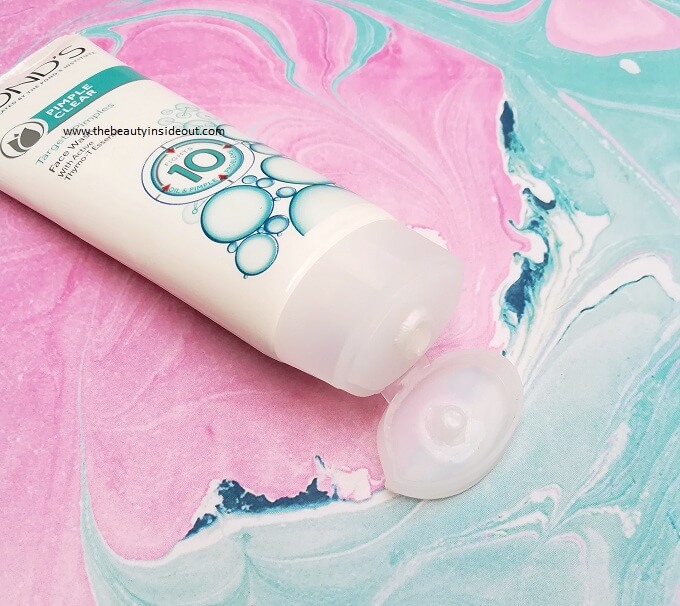 Experience: This is a product that was picked up and used by my husband. He used it for two weeks and has been complaining about the random pimples popping out after starting this face wash. He says this face wash doesn't do anything for existing pimples but only causes new pimples!
Personally, I have moved away from using such conventional face washes. I have used this face wash just once to see how it feels like. To me, it has the same feel and after effects of other Ponds Face Washes, with a difference in the scent. The face wash forms a creamy lather and a tiny dollup is more than enough for cleansing. Surely it removes oils and impurities from the skin giving a squeaky clean feel. But it is stripping and the skin feels tight and dry after cleansing. The common thing that I don't like about Ponds Face Washes is the after cleanse feel which doesn't give a plump or soft to touch skin, but a mattified flat skin. One would certainly feel the harshness of this face wash. If at all, you plan to get this, I would highly recommend using a good moisturizer thereafter.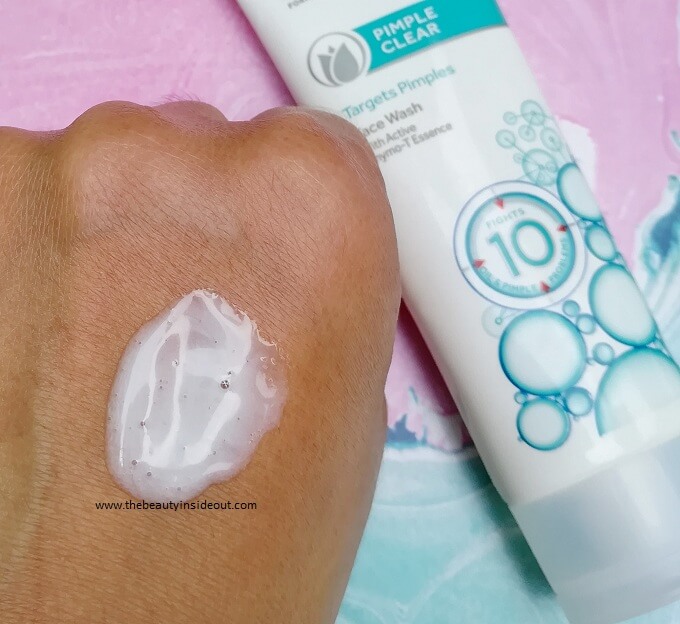 Pros:
Budget Friendly.
Easily available.
Contains acne fighting ingredient Salicylic Acid.
Gives a squeaky clean skin.
Cons:
Is not a gentle face wash.
Very drying on the skin.
Does not clear pimples in 3 days (as per claims)!
Rating: 2/5
Would I recommend? No, the Ponds Pimple Clear Face Wash is too harsh and does not aid in acne healing. If you have been looking for a pimple face wash in the same price range (budget friendly), I recommend trying out the Himalaya Neem Face Wash.
Do let us know your experience with the Ponds Pimple Clear Face Wash in the comments section below.