Last week I shared my mixed thoughts on the Laneige Water Sleeping Mask and now I'm up with a review of the Laneige Lip Sleeping Mask. The Lip Sleeping Mask is as popular as the Water Sleeping Mask and has been loved by most consumers. Let's see how this worked for me. For those who don't know I got these from BeautyBarn, a website that sells authentic Korean Beauty Products in India.
Laneige Lip Sleeping Mask Benefits:

Laneige Lip Sleeping Mask is a leave-on lip mask that soothes and moisturizes for smoother, more supple lips.
Lip Sleeping Mask has a softening balm texture that closely adheres to lips for quick absorption.
Enriched with vitamin C and antioxidants, its Berry Mix Complex™ offers a nutritiously sweet and fragrant blend of raspberry, strawberry, cranberry, and blueberry extracts to indulge the senses.
Exclusive Moisture Wrap™ technology boasts hyaluronic acid and minerals to form a protective film over the lips to lock in moisture and active ingredients.
A generous layer of this soothing mask at bedtime helps reduce flakiness so you can wake up to lips that feel refreshed, supple, and soft to the touch.
Laneige Lip Sleeping Mask Variants:
It's available in 4 variants.
Berry
Apple Lime
Grapefruit
Mint Choco
Laneige Lip Sleeping Mask Ingredients:
The ingredient list of this mask is long enough, with ingredients that I don't want to ingest. Some (unwanted) notable ingredients include Alcohol, Fragrance, Silicone, and Cosmetics Colorants. The Lip Mask contains three types of waxes and some nourishing ingredients like Shea Butter, Glycerin, Sodium Hyaluronate, and a couple of Fruit extracts (Cranberry, Strawberry, Raspberry, Blueberry).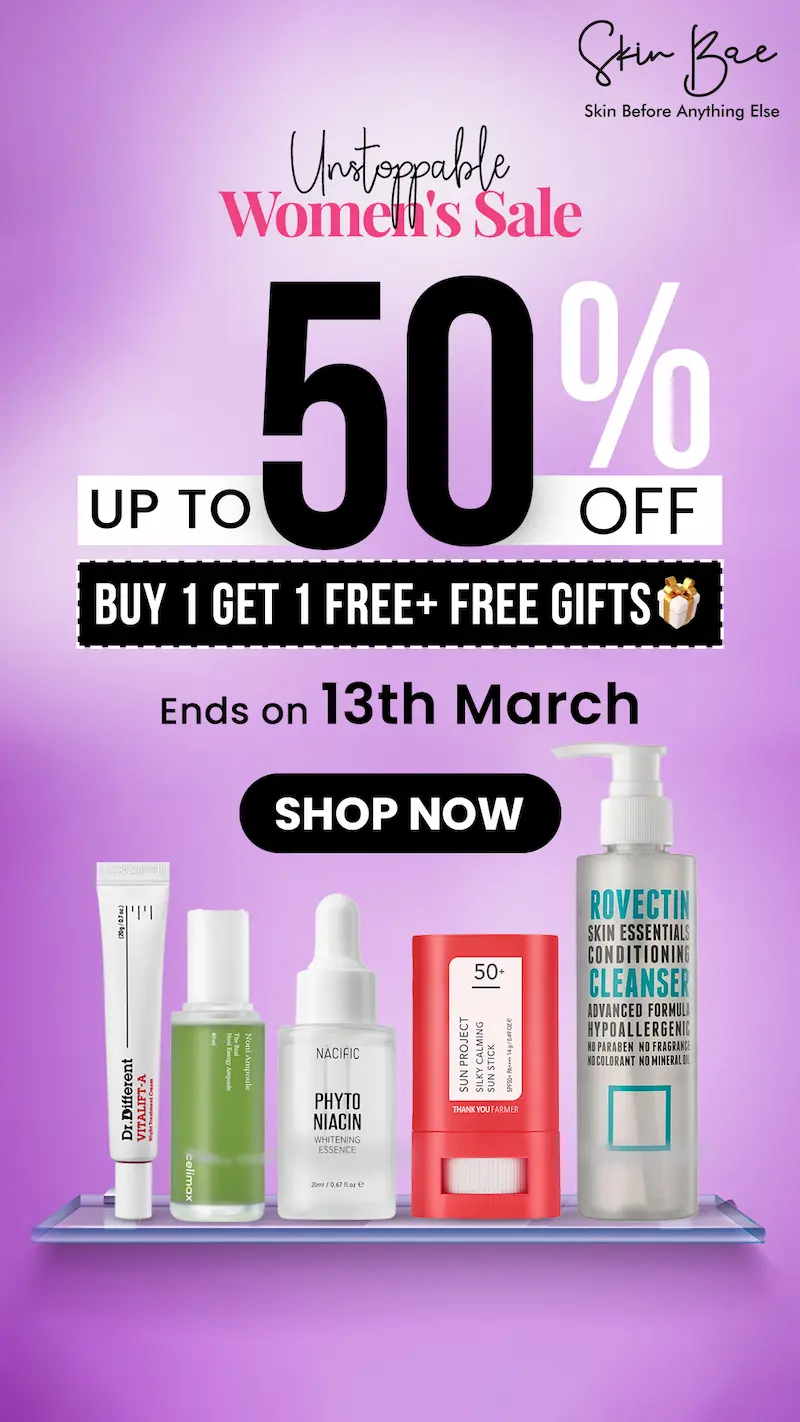 Laneige Lip Sleeping Mask Price:
8gm – 500 INR
20gm -1150 INR
Laneige Lip Sleeping Mask Review:
Packaging: The Laneige Lip Sleeping Mask comes in an attractive peachy pink-colored, frosty glass jar. It comes along with a sponge applicator, so no issues with 'dipping the finger into the jar'. The smaller sizes do come in travel-friendly plastic tubs. So get the one according to your preference. If it's your first time using the product, I suggest getting the travel sizes first and then move on to buy the full size.
Fragrance: The Laneige Lip Sleeping Mask has an intense fruity fragrance. Reminds me of some chewing gum. The scent is certainly bold but doesn't last long enough once applied on the lips.
Texture & Feel: This is a lip mask, so indeed it's heavy. It has a super thick texture that feels like gum. It does have a waxy texture and has that stickiness and heaviness as well. The look & feel of the lip mask gives the notion of being super moisturizing.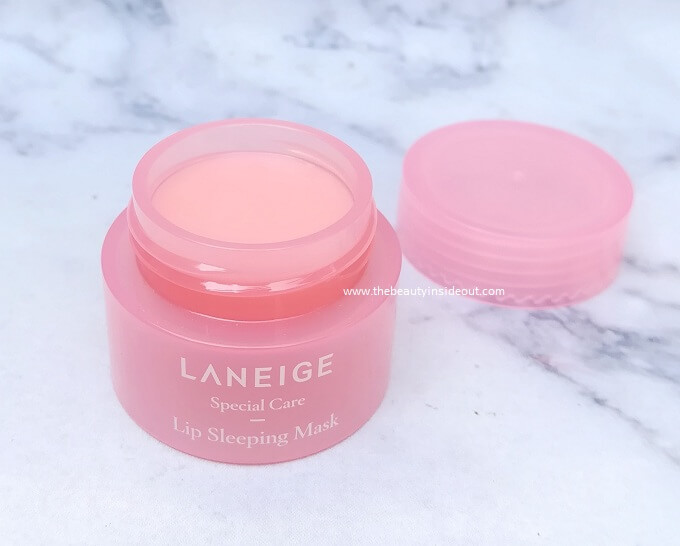 My Experience:



I have dry lips in general which get super dry during the colder months, to the extent that it gets cracked and bleeds when I wake up in the morning. Most lip balms prevented my lips from getting chapped but couldn't provide me the plumped-up lips and this Lip Mask was no different.
I've used this Lip Mask regularly for over a period of two months. I put this as the last thing before heading to bed since it's heavy and sits there on top of the lips (which is obvious since it's a mask and I'm ok with that). The mask has a moisturizing effect that doesn't last long. It didn't impart the softness and plumpness that I expected. When I wake up, some days the mask kind of sits there dried eventually making my lips dry. On other days, I did wake up with a waxy residue. Many times, this lip mask didn't help to keep my lips softer or smoother. I did apply the lip mask on moist lips rather than dry lips. On the positive side, it prevented my lips from getting chapped.
I had tried using this as a lip balm during day times and it served like any other lip balm keeping my lips hydrated for no longer than 3 hours. The only way I like to use this lip mask is before lipstick application. I apply a thick layer, let it there for some time, and then wipe off excess. This prevents dryness caused by mattifying/liquid lipsticks.
The Laneige Lip Sleeping Mask did not plump up the lips as I expected and it does not lighten dark lips as presumed by many. Overall, I feel this Laneige Lip Sleeping Mask will work for Normal to Dry Lips, but not for Crack Prone Lips. The weather also plays a major role in this product. It didn't work on dry, colder climates whereas it worked well for me on warmer nights.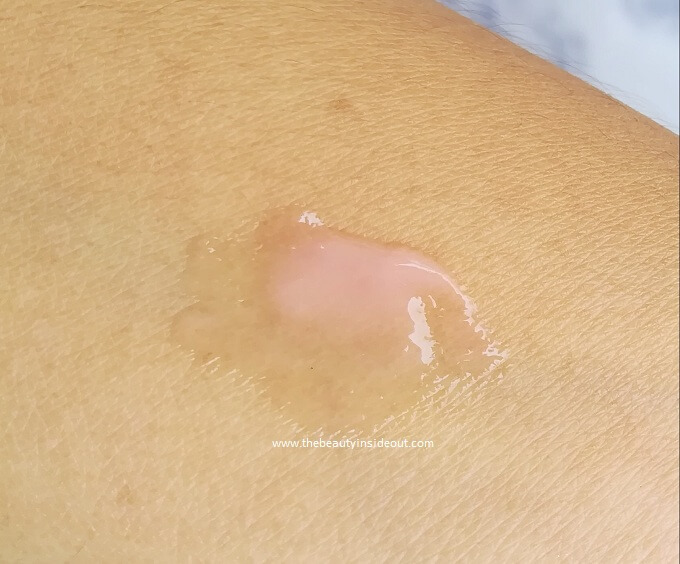 Pros:
Available in various sizes.
Thick enough to work as a lip mask.
Moisturizes lips.
Prevents cracking of lips.
Cons:
Does not provide intense nourishment.
Not cost effective.
No extraordinary results.
Too many fillers like Alcohol, Silicones & Fragrances.
Rating: 3.5/5
Would I recommend? Sadly I wasn't impressed with its performance. So No I don't recommend this, although this has been a cult favourite for many.