Contour is a make -up technique where we use a matte powder, liquid, cream, or stick product that's a few shades darker than your skin tone to shade areas you'd like to define or reshape, like your nose, forehead, chin, and cheekbones in order to give it the perfect oval shape. I personally love a structured face although I do have an oval face; however, I like my cheekbones and jaw-line to be more defined and have a glow throughout the day. LA Girl Pro Contour Powder is an awesome product for beginners if you are looking to learn contour and highlight your face at an affordable price and as a daily wear. I saw the product on Nykaa and I couldn't stop myself from buying it. I am  a matt finish contour powder user and I was previously using Makeup Revolution Contour and Highlight Palette. When I saw this product at the same price I couldn't resist! Let's read how it works.
Product Description:
Contouring made easy with color coordinated shades. Available in 8 cream and 8 powder duos. Buttery, soft formula melts into skin for a natural finish. The smooth powder formula blends beautifully for a flawless-looking contour. Cream and powder can be used together or separately. Be sure to try the additional shimmery highlight-contour palette available in both formulas.
Shades:
There are eight shades for all skin tones; therefore, it has universal appeal.
Fair – For ivory skin tones
Light – For pale skin tones
Natural – For medium skin tones
Medium – For light to medium skin tones
Tan – For medium to dark skin tones
Medium-Deep – For medium to dark skin tones
Deep – For dark skin tones
Highlight/Bronzer – A light bronzing and highlighting powder
Ingredients: Talc, Mica, Magnesium Stearate,Dimethicone, Ethylhexyl Palmitate, Polyisobutene, Silica, Synthetic Wax, Phenoxyethanol, Ethylhexylglycerin, Mineral Oil (Paraffinum Liquidum).
Price: Price: INR 675 for 5.6 gm (value for money)
My take on LA Girl Pro Contour Powder:
Packaging: LA Girl Pro Contour Powder comes in a simple rectangular case, there is no mirror or applicator. However, it is good for travel because the box is solid and does not break easily; therefore, it is travel friendly. It has a fiber flap open lid. The box inside has a division which has the highlighter on top and the contour powder below it.
Texture: The powders has a smooth texture and gives a matt look. A little goes a long way, since it is highly pigmented. One needs to take a little bit on the brush and blend it to areas that you want to shade and give a structured look to your face. The highlighter shade is so matt that it works very well as a setting powder.
Performance: Texture, Formula and Pigmentation is perfect. It is a blessing for the beginners as it is the right kind of matt powder that you need for your eye make contour, as I mentioned earlier  it works awesome when taken in less quantity so you can blend it easily. It gives a perfect matt finish look and the highlighter is awesome. Since it doesn't have shimmer in it, it is wearable on a daily basis.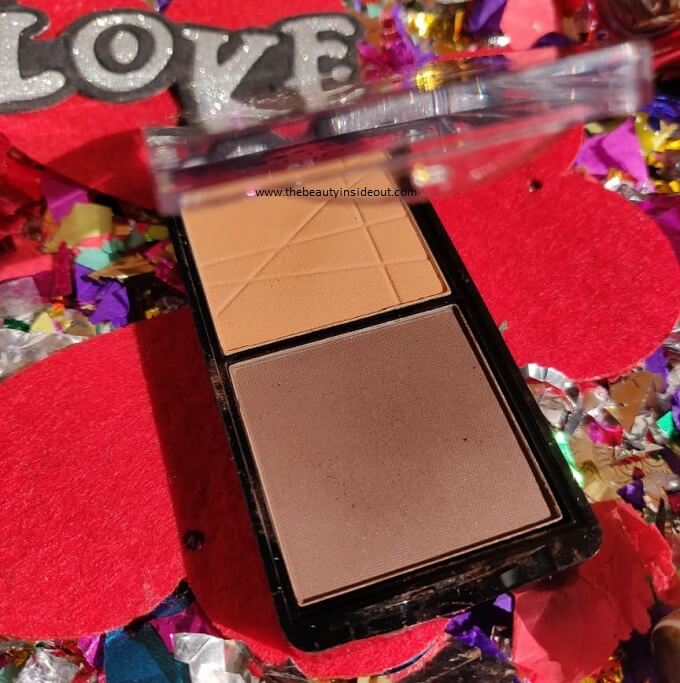 How to use? Best apply with a contour brush. Though it blends quiet easily but with the brush it gives an air brush finish to the entire make up look. And with the beauty blender, it can be blended again for a nice finished look, it becomes a savior just in case you have used too much of the contour shade. So, again best you should apply it using a brush and then blending with a beauty blender. Use the "matt contour shade" to contour the hollows of your cheeks, the nose, jaw-line and forehead. You can use the highlighter shade for the –cheekbones, bridge of the nose, temples and cupid's bow.
Staying power: It lasts on me for 5 hours when worn alone. It can last up to 7-8 hours, if you fix it with a fix plus setting spray on a base/foundation. I wear it with my Maybelline Fit Me Matte Foundation in Sun Beige; it complements the entire make up with the matt finish that this powder contour provides. I have been complimented that you actually look slimmer than you actually are in your pictures… and I am like yah! That is the magic of this contour powder.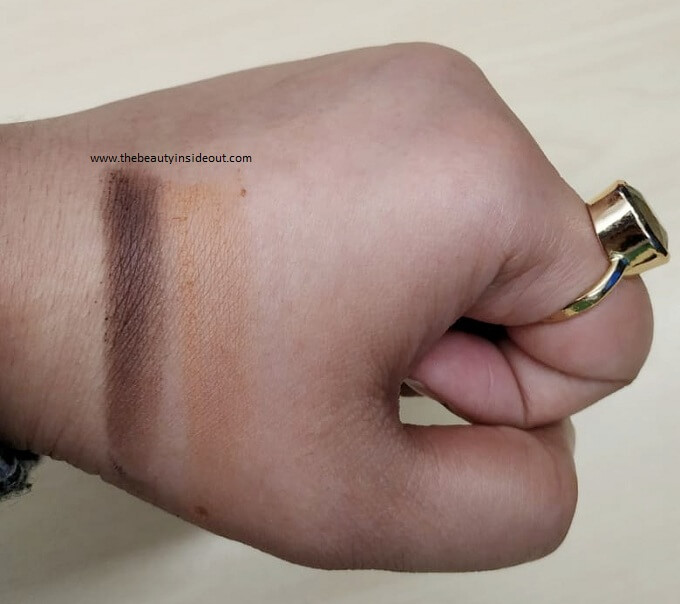 Pros:
Friendly packaging.
Shades for all skin tone.
Application is super easy.
Matt finish awesome for contour.
Amazing texture and pigmentation.
Good staying power.
LA Girl is affordable brand.
Great for all skin tones.
Cons:
Quantity is less.
Should have had a mirror in the packaging.
Available only on some web site.
Rating: 4/5
Will I repurchase? Yes! I would definitely purchase this product. It is a bomb.com! For such an affordable price you get a duo of contour and highlighter as per the Indian skin tones. It is an awesome product for beginners. It is meant for regular use for all my beauties out there who love to wear sculpted look and get a gorgeous glow to your face like me. Overall, I am in love with the pigmentation and travel friendly packaging of the product.
Guest Author: Madhumita