Today's review is about a product from an immensely trusted skincare brand, Cetaphil. Used by millions of users worldwide, Cetaphil Products are clinically proven and recommended by dermatologists. They have numerous products that are effective for all skin types including infants. I am going to share my experience with a moisturizer for sensitive skin from the brand, which is the Cetaphil DAM Daily Advance Ultra Hydrating Lotion in this post.
Product Description:
Cetaphil DAM is an Ultra-hydrating lotion is formulated to hydrate and protect dry and sensitive skin for 24 hours. This soft and fragrance-free moisturizer contains Epidermal Replenishing Complex5 (ERC-5 ), a unique combination of 5 ingredients that instantly replenishes dry skin yielding smooth, soft, and nourished through the course of the day.
Ingredients: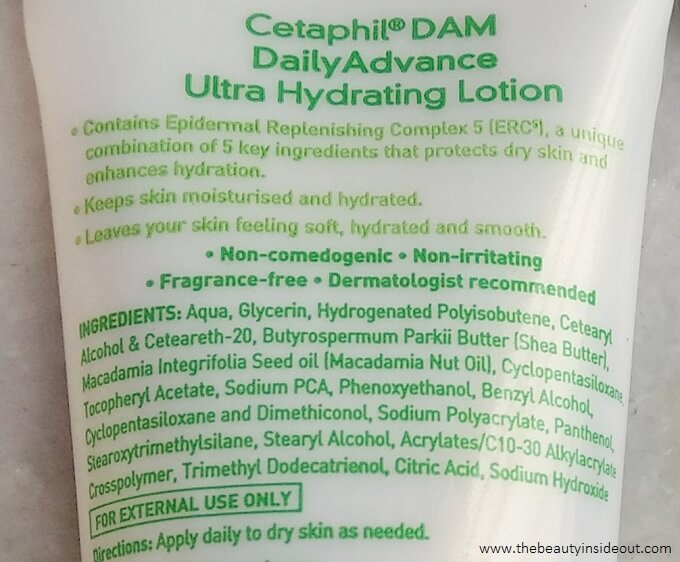 It has got some great anti-oxidant and skin-soothing ingredients such as Glycerin, Vitamin E, Panthenol, and Sodium PCA.
Cetaphil DAM Lotion Price:
Rs. 195 for 30 gms
Rs. 435 for 100gms.
Cetaphil DAM Daily Advance Ultra Hydrating Lotion Review
Packaging: Cetaphil has various creams and lotions which may look identical in packaging. But each one has different ingredients and serves different skin types & conditions. The Cetaphil DAM Lotion is available in both small and large sizes. The small ones come in a tube with a flip cap which is great for travel, whereas the bigger ones come with a pump dispenser. The nozzle on both bottles is small that aims for an appropriate amount of lotion to be scraped from the bottle when you squeeze it.
Texture: The lotion has a white creamy texture. It glides smoothly and gets absorbed in the skin quickly.
Fragrance: Cetaphil DAM Lotion is fragrance-free, that is it doesn't contain any added fragrance.  It has a barely noticeable chemical scent from the ingredients used in it. The scent lasts on your body for a few seconds and vanishes in no time.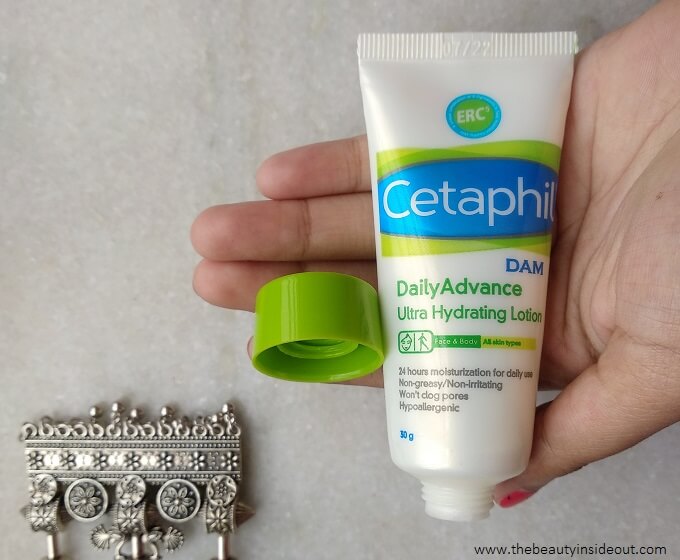 My Experience:
This Cetaphil DAM Lotion is different from the Cetaphil Moisturizing Lotion. Both are applicable for the face as well as the body. The Cetaphil DAM Lotion is Non-comedogenic and is more suitable for Acne-Prone skin. It doesn't clog my pores, thereby reducing any further breakouts.
I love how lightweight it feels on my skin which doesn't leave my skin greasy. Just a pea-sized quantity works effectively leaving my skin hydrated and nourished throughout the day. It binds the moisture to the skin preventing any moisture loss. Regular application also helps to soothe existing breakouts. It is best suited for combination, dry, rough, itchy, and irritated skin.
The DAM Lotion is an alcohol-free, lanolin-free formula and is derived, in such a manner that it proves beneficial for babies and infants as well. This is highly recommended for those with skin issues like rashes, psoriasis, eczema, or irritation.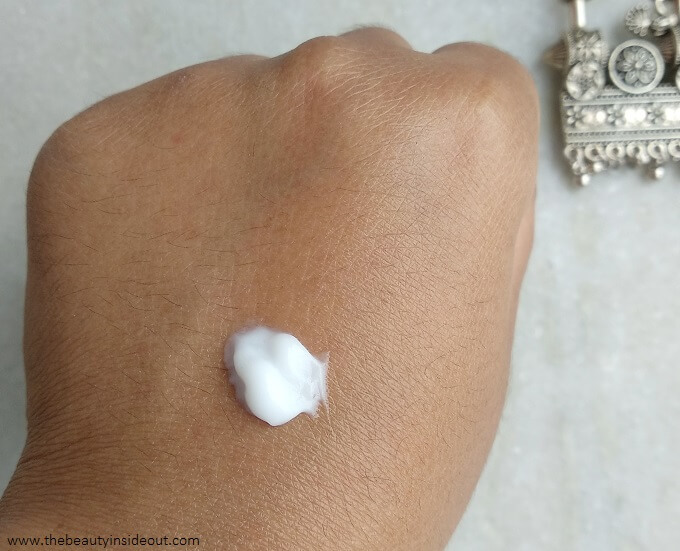 Pros :
Effective for dry and extra dry skin.
24 hours long-lasting moisturization.
Free from parabens and alcohol.
Free from adulterated perfumes and scents.
Non-comedogenic and Non-greasy.
Available in all types of packaging and pocket-friendly for traveling.
Cons :
People with oily skin cannot use this moisturizer.
Rating: 4/5
Would I recommend it? If you have dry skin, this product will work like magic for you without costing you a dime. Cetaphil DAM claims to balance the moisture and pH content in the skin and corresponds to the same. All the aforementioned benefits of the lotion are not just claims but they certainly come through. I would recommend this product as it is handy for all skin types and does not have any side effects unless diagnosed.