Himalaya is a very trusted herbal brand in the Indian market. Having its presence felt for more than a decade, Himalaya is not the only sort after, for its affordable price tag, but also for its results-oriented formulas. I have tried a whole lot of Himalaya Products in my skincare journey ranging from their face washes to their Lip balms to even their latest Eternity range products. Today I shall walk you through my experience with some of their cult products. Are you ready? Let's get started.
10 Himalaya Products Review
1. Himalaya Purifying Neem Face Wash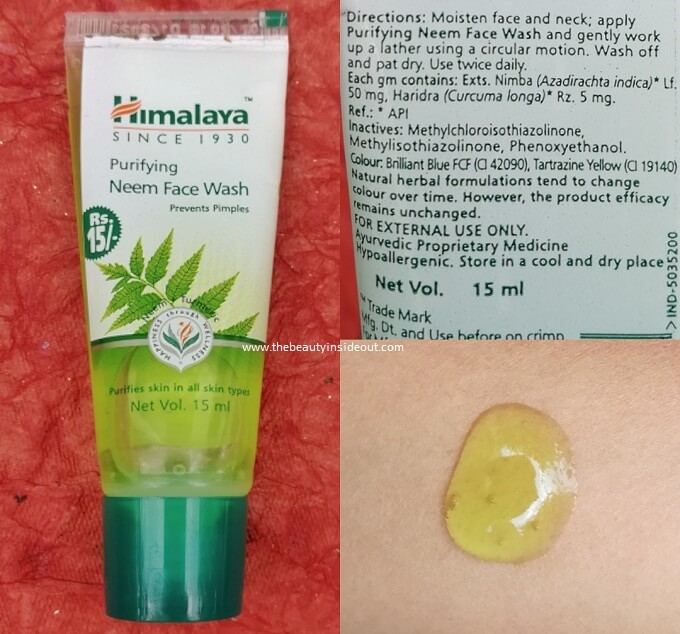 This is a most popular and cult favorite Himalaya product among many college-goers in India. In fact, most of us battling acne would have tried this face wash at least once. Its major ingredients Neem and Turmeric are very effective acne-fighting ingredients. This face wash has surely stayed true to its claims of preventing pimples, provided it's not hormonal. The face wash is greenish-yellow and gel-based. It lathers really well even with a pea-sized amount of product. I found this face wash to be very efficient in clearing out skin impurities and oils leaving it squeaky clean. Sometimes my skin does feel dry post-cleansing, especially when I use it twice a day, so I always moisturize immediately. I have finished multiple tubes of this face wash when I was a skincare newbie and I would surely recommend giving this beauty a try.
Rating: 4.5/5
Where to buy? Amazon.in
2. Himalaya Fairness Kesar Face Pack

Ignore the Fairness claim. I mainly bought it as a de-tan pack. It's also the most famous pack next to the Neem one. Anyways, straight to its performance; I wasn't really impressed with this pack. It stings my face every time I use this. It's a sort of burning sensation, so if your skin is sensitive or if you can't handle burning sensations please avoid it. A patch test is a must with this. Apart from that, if you are looking for instant brightening, yes it does that. Though the effect lasts only for a couple of hours. The face pack being clay-based has the default attributes of every clay mask such as the semi-thick, creamy consistency, good spreadability, fast-drying formula, post-cleansing dryness, and indeed the refreshed feel. Just follow it up with a moisturizer, you are good to flaunt your glowing skin. The face pack has the common Fairness cream fragrance. Although it doesn't provide any long-lasting effect, you may try it for occasional pampering sessions at home.
Rating: 3.5/5
Where to buy? Amazon.in
3. Himalaya Refreshing Cleansing Milk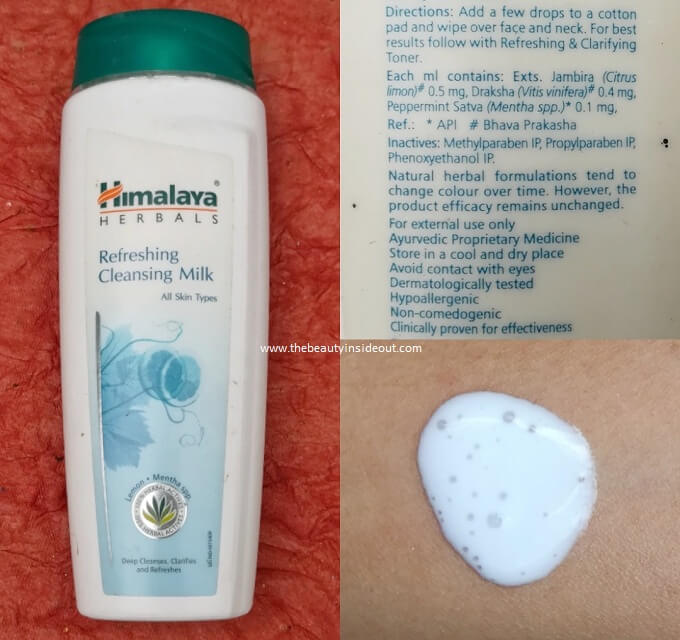 This was my very first cleansing milk cum makeup remover. I had used this only to remove my face makeup. Because it stings and causes redness if used as an eye makeup remover. Anyways, I prefer to stick to my Soulflower Olive Oil to remove eye makeup. Coming to the product, the Himalaya cleansing milk is a milky white lotion with a smooth runny consistency. The fragrance is synthetic but a pleasant one, relatable to other cleansing milk. I usually take a sufficient quantity of the cleansing milk and directly start massaging on my skin to melt my makeup and finally wipe it off with a cotton pad. This step does clean off all my makeup and leaves the skin a little bit oily or you can even say moisturized (for dry skin ladies). Personally, I prefer to follow up with a face wash, in that way I feel super cleaned and happy with no fear for breakouts. If you trust cleansing milk for makeup removal, you can give this a try. It removes makeup, deeply cleanses, and leaves the skin fresh and clear.
Rating: 4/5
Where to buy? Amazon.in
Looking for other brand reviews?
4. Himalaya Lip Balm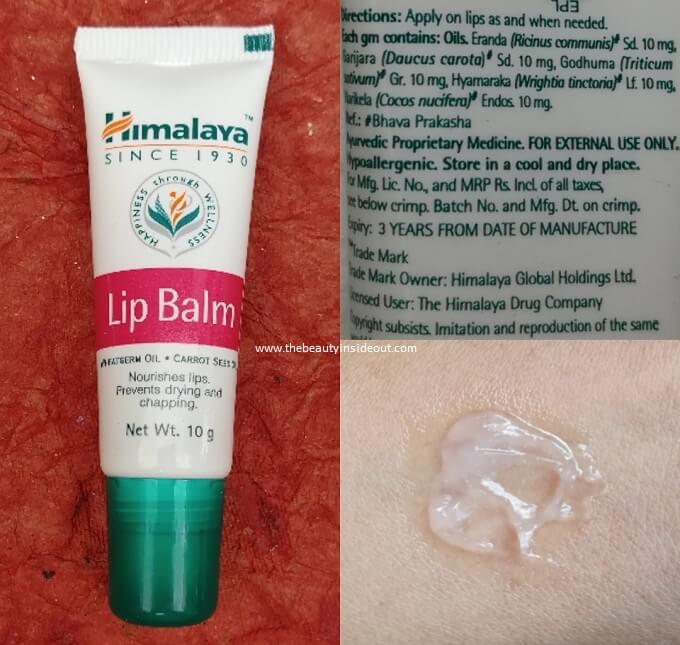 Just like the face wash, I've finished countless tubes of this Lip Balm during my college days. It was dirt cheap costing 25 rupees and very handy to just throw in my pencil pouch. It is a thick transparent gel with a sweet fruity fragrance. It is not that bothering as the scent fades away quickly. This is a basic lip balm that is not very heavy and keeps the lips moisturized, soft and smooth for a couple of hours, about 2 to 3 hours if applied during daytime and throughout the night during nighttime. Practically speaking I don't wake up to see if my lips are moisturized in the middle of the night! When I wake up in the morning, my lips are neither dry nor moisturized. But they are never cracked like before and surely show a difference when not using them. This is not a long-lasting lip balm and re-application is very much needed. It can very well sit under matte/liquid lipsticks.
Although there are better lip balm formulas in the market, for the price vs performance factor, I would recommend this Himalaya Lip Balm.
Rating: 4/5
Where to buy? Amazon.in
5. Himalaya Youth Eternity Day Cream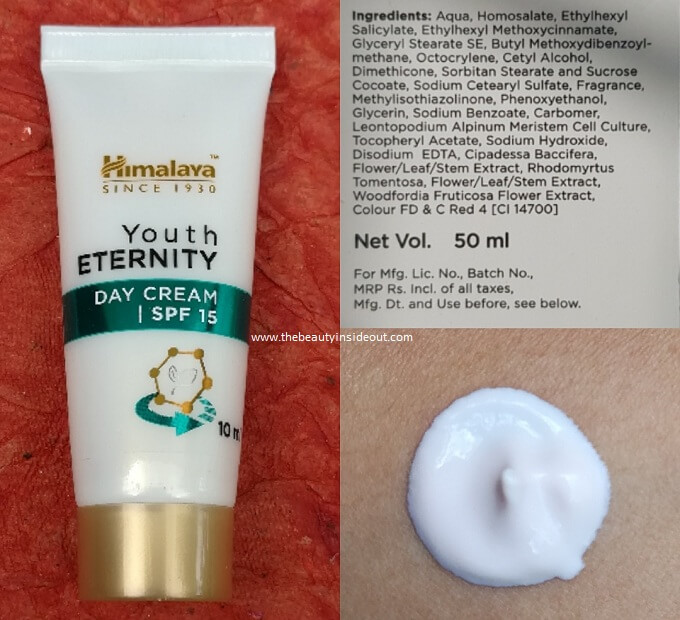 The Youth Eternity Day Cream was launched at the end of 2017 targeting aging skin. For me, this product was an impulse buy on Nykaa. I bought the smallest size of all to be on the safer side as most day CREAMS never work on my skin, except a few like the Blue Nectar Brightening Cream. The Youth Eternity Day Cream is non-greasy, fast-absorbing, and also having a silicone smoothness effect. It adequately moisturizes the skin without making it greasy and keeps it hydrated for long. It leaves the skin dewy though with a subtle glow. I did not encounter any acne breakouts due to this. The cream has the look and feels of Lacto Calamine Lotion with its pale pink lotion consistency. The fragrance is a bit strong and herbal which I am not fond of. As for its claim of reducing fine lines, wrinkles, and re-plumping, I do not know if it's true as I am yet to face the signs of aging. Overall, I find this to be a fairly decent day cream with a good SPF for combination skin.
Rating: 4/5
Where to buy? Amazon.in
6. Himalaya Anti Hairfall Shampoo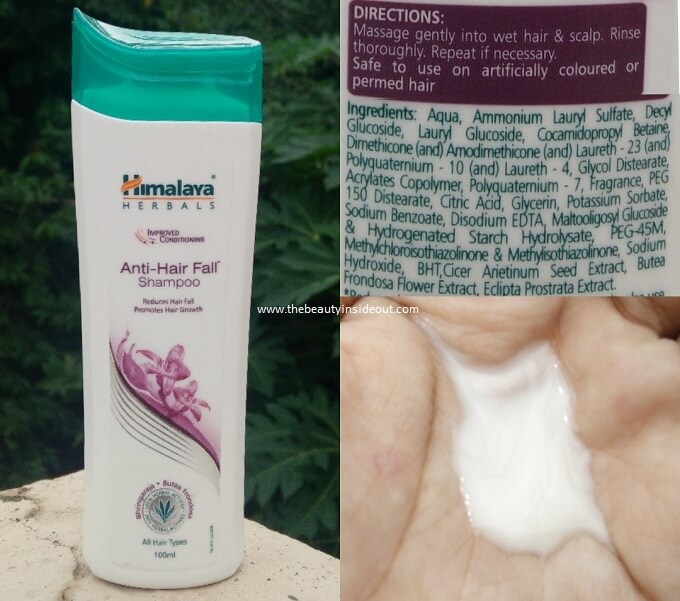 This is supposed to be an Anti-Hairfall Shampoo, but this was more of a Hairfall Causing Shampoo (mainly due to dryness). The shampoo has the usual pearly off-white appearance with a pleasant herbal-synthetic scent. It foams up moderately and cleans the scalp well without much effort. It does not have any silicone/slippery feel while washing and is easy to rinse off the soap residue. Post air drying, my scalp feels squeaky clean and DRY. My ends become extremely dry and tangled causing Hairfall due to breakage. So using a conditioner is a must, either pre-condition it with oil or use a ready-to-use conditioner. For my Hairfall problem, this shampoo did not help a tiny bit. It gave a little bit of voluminous look to my thin hair but that is all. The shampoo by itself does not make your hair softer and smoother unless you use a conditioner. For me, this product was a miss. It might suit someone with an oily scalp and hair.
Rating: 2.5/5
Where to buy? Amazon.in
7. Himalaya Moisturizing Aloe Vera Wipes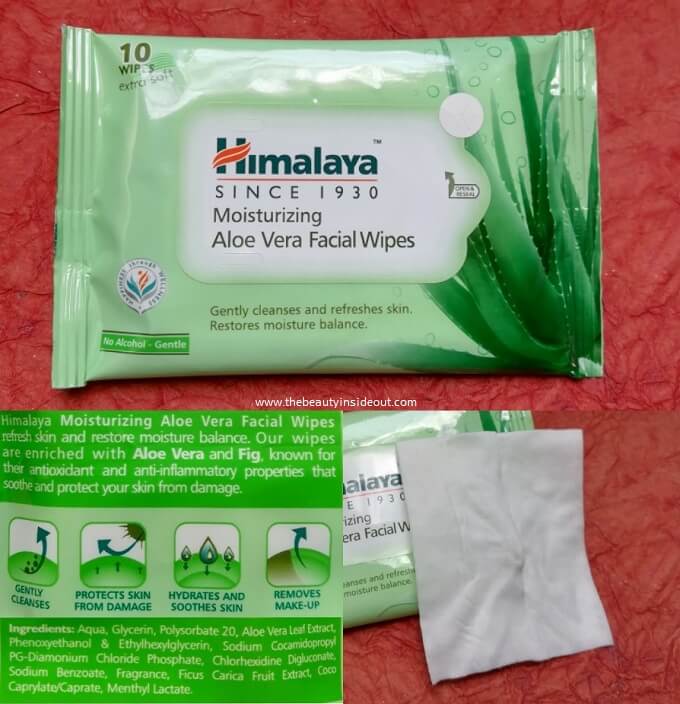 I don't normally use facial wipes on a daily basis. Since I was going to be traveling I knew I needed them. This being a new launch, I just bought it. Himalaya Facial Wipes are available as Neem and Aloe variants, the former meant for oily skin and the latter for dry skin. I got the moisturizing one for dry skin, despite having oily skin since I had planned to use it as a makeup remover. These wipes are like any facial wipes made of soft, semi-thick fabric. The wipes are damp enough and are not dripping wet. I was able to wipe off my entire face makeup with a single wipe without going back and forth too many times. It stings if used for eye makeup removal. Like I said I use Soulflower Olive Oil to meltdown my eye makeup and then wipe off the oil residue using these wipes. In this way, I do not experience any stinging. After using, I always get a slight sensation on my skin, so I follow it up with a face wash. The wipes indeed feel moisturizing, sticky on my oily skin post usage. These wipes are good for facial makeup removal, but I do not see myself using them on-the-go as claimed due to its tingling sensation post usage. Maybe the Neem variant would suit my skin type more.
Rating: 3.8/5
Where to buy? Amazon.in
8. Himalaya Protective Sunscreen Lotion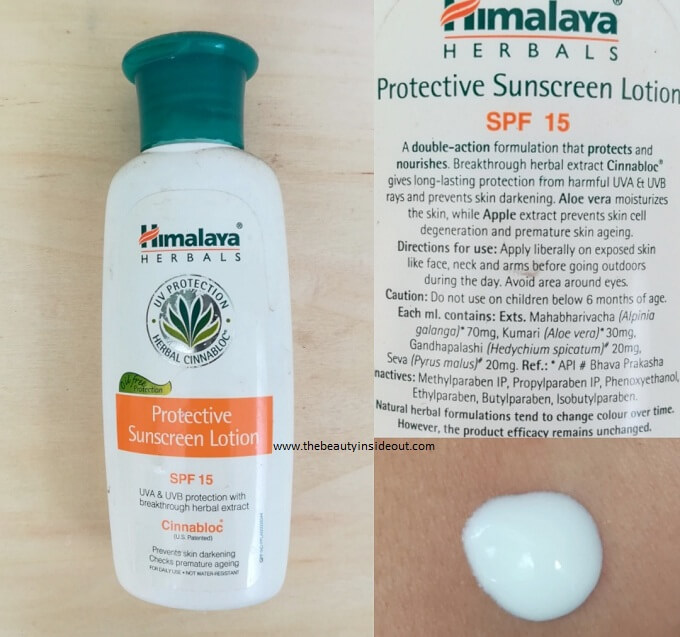 I got this purely because this was an affordable sunscreen and I'm glad I got it. As the name suggests, it's a white lotion with a smooth medium consistency. It blends easily and gets absorbed into the skin quickly. This is a moisturizing sunscreen and has a dewy effect on the skin. On my oily facial skin, the sunscreen felt a little heavy during the summers, but on cooler days, the finish was perfect. Typically this will suit combination and dry skin types better. I majorly find this to be a great body sunscreen as it works as a body lotion as well as sun protection. I like the fact that Himalaya Sunscreen is enriched with a US Patent active sunscreen agent called Cinnabloc, which is extracted from various herbs and effectively protects skin against UVA and UVB rays.
Overall, this sunscreen is worth buying as a body sunscreen, since we tend to use so many products for body application and this is super affordable for 100 ml. If you have combination dry skin, you can use this single sunscreen for both face & body without worrying much about the price.
Rating: 4.5/5
Where to buy? Amazon.in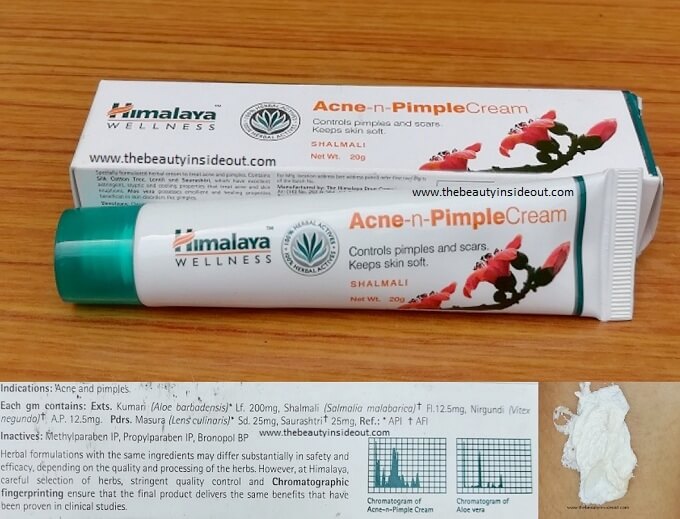 I have mixed feelings about this product. There are times this cream worked and vice versa. The pimple cream is a beige-colored thick cream. It needs a good massage for it to blend completely into the skin. Applying on full-face gives a mattifying, fairness cream effect which I am not a fan of. But then I don't prefer applying this product on a full face. I stick to applying this only on active acne spots. Since it is a herbal product, it does take a while to heal the acne. The cream reduces redness induced by acne to a great extent. However, this doesn't work on huge & cystic acne. The cream has a strong herbal fragrance which is not on the pleasant side. The pimple creams cost less than Rs.50 which is why I will still recommend giving this shot. It may work wonders for you, as my friend who swears by this cream says.
Rating: 3.7/5
Where to buy? Amazon.in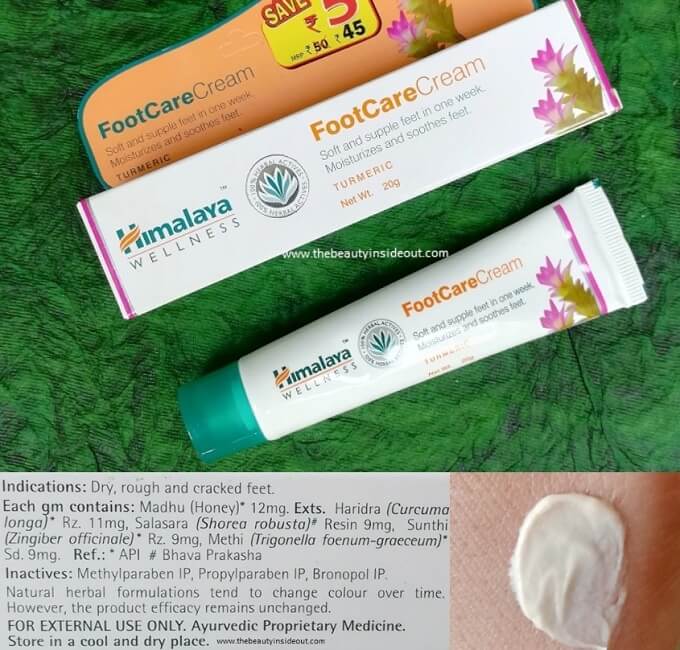 I generally don't buy separate foot creams as my body lotions and butter double up as foot creams. But ever since I developed cracked heels, I had to get one. So I got the Himalaya Foot Care Cream which is the cheapest foot cream available in the market. Surprisingly this worked so well to heal my cracks within a short period of two weeks. Note that I also followed a foot care routine – soaking my feet for 20 minutes in warm water, pat drying, and applying the cream before heading to bed, which fastened the whole healing process. To get rid of your cracks, you don't need a super expensive foot cream. Just get this Himalaya Foot Cream and see the results with consistent use. A must-buy product for people with dry & sore feet and cracked heels. It has also got a nice herbal fragrance which removes bad odor from your feet. This is one of the Best Himalaya Products one needs to try.
Rating: 4.9/5
Where to buy? Amazon.in
(Skip to) Quick Reviews of Himalaya Products
Product Name
Quick Review
Where to buy?
Himalaya Purifying Neem Face Wash
A very good sebum regulating, acne control face wash. A must try product from Himalaya Herbals.

Rating: 4.5/5

Amazon.in
Himalaya Fairness Kesar Face Pack
It's clay based, instant brightening face mask that gives glowing skin. But then, it stings my skin. Not recommended for sensitive skin types.

Rating: 3.5/5

Amazon.in
Himalaya Refreshing Cleansing Milk
An affordable cleansing milk that removes makeup, deeply cleanses, and leaves the skin fresh and clear. Worth trying.

Rating: 4/5

Amazon.in
Himalaya Lip Balm
It's the cheapest lip balm that works quite well in keeping lips moisturized for a couple of hours.

Rating: 4/5

Amazon.in
Himalaya Youth Eternity Day Cream
A decent day cream with a non-greasy, fast-absorbing formula. Gives dewy finish and apt for combination skin.

Rating: 4/5

Amazon.in
Himalaya Anti-Hairfall Shampoo
A very drying shampoo that caused me hairfall. It gives a bit volume but that's it. It gives no shine and makes my hair super dry. Worst.

Rating: 2/5

Amazon.in
Himalaya Moisturizing Aloe Vera Wipes
It cleans and removes makeup to a certain extent. Doesn't dry out skin but stings a bit. I did not like it much.

Rating: 3.8/5

Amazon.in
Himalaya Sunscreen Lotion
It's an affordable, moisturizing sunscreen perfect for dry skin. I liked using it as a body sunscreen.

Rating: 4.5/5

Amazon.in
Himalaya Acne N Pimple Cream
A decent spot treatment cream that works sometimes but doesn't at other times. For the price, you can give it a shot.

Rating: 3.7/5

Amazon.in
Himalaya Foot Cream
Gets rids of dryness and cracks if you use it regularly after cleansing your heels with a pumice stone. I loved it.

Rating: 4.9/5

Amazon.in
Final Thoughts on Himalaya Products
Affordable, Beginner Friendly is what I would say about Himalaya Products. Although not completely chemical free (most of them contain parabens and synthetic preservatives), Himalaya does not test their products on animals which is a plus for cruelty free lovers. In a nutshell, Himalaya is surely a brand that is worth checking out.
Don't forget to share your favourite and not so favourite Himalaya Products in the comments section below.