I'm back with the Luxury Skincare Brand Clinique in my Brand Focus Series. A series wherein I share my hands-on experience with some of the best-selling products from a particular brand. Coming from the house of Estee Lauder Company, Clinique is marketed as the world's first Allergy Tested and Dermatologists Approved Cosmetics Brand. It's a high-end brand that offers skincare, makeup, fragrances, and toiletries. Clinique is quite popular across various countries. They have their outlets in many places and their skin consultants are quite knowledgeable in suggesting relevant products after analyzing your skin thoroughly.
One common question that I often get about the brand. Is Clinique Cruelty-Free? Well, No. Clinique is Not Cruelty-Free. They do conduct tests on animals whenever and wherever necessary. Particularly they sell their products in China, where testing is required by Law. So Cruelty-Free lovers, Clinique Products are not for you.
To start off my trial with Clinique, I bought the Clinique 3 Step Skincare System for Oily Skin from Amazon. I thought these were travel-sized when I ordered, but No! The products had a quantity that lasted for 2 months. I think I made the right decision in choosing this kit. I recommend this kit for someone who wants to try out Clinique Products for the first time. It's a nice starter kit. I also received a few samples along with my order. Over time I got to try a few other Clinique Products too. This post will feature consolidated reviews of all the products that I have tried so far.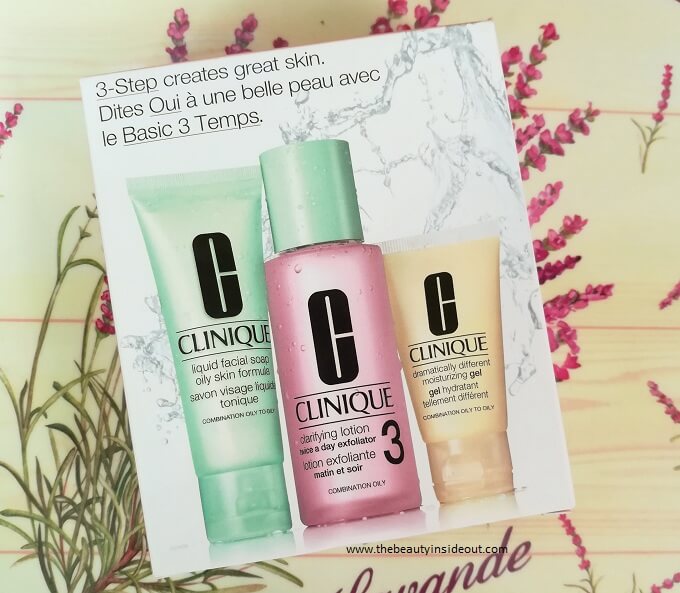 Clinique Products Ingredients

Clinique Products Review
1. Clinique Liquid Facial Soap Oily Skin Formula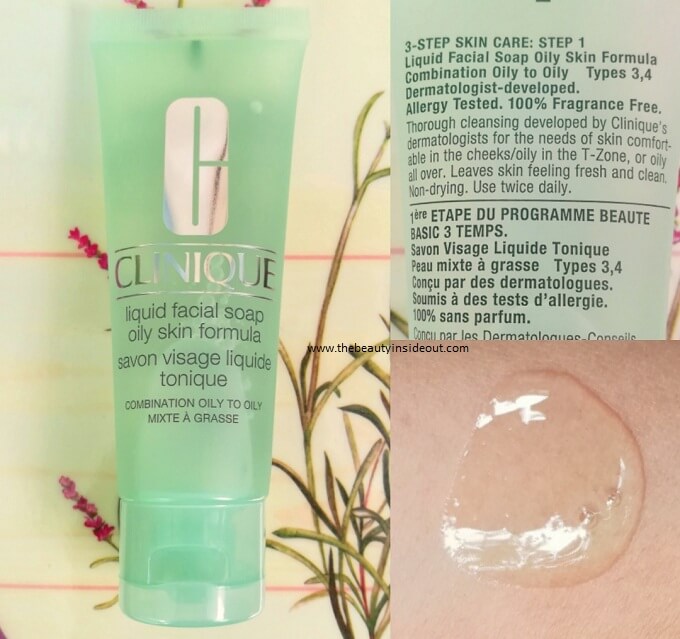 This is one of your typical gel cleansers that goes well with oily skin types. It is SLS-based and hence produces a rich lather even with a tiny doll-up of the product, which also means less product usage. But then personally I try to avoid sulfates in my cleansers, so that's a con for me. Apart from that, the cleanser does a great job of removing impurities from the skin. It even removes light makeup easily.
The cleanser tends to leave a film behind, so it's not super harsh and feels less dry. My skin feels clean, soft, and smooth after cleansing. According to the ingredient list, it doesn't have any added synthetic fragrance; but then it has a faint minty scent due to the Menthol in it. Sensitive skin types may not favor it, but I didn't find it bothersome as it's subtle.
Overall speaking, the Clinique Liquid Facial Soap is a quick rinsing gel face wash that is gentle on the skin and also protects the skin's natural moisture balance without stripping off natural oils. This passes off as a no-fuss cleanser for oily, sensitive, and acne-prone skin. Initially, I did feel that it is basic, but over days I got fond of it (or got adapted) as it made my skin happy with No new breakouts and No extra dryness. Verdict: Not the best one out there, but still a good cleanser.
Rating: 4/5
Where to buy it? Amazon.com
2. Clinique Clarifying Lotion 3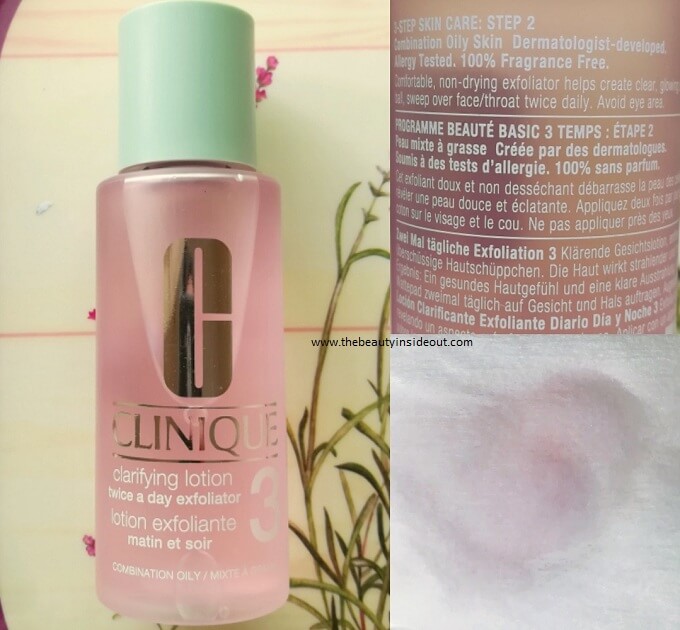 Well, don't mistake this for a lotion. It's a toner. Precisely, it's a salicylic acid-based exfoliating toner. It is meant to break down oils deep inside the pores, keep them clear and prevent acne breakouts as well. The first thing that struck me is its alcoholic scent. It is so strong and nauseating. Since this was my first Non-Alcohol Free Toner, it was way too overwhelming for me. I didn't expect this to contain Alcohol Denat, and that too is at the top of the ingredient list. A bummer I say! Clinique does have a Clarifying Lotion/Toner that is alcohol-free, so you might want to check that out.
Coming to the Clinique Clarifying Lotion 3, the actual product is a runny, water-like, pale pink solution that goes on clear on the skin. It claims to be a gentle product which it isn't. According to me, it is quite potent; it tingles on the sensitive areas around my nose, inner cheeks and dries out the skin so much that I need a serum and calming moisturizer to go thereafter immediately. I suggest introducing it slowly into your routine, maybe twice a week in the PM routine as there are chances of skin purging if this product is introduced quickly (I mean twice a day is a bit too much).
Performance-wise this does a good job. I use a cotton pad to apply this toner. After swiping all over my face, I can see that the toner has pulled out all the extra dirt and dead cells from the skin, that my mild face wash failed to remove. Although I don't see instant brightness, the toner helps to even out the skin tone after having used it for 3 weeks. It also kept me away from whiteheads and blackheads.
Overall, the Clinique Clarifying Lotion unclogs pores, keeps acne at bay, and shows improvement in skin texture with regular use. Slowly introduce it into your routine and follow up with a good moisturizer and never forget sunscreen during the day. The only major con of this product, it reeks of alcohol.
Rating: 3.5/5
Where to buy it? Amazon.com
3. Clinique Dramatically Different Moisturizing Gel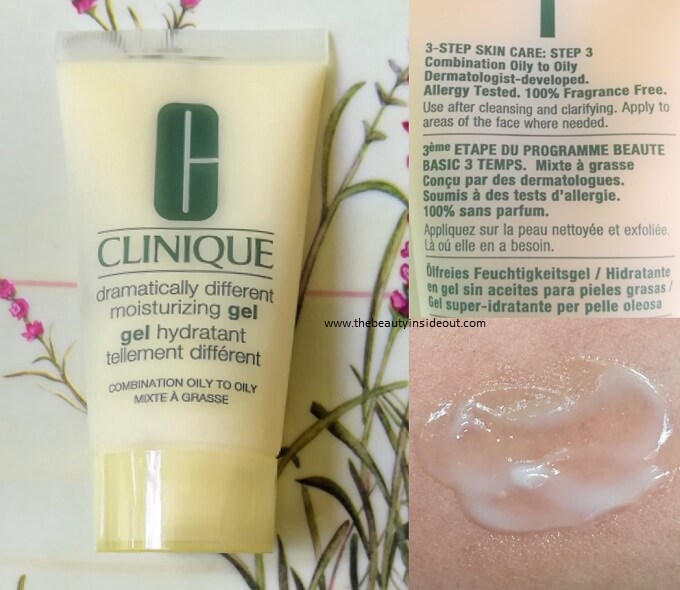 The Dramatically Different Range comes in three versions, Gel, Lotion, and Jelly. I have the gel which is meant for oily and combination skin types.
It is a pale yellow-colored lightweight gel. It spreads flawlessly and gets absorbed into the skin in just two strokes. The gel is alcohol and paraben-free but does contain silicones which is why it works great under makeup. The DDMG leaves the skin smooth and soft to the touch as well as hydrated from within. However, this gel wasn't moisturizing enough when used after the Clinique Clarifying Lotion. This gel alone couldn't calm down my exfoliated skin as it isn't very soothing and moisturizing. Whilst this gel worked so well with other gentle toners. This doesn't make my oily skin greasy after a few hours or break me out.
Overall, I liked how lightweight this felt on my skin and how well it suited my skin in the hot & humid summer days, without making me more oily. I would recommend it for oily and very oily skin types.
Rating: 4.2/5
Where to buy? Amazon.com
4. Clinique Moisture Surge 72-Hour Auto-Replenishing Hydrator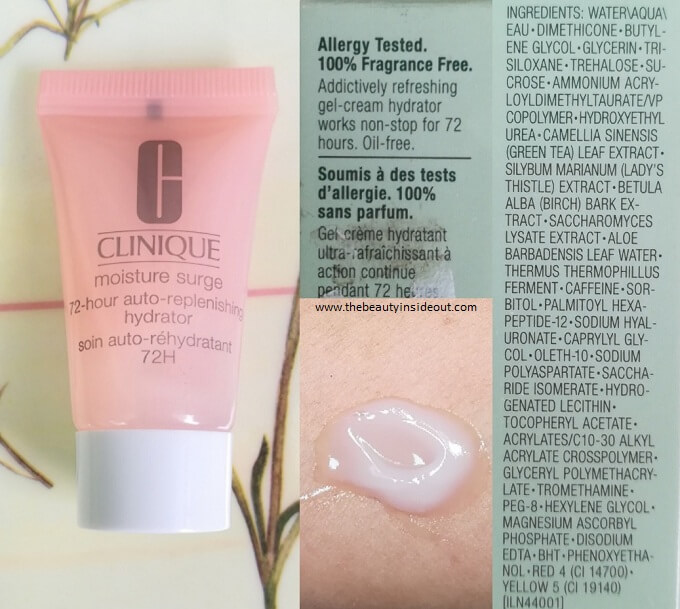 Having used both the best-selling moisturizers of Clinique – the DDMG and this one, I can say that the Clinique Moisture Surge 72-Hour Auto-Replenishing Hydrator is a more nourishing version of the DDMG. Both have a similar gel-cream texture with the Moisture Surge having a denser texture and feel. Moisture Surge quenches dry and dehydrated skin instantly. It not only hydrates but also gives you a bit of glow as well. It's non-sticky and absorbs quite quickly. This again has a silicone feel to it and makeup goes flawlessly on top of this. There are times when I felt this broke me out with tiny pimples and whiteheads; although nothing major, I would still suggest using it with caution if you have acne-prone skin. This does have comedogenic ingredients in it.
The Moisture Surge kept my skin supple, hydrated and plumped up. Personally, I liked the DDMG more as my skin leans towards the oilier side and this is slightly more moisturizing for me. I liked using this on my combination skin days though. In all, both the moisturizers are more or less the same to me. The Moisture Surge is more suitable for combination, normal and dry skin types whereas the DDMG is for oily skin types.
Rating: 4/5
Where to buy it? Amazon.com
Related:
5. Clinique Pep-Start Pout Restoring Night Mask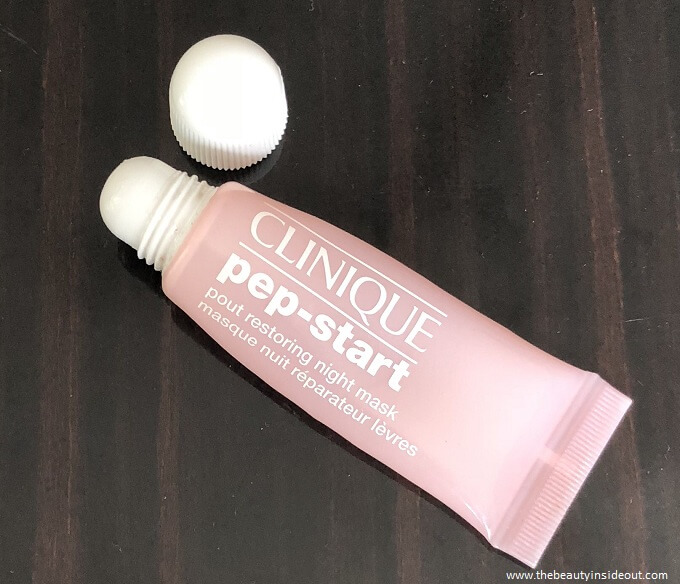 Clinique Pep-Start Pout Restoring Night Mask is not your regular lip balm, but a lip sleeping mask; similar to the Laneige Lip Sleeping Mask. It certainly has a thick texture that is intensely nourishing. It's a clear gel and I hardly required a tiny drop of it for it to work. This tiny tube lasted me 3 months with regular use. The lip mask doesn't have any fragrance or taste to it which is an added plus.
I love how it works overnight to heal cracked and chapped lips and makes me wake up with soft and supple lips. It can also be used before applying liquid lipsticks. Apply the mask 15 minutes ahead and wipe off excess before applying the lipstick. Continuous and consistent use of this lip mask at least 4 times a week showed better results. Softer and smoother lips became a reality for my forever dry and chapped lips. I recommend this for people with dry and crack-prone lips. The Restoring Night Lip Mask didn't disappoint me and repaired my chapped lips beautifully.
Rating: 4/5
Where to buy it? Amazon.com
6. Clinique Pep-Start Eye Cream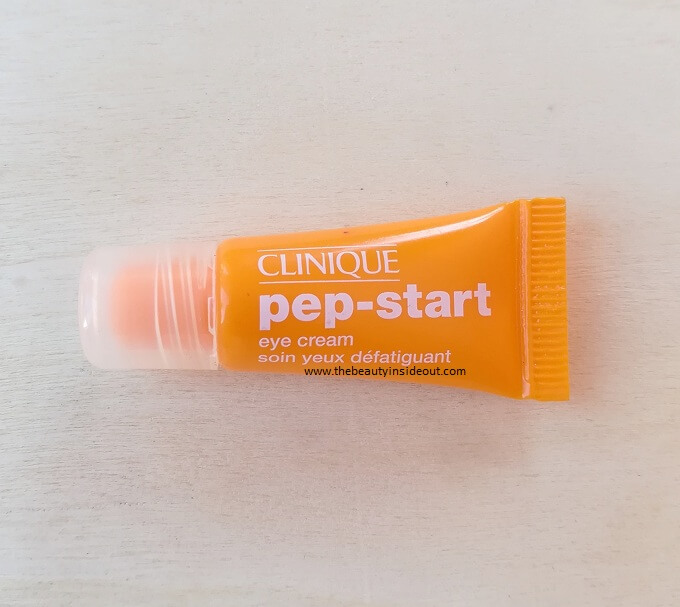 I would call the Clinique Pep-Start Eye Cream a beginner's under-eye cream. It does a bit of everything for someone who doesn't have any major under-eye concerns. It hydrates, de-puffs, and subtly brightens the under-eye area. It says it's a cream but it's not thick as one might perceive. It has a texture similar to gel creams but is still emollient enough to moisturize the under-eye area well. The under-eye cream gets absorbed quite well with no greasiness. The ball tip applicator makes application easy with no excess product wastage. My concealer goes well on top of this and there is no creasing whatsoever with this.
What I love the most about the product is that it never irritated my sensitive under-eye area. No wonder, it's fragrance-free and does not contain any sensitizing essential oils in it, to begin with. To top it all off, the formulation is interesting with a balanced set of anti-oxidants, peptides, and moisturizing ingredients to improve the under-eye area. Except that it doesn't provide any overnight miracle results, I found this to be doing a fair job of an under-eye cream. A little goes a long way, so you don't have to underestimate the quantity offered.
Rating: 4/5
Where to buy it? Amazon.com/ Nykaa.com
Final Thoughts on Clinique Products
I love how interesting their products are named – Moisture Surge Hydrator, Pout Restoring Night Mask, Dramatically Different Moisturizing Gel, Sculptwear Contouring Massage Cream? Well anyways, Each brand has its own set of hits and misses, and so is Clinique Products. My experience with them was pretty good. Most products did deliver what they claimed.
But there is something that's irking me about the brand. The ingredients! Although they don't use parabens, phthalates, and fragrances in their products, I am not very happy looking at the SLS, Alcohol & PEGs in them. With so many advanced formulas in the market, I truly want the brand to up its formulations with better ingredients.
Otherwise, I think Clinique Products are good and are worth giving a try. If you are like me, wanting to explore this luxury brand, then I would suggest getting the above-reviewed 3 Step Skincare System Kit and see if it works for you. It is available in 3 variants for 3 different skin types.
And yeah don't forget to share your thoughts and experience with Clinique Products. Have you tried them? Also, check out other popular brand reviews.
Looking for other brand reviews?