Hey guys! I am reviewing Minimalist Squalane 100% for you today. Ingredient based skincare is a popular trend right now. Ingredient-based skincare makes use of science-backed active skin-safe ingredients. Traditional skincare items used to have the same actives among their constitutes. However, their ingredients list also contains certain filler ingredients. Unlike the common belief, filler ingredients are not always skin-harming. However, their presence does not add anything to the effectiveness of the skincare concern. I don't have sensitive skin but I like minimalistic skincare routines. An AHA based face cleanser, an antioxidant based niacinamide serum, retinol serum, and moisturizer. These are the items you'll find in my skincare kitty. I wanted to try a deep moisturizing facial oil to cater to winter dryness. That's the reason Minimalist's Squalane 100% fits my bill. It is a pure vegetable squalane. Let's get into the detailed review of Minimalist's olive squalane.
Product Description:
100% lightweight Squalane sourced from olive oil. It prevents transepidermal water loss, restores suppleness, and elasticity of the skin. Promotes faster restoration of the skin barrier function. Proven to significantly improve skin elasticity, firmness & moisturization after just 28 days of usage.
Ingredients: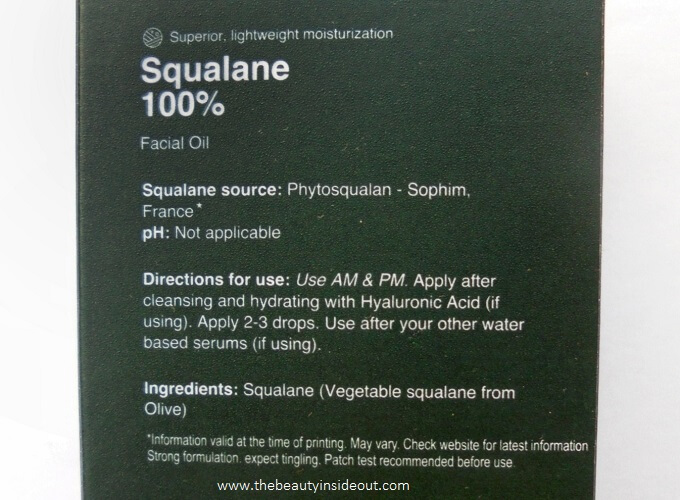 Price: Rs.699 for 30ml
Where to Buy? Minimalist products are available on Minimalist's own website. It is also available at other leading online shopping destinations like Amazon, Nykaa, and Flipkart. Minimalist runs 5-10% discount on their products from time to time. Do check out, you might get good deals!
Minimalist Squalane 100% Review
Packaging: Minimalist's Squalane comes in a darkened glass bottle. The bottle has a dropper applicator attached to its screw lid. The packaging looks very similar to The Ordinary brand's skincare products. I have tried two other products from Minimalist other than this Squalane and they had almost the same packaging as this one. Minimalist had also provided a matte black outer box to keep the glass bottle secure.
The packaging looks elegant but it has some faults of its own. Firstly, the oil inside the bottle is highly viscous. The packaging is not up to the mark for preventing leakage. When I received my Squalane bottle, there was an oil spill all over the bottle. There wasn't much product wastage so I thought it would be a product packaging issue. When I started using it, I noticed the screw lid is not airtight. If the bottle is kept tilted the oil comes out from the lid. It is not at all a travel-friendly bottle. Minimalist needs to work on the packaging for this one.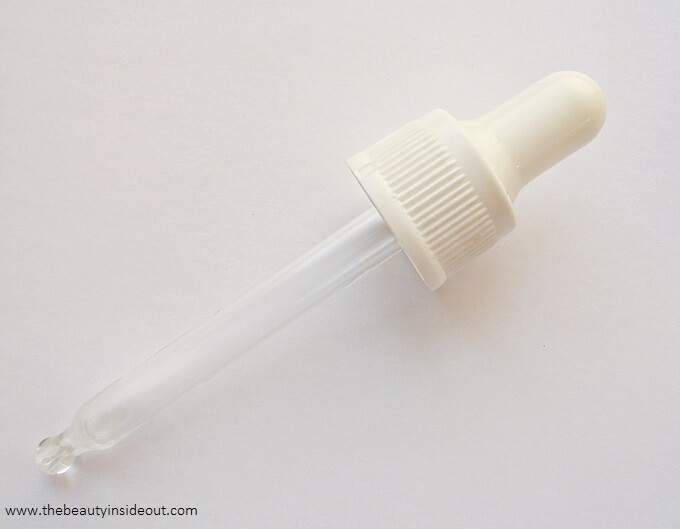 Colour & Texture: Minimalist Squalane 100% is a transparent clear liquid. It is basically a lightweight facial oil extracted from olive oil. Squalane can be sourced from animals or it may be plant-derived. Earlier skincare squalane's were made from shark oil. It is not a very environment-friendly option so we have shifted towards vegan sourced squalane. Minimalist's squalene is one of the vegan-friendly solutions. It is made from olive oil.
Minimalist Squalane is extremely lightweight. It does not have added color. Just two drops are enough to provide the required moisturization. More quantity might lead to a sticky feel so I tend to stick to 1-2 drops. This oil creates an occlusive layer on top of the skin. It is perfectly fine if you are using it with retinol and retinoids or niacinamide. It won't reduce the efficacy of these actives.
Fragrance: This 100% squalane is completely fragrance-free.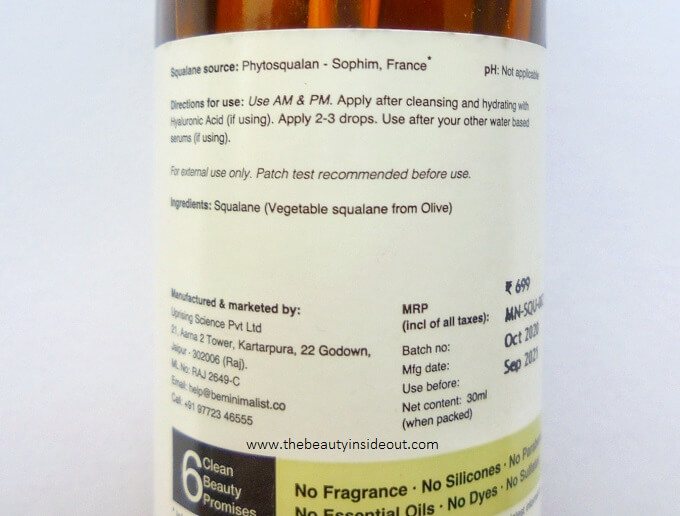 My Experience:
By chemical composition, Squalane facial oil is very similar to our skin's natural moisturizing lipid, squalene. Our skin produces waxy liquid squalene to prevent skin's trans-epidermal water loss. This sebaceous gland secreted oil is the best emollient moisturizer. As our skin crosses the growth age, the skin's squalene product decreases substantially. This is one of the reasons behind excessive dryness among mature skin people. Squalene's closest skin-friendly substitute is squalane. Natural squalene is chemically unstable. It can't stay effective in bottled form. They bring about minor changes in the formula to produce 'squalane'. This squalane is almost the same in performance as the natural squalene. Lab derived squalane is made from sea fish fats or plant fats. Vegetable squalane is derived from rice bran or olive oil. Minimalist Squalane is vegan sourced.
I apply squalane at night. My skin is a combination to oily. I use exfoliating face cleanser which strips off the natural moisture from my skin. I use squalane as the last step of my skincare at night. I also use it when my skin feels stretchy dry due to winter winds. When I started using it, I thought it would cause a pimple outbreak. Thankfully it didn't happen. Minimalist's Squalane oil surely provides instant moisturization. I wake up with happy and plump skin after using squalane oil continuously. I have also tried this squalane as the prep-step of makeup application. It helps the base makeup to blend and also gives a nice dewy finish.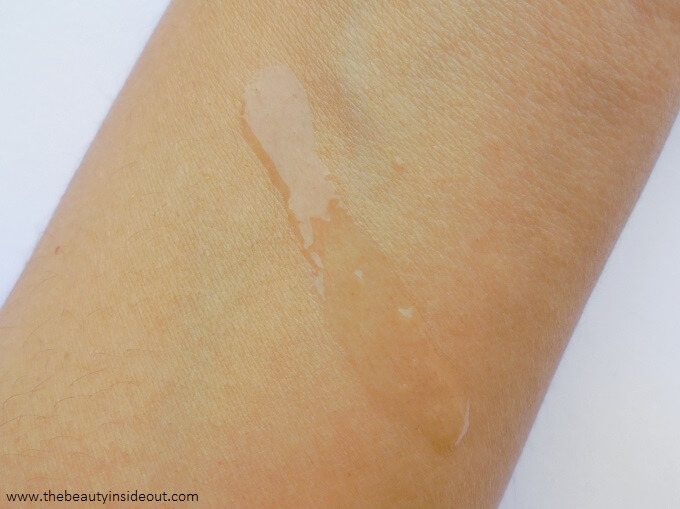 Pros:
Lightweight facial oil for all skin types.
100% pure olive squalane.
Provides an instant boost of moisturization.
Makes skin look and feel plump.
Free from paraben, phthalate, and other harmful chemicals.
Best moisturizer to use under makeup.
Cons:
The packaging is not leaf-proof
Rating: 4.5/5 (-0.5 for faulty packaging)
Would You Recommend? Yes, I do! Squalane is one of the best occlusive moisturizer cum facial oil that can be used by each and every one. It is a great product for oily and sensitive skin as well. Quality-wise Minimalist's Squalane 100% is awesome. In fact, it is the most pocket-friendly pure squalene you can get in India. I will definitely buy this one product again and again from Minimalist