Innisfree Bija Trouble Facial Foam is a facewash by South Korean Cosmetics brand Innisfree. This is a refreshing foam cleanser for troubled skin. It claims to deeply cleanse your pores while also helping to relieve and prevent troubled skin. Let's see how it worked for my combination skin.
Product Description:
This refreshing cleansing foam formulated with Bija seed oil for troubled skin.
Ingredients: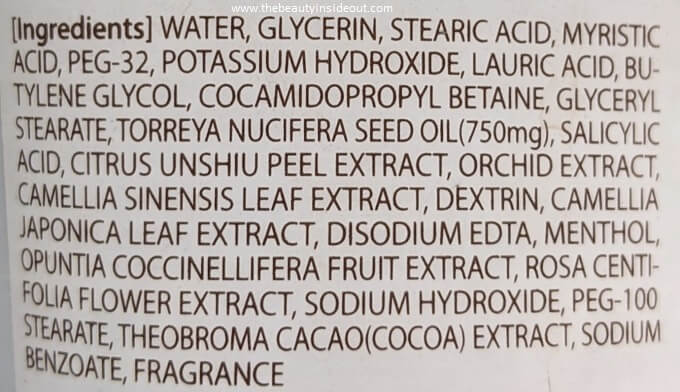 How to use it? Squeeze an appropriate amount onto clean hands and create lather. Smoothly massage over your face and thoroughly rinse with lukewarm water afterward.
Where to buy it? Amazon.in

Innisfree Bija Trouble Facial Foam Review
Packaging: Innisfree Bija Trouble Facial Foam has very simple packaging. It comes in a white tube with a light blue cap. The bottle has a pinhole dropper. It is easy to control the amount of product coming out. Although it is a basic tube, I like its appealing design.
Texture: It has a nice creamy consistency, like most pearly white Ponds Face Washes.
Fragrance: Innisfree Bija Trouble Facial Foam smells like Menthol. It is a very refreshing fragrance. Those who like cooling minty face washes will like this face wash.
My Experience:
I have been using this facial foam for over two months. It helps to deeply cleanse my pores by removing dead skin cells. This face wash is formulated with salicylic acid to exfoliate and clean the pores inside and out. It also contains Jeju Bija Oil, which boasts excellent skin-improving benefits.
I have combination, acne-prone skin and I use this cleanser twice a day. I use this after using a cleansing oil, balm, or makeup remover in the PM routine as a part of my double cleanse. I need just a tiny dollop of the product to cleanse my entire face. It foams up so nicely and washes off easily. It does not leave any dry feeling on my skin. It reduces redness and calms my acne, especially the ones which are painful. I liked this and will continue using Innisfree Bija Trouble Facial Foam.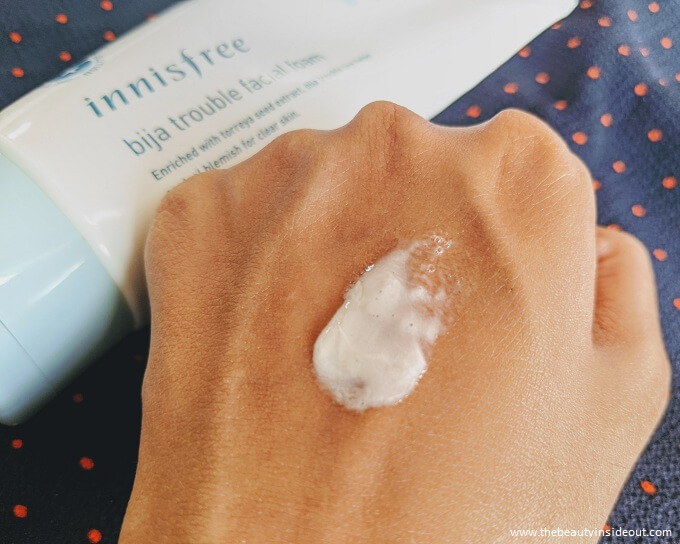 Pros:
Lather to a lot of foam.
Deep cleansing.
Removes dead skin.
Good for oily and combination skin.
Can remove light makeup.
Need very little amount.
Affordable.
Cons:
Might be drying for dry skin type.
Might irritate sensitive skin type.
Rating: 4/5
Would I recommend it? Yes, absolutely. I have been using this product for over two months. It sure helped me calm my skin.
Guest Author: Snehal.R.Gavade