I'm back with another popular brand in the Brand Focus Series. It's all about Nivea. Nivea is an age-old German Cosmetics Brand whose products made an impact across various other countries. Nivea was officially launched in India in 2006 and it has been popular here since then. Most of you would have tried at least one Nivea Product, probably the Blue Tin. Nivea Products are easily available both online and offline and are often available at huge discounts. I have tried a lot of Nivea Products. In this post, I have featured only those that I could collect from the last two to three years of usage. So before going into the product reviews, let me answer the most asked question.
Is Nivea Cruelty-Free?
No. Beiersdorf, the parent company of Nivea Does Not Test On Animals. However, Nivea is sold in China where it is required by law to test on animals. Thereby, Nivea pays third parties to test their products on animals sold in China, making them Not A Cruelty-Free Brand.
Nivea Products Review
1. Nivea Total Face Clean Up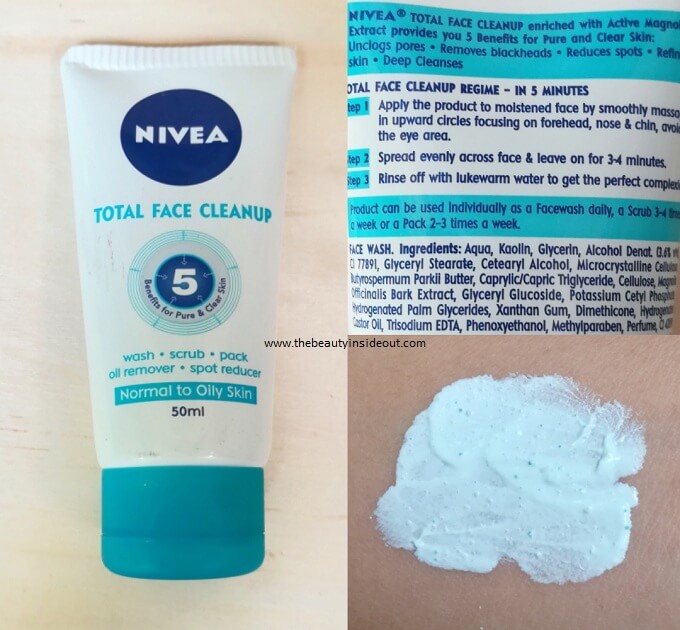 Product Type: It's a total face clean-up product that claims to give 5 benefits in 5 minutes, that is to unclog pores, remove blackheads, reduce spots, refine skin and deep cleanse the skin.
Suitable For: All Skin types, except sensitive and acne-prone skin.
Fragrance: Signature Nivea Scent, that's pleasant and soothing.
My Experience: This is actually a good product. It is a 5 in 1 face wash, scrub, mask, blackhead, and oil remover. Although this says to be for everyday use, I use it once or twice a week as it has scrubbing particles. The particles are soft, but still, I prefer not to over-exfoliate my skin. The product is thick, cream-based, and spreads fairly well on damp skin. You are supposed to gently scrub and then leave it as a mask for 2-3 minutes and then wash off. I use it vice versa. I apply it as a mask, wait for 2-3 minutes, and then gently scrub it off while rinsing. The product has Kaolin Clay, which is the gentlest of all clays hence it does not dry out the skin after rinsing. In fact, it leaves my skin super soft, plumped, and nourished. It gives a nice glow to the skin, though there is no major brightening effect. The product doesn't remove stubborn blackheads. In all, I liked using it for its after effect of giving me baby soft skin and mild exfoliation.
Rating: 4/5
Where to buy it? Amazon.com | Amazon.in
2. Nivea Whitening Smooth Skin Roll-On Deodorant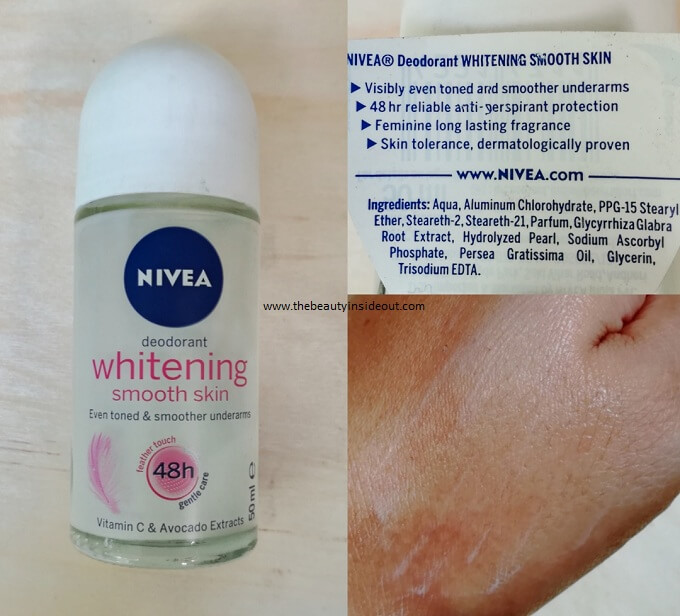 Product Type: Infused with Mulethi Extracts, it claims to give you even-toned underarms along with 48-hour protection against odor.
Suitable For: Both Men & Women. All Skin Types, except maybe sensitive skin.
Additional Info: 0% Alcohol Formula.
My Experience: I have used two variants of Nivea Roll On Deos' so far. I didn't see much difference in terms of their formula and performance. Both were similar to me. The one I'm talking about here is the Whitening Smooth Skin variant. I didn't like the Nivea Deos' as much as liked my Sure Deo, mainly because the Nivea Deo does not dry down immediately after application. One has to wait for at least 5-10 minutes for the dampness to subside. This is an antiperspirant hence controls sweating and body odor very well, almost one whole day. The fragrance is nice and pleasing with a note of the trademark Nivea scent. It hasn't given me any bad reactions or irritations at any point in time. This variant has a whitening claim, which is not true. It did not whiten my underarms nor did it darken them. The Deo serves its purpose of concealing bad body odor but due to its slow-drying formula, I prefer the Sure Deo more. The formula could have been better!!
Rating: 3.5/5
Where to buy it? Amazon.com | Amazon.in
3. Nivea Crème Blue Tin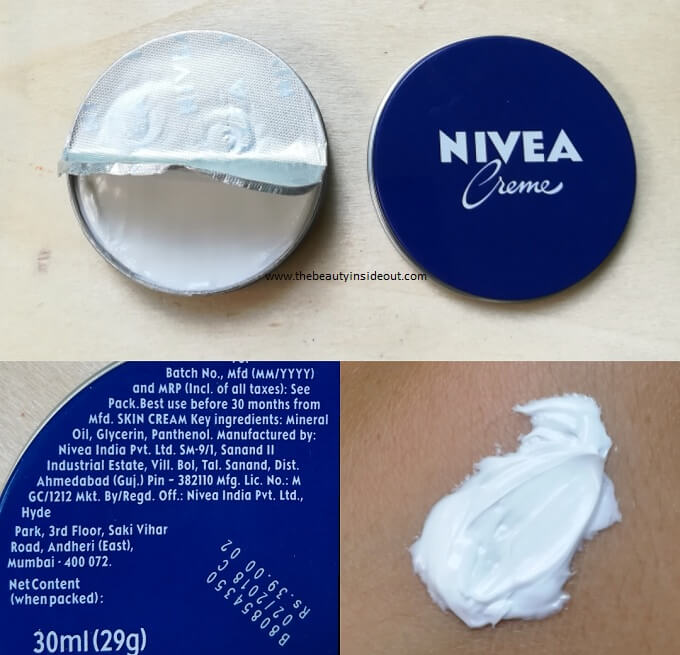 Product Type: it's a multi-purpose protective skincare cream that can be used by the whole family.
Suitable For: both men and women. Best suited for dry skin types.
Fragrance: Signature Nivea Scent.
Additional Info: There seems to be a difference in the quality of the Nivea Crème, depending on where you buy it. The Original one is said to be from Germany.
My Experience: There wouldn't be anyone who isn't aware of the beauty. Everyone knows, Nivea means this Blue Tin. This is one of the cult favorites everyone raves about and yes I love it as well. It is a rich, super nourishing cream that tackles every dry skin problem. It can be used on both face & body and also as a hand & foot cream. It also works amazingly well for elbows and knees which are mostly dry at all times. The cream is very thick and requires only a little of it to moisturize a large area of skin. It instantly makes skin supple and healthy-looking. Needless to say, it has the Nivea Scent which smells nice. This product is a keeper for dry skin and colder weather. But it is not an ideal choice for those oily skin types as it would make your skin greasy and may even break you out due to its heavy formula. A great body cream one must try!
Rating: 4/5
Where to buy it? Amazon.com | Amazon.in
4. Nivea Soft Light Moisturizer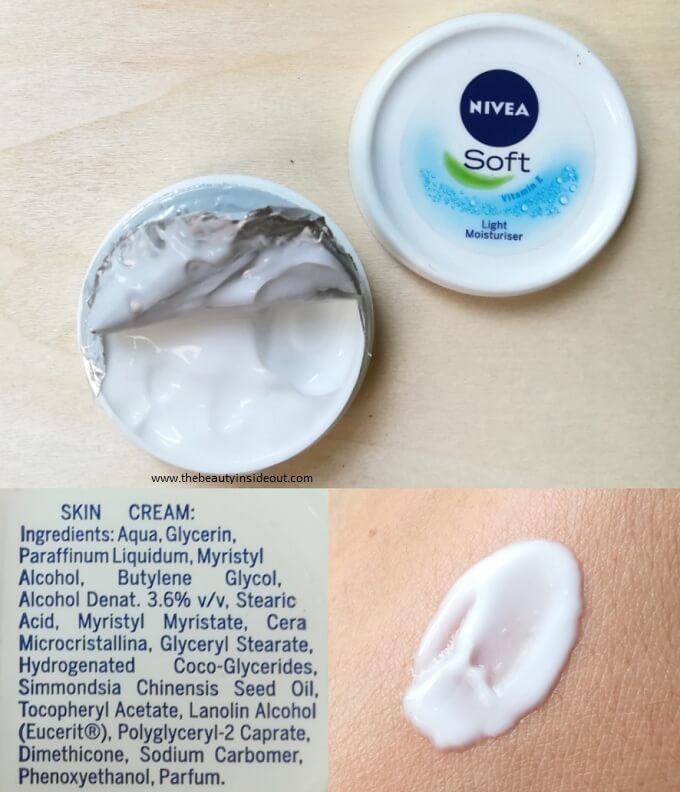 Product Type: It claims to be a quick-absorbing, gentle moisturizer to keep your skin refreshed all day.
Suitable For: Combination, Normal & Dry Skin
Fragrance: Same as the Nivea crème but a tad bit milder with floral notes.
My Experience: This is a lighter version of the Blue Tin with easier spreadability & blendability and less greasiness. The Nivea Cream is water in oil emulsion whereas the Soft Cream is an oil in water emulsion. You can dig in more on this on the brand's official website. The Nivea Soft cream has a Gel Crème texture but feels rich on the skin. It gets absorbed much quicker than the Blue Tin Nivea Creme. The soft cream is enriched with Jojoba Oil & Vitamin E and serves its purpose of being a good moisturizer leaving skin hydrated and supple. This will suit normal and dry facial skin types. I mostly use it as a body lotion. In all, I equally like both creams, just choose any one of them based on your skin requirements. I used both of them strictly on body skin – The Blue Tin Crème for the winters and the Soft Crème for the summers.
Rating: 4/5
Where to buy it? Amazon.com | Amazon.in
5. Nivea Fruity Shine Lip Balm – Cherry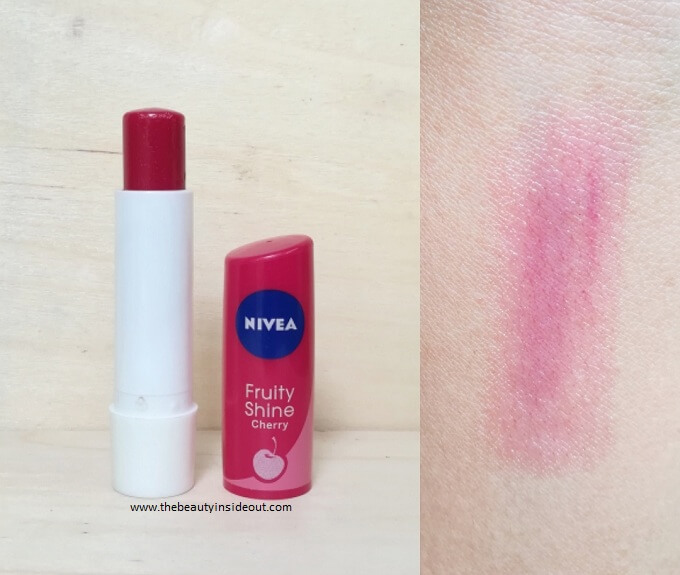 Product Type: It's a tinted lip balm that gives soft and smooth lips.
Suitable For: All
Ingredients: Ricinus Communis Seed Oil, Polyisobutene, Octyldodecanol, Pentaerythrityl Tetraisostearate, Hydrogenated Polydecene, Candelilla Cera, Butyrospermum Parkii Butter, Cera Microcristallina, Isopropyl Palmitate, Synthetic Wax, Polyglyceryl-3 Diisostearate, Glycerin, Glyceryl Glucoside, Aqua, Fragaria Ananassa Fruit Juice, Mica, Propylene Glycol, BHT, Aroma, Ci 15985, Ci 77891, Ci 15850
Fragrance: It has a sweet candy scent.
My Experience: I love how this makes my lips look so beautiful. This is a lightweight lip balm that is not as waxy as the Original Lip Balm. The fruit shine lip balm is tinted with fine shining particles that are not very gunky or glittery. It gives a nice sheen to my lips without being overboard. The shade Cherry is a summertime purple-pink that looks very nice and natural on the lips. The texture is such that it glides smoothly with no tugs at all. It instantly leaves a layer of moisture, but re-application is necessary after 3 hours for me. This lip balm wasn't able to heal my chapped and dry lips. However, I liked using this lip balm during day time for quick outings. It is also suitable for college and office goers.
Rating: 4/5
Where to buy it? Amazon.com | Amazon.in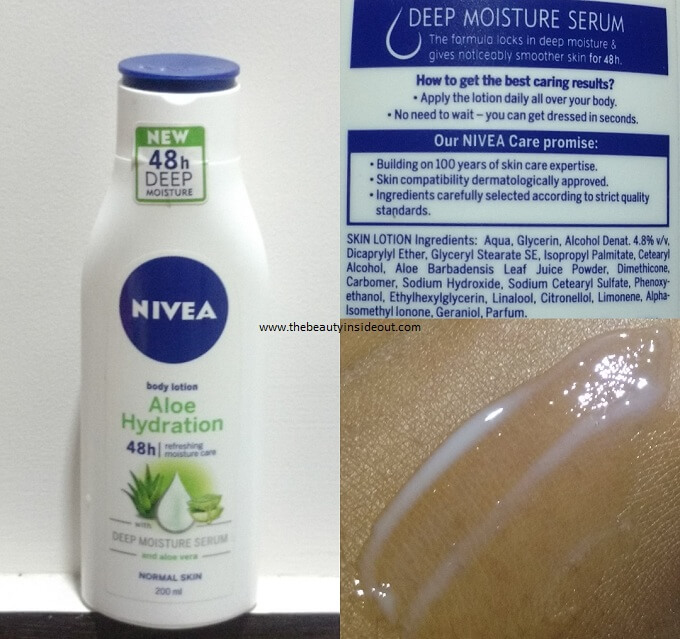 Product Type: It's a lightweight, hydrating body lotion that's infused with Aloe Vera to leave your skin soft and comfortable.
Suitable For: All Skin Types, except very dry.
Fragrance: The fragrance is very refreshing with a mix of floral and fruity notes.
My Experience: My first body lotion from Nivea was the one in a dark blue bottle (Nivea Nourishing Body Milk) meant for very dry skin types. I had used it years ago and I remember that it wasn't super moisturizing for my super dry skin. This Aloe Hydration Body Lotion is a recent buy. It is perfect for the summer season as it's light and non-greasy. It sinks into the skin within seconds of application and makes the skin soft and smooth. It keeps skin moisturized for long hours, especially when applied immediately after a shower when skin is still damp enough, but surely not for 48 hours as claimed. This is still a great body lotion to try due to its non-oily, hydrating formula.
Rating: 4.5/5
Where to buy it? Amazon.com | Amazon.in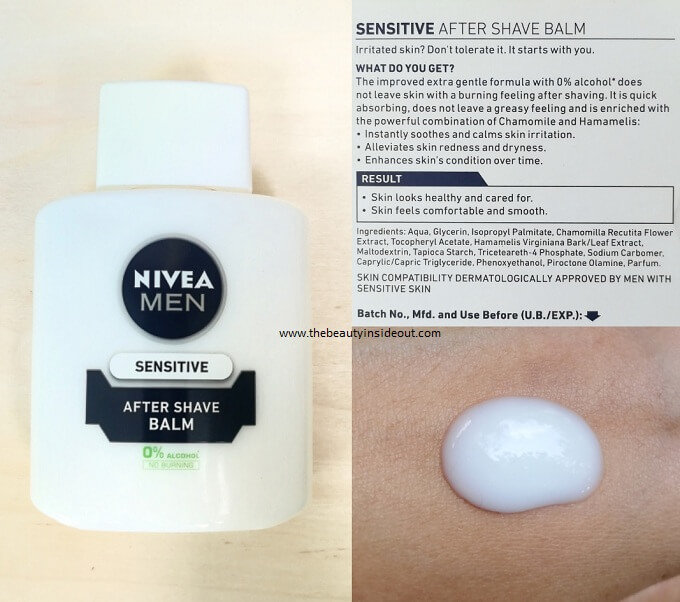 Product Type: It's a men's after-shave balm that soothes irritated skin. It is also widely used as a primer before makeup.
Suitable For: All Skin Types, including sensitive skin.
Fragrance: Being a Men's product, it has a musky masculine scent to it, but fades away in a couple of minutes.
Additional Info: Alcohol-Free Formula.
My Experience: This product gained popularity overnight after a Youtuber raved about using it as a primer. So when my husband was looking for an after-shave, I swiftly suggested this, so that I could also try it as a primer. The after-shave balm has a light white lotion-like liquidy consistency. It applies easily and has a mild cooling sensation on the skin. The balm has a slightly sticky feel immediately after application. I have to always wait for a few minutes for the stickiness to dry down and then proceed to apply my makeup. Makeup goes on smoothly with ease after that. The after-shave balm truly helps to keep my makeup intact for long hours. I could clearly notice that it extended the wear time when I had worn this. My husband also likes this as an after-shave. It serves its purpose of calming the skin. The product comes in a heavy glass bottle, so one has to be careful if taken for travel. Overall, the Nivea After Shave Balm could easily pass off as the most affordable primer in the market.
Rating: 4.5/5
Where to buy it? Amazon.com | Amazon.in
8. Nivea Lemon & Oil Shower Gel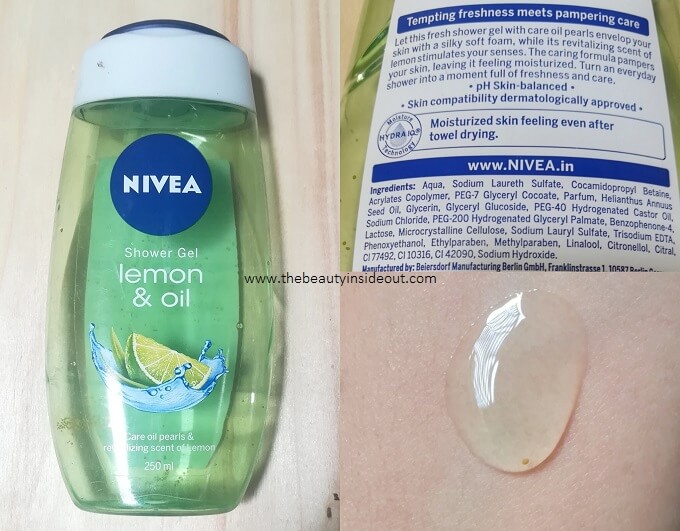 Product Type: It's a shower gel with a refreshing scent of lemon to give you fresh and clean skin.
Suitable For: All Skin Types. Perfect for summers.
Fragrance: Relaxing lemongrass scent that's mild & refreshing.
My Experience: I love citrus scents in my body washes and this has an intoxicating and energizing lemon-y scent. It is gel-based with tiny care oil pearls(beads) that melt upon lathering. The shower gel lathers richly and gives a squeaky clean skin. It provides instant freshness and awakens my senses. It does not leave any slippery residue behind and is not a hydrating shower gel. This would be perfect for the summers to eradicate sweat & body odor. It's budget-friendly and a little goes a long way as well. I thoroughly liked using this refreshing shower gel from Nivea. I'd recommend it for both men & women.
Rating: 4.5/5
Where to buy it? Amazon.com | Amazon.in
9. Nivea Sun Moisture & Protect SPF 50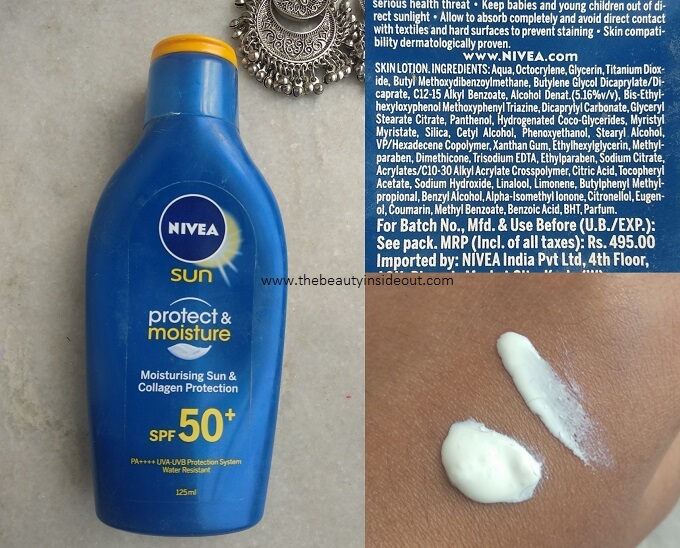 Product Type: It's a moisturizing, water-resistant sunscreen with both UVA & UVB protection to prevent sun damage and premature aging.
Suitable For: Normal to Dry Skin Types.
Fragrance: Signature Nivea Scent that goes away in 2 to 3 minutes.
Additional Info: Hybrid Sunscreen with Titanium Dioxide(physical); old school filters Octocrylene & Oxybenzone and new generation chemical UV filter Bemotrizinol. It also has a 5% Alcohol Denat.
My Experience: Firstly, I'm impressed with the addition of the advanced chemical UV filter. The sunscreen offers very good protection against suntan with its SPF 50+ PA++++. I never tanned or got sunburned whilst using this. But the biggest con of this product is the horrible white cast it leaves which never settles down. It's definitely not suitable for facial skin. Its white creamy lotion-like formula spreads and blends easily. The sunscreen is very moisturizing and can be greasy for oily skin. However, this is a very good body sunscreen that's affordable and comes in bigger bottles. You don't have to worry about your tiny, expensive 50 ml facial sunscreen getting over. If you are going out for a vacation in the hot sun, I'd highly recommend this. One can seriously vouch for its sun-protecting ability.
Rating: 3.9/5
Where to buy it? Amazon.com | Amazon.in
10. Nivea Body Creams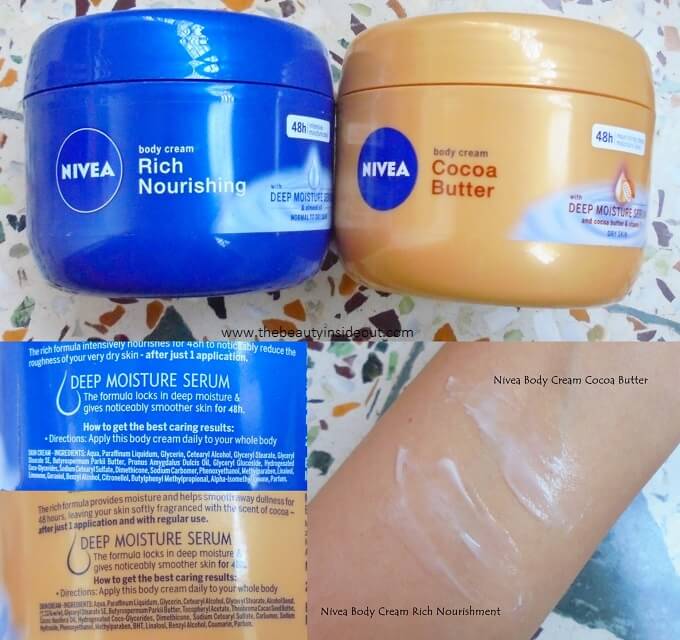 Product Type: The rich, deep serum moisture formula of the Nivea Body Creams claims to intensely nourish your skin for 48 hours to noticeably reduce the roughness of your skin.
Suitable For: Dry Skin Types.
Fragrance:
Almond Oil Variant has a very soothing floral fragrance mixed with original blue tin Nivea Creme's smell.
Cocoa Butter Variant has a rich cocoa and vanilla fragrance that's very lush and brings warm Christmas vibes to my mind.
My Experience: Both the Nivea Body Creams are thick, white creams that are quite heavy and need a good massage to get absorbed completely. They can leave the skin a bit greasy for a few minutes but are deeply moisturizing on the skin. It kept the moisture level of my skin intact throughout the day and frequent reapplication wasn't necessary at all. These body creams protect skin from harsh weather, heals chapped skin, softens and smoothens skin. The Cocoa butter variant is a tad bit richer than the other, so choose one according to your preference. I liked both of them equally.
Rating: 4/5
Where to buy it? Amazon.com | Amazon.in
Apart from the above-mentioned products, I have also tried the Nivea Crème Care Shower Cream. Nivea has about three variants of Shower Cream – Crème Care (Dark Blue), Crème Soft (White), and Crème Smooth (light blue). The shower creams are much different than the shower gels. The shower creams are moisturizing body washes meant for dry skin types. Myself having dry skin, I thought this would be great. But I literally hated this shower cream that I used the remaining to clean our toilet. It's super slippery that it doesn't get washed off from the skin nor gives a feeling that I had a shower. A dud product for me. Maybe you can try using this after a shower as an in-shower product!!
Final Thoughts on Nivea Products
There is definitely a difference in the quality of the Nivea Products in each country especially if you buy them in Asian countries. I feel the quality is a little better in products manufactured in Europe. Also, I believe they keep re-formulating their products, so their ingredients are not really constant. So if you are someone who buys beauty products online, you might have discrepancies in the product ingredient list, so you have to double-check those details.
Anyways, as far as performance goes, Nivea has got some solid body products that are dry skin-friendly. One should definitely try them out. As a person with oily facial skin most of the year, this is not one of my Holy Grail brands. I do check them out from time to time for their new launches and if something interests me, I do get them. But that is all. Personally, I can survive without Nivea.
That is all I have to say about Nivea Products. Do share your thoughts and experiences with Nivea Products in the comments section below.
Looking for other Brand Reviews?