I'm back with another popular South Korean Cosmetics brand in my Brand Focus Series wherein I share my experience with products from a particular brand. Today's Brand in Focus is The Face Shop. The Face Shop claims to meet all your beauty needs with products formulated with a blend of science and nature. They have a versatile range of products starting from cleansing oils to hand creams and also have a wide range of makeup products. In this post, you can find a collective review of a couple of The Face Shop Products that I have personally tried. These may not be their most popular or best-selling products. Just those that I happened to try, out of my interest. Shall we get started? Let's dig in.
Disclaimers:
All products are purchased from my own hard-earned money.
This post contains affiliate links. By making a purchase through those links, you help me run this blog successfully at no extra cost to you. 
The Face Shop Products Review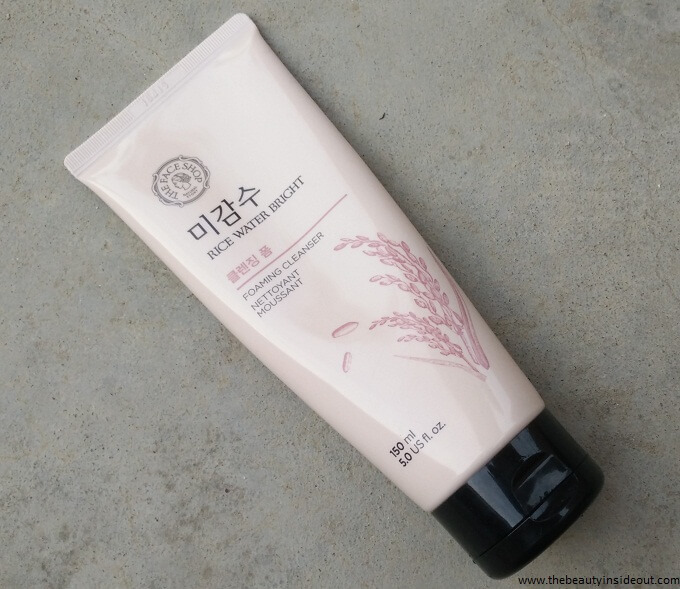 Starting off with The Face Shop Rice Water Bright Cleansing Foam. If you are thinking this is some sort of unique cleansing foam containing rice water and all. I am displeased to let you know that this is nothing but just like your normal Ponds Face Wash. It's not outright bad, but it's not something extraordinary.
The Face Shop Rice Water Bright Cleansing Foam has the most common cream cleanser texture and a pearly appearance. A tiny pea-sized quantity of the product is enough to clean up my face. The cleanser foams up really well, cleanses extremely well pulling out makeup, impurities, oils, and everything from the face, leaving it super squeaky clean, along with making my skin dry and stretchy. Like most face washes, it instantly wakes up tired, dull skin and imparts a temporary brightness. The brightening effect hardly lasts for a couple of minutes. Even with continuous usage, twice a day, this does not provide any long-lasting effect of brightening the skin as claimed.
Personally, I found this cleanser to be harsh on my skin, so I wouldn't really recommend this for everyday use. This would suit ladies with very oily skin but then don't forget to moisturizer your skin post-cleansing.
Rating: 3/5.
Where to buy it? Amazon.in | Amazon.com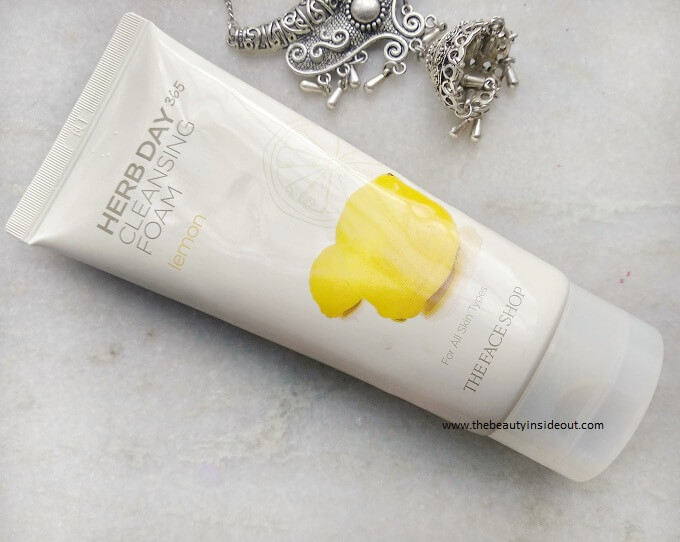 This range of Herb Day Cleansing Foam is quite popular because of its affordable price and availability of different variants suitable for various skin types. The Lemon variant is the most popular one among the other variants which includes Aloe, Peach, Mung Bean, and Acerola.
The Face Shop Herb Day 365 Cleansing Foam in Lemon is a pearly white creamy cleanser that foams up really well. It has got a refreshing citrus fragrance that awakens tired skin. The cleanser gives a squeaky clean skin and brightens up the skin like nobody's business. I've used various brightening face washes, but this one is the most brightening one of all. It removes dullness and revives lifeless looking skin. This particular variant is suitable for oily skin as it can be a bit drying for other skin types.
Overall, for the price point and long-lasting quantity, this easily makes the cut for being one of the best affordable face washes for oily skin. This cleansing foam is sulfate and paraben-free as well.
Rating: 4/5
Where to buy it? Amazon.in | Amazon.com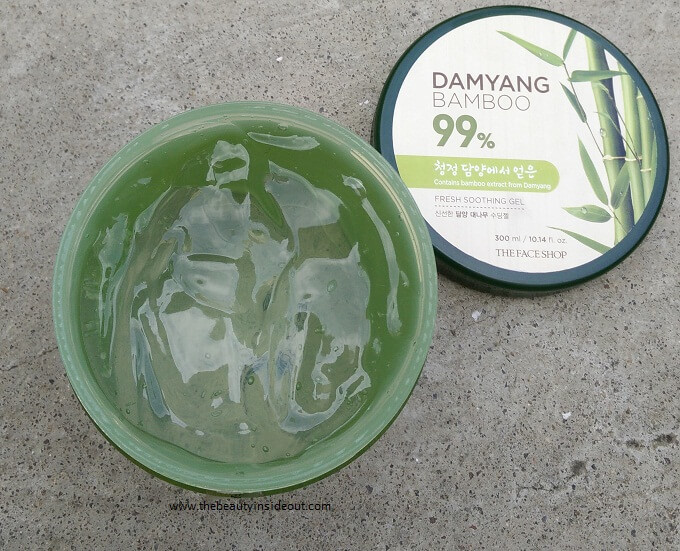 This is my most favorite among all The Face Shop Products. This is a great multi-purpose product and I totally loved using this huge tub of Damyang Bamboo Gel. This was a nice change from my regular Aloe Vera Gels. The Face Shop Damyang Bamboo Gel almost looks and feels like The Face Shop Aloe Fresh Soothing Gel with its colorless and weightless gel texture, but the Bamboo Gel is much more hydrating and soothing on the skin than Aloe Gel.
The Face Shop Damyang Bamboo Gel can be used As A Moisturizer, As A Wash Off Mask, As A Sleeping Mask, As An After Shave, As An Acne Spot Treatment, As A Hair Detangler, As A Primer, and Also Mixed with Foundations. My favorite way of using this was as a Wash-Off Wash. I apply a thick layer of the gel and let it work for 20 minutes and then rinse with generous amounts of water. This method really soothes and calms tired dull skin after harsh sun exposure.
This is specifically meant for dry, dehydrated skin, but from my personal experience, this would suit oily, combination skin types as well. Both the Aloe Gel and Bamboo Gel are very cost-effective and are equally soothing and effective. Only the Aloe Gel comes in both tube and tub versions, whereas the Bamboo Gel comes only as a tub which may be bulky and inconvenient to use.
Rating: 4.7/5.
Where to buy it? Amazon.in | Amazon.com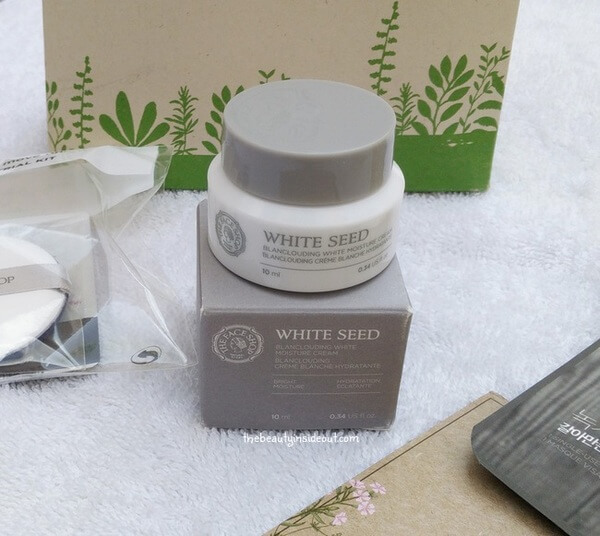 The Face Shop White Seed Range is quite popular for its effectiveness. This moisture cream is targeted towards dull skin to brighten up the complexion. It claims to be formulated with unique ingredients White Lupin Seed and White Daisy Flower Extract. The moisture cream is also free from the 7 additives; parabens, tar colorant, animal-sourced ingredients, mineral oil, talc, polyacrylamide, and paraffin.
So let me come straight to the point, I did not like this cream. The main reason, this caused me breakouts which I didn't expect at all. The White Moisture Cream has a bouncy, rubbery, jelly kind of gel-cream texture which is similar to the Klairs Vitamin E Mask. It spreads and absorbs into the skin fairly well and leaves the skin dewy. The cream is nicely moisturizing and hence leaves the skin supple and healthy when used as a night cream. For daytime use, I felt the cream to be slightly greasy for my oily skin. I'm still skeptical about its brightening claim as I didn't see much difference in that area. The scent was nice and pleasing with a touch of floral notes.
Overall, this is a kind of a rich moisturizing cream that is intensely moisturizing and would suit someone with dry or very dry non-acne prone skin. I don't think this cream does anything apart from moisturizing. So I would skip it.
Rating: 2.5/5. Where to buy it? Amazon.in / Amazon.com
Similar Brand Reviews:
5. The Face Shop Chia Seed Hydro Cream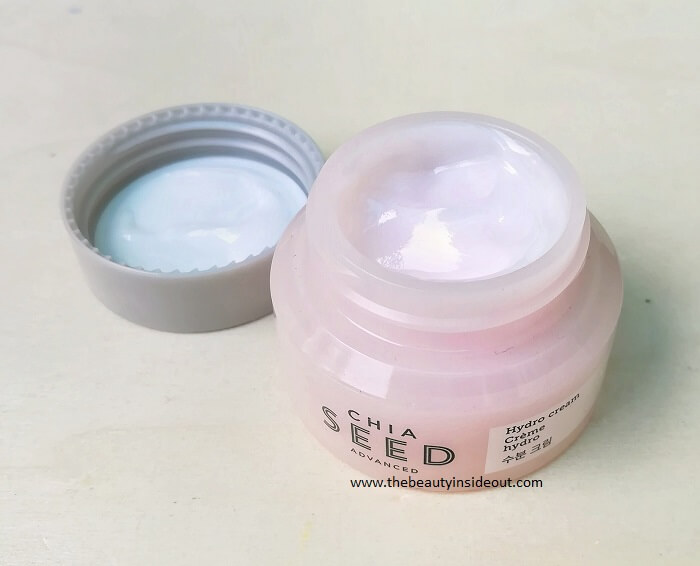 This is a well loved product from The Face Shop. It claims to be a low irritant gel cream that locks in moisture while adding a glow to the skin.I would say it does exactly what it claims. It's a pale pink, gel cream that applies beautifully. I just needed a pea sized amount of the product for my face. It intensely nourishes and leaves my skin dewy and smooth. This would be perfect for night time use for normal and combination skin type. It helps me wake up with soft and supple skin in the morning. The hydro cream has a floral fragrance to it. Though it's not lingering or overwhelming, they could skipped it, in my opinion.Overall, I loved using the Chia Seed Hydro Cream. It's much better than the White Seed Cream.
Rating: 4.5/5 Where to buy it? Amazon.in | Amazon.com
6. The Face Shop Chia Seed Hydro Lotion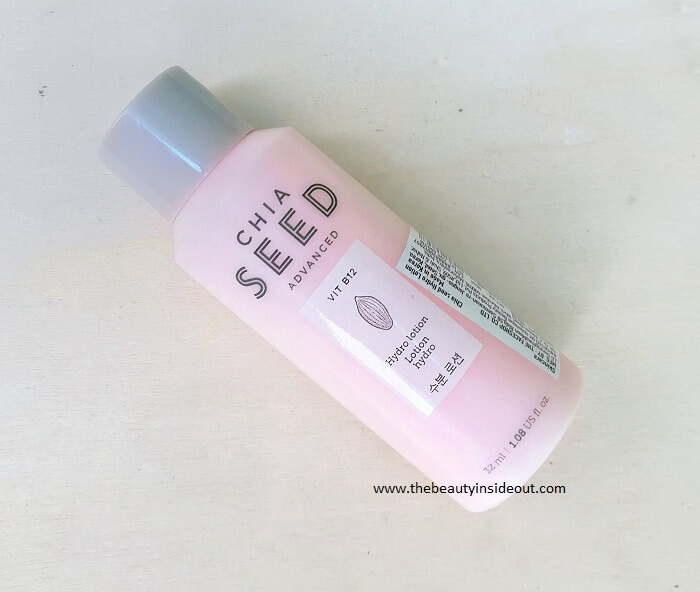 This is pretty much similar to the Cream, but is much more lightweight. It's a light lotion that reminds me of the Etude House Soon Jung Emulsion. It's feels very emollient on the skin and spreads very easily. I used just a pea sized on and it kept my skin thoroughly moisturized throughout the day. The finish of this is yet again dewy smooth on combination skin. It might be heavy for oily skin types. The lotion didn't break me out and has a similar fragrance of the hydro cream. Overall, it's a nice lotion. Comparing both the cream and lotion, I personally liked the hydro cream a bit more.
Rating: 4/5 Where to buy it? Amazon.in | Amazon.com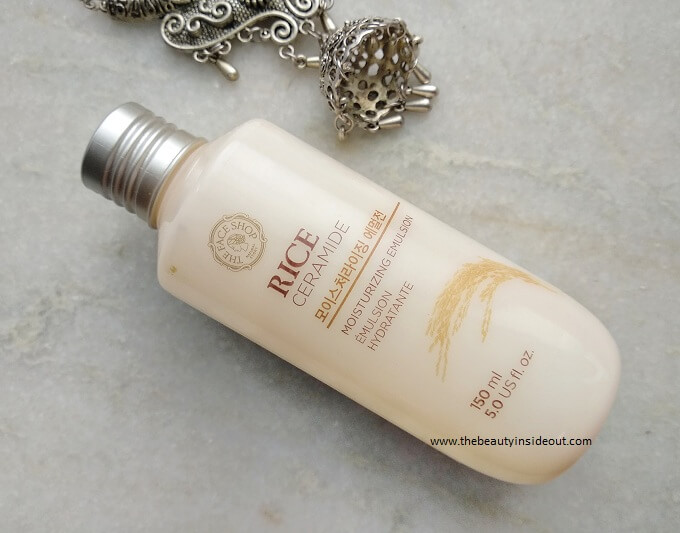 The Face Shop Rice Ceramide Moisturizing Emulsion claims to brighten as well as protect the skin barrier. Typically this emulsion replaces a moisturizer, but depending on your preference you can use it with other products in your 10 Step Korean Skincare Routine. With this product, I prefer to use a cleanser, toner, and then this emulsion. Because this emulsion by itself is insanely moisturizing that if I apply more products, my skin tends to become greasy. I also suggest using just a tiny bit of this product to avoid over-moisturizing. This is a heavy-duty moisturizer, despite its light lotion-like texture. It gives a tacky feeling and takes time to get absorbed completely. The emulsion has a mild scent to it, that's totally non-bothering.
On the good side, The Face Shop Rice Ceramide Moisturizing Emulsion has greatly helped to calm my skin sensitivities and irritations and I can vouch for its skin-soothing abilities. It reduced my breakouts noticeably. However there is one major con with this product, it kind of makes my skin look dull and dark whilst this product is on my skin. That's why I never use this in my AM routine. It doesn't brighten the skin as claimed, rather it does the reverse.
Although I liked how it reduced my skin irritations, I didn't like its feel on my skin. It is not a comfortable product that feels light on the skin. Overall, I don't think it's a product that's worth trying. The packaging is also flawed with its pinhole dispenser where it takes forever to dispense the product out once the bottle is half empty.
Rating: 2/5
Where to buy it? Amazon.in | Amazon.com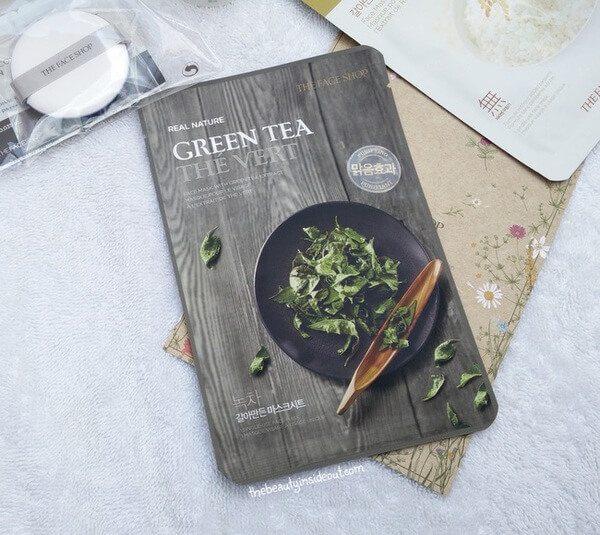 I've tried 3 sheet masks from The Face Shop – Two from the Real Nature Range and One from The Solution Range.
The Face Shop Real Nature Sheet Mask: These sheet masks are made of soft fabric and are quite thick compared to The Solution Range. These do have a chemical fragrance but it is mild and does not intensify and irritate my nose. Coming to its effectiveness;
Green Tea Mask: Loved it. It visibly brightened up my skin, made my skin supple and healthy. Results lasted for 2 days.
Rice Mask: Average Mask. Post sheet masking, the serum leftover on the face was very moisturizing and failed to get absorbed completely leaving my skin too sticky. I did not notice any visible brightening effect too.
The Face Shop The Solution Brightening Sheet Mask: These are ultra-thin and feathery light on the skin which aids in better performance. This variant has a mild floral fragrance. This mask instantly brightened up my skin with a subtle glow. It also made my skin velvety soft to touch. This mask is neither very moisturizing nor very drying and is great for someone with oily skin.
Sheets masks work differently for each one of them. I had both Hits and Misses in their Sheet Masks. These are pretty affordable so I would still recommend trying them if you are into serious sheet masking.
Rating: 4/5. Where to buy it? Amazon.in | Amazon.com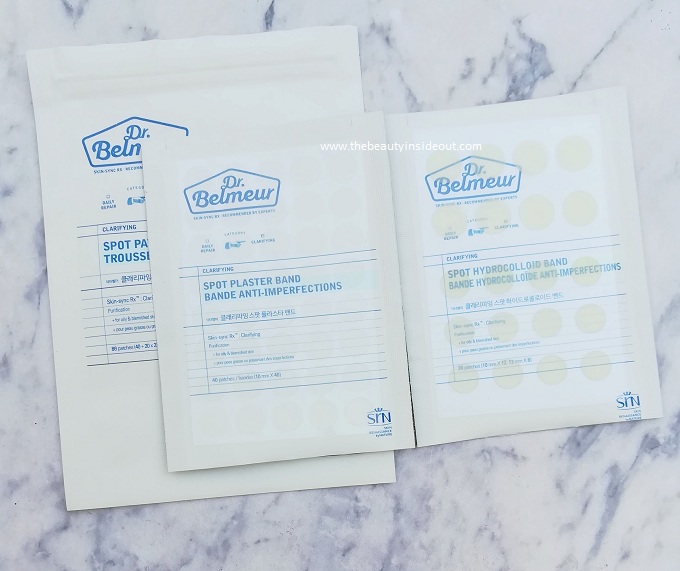 I bought this to replace my all-time favorite Cosrx Acne Pimple Master Patches. This Face Shop Kit had 80 patches in total and this was more economical compared to that. I'm glad because performance wise both are equally good.
The Face Shop Dr.Belmeur Spot Patch Kit has two types of patches (40 patches each).
One is the Spot Plaster Band that contains Salicylic Acid and Willow Herb which is to be used on an emerging pimple to calm it down. It is a transparent patch and much thinner than the other. This can be worn under makeup as well while it does its job of calming the acne.
The other type – Spot Hydrocolloid Band is a hydrogel type that absorbs and protects wound infections. This is best to be used on pus-filled pimples that have come to a head. It sucks out all the bacteria struck deep inside the skin and flattens out the acne area. Using this leaves no scarring on small and zit pimples and negligible dot-like marks for medium-sized pimples. These patches are to be applied on cleansed skin, before applying anything else (say toner or moisturizer). I usually leave it on for at least 12 hours or until I see the patch filled with white pus.
Overall, these are super handy and a must-have for acne-prone skin types. Both patches are fragrance-free as well.
Rating: 5/5.
Where to buy it? Amazon.in | Amazon.com
10. The Face Shop Cherry Blossom Daily Perfumed Hand Cream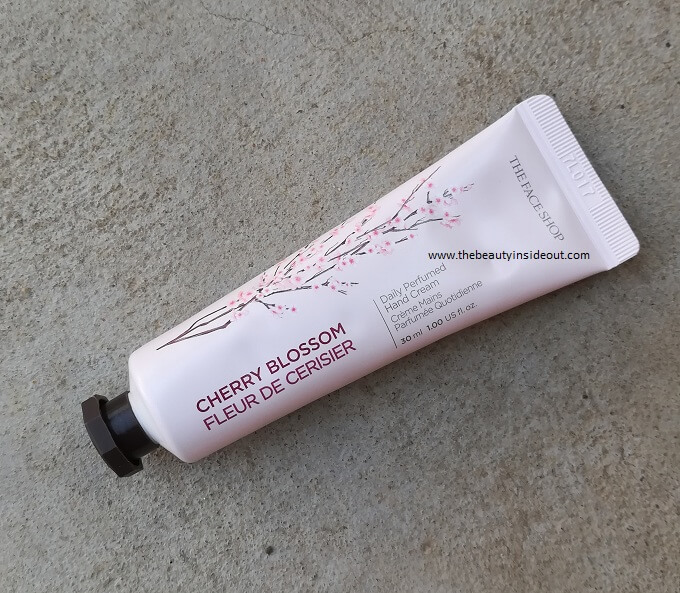 I never used to use separate hand creams before. The only hand cream I have tried so far is the Yves Rocher Arnica Hand Cream. I'll have to say that it was a pretty good Hand Cream. I bought The Face Shop Hand Cream sometime ago, when I felt that my hands too needs some special treatment as they were becoming more drier and rougher due to the weather.
I chose the variant, Cherry Blossom. This has a nice cherry and floral scent to it. It's not overwhelming, just a subtle soft fragrance that you can smell on your hands for about an hour or so. I liked this scent. The hand cream is milky white in color and has a medium-thick gel-cream consistency. It blends and absorbs quickly, within seconds of application and it immediately leaves my hands soft, nourished, and moisturized. All this without any oily or greasy or slippery residue. I could easily carry on with my other works like before due to its lightweight, non-greasy formula. The hand cream, however, is not very moisturizing. It kept my hands supple for about 2-3 hours max. and I had the need to reapply it sooner, otherwise, my hands become dry as they were before. Re-application is needed when hands are washed too.
I do not know what I am expecting, but since this has a non-oily formula, I think the moisturizing effect wasn't great. On the other side, rich creams immensely moisturize my hands but leave some oily or slippery residue behind which I hate. So my search for the perfect hand cream still continues.
Overall I would say I liked this cream's lightweight feel and non-greasy formula. This is a perfect hand cream for the summer season and for someone with normal skin. But if you are having very dry skin, this would not satisfy your hand's moisture requirement.
Rating: 3/5. Where to buy it? Amazon.in | Amazon.com
Bonus:
11. The Face Shop CC Cushion Compacts
This isn't actually a review of the products, but just my impression on The Face Shop Cushions. I got these one-time samples in the 'The Face Shop Experience Kit' which was available as a part of their initial launch. I got the shade V203 Natural Beige which is supposedly the darkest shade launched in India and guess what this is too light even on my medium fair skin tone. So think about medium, dusky and deeper skin tones. Above that, since it contains higher SPF, it leaves a white cast that looks too over the top on me. I wonder if this is what they call brightening. Totally not recommended for Indian Skin.
Anyway moving on to its application, since I didn't get the cushion compacts, I just applied it using my RT Miracle Sponge. I know cushions are there for a purpose but let me share my views. The formula was creamy yet thin, hence it spread quite easily. Both of the CC Creams felt light on the skin and provided light to medium coverage. They evened out the skin tone but did not cover acne marks and spots. The finish of both the cushions is on the dewy glowing side. The intense cover cushion gives a lesser dewy skin and is less hydrating than the Ultra Moist. Staying Power? I didn't get to test it as I couldn't roam around like a ghost with a 'white' foundation.
Concluding, I feel unless you have a very fair and pale skin tone, don't even bother about these cushions. I am not going to put out a rating for these as I haven't tried them long enough to give a proper rating.
Where to buy it? Amazon.in | Amazon.com
12. The Face Shop Jeju Volcanic Lava Aloe Nose Strip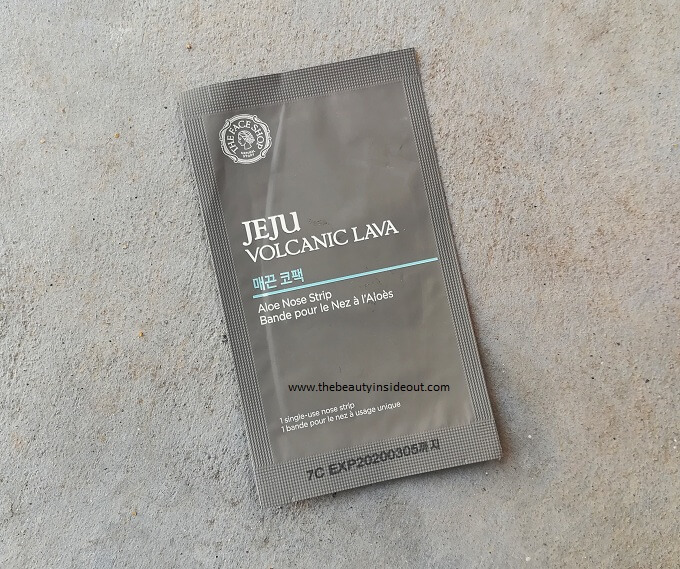 I always have blackheads on my nose area and hence I need to regularly get rid of them using some technique. Off late, I find nose strips to be an easier and effective means to remove blackheads. So I got this one from The Face Shop. This is also available as a pack of 7.
The Face Shop Jeju Volcanic Lava Aloe Nose Strip is a white-colored nose patch that is glued to a cellophane sheet. The instructions on how to use it are mentioned, so it's pretty easy if you follow the instructions. I used the one-time nose patch after cleansing my nose area. I removed the glued nose patch and placed it on my damp nose. The patch adheres well and is big enough to cover my nose area, except for the tip and inner corner of my nose. So it doesn't remove those blackheads on the tip and inner corner. After 10 mins or so, I removed the strip. The pain was minimal and bearable, like removing a peel-off mask. The result was great, the patch had beautifully removed all my blackheads and whiteheads leaving my nose cleaner and smoother. There was no sticky residue, I could just do away by rinsing with plain water.
Overall, this works as claimed. It's super easy to use and a quick solution to get rid of blackheads. I didn't face any redness or irritation at all. I only wish the patch covered my nose tip and inner corners too.
Rating: 4/5. Where to buy it? Amazon.in | Amazon.com
(Skip to) Quick Reviews of The Face Shop Products (For Lazy Folks)

| | | |
| --- | --- | --- |
| Product Name | Quick Review | Where to buy it? |
| The Face Shop Rice Water Bright Cleansing Foam | A creamy, foaming face wash that leaves the skin squeaky clean. It instantly brightens up the skin. But this is too drying for my skin. Didn't like it. Rating: 3/5 | Amazon.in | Amazon.com |
| The Face Shop Damyang Bamboo Gel/ Aloe Gel | A multi-purpose gel at a very good price. Loved using it as a wash-off mask after sun exposure. Very soothing and cooling on the skin. Recommended for all skin types. Rating: 4.7/5 | Amazon.in | Amazon.com |
| The Face Shop White Seed Blanclouding Moisture Cream | It's rich nourishing cream. I liked the unique texture of this, but this kind of broke me out, so not recommending it to oily and acne skin types. Rating: 2.5/5 | Amazon.in |
| The Face Shop Daily Perfumed Hand Cream – Cherry | This is a lightweight, non-greasy, fast-absorbing cream. It has a nice cherry scent. But is not very moisturizing for my dry hands. Great for the summers. Rating: 3/5 | Amazon.in | Amazon.com |
| The Face Shop Sheet Masks | Decent masks at a decent price. Among the ones that I've tried, I loved the Real Nature Green Tea Mask and the ones from The Solution Range. Rating: 4/5 | Amazon.in | Amazon.com |
| The Face Shop Jeju Volcanic Lava Aloe Nose Strip | A quick fix for blackhead removal. A nice one. I suggest steaming before using this to aid in better blackhead removal. Rating: 4/5 | Amazon.in | Amazon.com |
| The Face Shop CC Cushions | I haven't tested out this enough. But the shade range is a major let down. Unless you are pale and fairer, don't even think about these. They also leave you white due to their high SPF. | Amazon.in | Amazon.com |
| The Face Shop Dr.Belmeur Spot Patch Kit | This is similar to Cosrx Acne Master Pimple Patches but a bit more affordable. Comes with two types of patches, one for the pus-filled acne to suck out the bacteria and the other for post-care to tackle the scarring. Acne-Prone Skin Types, just get it already. Rating: 5/5 | Amazon.in | Amazon.com |
| The Face Shop Herb Day 365 Cleansing Foam | A very affordable, Sulphate Free & Paraben Free face wash that does its job of cleansing perfectly. Available in a lot of variants suitable for a wide variety of skin types is a big plus. Highly Recommended. Rating: 4/5 | Amazon.in | Amazon.com |
| The Face Shop Rice Ceramide Moisturizing Emulsion | An Intensely Moisturizing Emulsion that calms skin sensitivities and reduces breakouts. However, it makes my skin look dull and doesn't have the most comfortable skin feel. Rating: 2/5 | Amazon.in | Amazon.com |
My Final Thoughts on The Face Shop
Like every other brand, I have both hits and misses on The Face Shop Products. I liked their Bamboo Gel a lot among all. I  haven't explored much of their popular products like their Chia Seed Range, Rice Water Bright Cleansing Oil, Jeju Volcanic Range, I have keen interest on their sensitive skin friendly Dr.Belmeur Range. For me, when it comes to korean skin care products, my first preference is from the brand Dear Klairs Products(Love their supple preparation toner) followed by Cosrx and then the Innisfree Products. Sadly The Face Shop is not my most favourite brands, although I wish to try one or two products in the future.
That wraps up The Face Shop Products Review. Do let us know your favourite products from The Face Shop and your take on the brand in the comments section below.