Needless to say, Aloe Vera is the most used succulent plant in this beauty and medicine industry. It contains lots of antioxidants, vitamins and soothing properties which helps for sunburn, settling down the pH of the skin and the most important thing which is acne control. It is great for hair for being able to reduce dandruff and dry flaky scalp. I have used the Patanjali Aloe Vera Gel before moving onto korean and fancy brands. When my favorite brand The Face Shop launched its aloe vera gel, I knew I had to try it. This is not a new product by any means but it was newly launched in India. Today I am going to review The Face Shop Jeju Aloe Fresh Soothing Gel. So if you are a big aloe vera gel sucker like I am then please keep on reading.
Product Description:
The Face Shop Jeju Aloe Fresh Soothing Gel is a multifunctional soothing gel that can be used for soothing, moisturizing and is packed with 99% aloe from pristine Jeju Island. It is free from paraben, benzophenone, animal oil, mineral oil, and artificial coloring.
Ingredients: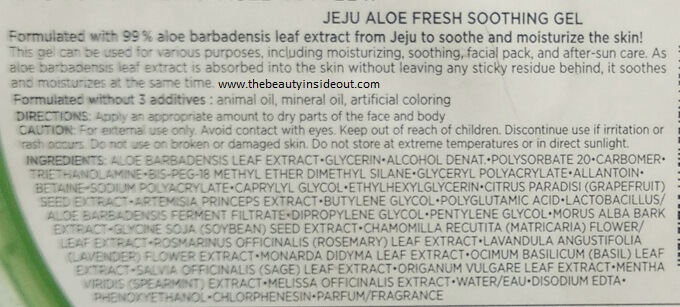 Price: 450 INR
Quantity: 300 ML
The Face Shop Jeju Aloe Fresh Soothing Gel Review:
Packaging: The Face Shop Jeju Aloe Fresh Soothing Gel comes in a huge tub which is good to use but is not hygienic. You have to put your finger in it every time you use it. I wish it had a spatula. Although it has a plastic cover to seal the body of the gel so that it couldn't come out, it is not so good for traveling because of its bulky round tub which takes a lot of space. On the upper lid, it has the brand logo and name and on the back, it has all the information like ingredients and how to use it in both Korean and English. Well, The Face Shop Jeju Aloe Fresh Soothing Gel also comes in a tube version, tackling all the cons of a tub mentioned above.
Color and Texture:  It is a proper gel, it has no color whatsoever but due to the green packaging it gives a greenish look when you look at the tub. It has pure gel consistency which is neither too dense nor too slippery.
Fragrance: I did not find any fragrance. But it has refreshing smell due to the ingredient mint. I don't know if it makes sense.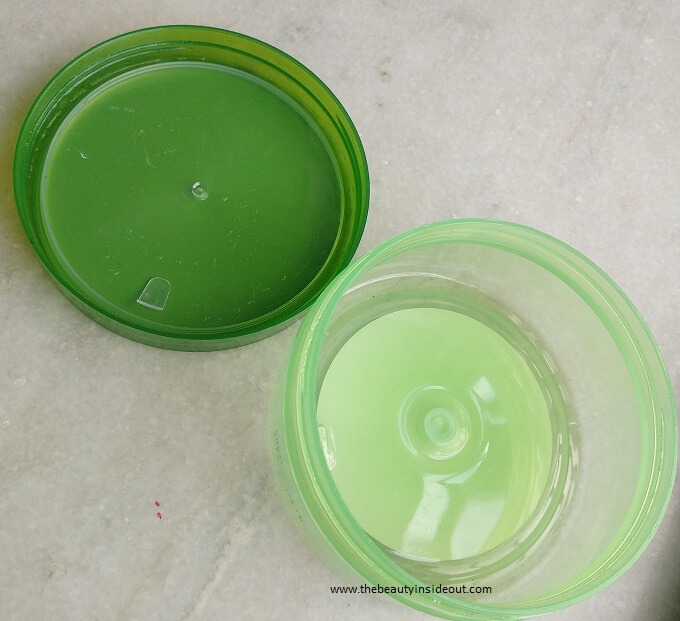 Efficiency: The Face Shop Aloe Gel moisturizes well enough. I always leave it in the refrigerator in the summer and it feels heavenly after sun exposure. But to be real honest for my Sahara desert dry skin it is not enough. I need to use a lightweight lotion or cream before this for best hydration. But I have dry to very dry skin. I have family members who have oily skin and they swear by it. This is a multipurpose product. I use it on my hair and it makes my hair look keratin smooth polished the next day. Often when I ran out of primer I use it before applying foundation and it does help in holding the foundation for a long time as Aloe Vera helps in oil control. It is true to its claims as it balances the pH of my skin.
This gel has alcohol in it and I don't think I like that. Aloe vera is great for Acne and Scar Healing. I don't have acne-prone skin but I have some sunspots and hyper pigmentation which is reducing over time due to this product. As an everyday moisturizer, this is great. It is fairly cheap as it comes in a huge quantity and lasts for a long time. I was using this twice a day for the last 3 months and I have still 1 use left.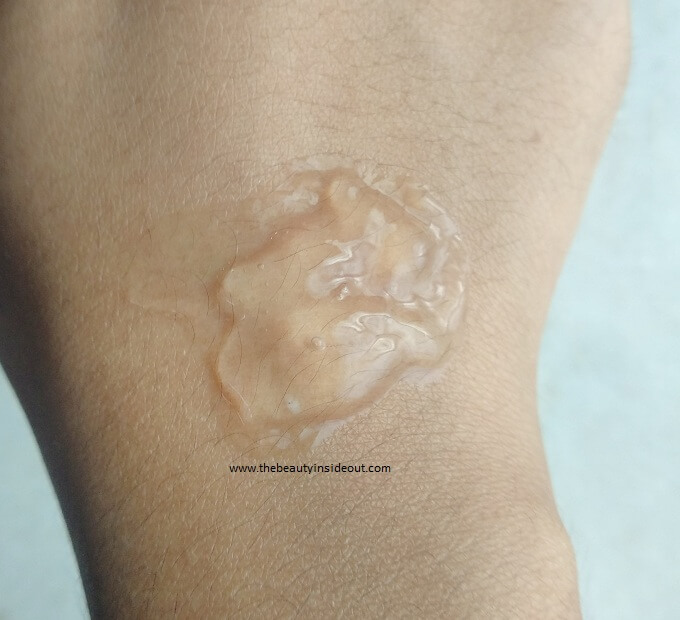 Pros:
Contains 99% Aloe Leaf Extract.
Value for Money.
Multipurpose product.
Can be used as hair polisher.
Controls oil and good for acne-prone skin.
Helps in hyperpigmentation and scar healing.
Best for soothing sunburnt skin.
Can be used as a body lotion as well.
Paraben Free.
Cons:
Does have alcohol in it
Does not comes with a spatula or any kind of applicator.
The Face Shop is Not Cruelty Free.
Rating: 4.5/5
Do I recommend? Yes, I recommend this product. It does everything what an aloe vera gel is supposed to do and I thoroughly loved using this. If you are looking for an alcohol free aloe vera gel, you can try the Innisfree Aloe Revital Soothing Gel.