If you ever want to know when exactly I fell in love with Korean beauty products then this is the moment to ask for it and the answer will be obviously THE ALMIGHTY SHEET MASKS. I mean who doesn't love sheet masks. It gives hydration, brightening, spa-like experience all in one but also at a cheap rate !..that's dream come true. And you know what they say,  You never have enough sheet masks. I have tried a fair amount of sheet masks from brands like Innisfree, The Face Shop, Garnier, Etude House, Inatur etc. So today I am going to review the Mirabelle Korea Berries Fairness Facial Mask, so if you are interested then keep on reading.
Product Description:
The Mirabelle Sheet Mask has a 100% cotton sheet in it and it is made in Korea. It has berries along with pomegranate extracts which provide Vitality and elasticity to dull damaged skin and gives intense moisture.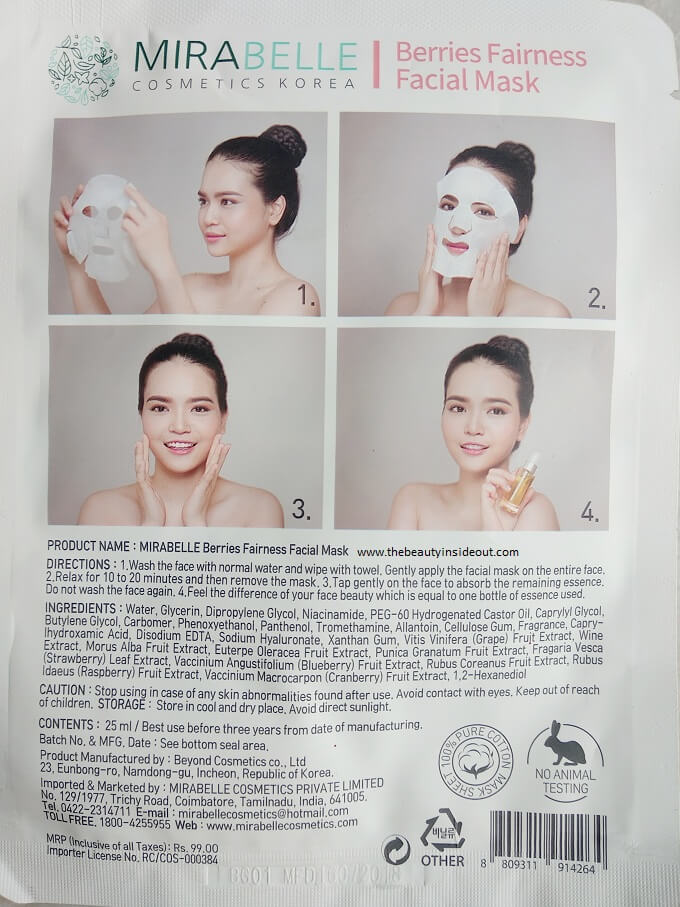 Cautions: When using a sheet mask, you have to make sure of two major points. The one is always using a sheet mask on cleansed face otherwise the dirt will lock underneath the moisture and can clog pores. Number two: always make sure your sheet mask doesn't dry on the skin because if it dries then it will take all the moisture back from the skin, so what's the point..take off when it starts to get tight or in about 15-20 minutes.
Price: 99 INR for one sheet mask
Quantity: 25 ML
Availability: Both online and offline.
Mirabelle Korea Berries Fairness Facial Mask Review :
Packaging: The sheet masks from Mirabelle comes in a standard sheet mask packaging. In the front, it has the name of the variant with brand logo and in the back, it has the instructions and ingredients list. It is non-messy and great for traveling purpose. Inside the packet, there is a white cotton face cut sheet drenched with berries extract serum.
Texture: The texture of the product is just like another serum. It is on the runnier side. And the happiest part is, the packet was filled with serum! I never used a sheet mask with this much serum in it. I used the remaining serum for 3 more times with my compressed sheet masks.
Fragrance: Mirabelle Sheet Mask has a sweet scent which gives relaxation to the nerves.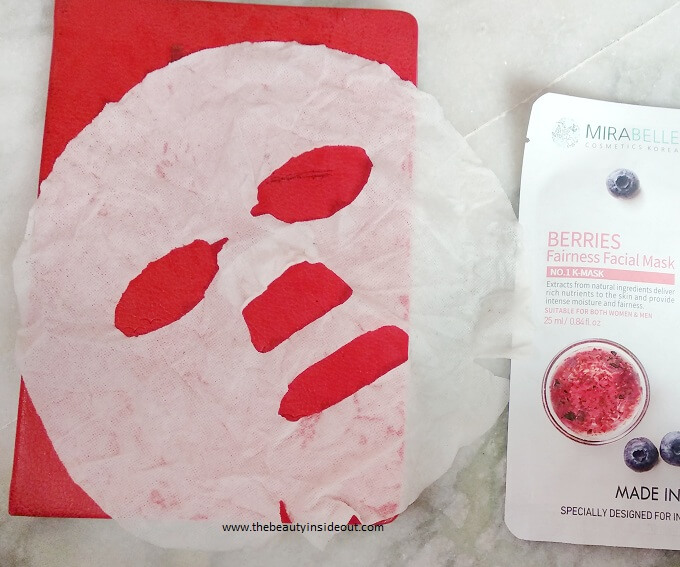 Efficacy: I always leave my sheet masks in the refrigerator before using it, so that it can give a cooling sensation every time I use. This particular sheet mask felt great after a hot summer day and gave me refreshment in all possible ways. I used this after double cleansing and toning and it gave me the perfect spa treatment within 15 minutes. I definitely recommend this before any special events and weddings.
Niacinamide is one of the main ingredients in this sheet mask and the result was way more brightening than other brands' sheet masks I tried out in the past. This mask provides the perfect balance of hydration and brightening. I have very dry dehydrated skin so after cleansing and toning, my skin is still mostly moisture deprived and by using this sheet mask, my skin looked more plump and luscious. It does not leave any tacky or greasy feeling which is great because I particularly don't like when a product just sticks onto my facial surface. The serum got absorbed into the skin very well and left a healthy dewy look with a baby soft and smooth skin. It relaxes my skin with its soothing effect and helped me sleep better. My pores looked smaller than usual and it also helped with the absorption of other skincare products that I layered upon. Overall, this was definitely an amazing experience for me.
Related Post:  10 Best Facial Sheet Masks in India
Pros:
Gives brightened and hydrated face
Gives refreshment to the skin
 Soothes skin and helps to take down the temperature of the skin
Skin looks healthy and plump
Serum absorbed well into the skin
Availability
Definitely can use at least 2-3 times
Good for special events
Cons :
None!
Rating: 5/5
Would I recommend? Yes. I think all skin types can get benefited by this Mirabelle Sheet Mask. I will recommend this variant particularly to the ladies who are a bride to be and are attending a special event in the near future.