Korean sheet masks are in vogue that our homeland brands are coming up with their own version of it. Recently when Inatur Herbals, a reputed herbal brand launched facial sheet masks I was so excited and picked up all the three variants that they had. After having used them, today I'm up with a review of them.
Inatur Sheet Masks come in 3 variants
Sandal Sheet Mask
Rose Sheet Mask
Charcoal Sheet Mask
Price: 100 INR for one unit. Buy HERE.
Shelf Life: 12 months from the date of manufacture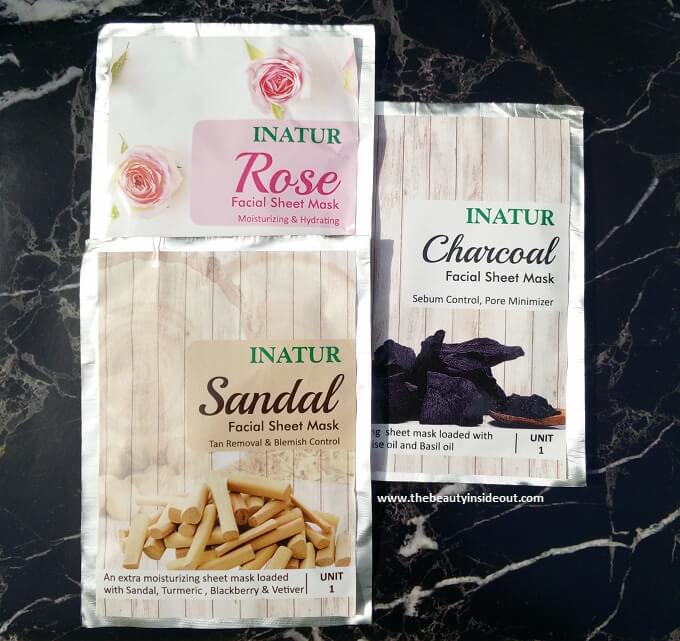 Packaging: The look of it is pretty nice with each sachet flaunting their key ingredient and corresponding color on it. These sheet masks come in an aluminum look alike plastic sachet that is non-tearable unlike some Korean brands. You definitely can't open them without the help of scissors. Each sheet mask caters to different skin type and skin concern and I like that they did not miss out on any details and have clearly stated everything at the back cover of these masks.
Fit: The fitting was average for my oval face. It was a bit longer above my forehead that it covered my hairline. And it did not extend over my jawline. The eye openings are fairly small so the sheet mask fully covered my eyebrows and under eye area as well.
Material: These are made of a plant derived natural fiber which feels soft on the skin. The sheets are not thin but aren't too thick either. They adhere to the skin effortlessly and dries in 20-30 minutes if you are under the fan.
Serum: All three sheets are soaked in a serum that has low viscosity. It's just that the color of serum varies. You definitely to need to lay flat otherwise it starts dripping onto the neck area; the essence on the fore head becomes dry too. Since the serum is very liquidy, you get a lot, I mean A LOT, of left over serum in the sachet, even though I place them horizontal prior to using.
Fragrance: All three have a strong yet pleasing fragrance. The Rose Mask smells exactly like Rose Milk. I even wondered whether they had added the rose essence that we use to make rose milk at home; it also stained like it. The Sandal mask has the scent of sandalwood oil and the charcoal mask has an a fragrance that I can't remember exactly. I believe its some essential oil.
Color: Have a look of it by yourself. The pics were taken post usage. Before using they were a lot darker than what you can actually see.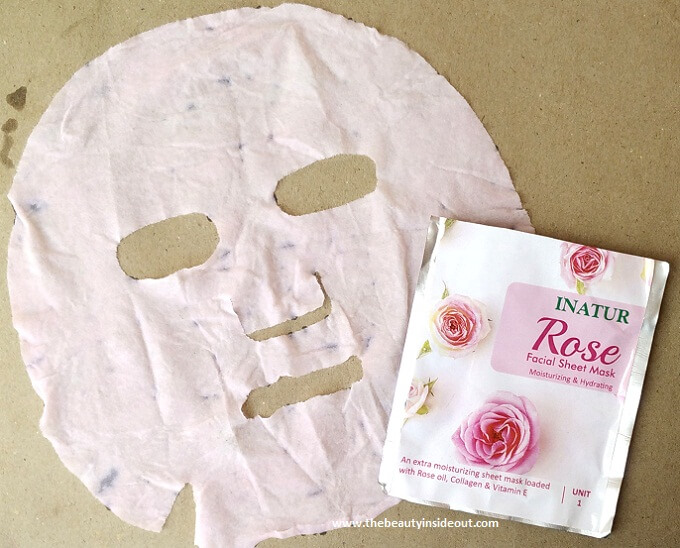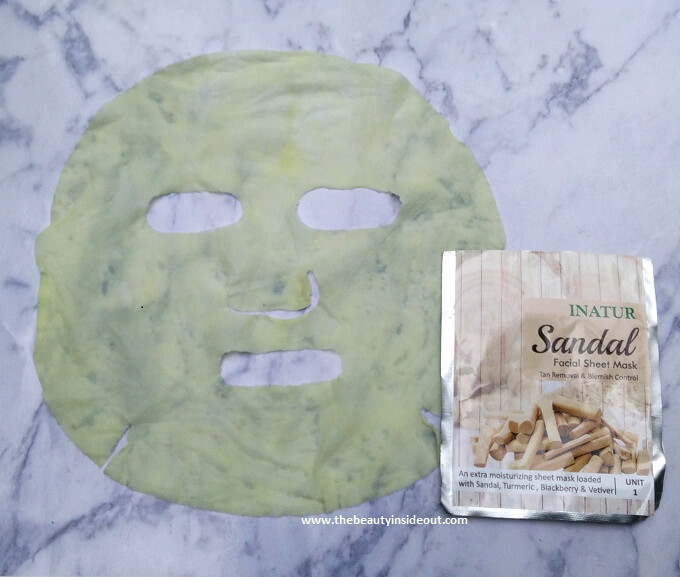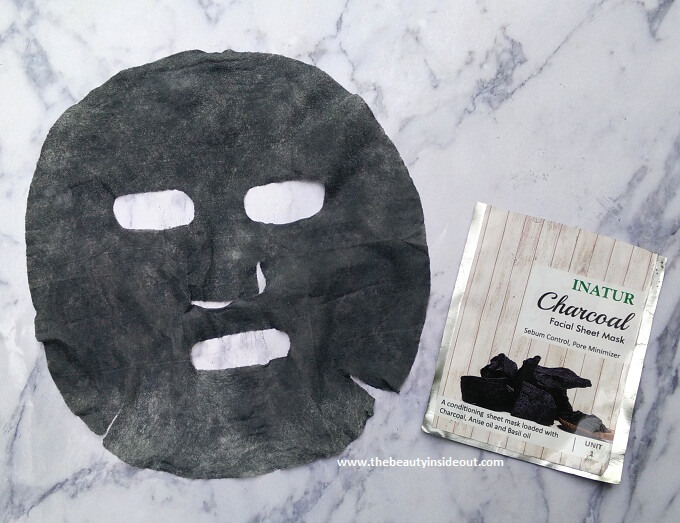 Prep before usage: There are various ways in which one uses sheet masks. But let me give you three points to reap more benefits from sheet masks.
Cleansing and Toning is a must before sheet masking. You can even exfoliate on the day of sheet masking for effective absorption of the serum.
Never wash your face after sheet masking and follow it up with a moisturizer.
I would recommend masking at night ( which I fail due to my little one ) so that you can let the serum work through the night.
I admit I failed to follow two of the above steps due to unavoidable reasons that I'll let you know later in this post.
My experience with Inatur Sheet Masks:
Inatur Rose Facial Sheet Mask Review: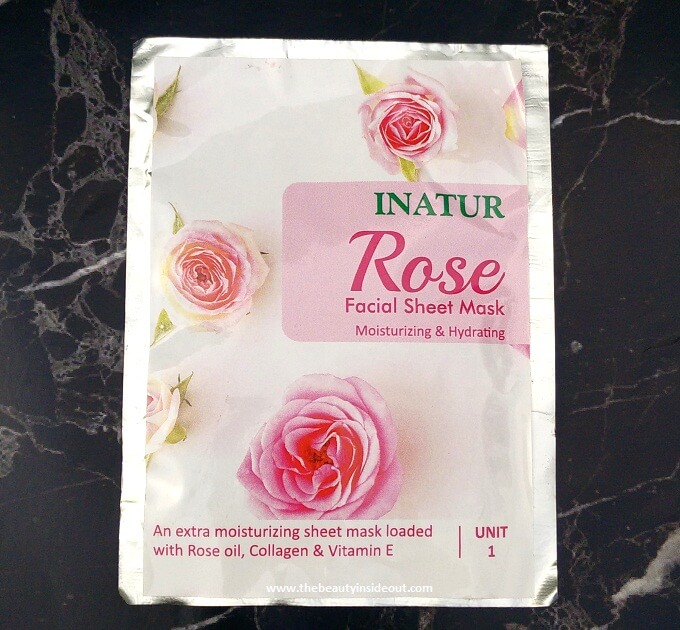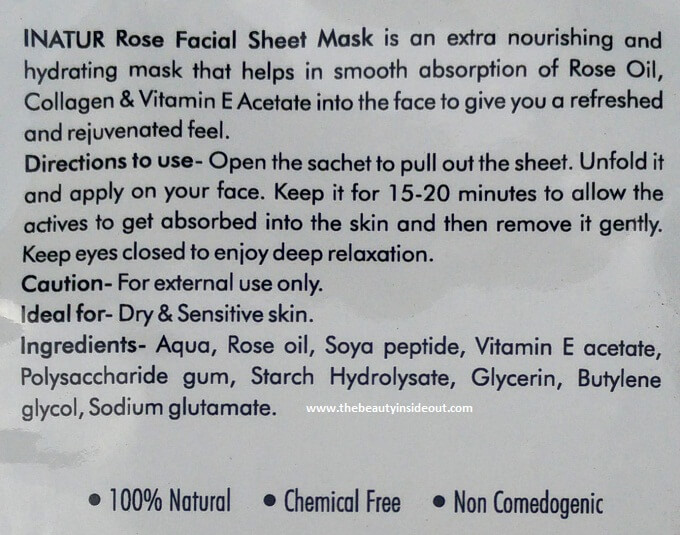 I know this is not meant for my skin type. I normally have oily-combination skin that gets dry occasionally due to my changing skincare routine. I reserved this mask for the last and happened to use it yesterday afternoon as I felt my skin was dry. After cleansing (Greenbliss Face Wash) and Toning (Zofla Organic Rose Water), I just pulled out the sheet mask, unfolded it, placed it on my face and let it sit. Initially I didn't feel anything, but after 10 minutes I could feel a cooling sensation that lasted for say 5 minutes. Totally after 30 minutes I removed the mask. The sheet was still wet when I removed, as I was lightly dabbing the left over serum as and when I felt the sheet was drying. After removing, I did not expect it at all, but I was shocked to see myself pink in color. I have fair-medium skin and it was very obvious on my skin. I was a bit worried whether I was allergic but no it was just stain. I had no other way but to wash my face, since it was mid-afternoon and I can't go roaming around for the rest of the day with a pink face. So I washed it, but it just doesn't go away with plain water and I had to use my face wash. I cannot say much about its claims of moisturizing & hydrating because all I saw was a pink face and I even washed it off. I feel I just wasted this mask and made a blunder out of it . Don't even think about using it during the day time.
Inatur Sandal Sheet Mask Review: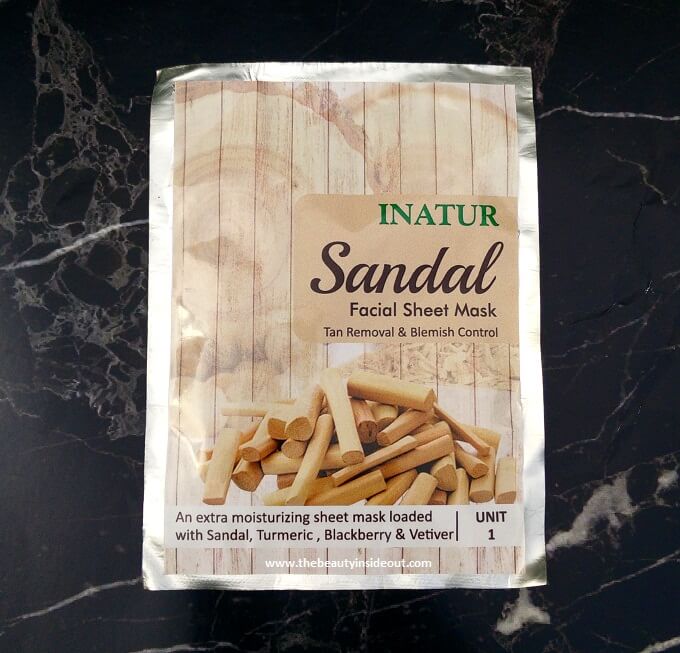 I had high expectations with this mask as it contained sandal and vetiver which are supposedly good for acne prone skin like mine. With all the excitement, I used it and….I wasn't really happy with it. After prepping the skin and post application of the sheet mask, my skin felt totally normal, no irritation or watsoever. But after few minutes, I felt a tingling sensation which turned intense. Still I let it sit for 20 minutes, by that time, my skin was hot and burning. So I removed and had to wash it off. But the tingling sensation failed to subside completely even after washing. Rose water , Aloe Vera Gel nothing seemed to calm down my skin. I had no other way but I just let my skin bear with it. Since there were no skin rashes or redness, I wasn't very anxious. After an hour or so, my skin was back to normal. I couldn't check on the immediate results, but later that day I could see my skin was a little bit brighter and glowing than it would be on normal days. Use it if you are not allergic to any of the ingredients used on this sheet mask.
Inatur Charcoal Sheet Mask Review: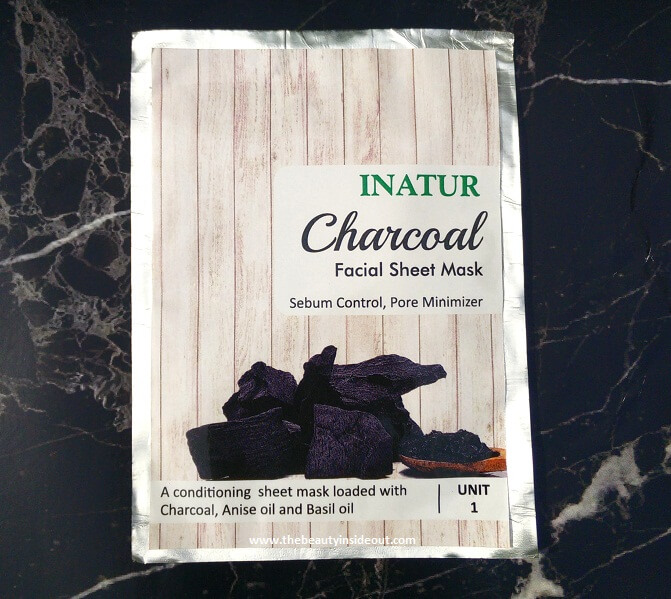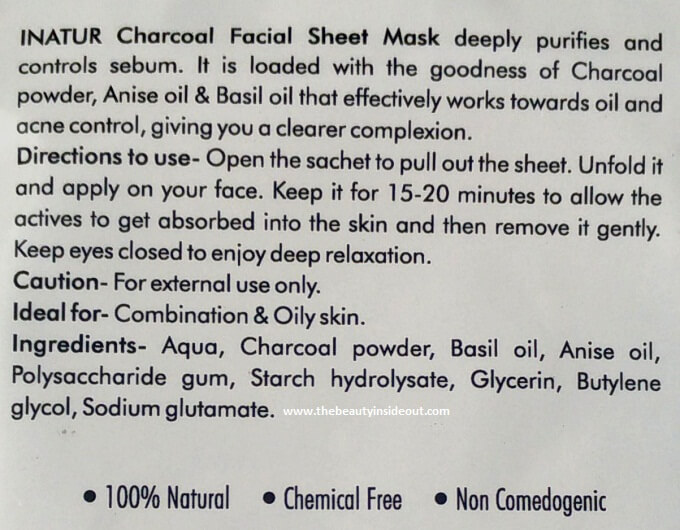 Finally a sheet mask for my skin type. I wasn't aware of the benefits of charcoal until recently when I saw Charcoal peel off masks all over the internet. Since then I wanted to try a charcoal based product and Inatur Charcoal sheet mask just came in time; This was my first encounter with charcoals. I was excited to try it out soon and finally the day came when I had to use it. Following the usual prepping steps, I applied this sheet mask and let my skin reap the benefits by letting the mask for 30 minutes. Inbetween I kept smearing the left over serum over the sheet mask. During the entire time I had the sheet mask on, I did not have any kind of tingling or adverse reactions and skin felt totally normal. Just with the feel that I had a mask on. Like always, I removed it while it was still damp and I could see black charcoal residues on my skin. Again I was forced to wash my face which is not recommend, but I was glad at least it was staining like the Rose Mask. It was fairly easy to wash with plain water and once done, my skin was glowing with brightness and I was floored with its results. My skin was tighter and firmer than before; I could very well notice a difference in the size of my pores too and my skin looked even toned. The effects lasted for more than two days which made me fall in love with this sheet mask more. This was the BEST out of the three masks I tried and I am sure I'll be picking up this variant again. Do give this a try if you have oily skin and large pores.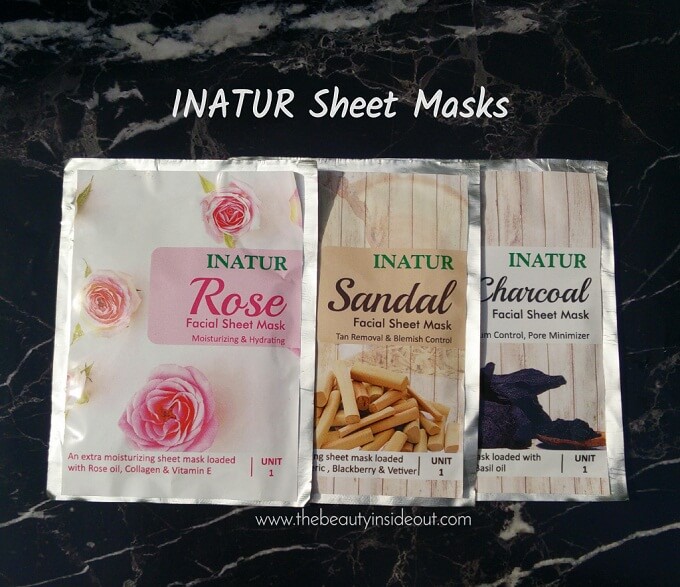 You should note that each one of us have different skin types and the above mentioned review is what I experienced. The sheet masks which didn't suit me might suit you or vice versa. In all, though two out of the three didn't work out for me, I feel Inatur Sheet Masks are still worth giving a try as it contains almost no chemicals, its Vegan and it falls in the price tag of Korean Sheet Masks that contains a long list of harmful chemical ingredients. Its just that you need to pick the one that suits your skin type and use it along with your night time skincare routine.
That was all about Inatur Sheet Masks. Have you tried these? Share your thoughts in the comments section below. Don't forget to subscribe (see for pop-up) and stay updated with other beauty reviews.
Also check out:
Until Next  Time,
Stay Beautiful♥