Most of us know that scrubbing is essential to keep your pores clear and get rid of those dead cells from your skin revealing the new inner layers. But at the same time, over scrubbing and harsh scrubs can be harmful and damage your delicate tissues and can also cause skin thinning. So it is very important to choose mild scrubs for your face however clean you want your face to be. I recommend using a separate scrub for your stubborn blackheads and restrict from using them all over the face. Today I'm up with the review of Hedonista Fresh Face Scrub which is a natural, handmade, gentle exfoliating face scrub. Let's first get into what the company has to say about the product.
About Hedonista Fresh Face Scrub:
A lush snack for your face – Sweeten your me-time with this brightening, gently exfoliating fresh-coconut scrub.
Short and Simple!
Ingredients: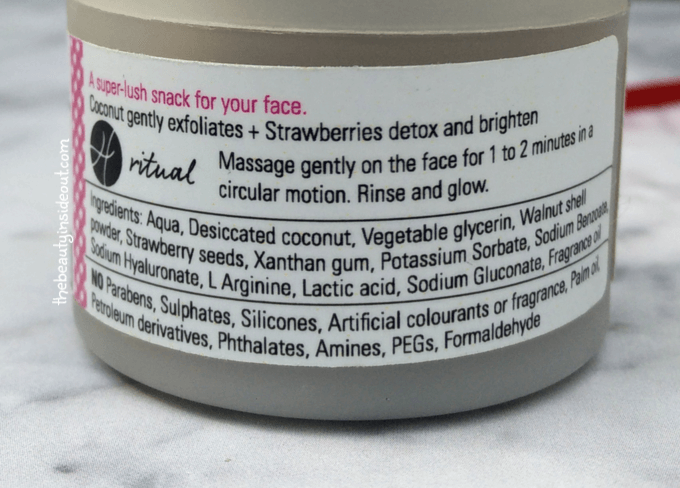 Price: 1045 INR for 105 gms. Buy it from HERE.
My take on Hedonista Fresh Face Scrub:
Let me quickly start with the packaging! As you can see it comes in a tub form which most of us find unhygienic. So do I. Though it can be sorted out by using a spoon or spatula, I'm too lazy to search for one, so I always end up dipping my fingers. The one I'm having is just a sample so I finished up very soon, so using my fingers didn't cause the scrub to go rancid or spoilt. I believe so. Despite the fact that I hate the tub packaging, I loved the look of it. Confusing! I kind of like the printing, colors, designing on the label sticked to the tub which makes it admirable and luxurious.
Moving onto the look and feel of the scrub; the scrub has an overwhelming fragrance which is fresh and sweet with a mix of strawberry and coconut aroma. I like it. The scrub is light brown, gel based and packed with minute walnut-strawberry granules and desiccated coconuts scrapes. Since they are sparsely packed they provide gentle exfoliation without hurting the skin.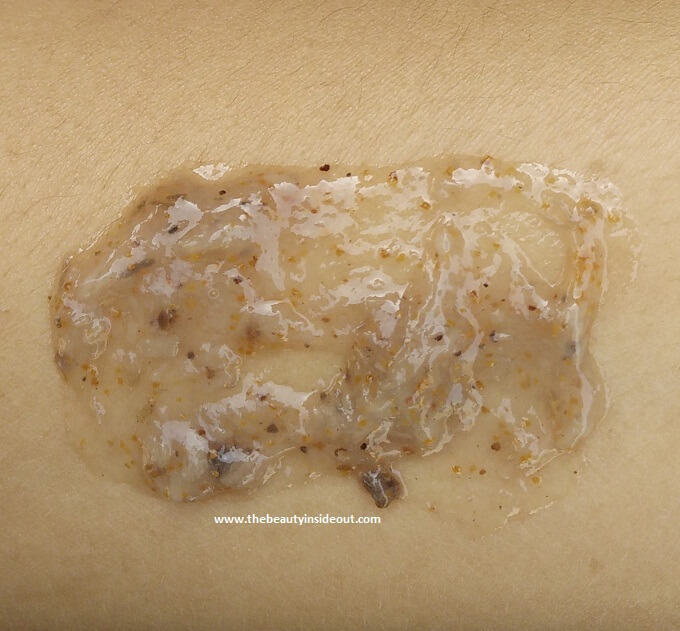 I use a light hand while scrubbing and scrub not more than a minute. The scrub feels gooey and oily upon application and glides easily on the skin. Once I'm done with scrubbing, I wash it with plain water. I could feel the oiliness while washing and it lingers post washing too. But once I pat dry my skin with a soft towel, the oiliness subsides and I'm left with a soft, supple and moisturized skin. I just follow it up by spritzing my recent favorite Organic Rose Water Toner. As a scrub, it does its job of exfoliating well, but it does not give any extra ordinary effect on the skin. For the hefty price it comes, I expected at least a bit of glow or brightening which it didn't.
Also it doesn't do anything for blackheads and whiteheads as it is a mild scrub and I didn't hope for it as well, as I prefer a mixture of baking soda and water for blackheads. That works wonders and is much better than any other scrub. Though I have oily skin and the scrub makes the oiliness obvious it did not break me out even once, however this is a scrub that would best suit dry and sensitive skin types.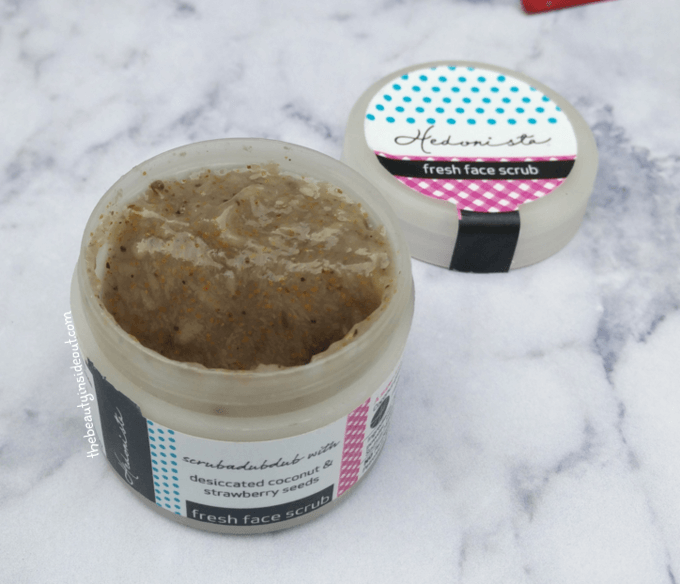 Overall I find the Hedonista Fresh Face Scrub to be a highly expensive scrub that mildly exfoliates but doesn't make any impressive results. Though it is completely natural, I would just give it a miss had I not gotten in one of my subscription boxes.
Pros:
Handmade with all natural ingredients.
Sweet strawberry and coconut fragrance.
Provides mild exfoliation without harming the skin.
Leaves the skin soft, moisturized and healthy looking.
Suitable for dry, sensitive and acne prone skin.
Contains no parabens, sulphates, silicones, artificial colorants or fragrance, palm oil, phthalates, petroleum derivatives, amines, formaldehyde and PEGs.
They use only food grade preservatives.
They do not test on animals.
Cons:
Expensive.
Might not be suitable for very oily skin types.
Doesn't do anything for blackheads and whiteheads.
No extraordinary effects.
Rating: 3.5/5
That was all about Hedonista Fresh Face Scrub. Have you tried this? Share your thoughts in the comments section below.
Also check out
Until Next Time,
Stay Beautiful♥