I think ever since we are born we have a major connection with powders in general. From Johnson to Ponds we have been growing up with powders. In India, we don't have much awareness of makeup until we go to college or high school so the white talcum powder was our every day's makeup ritual. Isn't it? To be honest I don't remember when was the last time I got out of the home without applying powder and kajal. Today I am going to be reviewing the infamous Maybelline Fit Me Loose Powder in the shade light and if you are interested then let's get started ASAP.
Product Description:
Lightweight skin like finish powder which is finely milled, melts into the skin and gives a satin-matte finish. It is mineral-based and best for large pores which control oil throughout the day and smoothens textures and uneven skin tone.
Ingredients: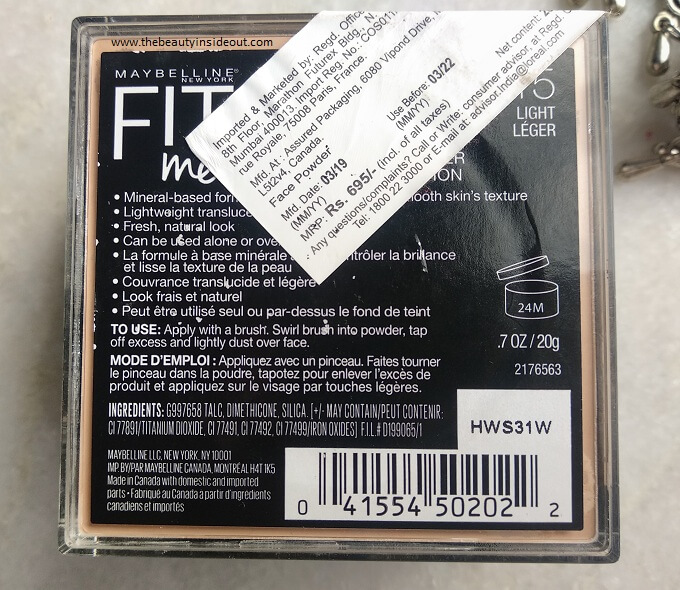 Price: 695 INR
Quantity: 20 gm
Maybelline Fit Me Loose Powder Review
Packaging: Maybelline Fit Me Loose Powder comes in a tub with a black lid. The tub has tiny little holes in the front section to bring out the powder from time to time by shaking without being messy or using too much. So the question is if it does the job about preventing making the place messy? The answer will be a big no. If you turn the powder upside down then the next time you open the powder you will see a huge amount of powder messing around in the lid. In that case your brush will take up a lot of powder and you will end up being too powdery. The packaging is not good for traveling too because you have to place it in a certain way.
Texture: Yes as per the claims it has a powdery texture which finely melts into the skin after putting it on.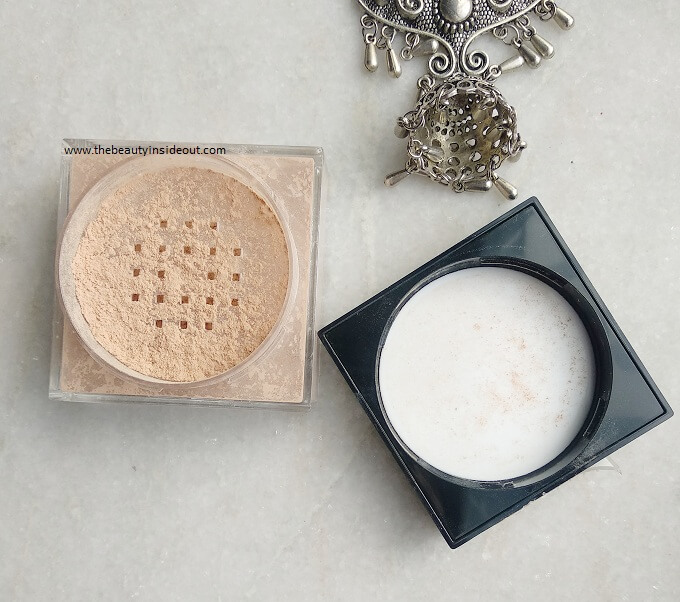 Shade: I bought the shade Light and I have Mac nc25-30 skin with yellow warm undertone. So keep that in mind when ordering. In India, we have got 4 shades, which are 1) Light 2) Light-medium 3) Medium 4) Medium deep.
Fragrance: It has no fragrance which is awesome in my opinion.
Performance: As expected from a loose powder, the Maybelline Fit Me Loose Powder has sheer coverage but takes care of my large pores to a great extent. After applying it, I can't see any pores on my face which is mind-blowing. It doesn't make my skin very matte. It gives more like a satin matte finish as claimed. The powder doesn't do much for oil controlling in Indian hot summer weather. Well that's probably the only con!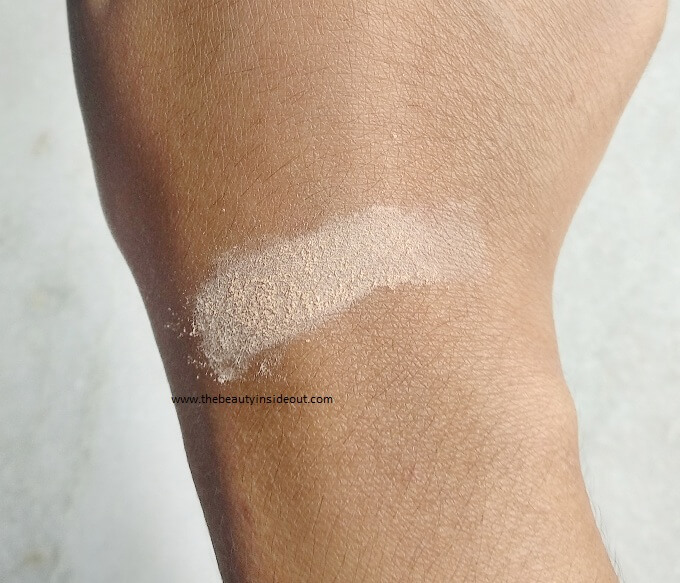 The loose powder smoothens out my texture and makes my skin look like I have put on a filter because it does give a soft blurry finish to the skin. I also noticed that my pictures look perfect wherever I use this product. I used this in a wedding with a foundation which gives flashback in the picture but my picture had no flashback and looked almost perfect. I have tried powders from brands like Laura Mercier and Huda Beauty in the past and I must say this is way better than those high-end brands people brag about. I use it with my powder brush for dusting and to set my foundation or sunscreen for a more put-together look. When it comes to baking it does a pretty good job because the Makeup Revolution Concealer which does crease on my skin like crazy, doesn't crease at all when I use this powder to set.
Related Reviews:
Pros:
Great in filling out the pores.
Doesn't suck all the moisture from the face because it gives a satin matte finish
Does job like a high-end brand
Looks great in pictures
Smoothens out the face
Softens the skins and make it look like filtered in real life.
Finely melted into the skin
Cons:
The packaging is a big no-no for this.
Pricey for some.
Doesn't controls oil that much.
Rating: 4/5
Would I recommend? Yes absolutely. This is one holy grail product for my dry skin and I recommend it to everyone.