Do you guys remember the first time you started using makeup? For me and certainly for a lot of us reading this article, the first thing we ever tried in makeup would be compact powders. I am not considering lipstick here since we all know lipsticks were more of a toy for us little girls then. Compact powder is one thing that we all start using whenever we start our makeup regime, which can be anytime around end of school or during early college years. And our relationship with compact goes on till forever. Makeup geek or not….. a decent compact is a must have for every girl out there. I started using compact during my college days and I always picked an affordable one, since of course I was a beginner back then. Now times have changed for me and for a lot of you. I now understand how a compact should work and what exactly I want in my compact. So, I keep trying compacts from different brands every now and then. Recently I tried the Maybelline Fit Me Pressed Powder and gave it a good trial for using it over a month now. Since, I am big fan of Maybelline Fit Me range till now, so I had really high expectations from this one. Let's see how it fared for me.
Product Description:
Flawless. Beautiful. Fresh with Fit Me! Pressed powder  you can make visible pores and shine disappear while still getting perfect buildable coverage. It comes in with a mirror and a sponge for easy application.
How to use/apply Maybelline Fit Me Pressed Powder?
Step 1: Using the sponge applicator, apply to the forehead, nose, cheeks, and chin.
Step 2: Blend all over using gentle downward strokes.
Ingredients: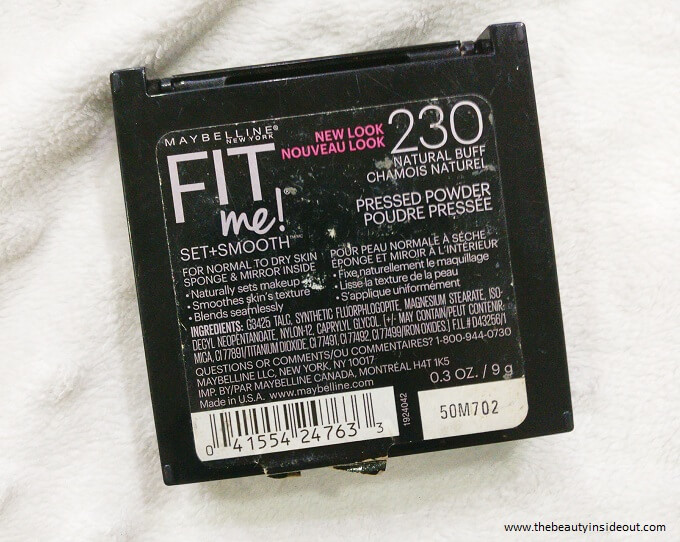 Shades Available : 9

110 Porcelain
120 Classic Ivory
130 Buff Beige
220 Natural Beige
222 True Beige
230 Natural Buff
310 Sun Beige
330 Powder Toffee Caramel
Price: 475 INR for 8.5 gms. Buy from Amazon.com or Amazon.in
My take on Maybelline Fit Me Pressed Powder:
Packaging: Nice sturdy plastic body packaging in a square shape, though the product pan is a circular one. It comes with a very nice quality mirror but it's present on the backside of product pan. So, you have to flip the product every time you wish to look into the mirror and hence, I never use it to avoid the hassle. Keeping the mirror at the back is just not a good idea. It also comes with a sponge applicator of it's own whose job is to apply the powder onto the face but it fails miserably there. People who are planning to buy this product after reading my review, one heads up for you. Don't even waste your effort in trying to use applicator. You will just end making the hopeless sponge look uglier, nothing more than that would happen. So, the overall packaging is ok and not travel friendly in my opinion since you do need an extra mirror and a brush or sponge to carry along.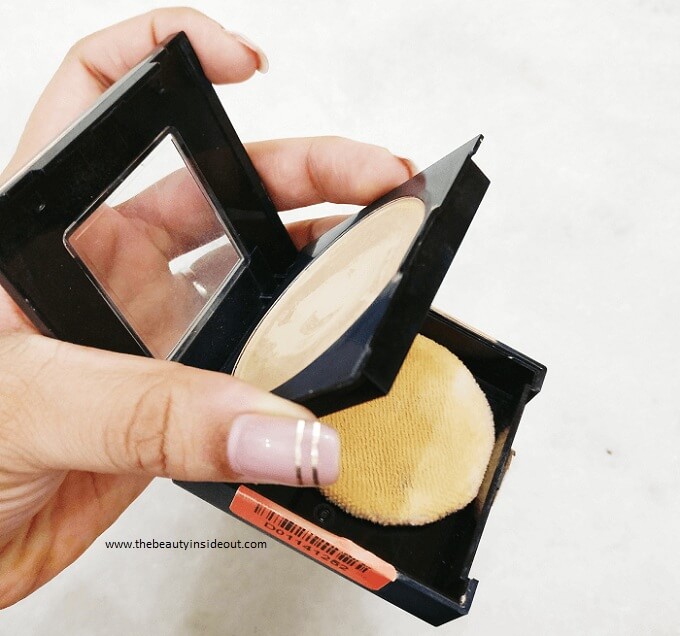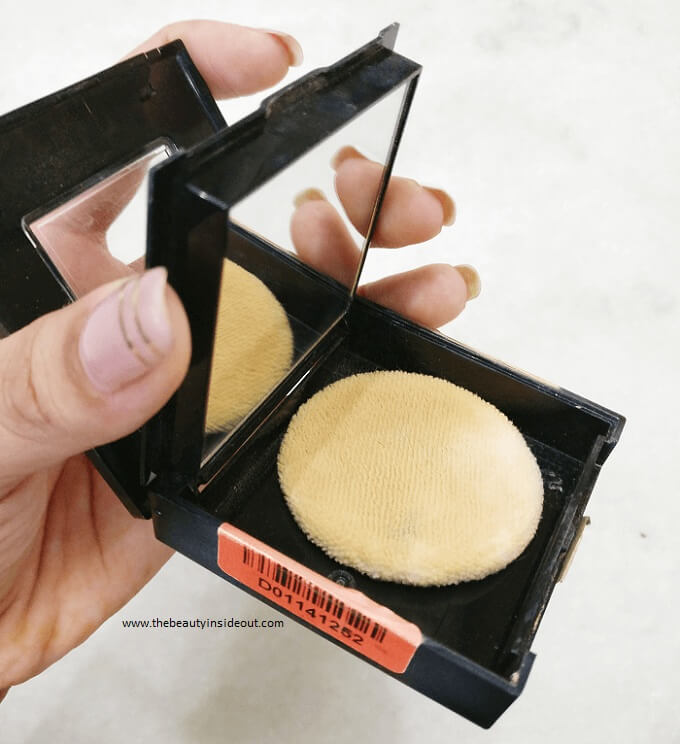 Shade: I am in the shade 230 Natural Buff in the Fit Me Foundation and 20 Sand Sable in Fit Me Concealer. So I picked up 230 Natural Buff for the pressed powder. The shade numbers of the foundation and compact are done in a way that they compliment each other but looking at other shades online, it certainly isn't the case.
Texture: Extremely fine milled compressed powder which doesn't fly everywhere when I dip my brush into it. It has a smooth texture on application. Also, I do have to put pressure on the pan to take out the product if I use a beauty blender/sponge since it doesn't get easily stuck onto it's surface. So, it's easier to use with brush rather than using a sponge.
Blendability: It's a cakewalk, it blends very seamlessly. It doesn't leave any sort of streaks. It sets nicely on face and is best applied using a fluffy dense brush light handedly.
Coverage: Okay, so here comes the debatable part. For me, it did not give any coverage at all. I have tried using it with brush, sponge, it's own applicator and even fingers. It just doesn't perform for me. I know a lot of other bloggers rave about this product, but the logic is simple here. If a particular product doesn't give coverage to someone, it can give very light or medium coverage to the maximum to others but can never give good coverage. Period! If someone claims it to give good coverage, it's a bluff.
Staying power: It has a very good staying power when it comes to keeping the makeup in place, though without any coverage whatsoever. So, if you are someone who just wants their makeup to stay in place with drying it out more(for dry skin folks) or without allowing oils peeking through skin (or oily skin ones) this is a good bet. It will be with you for good 4-5 hours to the max and not more, even with setting spray.
Experience: As mentioned before, it did not flatter me at all because I like my compacts to give coverage as well. Even the Maybelline super fresh one gives that, unlike this one. There are times when you really don't want to wear any makeup for some occasions like grocery shopping or evening walk, then I prefer wearing just the compact and leave my house just like that. But I cannot do that using the Maybelline Fit Me Pressed Powder since it does nothing expect making my face non oily or sweaty.
Pros:
Good for both skin types; oily and dry.
Doesn't make skin look dry or dehydrated.
Keeps makeup in place.
Very finely milled and hence doesn't fly away everywhere during application.
Gives a soft matte finish.
Cons:
No coverage.
Little pricey.
Non travel friendly.
Doesn't apply nicely with beauty sponges.
Rating : 3/5
Will I repurchase? No! Maybelline could have done it way better than this.
Guest Author: Gunika
Looking for other Maybelline Reviews