If you have seen my previous posts, you would know that I bought the Maybelline Color Jolt Intense Matte Lip Paint and Maybelline Color Show Intense Crayon together when they were on sale at Nykaa. I was so smitten by the packaging of the intense lip paint that I had to try that first. Now I have tried out the intense crayon and here is my opinion on the product. Let's get into the details of the product first.
Product Description:
Perfect lips no matter what your shade. High coverage pigment to cover dark, uneven lips. SPF 17 and honey protects from darkening and dryness. Available in 10 intense lip perfecting matte shades.
Features:
Enriched with ultra-care hydrating formula.
Vibrant moisture rich shades.
Lip color doesn't fade in extreme heat and humidity.
Shades to suit all Indian skin tones.
How to use/apply:
Apply the flocked tip precision applicator to the centre of your upper lip and follow the contours of your mouth.
Glide across the entire bottom lip.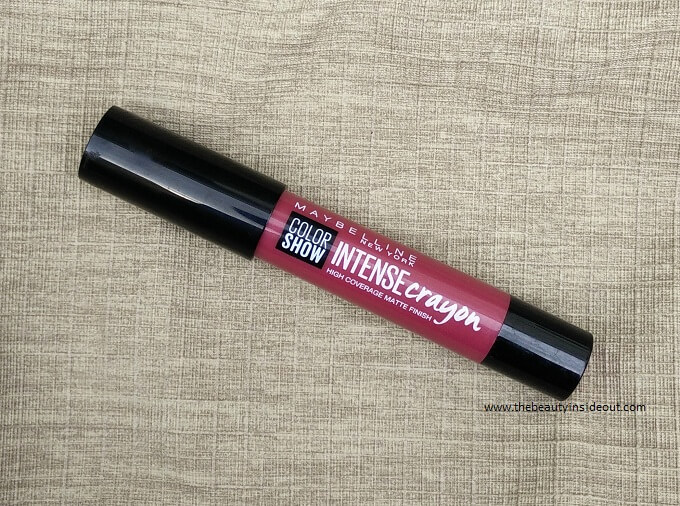 Ingredients: Not mentioned on the packaging.
Shades: 09
Fierce Fuchsia
Bold Burgundy
Dark Chocolate
Deep Coral
Flaming Orange
Mystic Mauve
Passionate Plum
Vibrant Violet
Intense Red
Price: 450 INR for 3.5 gm. I got it for 338 INR from Nykaa.com. Also widely available offine in all Maybelline Counters.
My take on Maybelline Color Show Intense Crayon:
Packaging: As you know, this is a lip crayon and so it comes in a standard crayon packaging. A bit boring but it is very convenient to use. The crayon is color coded and comes with a retractable mechanism. Hence no hassle for sharpening or any product wastage happening there. The cap stays intact with the body of the tube even when carelessly tossed in my bag. The shade number, name and expiry date is printed at the bottom side of the tube and manufacturing details are on the length of the tube. No ingredient list is mentioned on the packaging as well as on the website. Overall, though basic, the packaging has no flaws.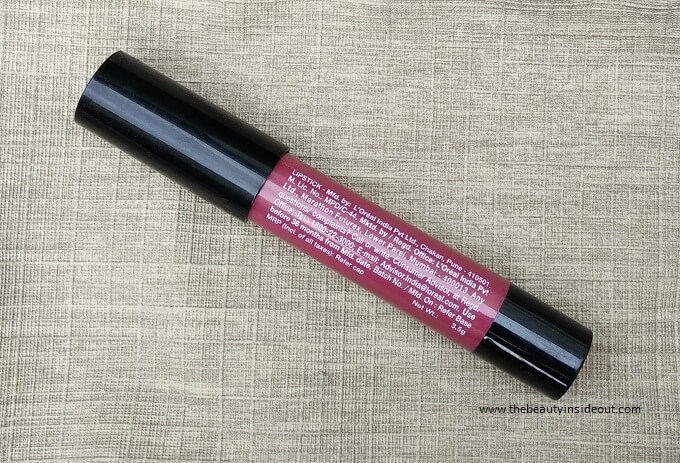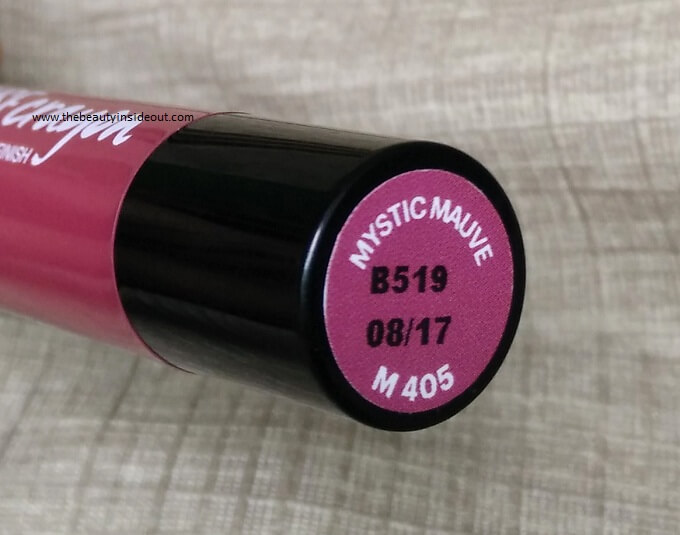 Shade: Mystic Mauve is a deep dusty mauve with pink undertones. I love mauves as they go well for everyday wears. But this shade is darker than I expected. Nonetheless, it's a beautiful shade that can be worn by anyone and would pass off as an everyday shade if you like a bit of deep color. Most of the shades in this range lean towards the darker side keeping in my mind the fall and festive season.
Pigmentation: Maybelline has nailed it in this aspect. It is strongly pigmented and provides high coverage in one swipe. I just love how this lip crayon cover my pigmented lips flawlessly. The color pay off is really good!!!
Fragrance: It has a subtle candy like fragrance that vanishes soon after application. Unless you are keen to sniff the crayon, it is barely noticeable.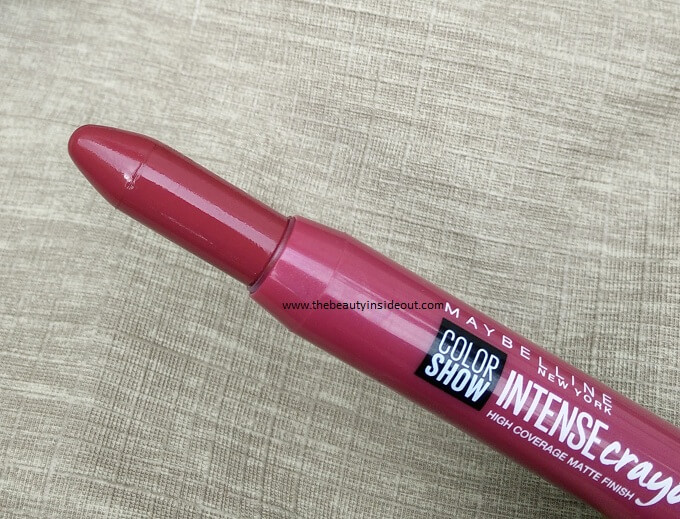 Texture: You'll love it if you have dry lips! The texture is creamy and buttery smooth. It glides onto my lips smoothly and evenly with no tugs or pulls. A single layer of crayon gives a comfortable feel on the lips, however layering it can make it a bit heavy though. This never dries out my lips, not even as time flies by, as it's highly moisturizing. It neither settle into my lip lines nor accentuate them.
Finish: In contrast to its claim of being a matte lip crayon, this has a creamy finish with a sheen to it. You would be disappointed if you were expecting something matte, just like I was!! Maybelline Color Show Intense Crayon has a tendency to smear specifically with intake of food, it smudges a lot. I suggest lining the lips beforehand or blotting it down after initial application to set it. It also transfers, which is a given since the crayon is creamy and buttery. But how much ever this transfers, it doesn't make the color on my lips look uneven or patchy and still gives a beautiful hue.
Staying Power: Staying power depends on how much ever you eat. It does not fade away faster as compared to other creamy lipsticks. May be because it is highly pigmented! Mystic mauve leaves behind a beautiful pink stain on my lips, so removal becomes mandatory.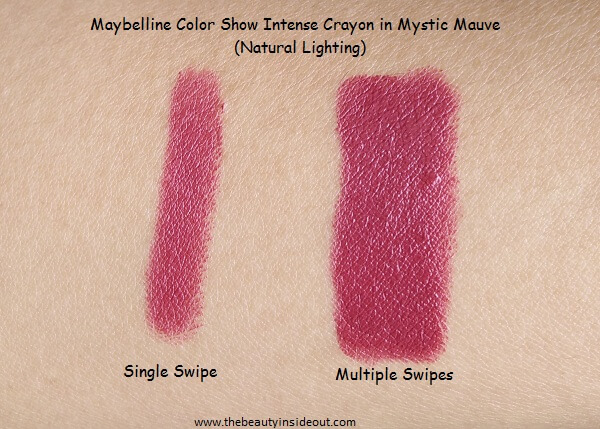 Pros:
Retractable crayon packaging.
Good shade range.
Smooth Buttery Texture.
Non-drying formula.
Comfortable on the lips.
Does not settle into fine lines.
High coverage.
Long lasting.
Has SPF 17
Cons:
Does not give a matte finish as claimed.
Smears and Transfers.
Stains the lips, requires remover.
Rating: 4/5
Would I recommend? Yes! Maybelline Color Show Intense Crayon is great if you have dry lips. It has an amazing formula, rich pigmentation and good staying power. Just that the finish isn't matte rather its creamy. A little bit of blotting can give a satin-matte finish that stays put for long. I would still recommended this, though my first choice would be the color jolt matte lip paints when I have to choose one between both.
Looking for other Maybelline Reviews