It's been a very long time since I opened a subscription box. Earlier I used to try a lot of subscription boxes, but of late I hadn't got any as I didn't find them interesting. All these days I have been hauling only on Nykaa.com. Let me know if you want to see a haul post! Coming back on track to today's post. Its the unboxing of VanityCask Glow Edition November Box. I have reviewed the Flawless Skin Edition sometime back and even featured this subscription in my post of New Subscription Boxes to try in 2017. Without any further ado, let's get into the details.
About VanityCask
VanityCask is a monthly subscription box that helps you to stay in touch with the latest global development in the world of beauty. VanityCask contains samples of luxury beauty brands, hand picked by experts to suit our Indian Women.
Subscription Plans:
1 month – 999 INR
3 months – 2399 INR (800 INR per month)
6 months – 4199 INR (700 INR per month)
You can buy the box from their official website Vanitycask.com
You can avail a discount of 10% on every VanityCask box by using the code 'UCIIGZW' with an addition of 75 INR OFF, if you choose to pay by online.
So you can actually get the box for
830 INR for a month
2035 INR for 3 months with a Limited Edition BVlGARI Box FREE
3705 INR for 6 months with a Limited Edition BVlGARI Box and an additional month FREE
They also have a referral program wherein if two people buy the box, you get one box free, if four people buy the box, you get two months boxes free and so on. More details on this is available on their website.
VanityCask Glow Edition Review – November 2017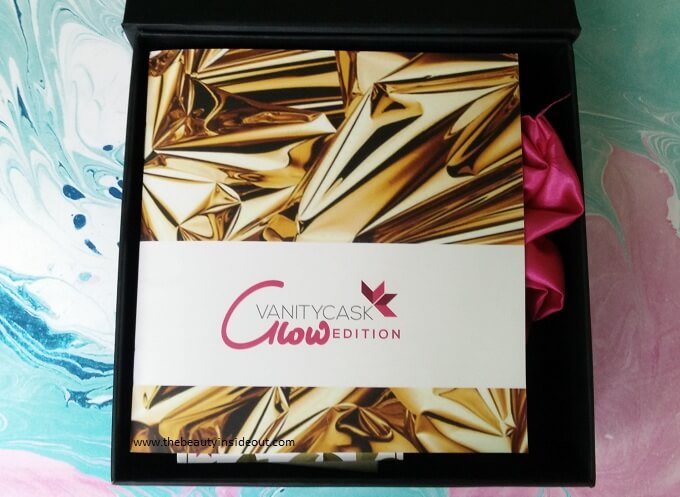 Packaging: This is one of the subscription boxes that takes utmost care in its packaging. The black cardboard box in which the products are contained came securely packed with a bubble wrap cover. It is further packed in a brown carton box, which again is packed in a plastic bag. Though it has so many coverings, it is not messily packed and is very easy to unbox. It has the cleanest packaging.
As soon as I open the black box, there is a booklet which holds the details of all the products and 2 vouchers which can be redeemed online at PaulPenders and Shopbbling.com .
Then comes the trademark cute pinky pinky potli (we call this surukku pai in tamil). I have stored some accessories in the potli that I got earlier.
And then comes the products. Let's see what I got in the VanityCask Glow Edition Box.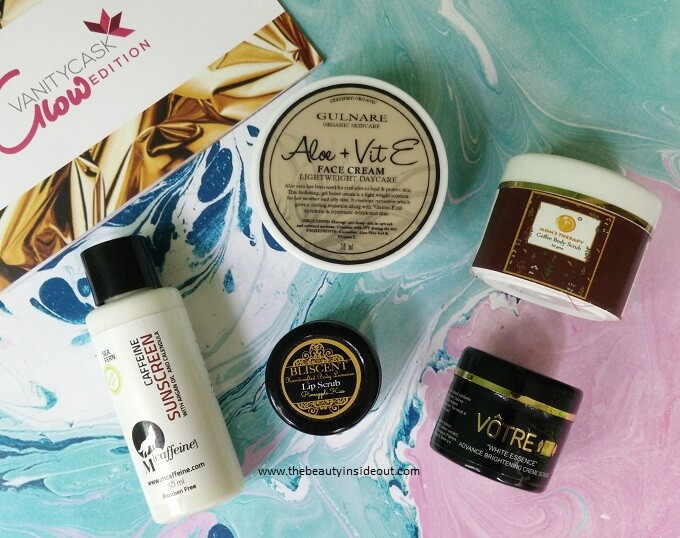 1.Bliscent Pineapple Kiss Lip Scrub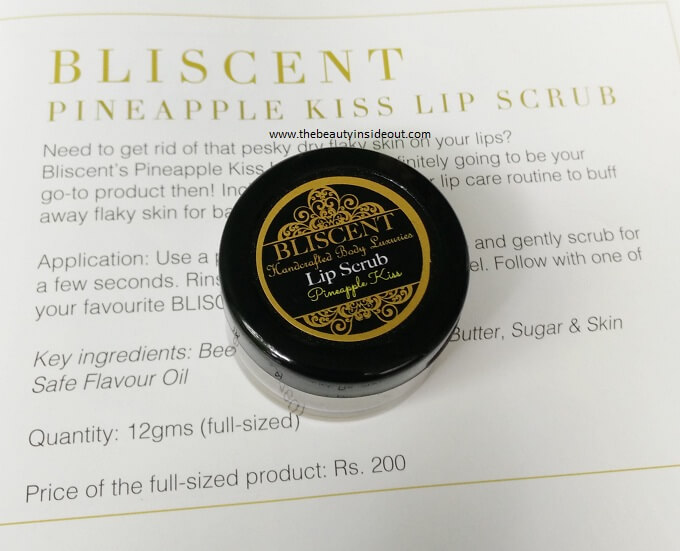 This is my first product from this brand. I've heard of it before but never tried them. Bliscent is a brand committed to make luxurious body products, handcrafted with skin safe ingredients. So its basically a natural skincare brand! Yay for that! And the product is a lip scrub. A pineapple flavoured one, which smells really nice.
I always DIY my lip scrubs as they work much better and the only ready made lip scrub that I tried didn't work out for me. Still I'm really looking forward to try out this one as its completely natural and contains some nourishing ingredients like Jojoba Oil and Shea Butter.
Price: 200 INR for 12 gms. I received a full sized product.
2.Mom's Therapy Coffee Body Scrub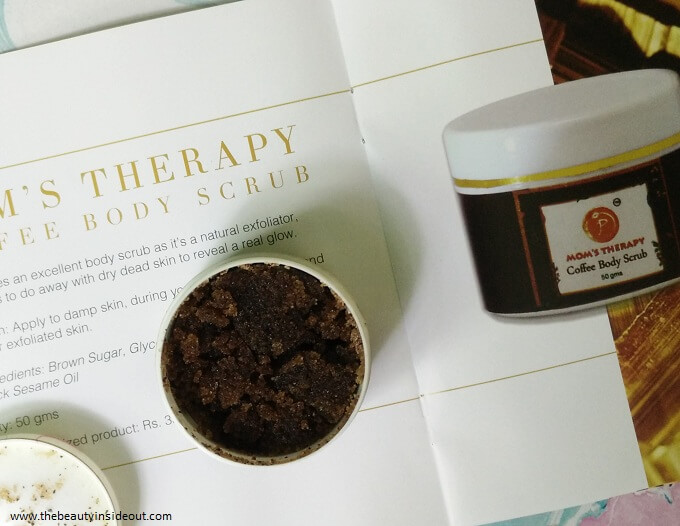 The last time I tried a coffee scrub, I was totally smitten by it. My skin felt a lot smoother and I smelled like a coffee factory. I mean in a good way. I'm sure this coffee scrub from Moms Therapy is going to have the same effect on me. Coffee scrubs, in genral, are excellent for blood circulation, shed your dead skin and gives you a glowing and smoother skin. I might try this as a lip scrub as well. Moms Therapy Coffee Body Scrub contains brown sugar, glycerin, coffee ground, grapeseed oil and black sesame oil.
Price: 350 INR for 100 gms. I received a deluxe sample of 50 gms.
3.Votre White Essence Advance Brightening Crème Scrub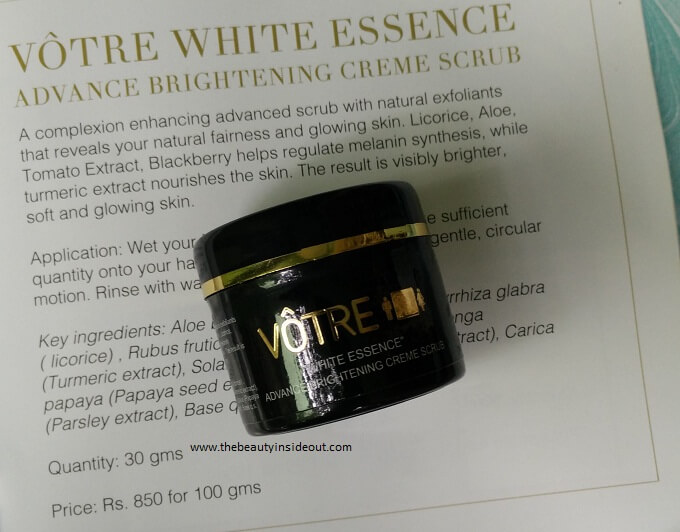 Yet another scrub! This claims to be a complexion enhancing advanced scrub containing natural exfoliants. It is enriched with Licorice, Aloe, Tomato Extract, Blackberry which helps to regulate melanin synthesis, while turmeric extract nourishes the skin. I tried it once today and it felt like a creamy oil based scrub with sparsely packed nutty type of granules. It exfoliated well and left my skin cleaner and smoother. So yes it's a good scrub that does what its supposed to do.
Price: 850 INR for 100 gms. I received a sample of 30 gms.
4.MCaffeine Sea Ferns Caffeine Sunscreen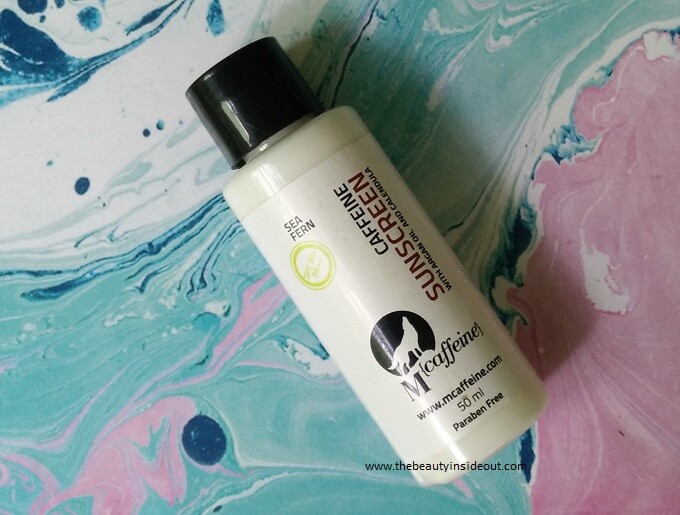 This is a parabens free sunscreen that contains SPF 30+ PA++. MCaffine is a brand that exclusively formulates their products using caffeine. All their products are caffeine infused and so is this sunscreen. It is also enriched with Argan oil and Calendula, so this not only protects from harmful sun rays but also nourishes your skin due to its moisturizing properties. I haven't tried the product yet. But probably I will use this as a body sunscreen as I'm very picky with sunscreens that I use on my face.
Price: 529 INR for 150 ml. I received a sample of 50 ml.
5. Gulnare Skincare Aloe & Vit E Face Cream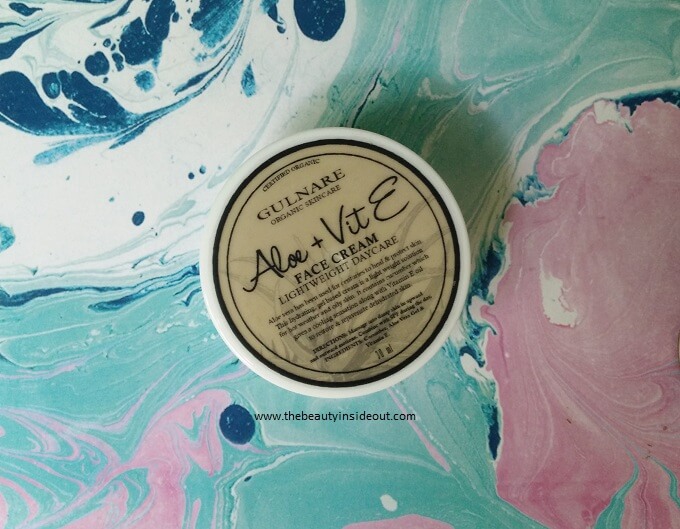 This is a repeated product. I've received the same in my Flawless Edition Box. I have finished that tub already and have shared my thoughts on it earlier on the blog. Read it HERE. Gulnare Face Cream is basically a lightweight face cream specifically meant for oily skin types. Rather than an Aloe Vera gel, this is more of a Cucumber Gel with Aloe Vera and Vitamin E added to it. It performed well as a night cream during the summers and I'm positive that this would be suitable for day time during the winters.
Price: 550 INR for 50 gms. I received a deluxe sized sample of 30 gms.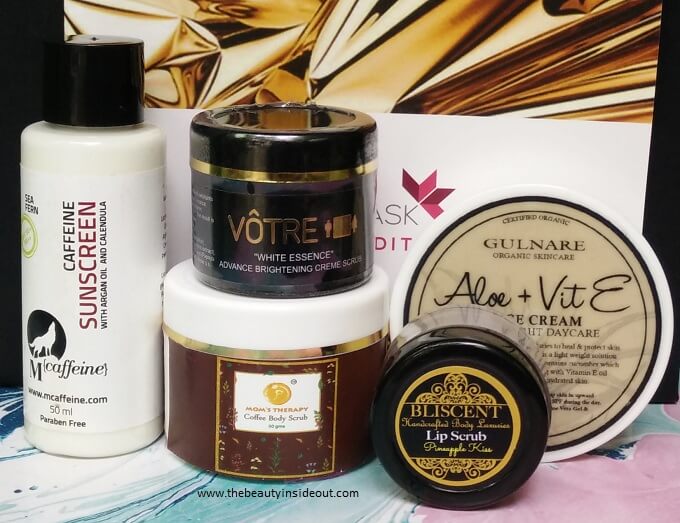 Overall, I'm satisfied with the VanityCask Glow Edition November Box. The total worth of the products received in the box definitely falls higher than the price of original products. However, I do wish that there could have been variety in the selection of products. There are three scrubs in the box, it would have been nice if there was a face pack or a face wash. Anyways, I still like the brands they have chosen.
You could always see the contents of this subscription box before placing an order, so buy it if you like. Personally, if you are buying, I would suggest going for a 3 month or 6 month subscription as it way more money-saving.