After the launch month box last year, I subscribed for my second Glamego Box this month. Long time I know! Over a period of this one year, Glamego has improved a lot, not only in terms of packaging, in terms of products as well. I honestly feel this the only 'value for money' Beauty subscription Box in India. Although they have increased the price from 199 INR to 399 INR from the first box, you can get the box at 299 INR if you go for a yearly subscription. Anyways, I received my Glamego April 2018 Box yesterday, after 9 days of placing my order. That's not the fastest delivery. But still acceptable.
Moving on to the packaging, it's classy and sassy. Totally lovable! Each month, they design the box with different themes and I'm totally liking this month's Lime Colored Box. The box is also sturdy and strong and comes with a magnetic lock. I'm surely going to re-use it to store my accessories. This box also came in a Glamego printed carton box which was also neat, unlike some beauty boxes which come in crumbled, poor quality cartons. I can see they have revamped the box in a more attractive and neat way. Look how the first Glamego Box looked!
Coming to the products, the Glamego April 2018 Box has 5 products. They usually have 4 products but last Glamego March 2018 Box had 5 products as well. Are they going to have 5 products going forward? If so, then I guess I'll have to subscribe for their yearly plan.
Products inside the Glamego April 2018 Box
Island Kiss Black Rose & Grenade Rouge Lip Moisturizer Stain
NELF Aqualite Fairness Compact Powder with UV & SPF 18
Tjori Wild Turmeric Anti-Tan Treatment
Vedic Line Gold Facial Kit
Natural Bath & Body Vital Nourishment Cream with Grapefruit & Vitamin C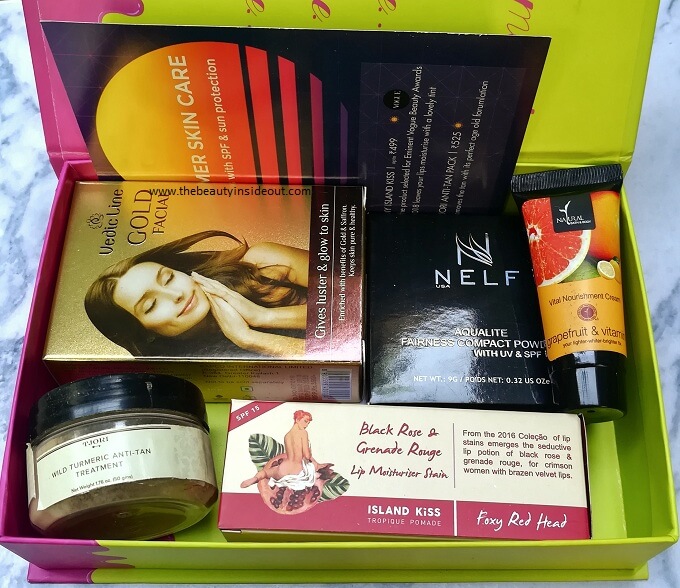 Island Kiss Black Rose & Grenade Rouge Lip Moisturizer Stain
This is the highlight of the box. The Island Kiss Lip Stain has been on my wishlist for so so long, and this was one of the main reason for me to get this month box. This lip stain/balm alone costs 499 INR covering the cost of the whole box, so I didn't really mind what the other products were.
This lip balm has so many good features to boost about. It's safe, organic, cruelty-free, non-toxic, petroleum free, tinted and has sun protection as well.
My only concern while subscribing – there was no option to select the shade, so I was a bit skeptical of receiving a non-tinted shade. But luckily, I got this Foxy Red Shade. It's a beautiful red shade and the pigmentation is something I didn't expect from this exclusive lip balm brand. Yes, it's superbly pigmented and gives an amazing hue to my lips. I think it's time for me to get rid of those lipsticks loaded with chemicals and get the other tinted shades in this range.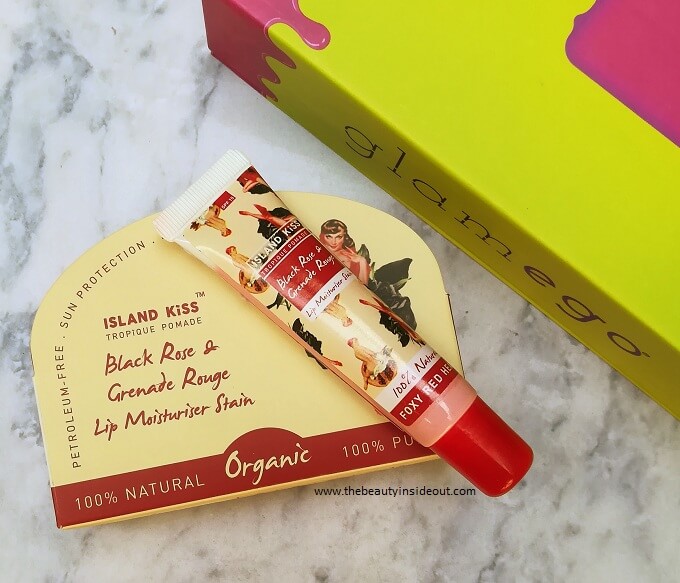 NELF Aqualite Fairness Compact Powder with UV & SPF 18
Next is this compact from NELF Cosmetics. I already have the NELF Foundation and NELF Eyeliner from my Fab Bags. NELF is a an affordable cosmetics brand that is receiving some great customer reviews in the recent times.
I was given an option to pick the shade and I went in for the '02 Ivory'. I'm yet to try this out. The only thing I noticed – the packaging is a bit flimsy and looks a little bit cheap. The other two products I have from this brand aren't like this though!
It claims to have a super smooth, oil free, ultra fine, lightweight formula. It says it's not comedogenic, hypoallergenic and suitable for everyday use. It has an SPF of 18. But the fairness claim alone is a big turn off. Why randomly name it as Fairness Powder. People are going to buy it if the product is good, even if it doesn't make them fair.Phew!!! It retails at 350 INR for 9 gm product.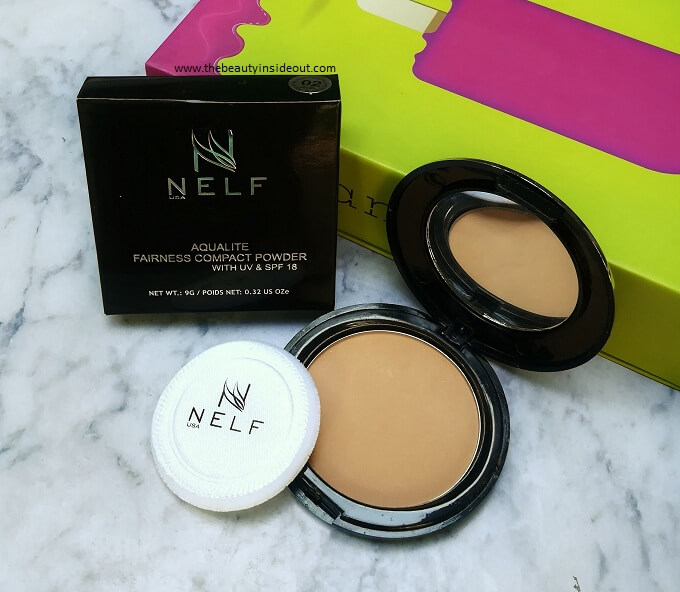 Tjori Wild Turmeric Anti-Tan Treatment
This month's box have been curated keeping in mind of the fast approaching summers. Hence a De-Tan Face Pack from Tjori. This product would certainly come handy for hot sunny days.
I have seen this brand Tjori come up on my Facebook and Insta feeds as advertisements, but never intended to try them. Tjori claims to be a natural brand. As far as the ingredients of this product, it contains only natural ingredients and the face pack being in a dry form also affirms its natural claim. But don't ask me about their other products! I don't really know!
Tjori Wild Turmeric Anti-Tan Treatment contains Kasturi Manjal, White Turmeric Root, Natural White Clay, Bentonite Clay, Fullers Earth and Essential Oils. This product smells predominantly of Fuller's Earth (Multani Mitti) and Wild Turmeric. This retails for 525 INR for 50 gms.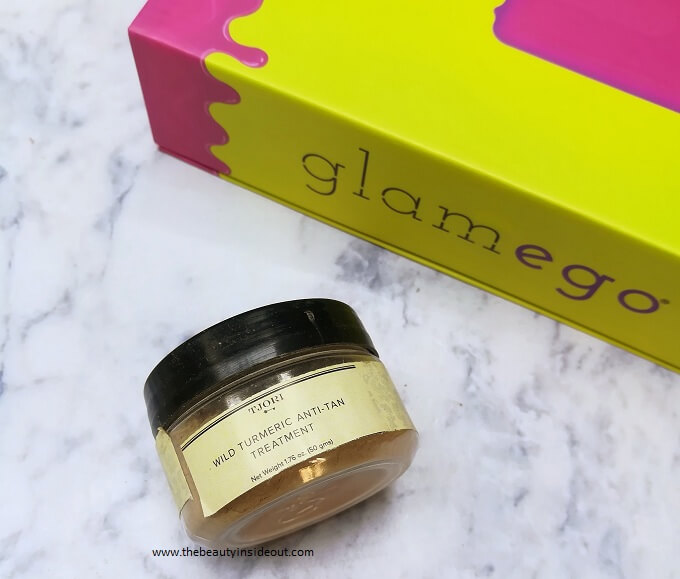 Vedic Line Gold Facial Kit
Next up, is this Gold Facial Kit from Vedic Line. VLCC is the only brand that I've experimented with facial kits. I'm yet to try any kits from other brands. This Vedic Line Gold Facial Kit looks quite promising with ingredients including Saffron Extract, Niacinamide, Almond Oil, Jojoba Oil and Vitamin E.  This kit promises to give you lustrous and glowing skin. It retails  for 350 INR.
The kit comes with 6 sachets. A cleanser, scrub, cream, massage gel, pack and a moisture Serum with SPF. From the look of it, I could tell these would come for more than one usage. So once opened, storing them for future use is going to be difficult.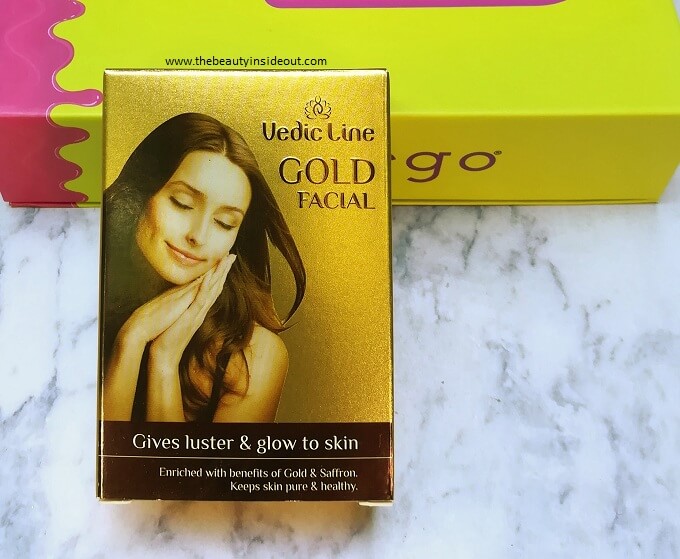 Natural Bath & Body Vital Nourishment Cream with Grapefruit & Vitamin C
This is the last product in my Glamego April 2018 Box. It's a bonus summer product. I thought I would receive the Seaweed Clay Mask as in previews. But I received this cream, so I'm a little disappointed. I have the gel mask from this same range of Grapefruit & Vitamin C, which I didn't like much.
This nourishing cream also contains Fractionated Coconut Oil which is comedogenic and is likely to cause acne. So I'm skipping this product. This is a sample of 20 ml which retails for 150 INR. There is no manufacture or expiry date mentioned on it!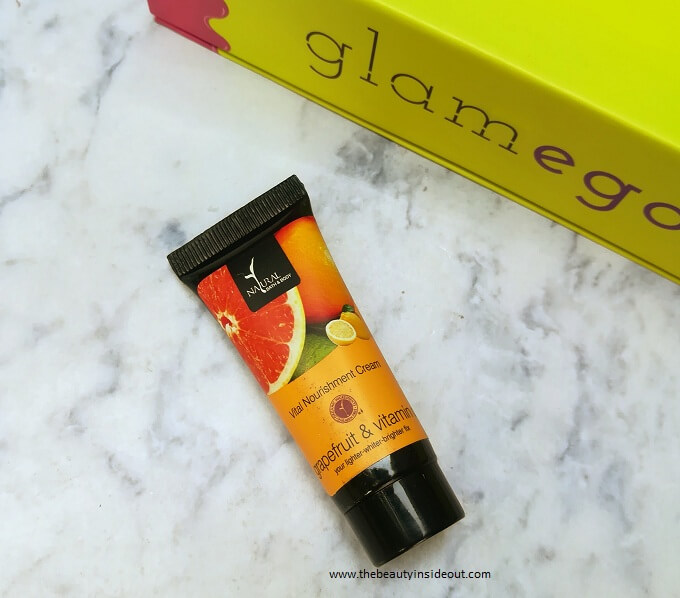 Concluding, except the nourishing cream, all the other products were good, especially I'm loving the lip stain so much. Glamego has always given us the opportunity to try out various quality products at affordable prices. Most of the products they send out every month are really good and it'll be great if they keep up this work in the long term.
On other note, I have seen some people complaining about their service and delivery. This has happened for its competitor Fab Bag too. But personally I haven't had any issues with both the subscription boxes and have had a smooth experience receiving them in scheduled time. And just so you know, these boxes are not sponsored and I use my personal account to book any subscription. So I believe majority of the customers receive them on time, may be except a few as per the complaints!
From my point of view, I would recommend this super affordable beauty box any day! It is totally worth buying.
Looking for other subscription boxes?