For those fitness freaks out there, hitting the gym and maintaining a muscular physique is a part of everyday life. Some of them either want to lose weight while some would want to gain weight. In either case, working out requires a lot of energy and hence one needs take adequate calories, especially in the form of proteins. Proteins are building blocks of muscles and Whey Protein is the most preferred form as it gets absorbed by our digestive system quickly and helps to maintain muscle tissues effectively. There are many whey protein brands available in the market, some of which are of highest quality while some are loaded with fillers and sweeteners. Today let me introduce you a premium grade, clean and pure whey protein supplement – AS-IT-IS Whey Protein Concentrate 80% Protein Unflavoured.
Why go for AS-IT-IS Whey Protein Concentrate?
UNDENATURED: First of all, AS-IT-IS Whey Protein Concentrate is in its raw, pure, unadulterated, undenatured form. Its minimally processed so that you get most out of the nutrients and proteins in it.
 NO FLAVOR OR COLOR: It is unsweetened and contains no fillers or additives making it stand out among a bunch of other whey proteins containing high amounts of sugar. And yeah unflavoured too so you can easily mix it in a variety of smoothies, juices or your preferred beverages.
NO PRESERVATIVES: It is preservative free, gluten free, GMO and Banned Substance Free.
PURITY TESTED: AS-IT-IS Whey Protein Concentrate is US made and has been lab tested for purity, heavy metals, microbial contamination and other important parameters.
HIGH WHEY PROTEIN: It contains 80% Whey Protein Concentrate which is about 24g in each serving of 30 gms.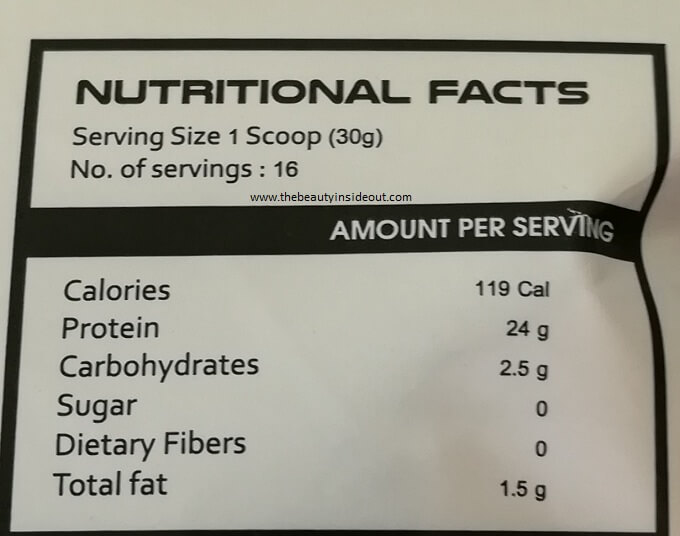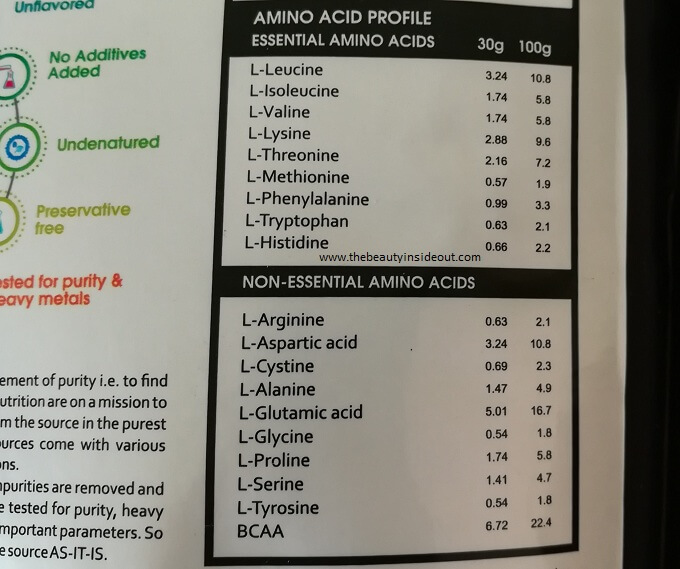 Suggested Usage: Add 1 scoop (30gm) of powder to 240 ml of water, fresh juice or your favourite beverage. You can take this before or after workout. Limit to 1-3 servings per day
Price: 899 INR for 500 gms
Shelf Life: 18 months from date of manufacture.
Where to buy? Amazon
Precautions: Not intended for use by pregnant or lactating women. If you are on any medication, consult your doctor before use. Avoid this if you are allergic.
AS-IT-IS Whey Protein Concentrate 80% Protein Unflavoured Review
Packaging: AS-IT-IS Whey Protein Concentrate comes in a very handy and travel friendly zip lock pouch/packet. The packet has an elegant look to it with its deep brown color and attractive logo design. Details about the brand's value of giving pure and clean supplement is mentioned on the back side of the packet. It also contains necessary information about whey protein, its amino acid profile, precaution details, date of expiry, everything is mentioned crisply. The whey protein packet comes with its own 30 gm scoop, which is very essential for measuring the protein powder. One scoop is all we need per serving.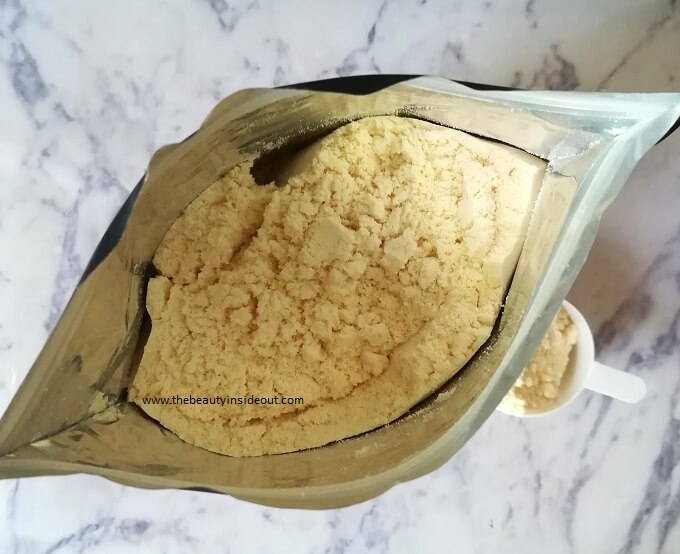 Color & Fragrance: The Whey Protein Powder is beige in color and has no particular fragrance.
Texture: AS-IT Is Whey Concentrate is coarsely milled like cornmeal yet it has a soft texture. It mixes easily and helps you get the perfect protein shake you've been craving for.
Taste: This is an unflavoured one and it does not have any intolerable taste. It has a mild koya taste and mixing it with other drinks does not alter its taste. One can make a simple protein shake with one scoop of whey protein, one teaspoon of cocoa powder and one teaspoon of honey added to one cup of milk. This tastes absolutely delicious and satisfies your pre-workout morning appetite.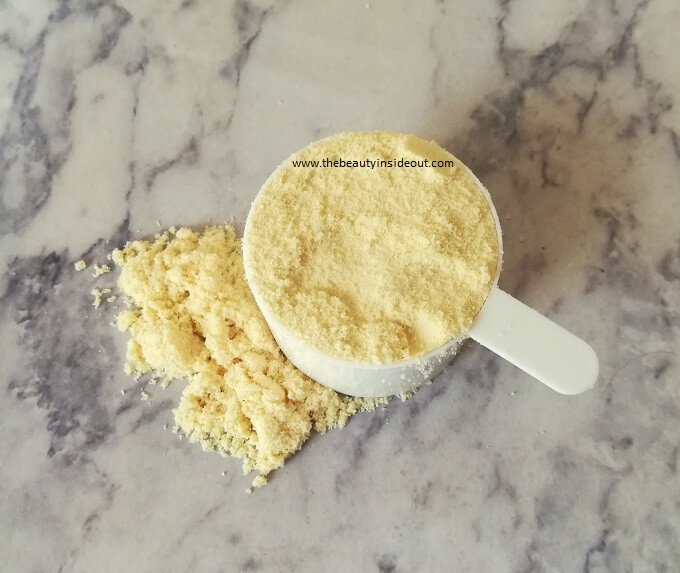 Effectiveness: Along with proper diet and exercise routine, consumption of AS-IT-IS Whey Protein Concentrate improves muscle protein synthesis. Not only that, it aids in the growth of lean muscle mass and fastens muscle recovery after an intensive work-out session. It is also effective for weight loss by reducing body fat and lowering cholesterol. This protein powder is not only restricted to athletes and body builders, it can also be consumed by busy professionals, moms on the go and those who are concerned with weight management.
Possible Side Effects: There is little to no side effects when consumed in proper quantities. High doses can lead to headache, stomach pain and nausea. Usage should be discontinued if any adverse reactions occur and consult your health care professional immediately.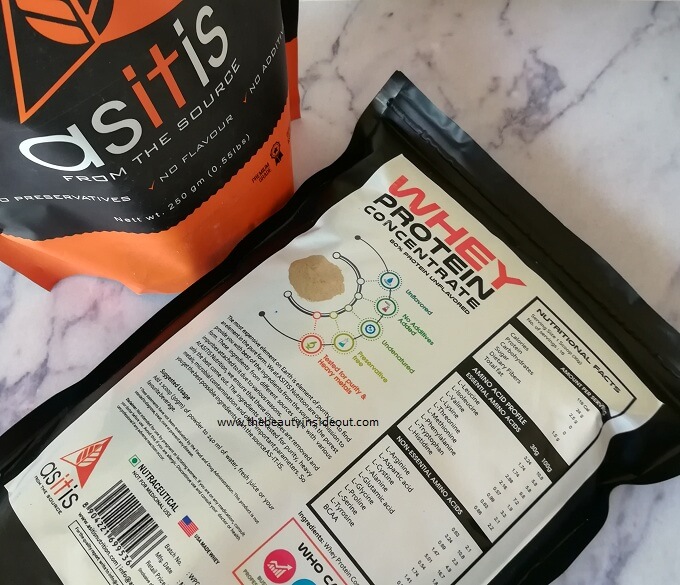 Disclaimer: These statements have not been evaluated by the FDA. This product is not intended to diagnose, treat, cure or prevent any disease.