Market is flooded with charcoal products that can eaten, applied on skin or act like a toothpaste for yellow stains on teeth. You can see models raving about charcoal's cleansing properties or naturopaths telling you use it for mosquito bites. Charcoal is basically carbon produced due to slow burning of coal or wood or any carboniferous material in absence of air so that it develops pores that can adsorb other substances. Charcoal has such large surface are because of pores that it can absorb all toxins, heavy metals and fine dirt can become one stop solution for pollution defense and clear skin. It also acts as astringent and increases blood circulation to make your skin look supple. Charcoal has many forms but the type that is used for medicinal and beauty purpose is activated charcoal or activated carbon or active carbon, the one that we have described above. We, at Thebeautyinsideout.com have come up with top 10 Charcoal based products available in India which shall cover your woes hair to skin.
1. Aloe Veda Activated Charcoal Deep Pore Detox Face Wash
Face wash that pulls out dirt from your pores?! Yes please. This facewash boasts of ingredients like activated charcoal, aloe vera, lemon peel oil and some essential oils, also it is sulphate and paraben free. Charcoal in this face wash adsorbs all the dirt from your pores and lemon peel works like antiseptic while brightening your skin simultaneously. And want to know the best thing? For all the heavy duty work it does, it retails at 200 INR for 100ml of product. Not a pinch to your pocket but skin will have that clean look. People who shall be using charcoal products for the first time, this is a good product to go for. You will not have to commit to it because neither it requires intensive application like masks nor it will derail your budget. TBIO gives a green signal for this facewash..go ahead!! Buy HERE.
If you make a purchase through the links on our site, as an amazon associate, we earn from qualifying purchases at no extra cost to you.
2. Healthvit Activated Charcoal Purifying Peel Off Mask
Let us take you back to your 10-year-old self. Remember how fun it was to peel dried fevicol layers off your fingers while doing projects and carft works? What If we told you that you can have that fun while taking care of your skin..what??!!! yes, Healthvit Activated Charcoal Purifying Peel Off Mask, while pleasing your inner child will give your skin a quick pick-me-up from blackheads, dust and pollution. One tip before putting on this mask, cleanse and tone your face properly, you will get better results eventually. TBIO asks you to give chance to a free rein to your inner kid once a week and see the beautiful change in your skin. Retails at 350 INR for 50 gm of product. Buy HERE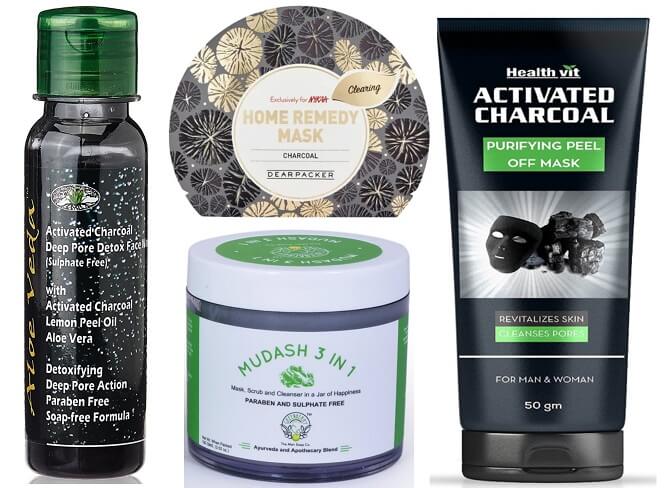 3. DearPacker Home Remedy Mask-Charcoal
Who doesn't love sheet masks? Really, we should thank Koreans for bringing this idea of sheet masks which gives us time to laze around while we benefit from the mask. Thank thee, O Korean saviours, thou art god send for us lazy people! Well, keeping the melodrama aside, sheet masks are really have upped the skin game by several notches, and this beauty from DearPacker will take it up further. DearPacker charcoal mask has a black sheet with charcoal that removes all the impurities quickly in 20 minutes. Just imagine, that your boss tells you about that "coincidental coffee" you need to attend to impress clients or your husband/Wife reminds you about the party which you forgot and now you are not ready? Well, grabs this mask, tear the packet and put it on your face and don't worry about tired looking skin. This mask will prep your skin in a jiffy and you will get loads of compliments (don't forget to tell us the number you reached). TBIO recommends this product for all bums lazy or not since clear skin never hurt anyone and who doesn't like bouncy skin? One mask retails for 100 INR. Buy HERE.
4. GreenBerry Organics Mudash 3 in 1 Face Mask
Who would waste 15 minutes in applying face mask rather than catching up on sleep? Who would stop eating chocolate just because you had apllied a lip mask? Who in their right mind would cleanse, and scrub and then apply the mask rather than just scheduling a facial once a month and be done with it? Rather than agreeing on this, can we get an Amen because we have found a gem for you! Dear beauty buffs with lazy bum or busy schedule, this Greenberry organics face mask will get all your cleansing scrubbing and masking needs addressed in one application. This face mask has bentonite and Kaolin clay and Charcoal. All 3 are super impurity adsorbers and skin polishers. Use it daily as cleanser, twice a week as a scrub or on every weekend as a mask, your skin is going to be very happy! This face mask retails at 595 INR for 100 gm. Buy HERE.
5. Ryaal Black Mess Scrub
When we are done telling you about this product..your mouth will form a complete O like it happens in comics and animations, why? Because this is a magical product. Just see what this product can do: face scrub, body scrub, anti-cellulite treatment, cleanser, anti-ageing, astringent and toner. We at TBIO were like "WHAT??!!!" All this heavy lifting is possible because of the impressive ingredients- Dead sea mud, morrocan lava clay, activated charcoal, kaolin clay, fuller's earth, aloe vera extract, Australian tea tree oil, Sugar and walnut shell powder. What with increasing pollution in our cities, this mask will be a savior for our skin, this is one of the best charcoal face masks available in India and is pocket friendly. Retails at 499 INR for 125 gm of product. Buy HERE.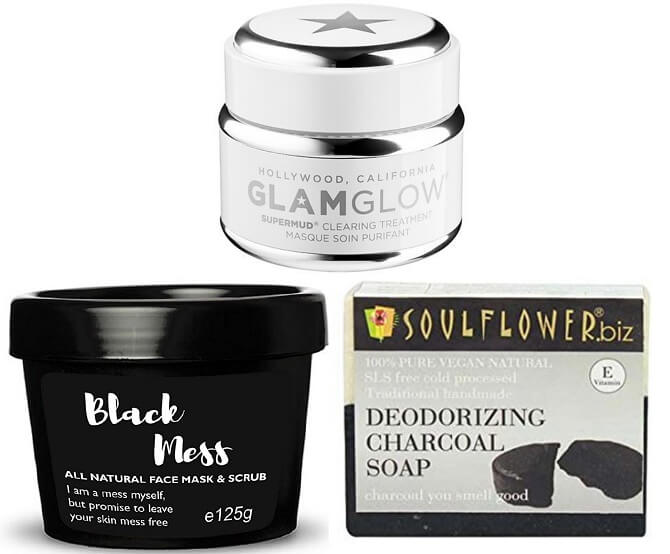 6. Soulflower Charcoal Soap
Summer brings the scourge of odor with it but kill the scourge with this star soap made up of Activated bamboo charcoal, Tea Tree Essential Oil, Peppermint oil, Rosemary essential oil, Turnip juice, Benzoin essential oil and Vitamin E oil. This soap absorbs cleanses skin thoroughly and can be especially helpful for those who suffer from adult acne and back acne. TBIO recommends this soap as an essential for summer. Retails at 400 INR for 150 gm. Buy HERE.
7. GlamGlow Super Mud Clearing Treatment
If you want a luxurious feel to your skin and are ready to splurge then TBIO recommends this face mask for that smooth feeling. This product has been formulated after some extensive research and is extremely skin friendly. This product will work wonders on spots, opens pores, acne and dull skin. If you feel the risk of running out of the product very soon, don't worry, this face mask can also be used as spot treatment! The tub is also available in travel friendly size, so you can care for your skin while travelling. Retails at 1600 INR for 15 gm and 4050 INR for 50 gm. Buy HERE.
8. Aroma Magic Bamboo Charcoal Shampoo
Summer can make scalp and hair oily and this can lead to flaky and itchy scalp. Fear not, this shampoo will come in handy to deal with this problem. Charcoal in this shampoo removes irritants and dirt from hair and scalp. People living in humid places, raise your hands in air because your savior in form of this shampoo has arrived! This shampoo prevents the frizz that comes due to humidity and prevents hair static too. TBIO team thinks this product should have the crown of glory in your cabinet! Retails at 295 INR for 250 ml. Buy HERE.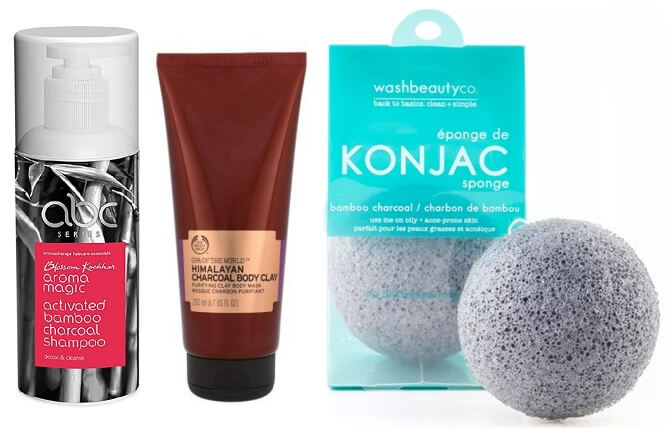 9. MaskerAide Konjac Sponge Charcoal
Here is another K-beauty product that uses konjac (an edible corm of plant grown in Korea and Japan) as a sponge to cleanse, massage and buff facial skin. You can use this sponge with cleanser or without it. Just remember to squeeze water out of the sponge and keep it in a dry place to prevent contamination. Price may appear exorbitant for 1 sponge but the product works wonders for skin. Retails at 850 INR for 1 sponge. Buy HERE.
10. The Body Shop Spa of The World Himalayan Body Clay
We swear this product works wonder as much as its name is mouthful! (please laugh, a desperate attempt to make you guys laugh) Works on over heated skin, cellulite and dull skin of your hands and feet. It must be applied like another mask or body scrub, you can see its amazing effect after you wash it off. The price is extravagant, but the quantity is quite a lot so don't fret on it too much. TBIO thinks that all women do deserve a luxurious retreat for all the hard work they put (men too if they can deal with their ego). Retails at 1750 INR for 200 ml. Buy HERE.
One precautionary tip: charcoal products may stain cloths and work surfaces, since it is property of the charcoal to bring out dust from every surface it touches. Be careful with your clothes while using charcoal products and clean your nails after using any charcoal product because fine particles may get under nails and stain your things later.
Guest Author: Sneha Goley