I promise this will be my last subscription box of the month. Earlier this month, I had unboxed the ever so popular Fab Bag and Glamego Subscription Boxes and now I am here with a fairly new subscription box in town. They came into the world of beauty, some 6 months back and after seeing their product choices, I fell in love with them. It's The Blush Boxx I'm talking about. This subscription falls in the affordable category so I'm sure many of you would like it. Let us hear a little about The Blush Boxx before going into the unboxing.
About The Blush Boxx (taken from their website)
At The Blush Boxx, we all come to work every day because we want to solve the biggest problem in a Girls Life, CHOOSING RIGHT SKIN/HAIR CARE PRODUCTS. People don't know what to buy & what will suit their skin type, Hence, our In house beauty experts do it right for you. We Believe In "BEING NATURAL" & hence, most of the products in our box are Natural & Organic. Throughout the history of skin care, people use what ever they think is right for their skin, Our mission at The Blush Boxx is to make the products Affordable & Economic for all the beauties out there.
Price: 399 INR per month with 5-6 products.
My take on The Blush Boxx :
Some of the previous month boxes are made available so I purchased the January Box as I liked the products in that. I was pleasantly surprised at the speed of delivery. I received the box in just three days after placing my order. I directly placed my order on their website and didn't have to go through unnecessary follow ups. I'm surprised since this is a subscription box that is promoted in Instagram and you know those new subscription boxes that pop up every month and vanish the other day where at times we are always left nervous whether the box will arrive or not. I believe The Blush Boxx is building its own stand as a unique subscription.
The packaging in which the products came was also neat and professional. The Blush Boxx has it's own signature pink and blue cardboard box. Inside it, the glass bottle products were bubble wrapped and the other products were placed as such. All products arrived with no damage and in good condition. Not only a product list card, but a separate card which has all details about the products in it was also provided.
Finally, let's see what products I received inside The Blush Boxx.
Humble Bee Salt Scrub (Coffee) – Rs.599/-
Insta Glam Glowing Goddess Facial Serum – Rs.500/-
NELF Powder Matte Lipstick – Rs.360/-
Bella Voste French Formulated Nail Pain – Rs.249/-
Mond'Sub Facial Sheet Mask – Rs.250/-
Inatur Oil Control Face Pack – Rs.150/-
The total cost of the products amounts to Rs. 2100 and you have to pay just Rs.399/- which includes shipping as well. I love it when subscriptions don't charge me shipping charges.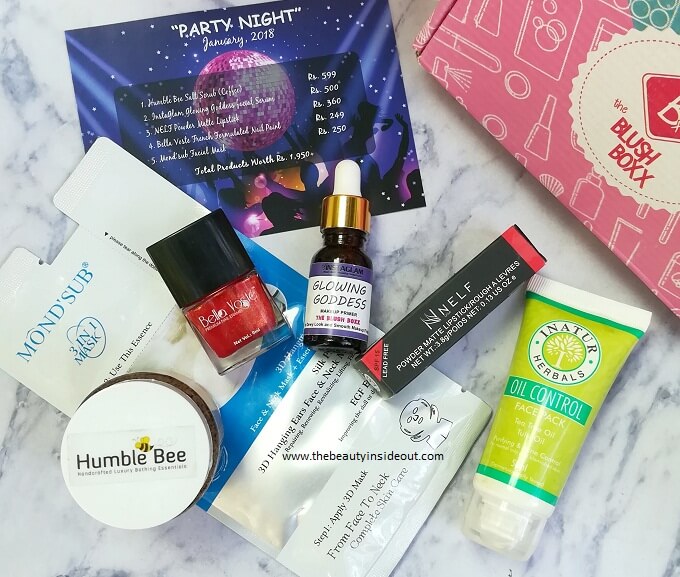 1.Humble Bee Salt Scrub (Coffee)
Coffee scrubs are great to reduce cellulites. My first stint with a Coffee Scrub from Skin Yoga was really enjoyable. This Salt Scrub comes from a 100% Natural, Cruelty Free Handcrafted Brand – Humble Bee. It is fortified with Sea Salt, Rock Salt, Epsom Salt, Coffee, Vitamin E Oil, Jojoba Oil, Almond Oil, Coconut Oil, Essence, Color. The salt scrub has a coarse texture and is moderately loosely packed. Once I opened the tub, my room was bombarded with the smell of instant coffee. This would make a very good scrub for coffee lovers.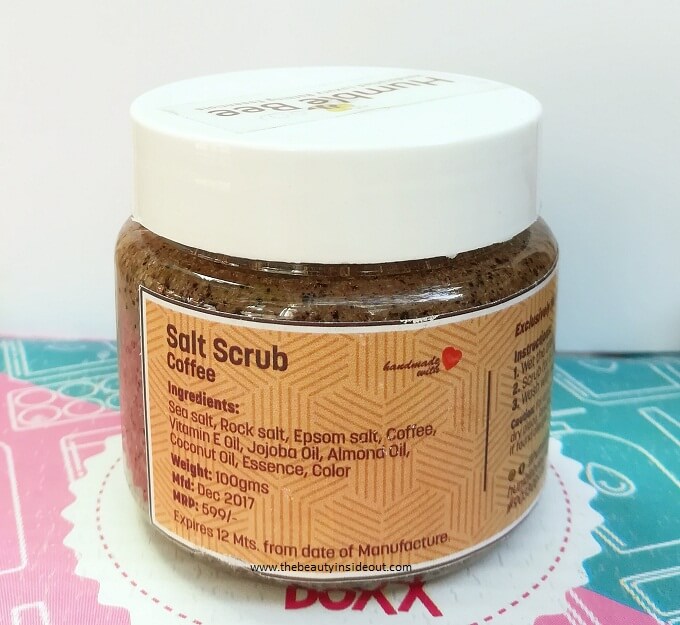 2. Insta Glam Glowing Goddess Facial Serum
This is one of a kind makeup primer, made with natural oils and extracts. The Glowing Goddess Facial Serum contains Argan Oil, Aloe Vera Extract, Rosehip Seed Oil, Avocado Oil, Jojoba Oil, Orange Peel Oil, Vitamin E and Lemongrass Oil. The oil has a mild citric fragrance and has a lightweight texture. The serum is used to blur out pores and smoothen out the skin, prepping the skin for makeup. This serum will be loved by those who love dewy finish makeup.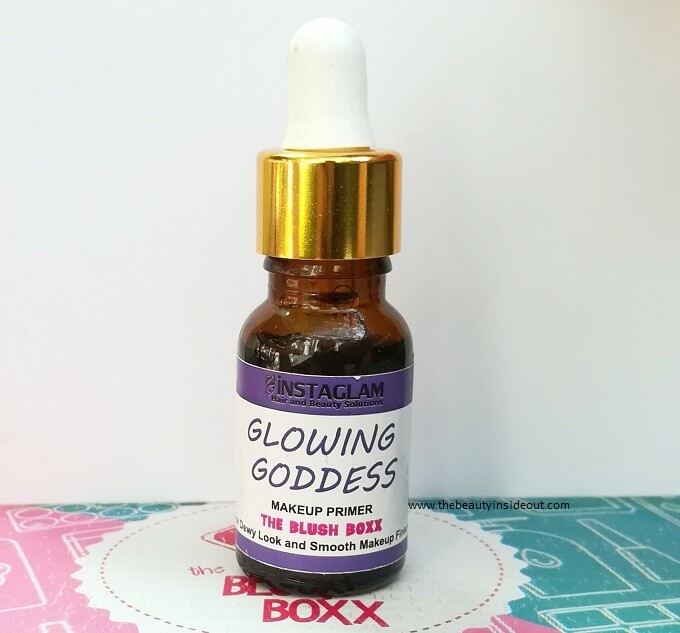 3.NELF Powder Matte Lipstick
NELF is a recently launched affordable makeup brand that has made its presence felt through various subscription boxes. I already own their foundation, compact and eyeliner. This is my fourth product from the brand. I received the Powder Matte Lipstick in shade Shocking Pink which is a beautiful frosty pink shade. Will keep you guys posted on the swatches and performance soon.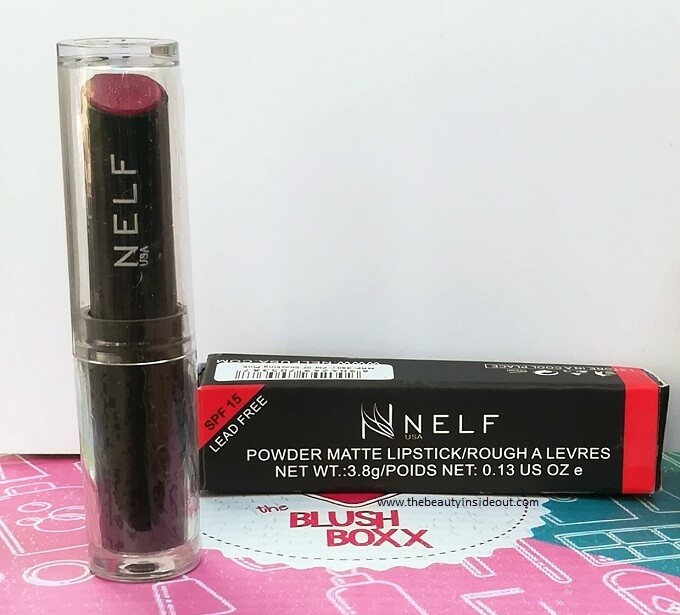 4.Bella Voste French Formulated Nail Paint
Bella Voste is yet another affordable makeup brand, again often seen in various subscription boxes. I got a hot red nail paint. I already have a lemon green shade of this nail paint which I got in Fab Bag. As usual, I would be giving this nail paint to someone else, as I don't use nail paints at all.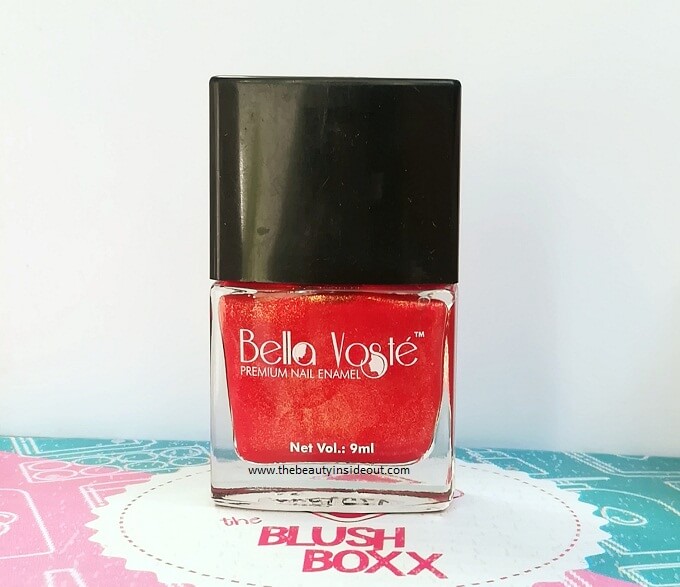 5. Mond'Sub Facial Sheet Mask
Mond'Sub masks are quite popular here. I received the 3D Hanging Mask. I am quite excited to try this out as I haven't tried a mask that comes for the ears and neck too. This mask contains Silk Protein and Hyaluronic Acid which are effective ingredients known to provide intense nourishment to the skin.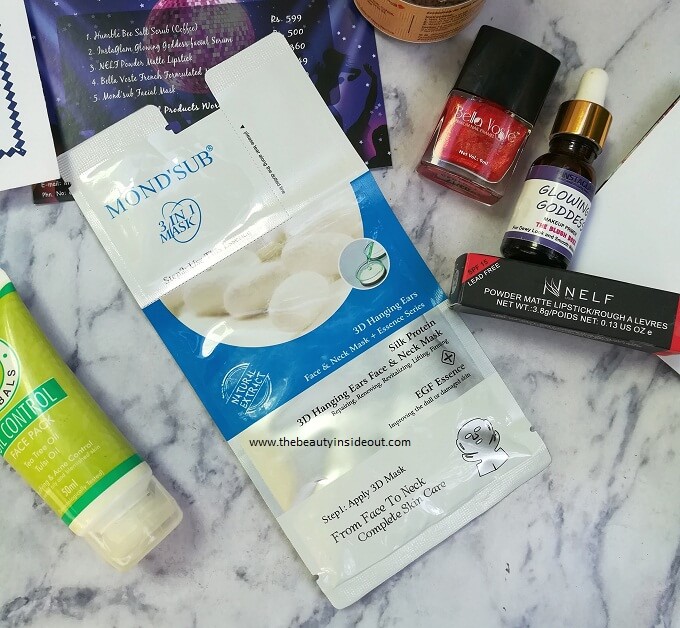 6. Inatur Oil Control Face Pack
I haven't tried many Inatur products except for their sheet masks. So I'm curious to try this out. The oil control face pack contains Tree Tea oil, Clove Oil and Basil as its key ingredients. This face pack would be apt for my oily and acne prone skin and would also be a treat to use it in the fast approaching summer season.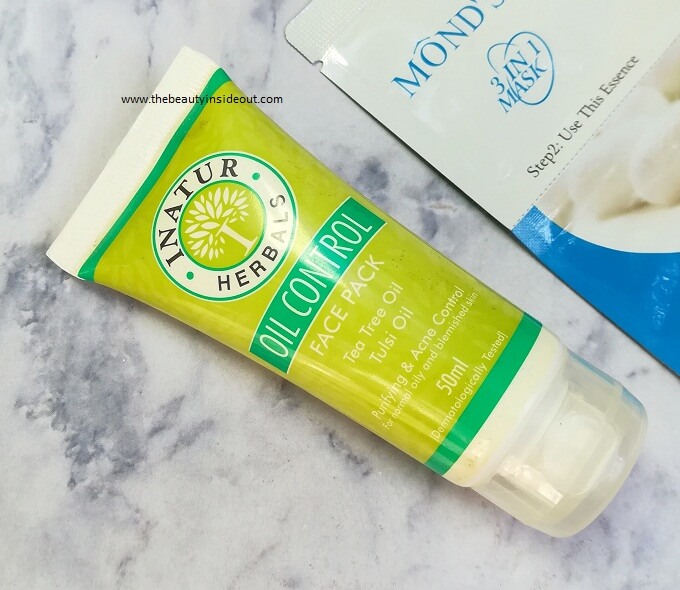 Overall, I feel The Blush Boxx is the best 'Value for Money Subscription Box' in India, next to the Glamego Box. The product curation in each of their boxes are really good and they stock up some of their previous month boxes too, unlike most subscriptions where you can't subscribe for earlier months. So with The Blush Boxx, you can always see what are the products and then subscribe to them. Personally I loved this box a lot and would recommend giving this subscription a shot!
Looking for other subscription boxes?