Lakme has its own name for makeup in India. It was one of the earliest affordable makeup brands that I tried when I was in college. Fast forward now, it's really sad to see most of their recent launches never falling in the affordable category. This Lakme 9 to 5 Weightless Mousse Foundation is one of them, it not super expensive but it's not budget friendly as well. This foundation has been quite popular since they launched years ago and months ago they launched a mini version of this. That caught my eyes, so I just ended up buying it to see how this works. Stay hooked to know more about this product.
Product Description: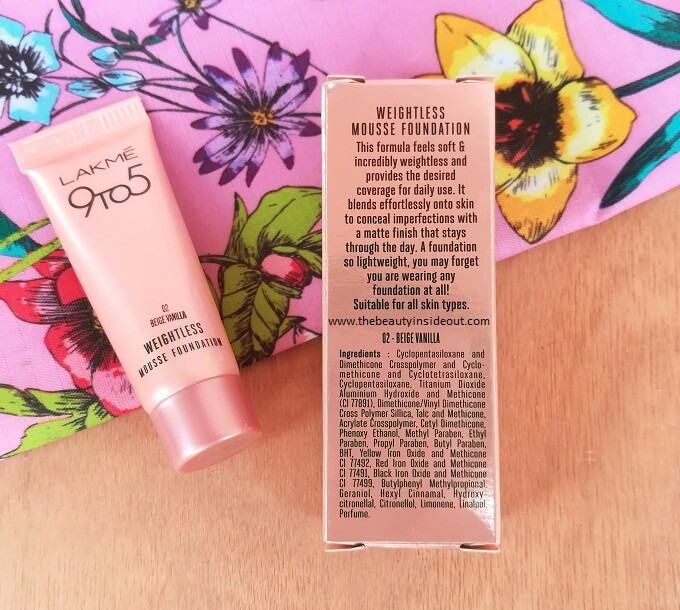 Ingredients: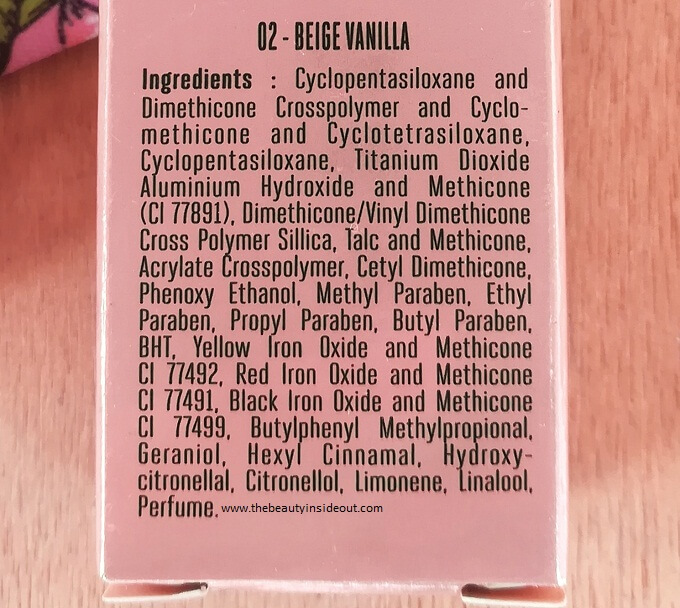 Price: 150 INR for 6 gms ( Buy HERE ) , 575 INR for 29 gms ( Buy HERE )
My take on Lakme 9 to 5 Weightless Mousse Foundation:
Packaging: Lakme has amped up most of their packagings since their beginning. This foundation comes in an elegant rose gold tube with a shiny rose gold screw cap. The tube has a tiny hole through which the product comes out. The tube, on the whole, comes housed in a rose gold card box with details about the product mentioned on it. The ingredient list is also present which was a surprise to me as most Lakme Makeup Products come with no ingredient details. Overall, the packaging is classy and very convenient and travel friendly to carry around in your hand bag.
Shades: Lakme Mousse Foundation comes in 4 shade
01 Rose Ivory (Fair to Medium with Pink Undertones)
02 Beige Vanilla (Fair to Medium with Yellow Undertones)
03 Beige Caramel (Medium with Neutral Undertones)
04 Rose Honey (Medium Tan with Pink Undertones)
Being an Indian Brand, Lakme has failed in providing a good shade range. This shade range would definitely not cover most Indian skin tones, especially those olive and dusky skin tones. Even the fairest shade, will not suit someone with very fair light skin tone. I chose the 02 Beige Vanilla, since that was the only yellow toned shade. Gladly it's a closer match to my skin tone.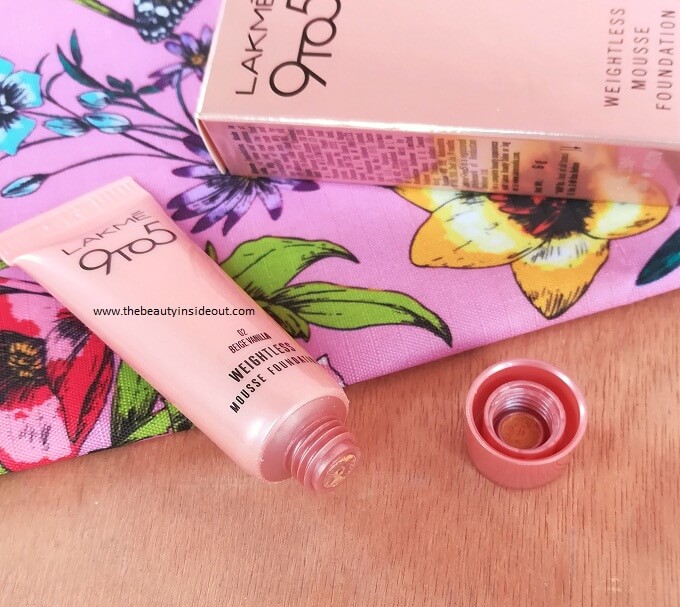 Fragrance: Like most Lakme products, Lakme 9 to 5 Weightless Mousse Foundation has a fake chemical fragrance, more on the floral note and not the overpowering citrus scent like the Absolute Range Foundation. The scent goes undetectable once the foundation is applied on the skin.
Texture:Lakme 9 to 5 Weightless Mousse Foundation has a fluffy, airy, moussy texture. It is thick and easier to control leading to no wastage. It has a silky smooth velvety texture and blends effortlessly with finger tips.
Coverage: I'm highly disappointed on this part. Being a foundation that falls in the above budget friendly category, I expected it to provide atleast a medium coverage. This foundation has low coverage and is buildable to two layers without cake-ing, but still the coverage is moderate and does not cover up mild acne mark and spots. A concealer is definitely needed with this foundation to cover dark circles, spots and marks. I found the coverage to be slightly higher than my recent Spinz BB Cream which is a sheer coverage everyday BB Cream.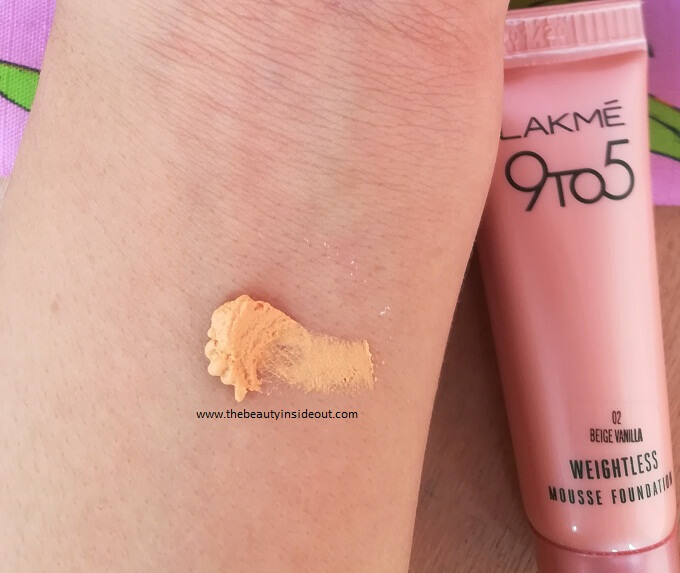 Effectiveness: Rather than a foundation, this has a feel of a BB Cream. It's super lightweight and comfortable on the skin giving a almost nothing on the skin feel. I apply it on my cleansed, toned and moisturized skin using my fingers. I use a lightweight moisturizer. This foundation spreads with such an ease and does not require endless blending. It instantly brightens up the skin and gives an even toned natural look. The finish is a velvety smooth semi-matte finish and turns into a powdery matte finish if I apply two layers. The foundation never oxidized on me as time went by. Also, I didn't face any new acne breakouts. The foundation is also capable of blurring out the pores giving a pore-less finish. So you don't even need a primer underneath. However, at times it can accentuate dry patches, so use a moisturizer beneath or face mist post application. Dry skin types may find this foundation a little drying due to its mattifying formula.
Staying Power: The Foundation stays fresh for 5+hours and the longevity increases with frequent touch ups. I don't set with a compact immediately as the finish itself is Oil free and Mattifying. I just powder it only after 3 hours of wear to extend the staying power. I also noticed the foundation to survive few splashes of washes without running down on the face, so the formula is water resistant to a certain extent. And it does not melt down with sweat too.
Lakme 9 to 5 Weightless Mousse Foundation does not have SPF in it, so it neither provides sun protection nor leaves a white cast. A boon and a bane. Depends on your preference. I'm completely ok with it not containing any SPF.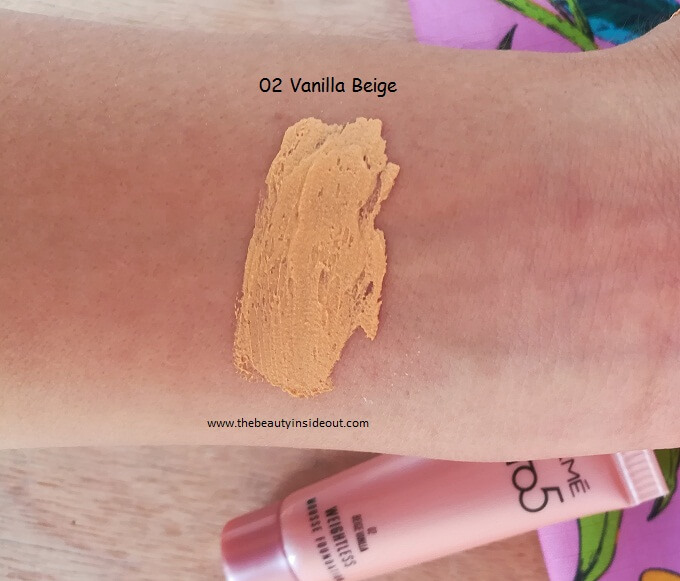 Pros

:
Attractive, user-friendly packaging.
Velvety smooth Mousse Texture.
Application is super easy.
Oil-Free, Shine-Free, Semi-Matte Finish.
Perfect for oily skin and summer season.
Does not melt down or make skin oily.
Did not break me out.
Blurs out pores very well.
Water resistant.
Good staying power.
Cons:
Limited shade range.
Low coverage.
No SPF.
Contains silicones.
Not great for dry skin.
Can accentuate dry patches.
Rating: 4/5
Would I recommend? May Be. This is more of a everyday foundation that is light, comfortable on the skin. It gives a fresh, polished skin. The coverage could have been better for the price it retails. If you can compromise on the staying power and coverage a bit, I would recommend the new Spinz BB Cream as the mousse texture and oil free matte finish are similar in both the products and Spinz is a lot cheaper. But you have only one shade in it which is the biggest con if you chose the Spinz BB Cream.
Looking for other lightweight foundations?