Lotus Herbals Safe Sun UV Screen Matte Gel is my first ever sunscreen I had bought during my college days. Before that I used products/day creams which had SPF in it and most often wouldn't bother much about sun protection. Lately with the temperatures hitting its new peak year by year, one should realise the importance of using a dedicated sunscreen, and me being a person who gets bored easily with certain beauty products stocked up this again in addition to my HG Neutrogena Ultra Sheer Dry Touch Sunscreen to tackle this scorching heat. Earlier when I bought this sunscreen, I didn't really bother much about how it smells, effectiveness nor does the effect it had on me. As I used to roam around a lot under the sun, I was just using this for the sake of using sunscreen to prevent skin tan and didn't bother to notice whether it really worked or not. But this time, I was very much specific about my needs particularly how it works on me for sun protection. Keep reading to know more about the Lotus Herbals Safe Sun UV Screen Matte Gel.
Product description: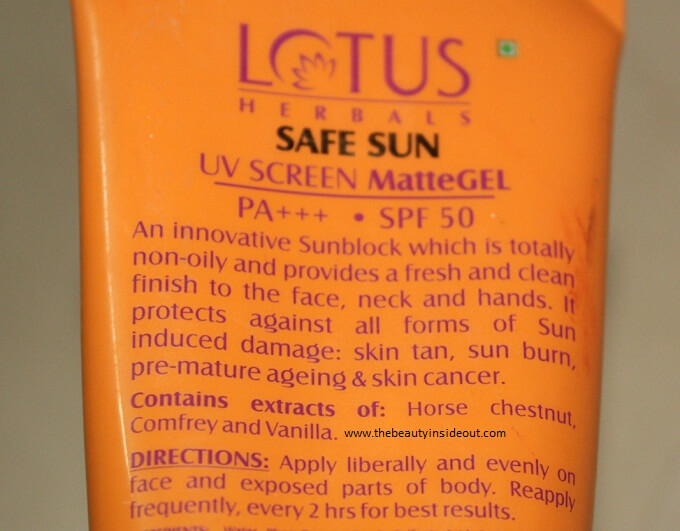 Ingredients:

Price: Rs.440 for 100 g and Rs.315 for 50 gm. Buy HERE at discounted rate.
Shelf life: 3 years
My take on Lotus Herbals Safe Sun UV Screen Matte Gel:
Packaging: Lotus Herbals Safe Sun UV Screen Matte Gel comes in a neat, orange colored sturdy tube with a flip cap. Ingredients and other details about the products including mfg date, expiry, batch no. are listed at the back of the tube which is good. Although the tube is of bigger size (I own 100g tube ), it is travel friendly and would fit in our handbags easily.
Fragrance: The sunscreen has a fragrance somewhere between herbal and chemical smell. It's not fruity, it's not overpowering or irritating smell. It has a scent that just wanes away after minutes of application.
Colour &Texture: Lotus Herbals Safe Sun UV Screen Matte Gel is a whitish lotion based gel. I would say it's not completely gel like. It still has a light weight texture which seeps completely into the skin.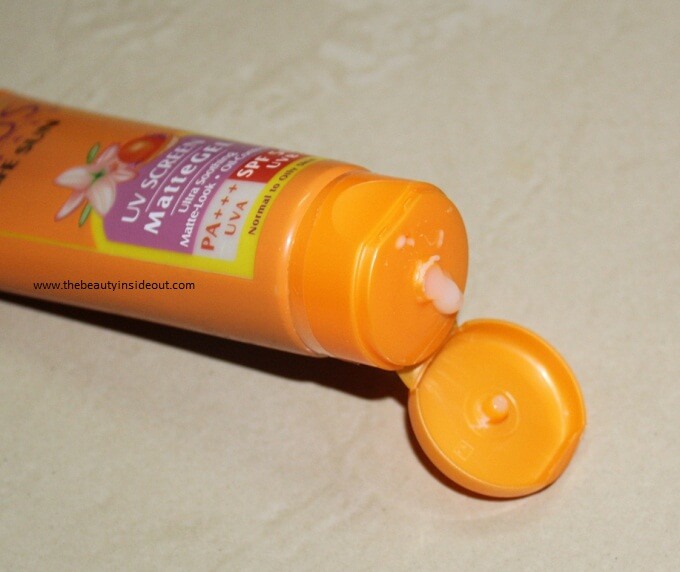 Experience: I preferred this particular Matte Gel Sunscreen from Lotus Herbals over their other sunscreen ranges just because it was mentioned to be meant for oily skin and my skin belong to the same category.
As said earlier, this is lotion based gel and gets absorbed into the skin easily within seconds of application. This leaves completely no white cast which is a very good thing about this product. It doesn't moisturize my dry areas of skin and I need to use a moisturizer beneath. But whenever I used this sunscreen gel after applying moisturizer, the sunscreen balls or pill off the face.
Initially I didn't understand why that happened and went on surfing to read about pilling of sunscreen and ended with zillion of answers from Google. I don't want to stand on a point about it unless I know the clear reason for it. But as far as I understood from what I read, the major reasons could be due to method of application or either the mix of the products I apply doesn't go well , i.e, the moisturizer and sunscreen or sunscreen and other creams I apply on top. After giving it a thought, I concluded that in my case, this sunscreen didn't go well with the moisturizer that I was using. But still even with other moisturizers, it was a massive failure. It started pilling away and I ended up washing my face to avoid embarrassment.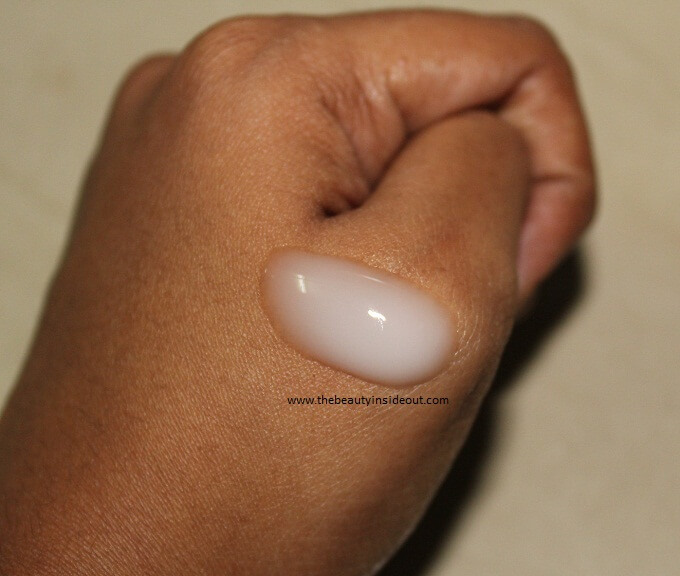 Finally I found out that this sunscreen works well on bare face and doesn't get pilled off then. So basically this sunscreen does not gel well with other products and should be used as a standalone product. Since I don't like using it directly on my face without any moisturizer, I chose to use it on my hands and legs and it worked like a charm for me. Since then I have been using it only for my body parts.
I was disappointed that I didn't see any matte finish when applied, as per its claims. It's just like another lotion based gel sunscreen, giving a slightly dewy skin yet it didn't make my skin greasy or oily later on which I am happy about.
Above all, Lotus Herbals Safe Sun UV Screen Matte Gel has SPF 50 PA +++ with UVA and UVB which gives broad spectrum coverage and prevents skin from tanning to a great extent. Additionally, this sunscreen never caused me any new breakouts.
Pros :
Travel friendly packaging.
Lotion-Gel Based, gets absorbed easily.
Best suited for oily skin.
Doesn't make the skin oily or shiny.
No white cast.
Never broke me out.
Broad coverage and gives the mentioned sun protection.
Cons:
Contains Paraben as preservative.
Doesn't go well for me. Pills or balls away.
No Matte finish as claimed by the product.
Rating: 3.5/5
Would I recommend? Yes, eEven though this is not my HG sunscreen, I would recommend this because many of my friends swear by this. As well I did see visible results in exposed areas of my arms and legs. Also, I wouldn't simply say No to this just because it didn't go well with my other creams. If you are looking for sunscreen that suits oily skin type, well you can definitely give this a try !!!!
Guest Author: Abirami Gunasekar