Physical Sunscreens are much more safer and effective than chemical sunscreens. Especially if you have sensitive skin, it is best to opt for a physical sunscreens as they reflect UV rays rather than absorbing, protecting our skin from damage. Today I am up with a chemical free sunscreen from the house of Blossom Kochhar which is the Aroma Magic Sunblock Lotion SPF 30. Earlier I had wanted to try out the Aloe Vera Variant as my mind was fixed that only that variant was meant for oily skin. But since the SPF in that was too low, I didn't get that and the idea of buying any Aroma Magic Sunscreen was shelved off. But looks like I was wrong. Aroma Magic did have this Sunblock too, which is meant for oily skin. I came to know this only after I chose to get this trial size in my Smytten Box. Since then I've been using it regularly in my morning routine. Keep reading to know more about this product.
Product Description: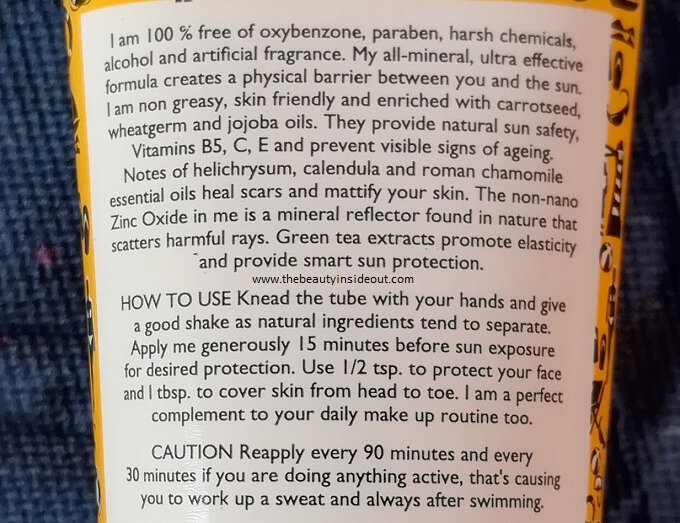 Ingredients: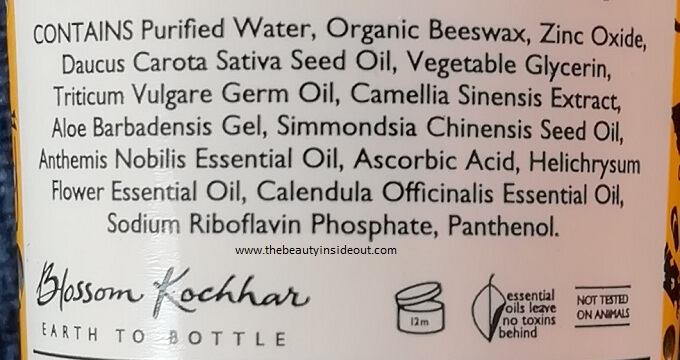 Decoding scientific names of the ingredients: Water, Organic Beeswax, Zinc Oxide, Carrot Seed Oil, Vegetable Glycerin, Wheat Germ Oil, Green Tea Extract, Aloe Vera Gel, Jojoba Oil, Chamomile Essential Oil, Vitamin C, Helichrysum Flower(Strawflower) Essential Oil, Calendula (Marigold) Essential Oil, Sodium Riboflavin Phosphate (Skin Conditioning Agent), Panthenol (Emollient, Lubricant, Conditioning Agent)
Price: 180 INR for 50 ml. Buy from Amazon at a discounted rate.
My take on Aroma Magic Sunblock Lotion:
Packaging: I have a liking towards the packaging of all Aroma Magic Sunscreens. They look so quirky and sleek. This variant is a bright yellow colored tube with teeny tiny summer essential imprints on it. How thoughtful! Various details about the sunscreen is provided at the back of the tube. The tube packaging is very user-friendly and travel friendly as well.
Color & Fragrance: This Aroma Magic Sunblock Lotion has the look and feel of Calamine Lotion. It is pale pink, almost white in color and smells like Lacto Calamine Lotion.
Texture: Contrary to its name ' Lotion' , this has a creamy texture with a medium thick consistency.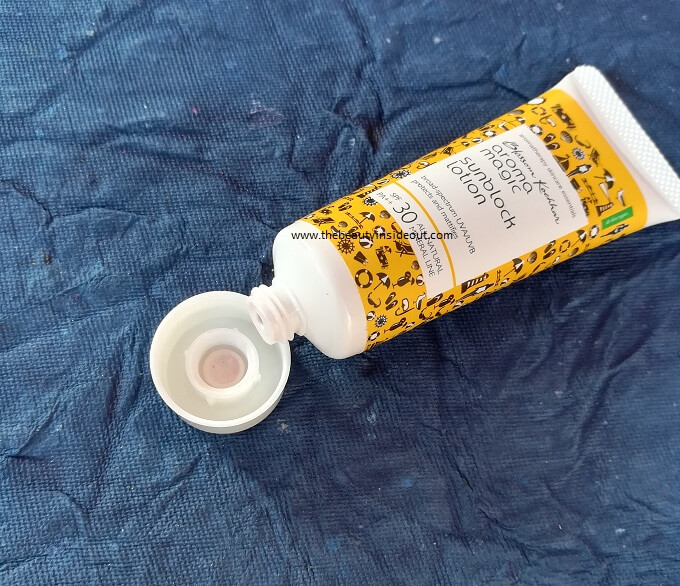 Experience: After my regular CTM routine, I take a generous amount, about a coin sized, of the product and apply it on my face. This sunblock is fast absorbing so I had to quickly blend it, otherwise it gets stuck at one place. The sunblock immediately brightens up my skin which sometimes look overboard with its white cast. Since I have medium fair skin tone, I can do away with it as it settles down a bit and adjusts to my skin tone after a while. But this sunscreen would definitely look ashy or too white on someone with dusky and deeper skin tones. The sunblock nicely mattifies my skin and how much ever I slather on the sunblock, it still left my skin mattifying with no oiliness or greasiness. The formula is superb for oily skin beauties. Dry skin types, this is not for you!
Aroma Magic Sunblock Lotion has SPF 30 PA++ and must be re-applied every 90 minutes which is truly a hassle. But that's how all sunscreens work and even higher SPF sunscreens has to be re-applied every two hours. To be true, I reapply my sunscreen only when I am on a beach vacation. Other days, it's only once. I used this in the current hot & humid weather, mostly indoors and it did serve my purpose of protecting my skin from the sun-rays peeking through my window. Also, I didn't face any skin irritations or break outs with this sunscreen. Since this is a skin safe, physical sunscreen and the formula is mattifying, I liked using this sunscreen. The white cast is definitely a con, but then I haven't found any physical zinc oxide based sunscreen that doesn't leave any white cast.

Pros

:
Attractive packaging.
Physical Sunscreen.
Mild Fragrance.
Fast absorbing and Mattifying formula.
Great for oily, acne prone, sensitive skin types.
Controls Excess Oil Production.
Has SPF 30 PA ++, which provides sufficient sun protection for indoor activities.
Didn't cause new pimples.
Cons:
Not for dry skin types.
Leaves a white cast.
SPF is not adequate for our Indian Summers.
Frequent re-applications can be a hassle.
Rating: 4/5
Would I recommend? Probably yes. Aroma Magic Sunblock Lotion is ideal for oily and sensitive skin types. The formula is mattifying, free of chemical ingredients and safe to use. If you ignore the white cast and can re-apply every 90 minutes, this is a good buy for you.
Looking for other sunscreens?