When we indulge in intense workouts to reduce unnecessary fat and maintain a healthy weight, we not only lose our energy & stamina, we also lose glutamine. Glutamine is much needed to strengthen our muscle cells and also fasten muscle recovery. Technically, Glutamine is an amino acid which is conditionally essential for our body. It is also present in many natural food sources including meat, dairy, eggs, kale, celery. However getting enough of all the glutamine nutrition through diet alone is not enough for us, especially if you are into athletics, muscle building and weight trainings. In such cases, a health supplement becomes essential. Today we are going to see about AS-IT-IS Nutrition L-Glutamine for Muscle Growth and Recovery which is a muscle recovery supplement that helps you gain the lost energy, stamina and the Glutamine. Keep reading to know more about the AS-IT-IS Nutrition L-Glutamine for Muscle Growth and Recovery.
Firstly let us know us know a little about Glutamine. Glutamine is the richest amino acid in the body and is involved in many metabolic processes including nitrogen metabolism and protein synthesis. Glutamine is one of the most abundant of all 20 amino acid making up over 60% of our skeletal muscle tissue in the body. In addition to improving athletic endurance and building muscle, it may also promotes healthy gastrointestinal tract. Because L-Glutamine is an energy source, it can be significantly reduced once exercise has taken place. Vitamin levels will remain low until the person has completely recovered from the exercise. So including a Glutamine Supplement becomes necessary.
Why go for AS-IT-IS L-Glutamine Muscle Growth and Recovery?
RECOVERY FUEL: If you love a good workout, Glutamine is your ultimate recovery fuel. It helps protect muscle tissues and supports immune function, without the need of loading or cycling. Use it before or after workout for best results.
PURE AND NATURAL: AS-IT-IS Nutrition L-Glutamine contains 100% L-Glutamine of pharmaceutical grade. Each serving provides you with 5 g of pure Glutamine. It contains No Aspartame, No Artificial Colors, Flavors, or Preservatives.
GLUTEN-FREE: It does not contain any traces of Gluten, Yeast, Wheat, Soy, Dairy, Egg, Fish/Shellfish, Peanuts/Tree Nuts, or Sugar
PURITY GUARANTEED: To ensure that you get only the best, AS-IT-IS Nutrition L-Glutamine for Muscle Growth and Recovery has been lab tested for verification & hence purity is guaranteed. It is also non-GMO & conforms to the strictest standards of testing.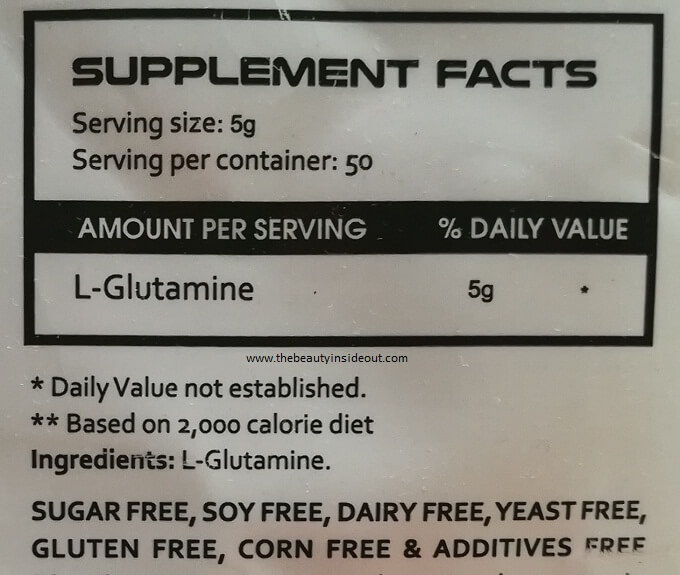 Suggested Usage: As a dietary supplement, take 5 gm of AS-IT-IS Nutrition L-Glutamine for Muscle Growth and Recovery in juice, preferably between meals, 1 to 3 times per day
Price: 825 INR for 250 gms
Shelf Life: 18 months from date of manufacture.
Where to buy? Amazon
Precautions: Not intended for use by pregnant or lactating women. If you are on any medication, consult your doctor before use. Avoid this if you are allergic.
AS-IT-IS Nutrition L-Glutamine for Muscle Growth and Recovery Review
Packaging: The packaging of AS-IT-IS Nutrition L-Glutamine for Muscle Growth and Recovery is one of the most convenient to use. It comes in a zip lock pouch that comes sealed; once opened it is easier to zip lock it back and store for further use. The look of the pouch is also nice with a classic touch. The pouch has various details about the brand, it's value on providing us a pure and better supplement and much more details including manufacturing and expiry dates. Just like the AS-IT-IS Nutrition Whey Protein Concentrate, this pouch of AS-IT-IS Nutrition L-Glutamine also come with a scoop. But this scoop is smaller than the former and one scoop is enough per serving. The dosage directions mentions measurements in US Standard Teaspoons, so you can use your other teaspoons as well.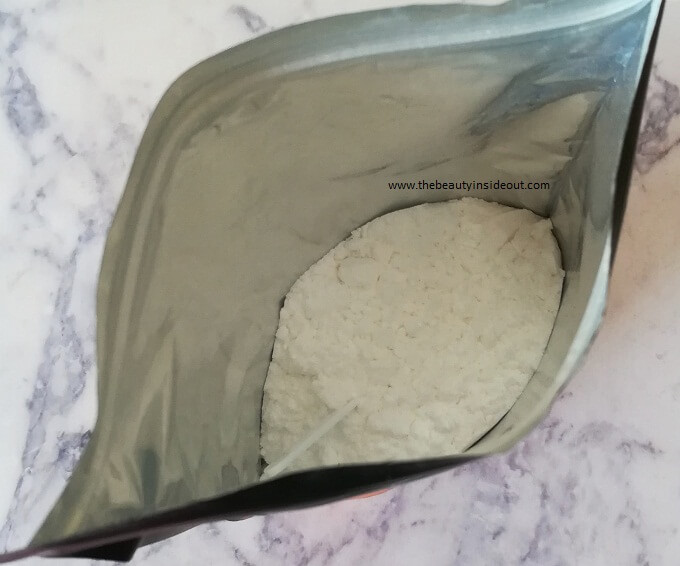 Color & Fragrance: True to its claims, this is an odorless powder. It has no artificial color added and hence takes its natural white color.
Texture: It is a very finely milled powder that mixes fairly well with any liquid medium. I suggest whisking it quickly into your juices or shakes to dissolve it uniformly.
Taste: AS-IT-IS Nutrition L-Glutamine has no flavor, hence tastes like nothing. One could easily mix it with their juice and smoothie without altering its taste.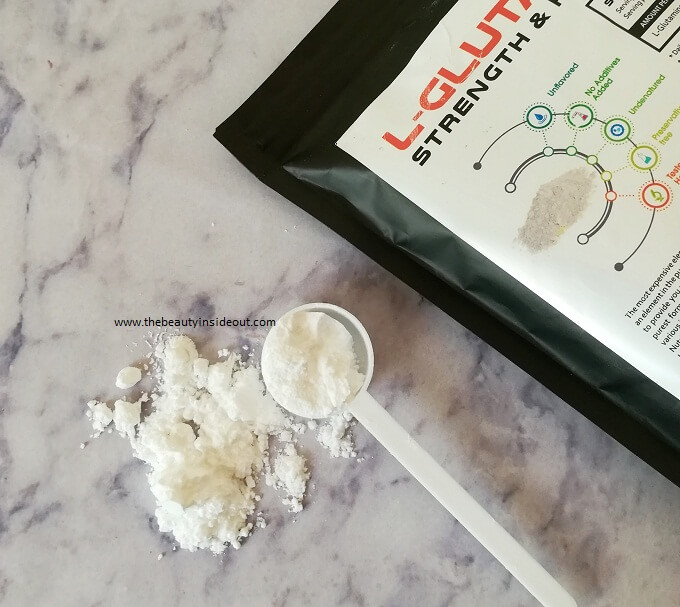 Effectiveness: Glutamine is effective in improving protein metabolism by minimizing muscle breakdown. Consumption of AS-IT-IS Nutrition L-Glutamine before workout considerably reduces post workout fatigue and improves stamina during workout. It also boosts energy level to a great extent. Above all, it not only provides muscle strength, it is also good for your gut and immune system.
AS-IT-IS Nutrition L-Glutamine for Muscle Growth and Recovery is not only restricted to athletes and body builders, it can also be consumed by busy professionals, moms on the go and those who are concerned with weight management.
Possible Side Effects: There is little to no possible effects when consumed in proper quantities. However, high doses can lead to headache, stomach pain and nausea. Usage should be discontinued if any adverse reactions occur and consult your health care professional immediately.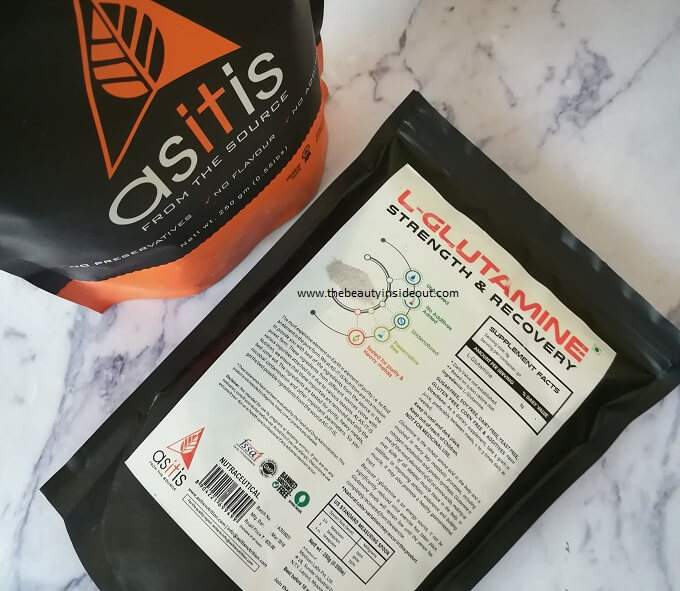 Disclaimer: These statements have not been evaluated by the FDA. This product is not intended to diagnose, treat, cure or prevent any disease.