Ever since I got the Island Kiss Lip Moisturizer in my April Glamego Box, I couldn't stop myself from using it day in and day out. This 2 in 1 lip balm plus stain has quickly entered into my list of all time favourite products. Stay hooked to know more about this amazing product.
Product Description:
We are raw, bold. daring and believe in absolutely No nasties – Strictly No Petroleum, No parabens, No Pthalates, Sulphates or Anything Artificial on your lips! Only tuff that are edible and safe if ingested. We know organic lip moisturizers can't solve all problems but it's a pretty good start. This is suitable for children as well.
Island Kiss Lip Moisturizer Shades: 5
Island Kiss Organic Lip Balm – Alma Vanilla & Inges Lavender SPF 15 (Birth Suit Nude) – Clear
Island Kiss Puerto Berry Blush Lip Moisturiser SPF15 (Berry Cheeky Tint) – Berry Reddish Pink
Island Kiss Cherry Blossom Flores Lip Moisturiser SPF15 (Sunny Pink) – Milky Pink
Island Kiss Flamingo Pink & Peonies Lip Moisturiser Stain (Wink Pout Pink) – Coral Pink
Island Kiss Black Rose & Grenade Rouge Lip Moisturiser Stain SPF15 (Foxy Red) – Coral Red
Ingredients: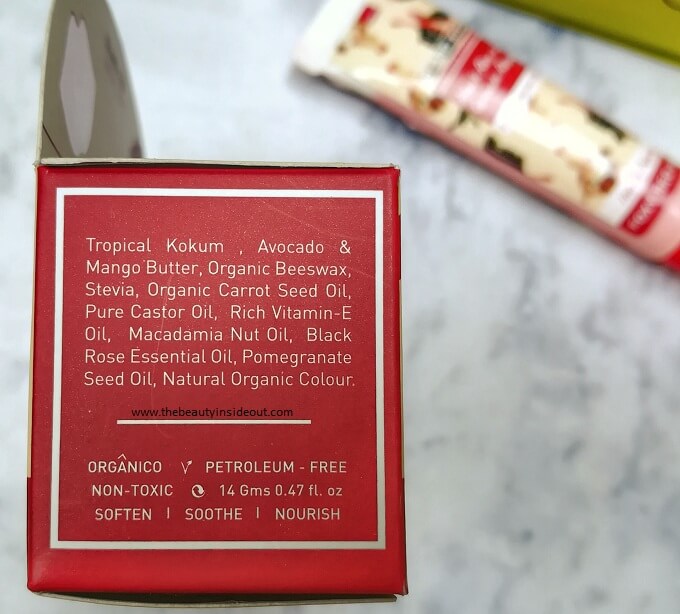 Shelf Life: 36 months
Price: 499 INR for 14 gm product.
My take on Island Kiss Lip Moisturizer:
Packaging: I'm loving it. I find the packaging of this lip balm to be unique for an Indian Brand. The outer carton design in which the lip balm resides resembles theBalm Cosmetics product packaging with its Vintage Look. It's simply sassy, colorful and adorable. The lip balm comes in a tube form with a slanted tip. Since I have a tinted darker shade, the tip gets stained after the first use. Every little detail about the lip moisturizer is mentioned on both the carton and tube. +1 for that.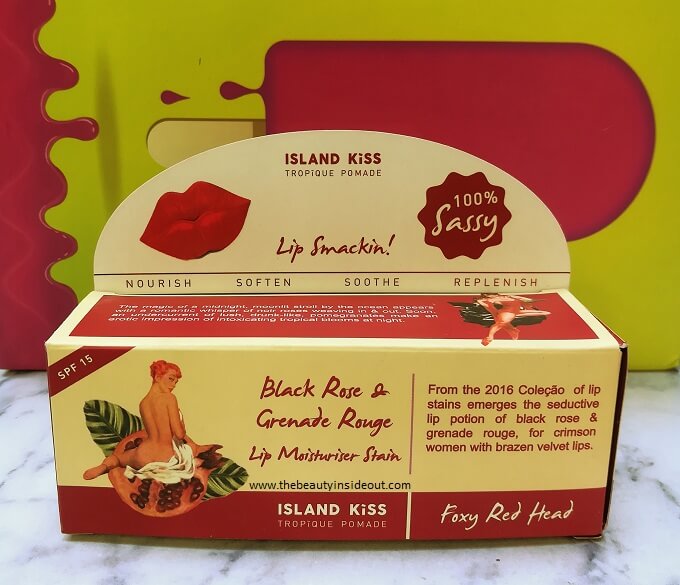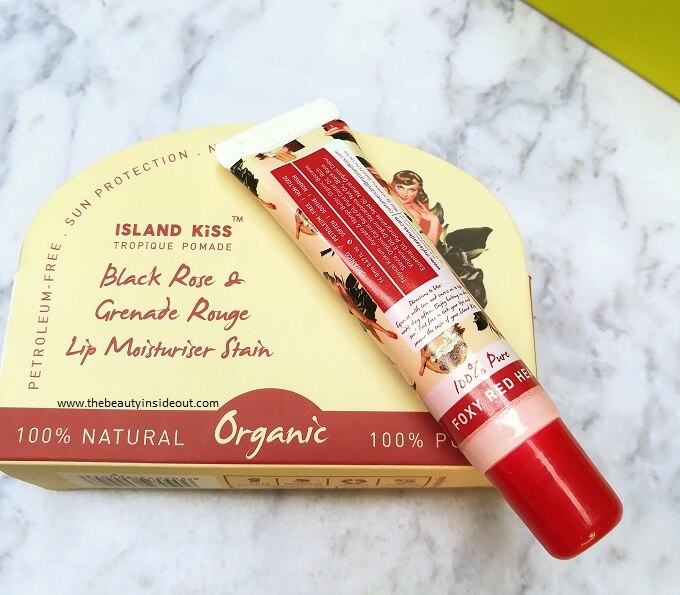 Shade: I have the Island Kiss Lip Moisturizer in Black Rose & Grenade Rouge variant which is a foxy red shade. This is a beautiful coral red shade that draws attention to my lips. This particular shade instantly brightens up my whole complexion and would universally flatter all skin tones. It is nicely pigmented and would give opaque coverage with two swipes.
Fragrance: Black Rose & Grenade Rouge has a faint fruity scent with hints of essential oils. This soon fades away after application.
Taste: The packaging says ' Feel free to lick your lips and savour the taste of your Island Kiss' which means it's Edible? It also contains Stevia, an artificial sweetener. So I thought it would taste sweet, but no, it is not sweet. You get a mild Beeswax taste if you apply generously on your lips. Otherwise I don't sense any taste.
Texture: It is smooth, medium thick and mildly waxy when I squeeze out from the tube. And when I apply it on my lips it shows up its oil based formula and gives a comfortable glossy finish.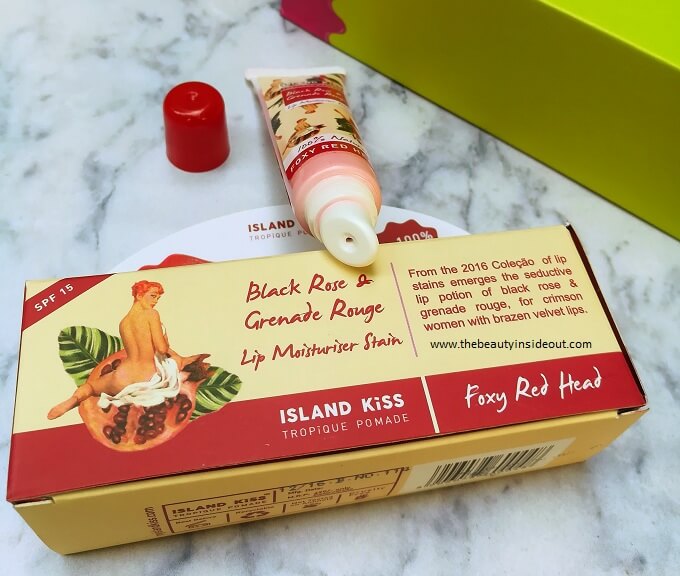 Experience: By now, you might have known that I'm in love with this lip balm. The formula is really nice. It glides super smoothly and I required only a teeny tiny of the product. I prefer taking a dot of the product on my finger tip and caress onto my lips gently. This lip stain is buildable to a fierce red hot stain.
For everyday use, I like the very light stain a single layer gives, which is also enough to work as a lip balm providing moisture and hydration for my lips for 4-5 hours. Even after the lip balm has worn off, my lips are nourished and dryness free. After using it for 3 days continuously, my ever so cracked lips are now healed and crack free. As a lip balm, the Island Kiss Lip Moisturizer gets a big thumbs from me. This has one of the best formulas a lip balm can have. They soften, smoothen and nourish my lips beautifully.
But! When layered upon too much to build up color, it tends to transfer and bleed a lot. That's because its oil based with many oils in it. Also, at times the color settles into the lip lines and gets deposited in one place. So if you are going to solely use it as a stain and layer up for more than two times, I suggest using a lip liner or apply any lip base. For me, two layers are good enough, to work as a lip balm as well as a lip stain covering my moderately pigmented lips. Albeit, this wouldn't be a problem for other non-tinted and lighter shades.
Apart from this, there are no complaints from me. The price is higher compared to other lip balms in the market, but the quality justifies the price. The Island Kiss Lip Moisturizer is 100% Natural, Pure, Organic, Petroleum Free, Toxins Free and Cruelty-Free. Above all, it comes with an SPF of 15, which is perfect for day time use. So why not? Do give it a try.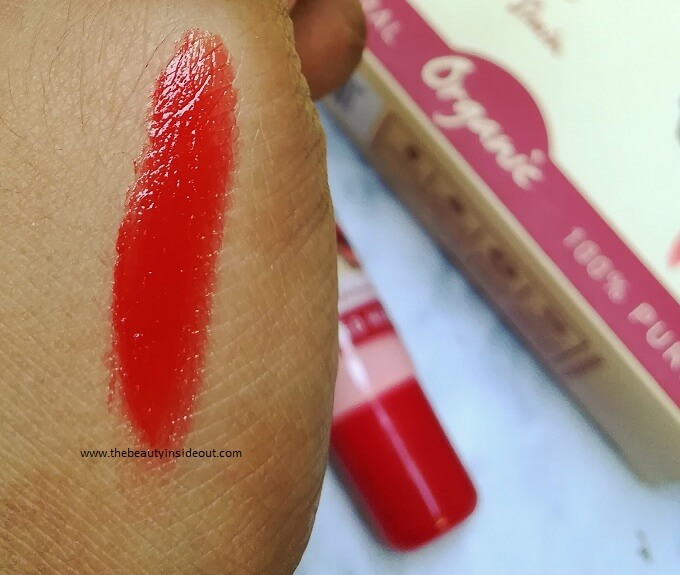 Pros:
100% Natural and Organic.
Attractive packaging.
Available in both tinted and non-tinted versions.
No bothering fragrance or taste.
Great formula.
Nicely pigmented.
Keeps lips moisturized and nourished for long.
Heals dry and cracked lips.
Gives a beautiful glossy finish.
Has SPF 15.
Not tested on animals.
Suitable for children.
Cons:
This shade tends to settle into lip lines if applied generously.
This shade bleeds and transfers a bit.
Rating: 4.9/5
Would I recommend? Yes, definitely! This is a natural, chemical free lip stain that works great as a lip balm and this shade is perfect for a party out when you want to underplay your makeup.