Today I will be reviewing The Body Shop Strawberry Lip Butter. This is one of the most loved products from The Body Shop. It is also a worldwide bestseller from their skin care range. I love berry scented products specially the skin care ones. The strawberry range is one of the oldest ranges of The Body Shop and is quite famous for fragrance and effectiveness. So, I decided to buy the lip butter from this range. I have dry lips. Overnight lip balm application is a staple skin care step for me. Otherwise my lips become dry and cracked. Lip butters have thicker formula than lip balms. It's also a reason why I bought this particular product. Let's read on to know how it fared on me.
Product Description:
The Body Shop Strawberry Lip Butter is a buttery balm that melts onto the lips and gives instant hydration. Its main ingredient sweet strawberry seed oil leaves lips feeling soft and smooth.
Ingredients: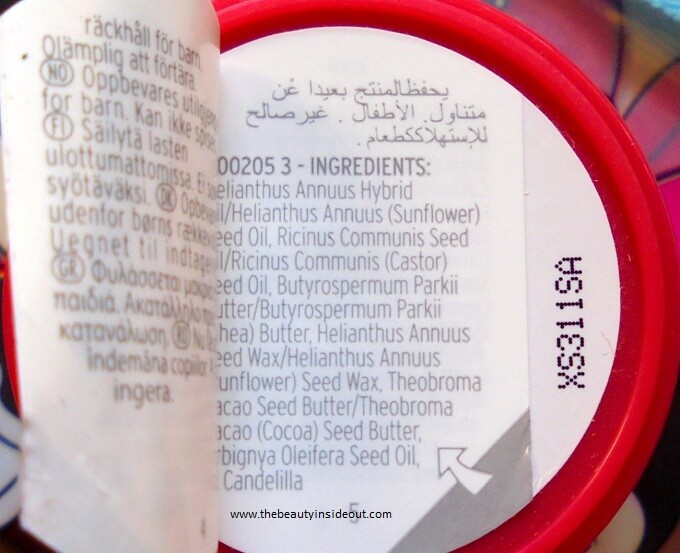 Price: Rs.250 for 10ml
Where to Buy? This lip balm is available at The Body Shop retail stores all over the world. It is also available online at Nykaa and The Body Shop's own website. If you are doing a haul of The Body Shop products, their own website will avail more discounts. Nykaa offers upto 20% discount at online sales.
The Body Shop Strawberry Lip Butter Review
Packaging: This lip balm comes in a strawberry red plastic tub. It has a black coloured screw open plastic lid. The packaging is made up of recycled plastic. Earlier the tub used to be bright red. Recently the brand has changed the packaging. At the back of the pack there is a plastic flap. The ingredients list and other informative details are mentioned on the glued flap. The packaging is compact and travel-friendly but not very hygienic. The brand should have at least added a protective plastic divider to prevent the balm from contaminating like Biotique pot lip balms.
Color & Texture: The lip balm looks vibrant red in the tub though the colour does not transfer into the lips. It is basically a tintless lip balm like Vaseline. The texture is light and the formula is moderately moisturizing. The Body Shop has recently reformulated this lip balm. Earlier the lip butter used to be white in colour and creamy in consistency. The new formula is far lighter and almost similar to lip balms or pure petroleum jelly. It creates a glossy sheen to the lips.
Fragrance: Fragrance is a huge plus point for this lip butter. True to its name, this lip butter smells exactly like fresh strawberries. The fragrance is moderate; neither too strong nor faint. It does not have synthetic strawberry essence type smell. If you love strawberry fragrance, you will love it the bits. But those who are not keen to this fragrance should not buy this because the smell takes some time to fade off completely.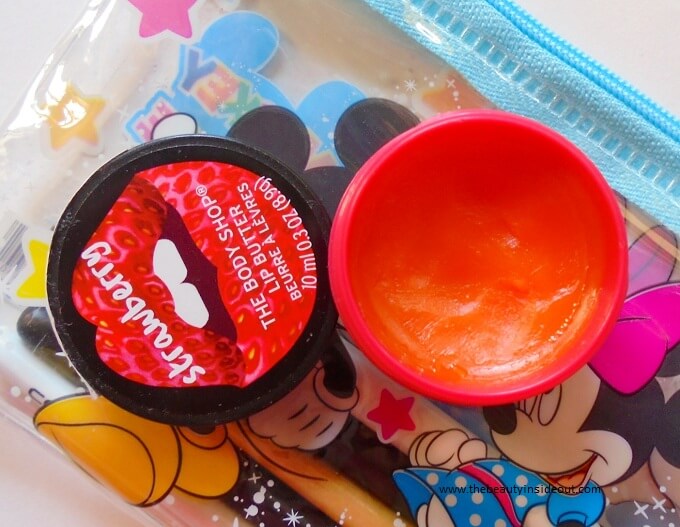 My Experience:
Let's begin my experience by saying, I had high hopes on this lip balm. Partly because of its price and partly for the reputation of this particular product on the web. I have used the face wash and toner from The Body Shop's Tea tree range and both of them were quite good. This lip butter however reminded me of original petroleum jelly or Vaseline with just the fragrance and colour. The texture id very similar. This strawberry lip butter used to be heavier and perfect for curing dry and chapped lips. The new lighter formula does not leave white cast like the old one but do not do wonders on flaky lips. The moisture fades off in 3-4 hours and you have to keep reapplying. I bought this to use as my overnight lip therapy but sadly the lip balm did not improve the dryness situation of my lips. This did not do anything with the pigmentation of my lips as well. I now apply it only at daytime when I need just a light coat of moisture. I don't think it will be much effective on winter weather.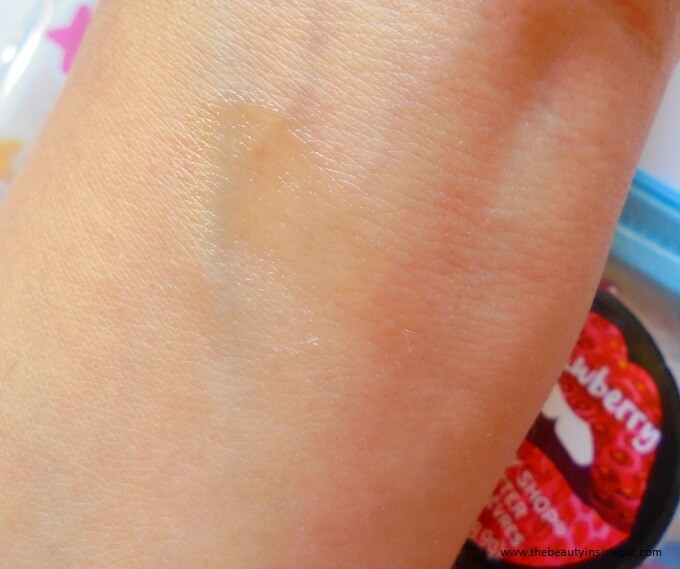 Pros:
Light daily lip balm with clear finish.
Adds a light coat of moisture.
Fresh strawberry fragrance.
Gives a natural glossy sheen to the lips.
Cons:
New formula lacks at the moisturization part.
Does not heal chapped lips.
Light formula needs frequent reapplication.
No long term benefits or reduction in pigmentation of lips.
Rating: 1.5/5
Would I Recommend? The new formula of The Body Shop Strawberry Lip Butter only adds a light shiny coat of moisture and does not do anything more than that. The constituent ingredients are of good quality but they do not do much for dry chapped lips. A Rs.50 Nivea Original Lip balm or even plain Vaseline does much more than what this Rs.250 lip butter. You won't miss anything if you decide to skip this.