Pimples are my long time buddies. They never forget to show up when I am not taking enough care on my daily skin care, having fatty foods or does not getting enough sleep. These are the reasons why I keep at least one mud face pack handy all the time. I also do lots of DIY Face Masks and Scrubs with ready-made mud face packs. Recently I spotted a new face pack when searching for some Medimix Glycerine soaps for my mom and dad. Today I am going to share my views on Medimix Ayurvedic Anti Pimple Face Pack. I find Medimix's skin care range impressive because they add effective ayurvedic actives in their products and their products are free from harmful chemicals like parabens. Let's dig deeper to see if Medimix's new launch face pack could make the cut or not.
Product Description:
Medimix Ayurvedic Anti Pimple Face Pack gives pimple-free skin. Packed with multani mitti and cinnamon, with other skin-friendly natural ingredients such as turmeric and neem, this face pack, keeps the skin healthy and fresh. Multani Mitti in it deep cleanses the skin by removing dirt and impurities, while cinnamon fights acne-causing bacteria. Turmeric helps to get rid of blackheads and fade dark circles, while neem has anti-ageing properties and treats pigmentation.
Ingredients: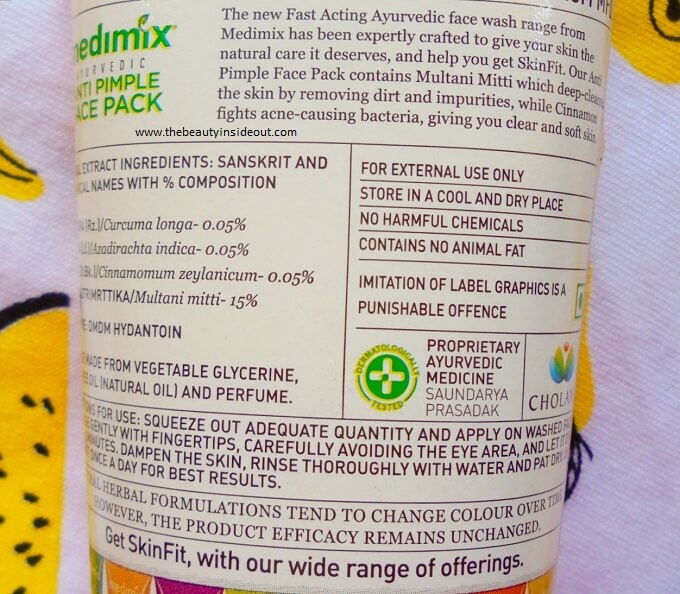 Price: Rs.115 for 100ml
Where to Buy? This face pack is available at beauty stores, departmental stores and leading grocery stores. You can also buy it online from Amazon, Nykaa, Flipkart etc. Since this is a new launch product, it does not have much discount either online or offline. You have to wait a bit to avail good deals.
Medimix Ayurvedic Anti Pimple Face Pack Review
Packaging: This face pack comes in a plastic tube with flip cap. The packaging is see-through but the thick texture of the pack makes it harder to actually see how much product is left. The packaging is leak-proof and thus easy to travel with. The packaging mentions all the active and base ingredients by name and quantity. This pack comes in one size only. You can't get a travel size for testing; you have to buy the full size.
Color & Texture: The pack has ocher yellow colour. It does not contain any added colour; the colour comes from the main constituent Fuller's Earth or Multani Mitti. The consistency is thick. It has tiny orange colour beads but they are too small to do any kind of exfoliation on the skin. It spreads smoothly on the skin without feeling dry or patchy. This is a pack for acne prone skin and such skin types are often on the oily side. Naturally, this pack dries fast on the skin.
Fragrance: The Medimix Ayurvedic Anti Pimple Face Pack has added fragrance to it. The smell has a herbal touch to it. I could identify the multani mitti's natural smell, smell of dried cinnamon and a little sandalwood fragrance. The fragrance is moderate I would say. It does not feel strong but is not light as well. The smell does not stay long after washing it off from the skin.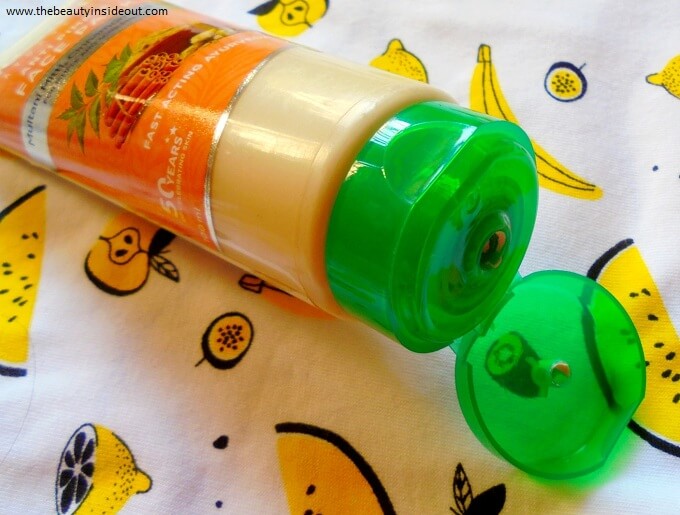 My Experience:
Though I don't have sensitive skin, the strong mud pack formulas with actives of neem often causes sensations and redness on my face. Still I prefer multani mitti based face packs because they work nicely on my pimples. This anti pimple face pack from Medimix has Turmeric, Neem, Cinnamon and Multani Mitti as actives. I had slight sensations using it for the first time. So, I add a little Aloe Vera and Honey to this pack and the sensation vanishes. Coming to the performance, this pack does help in shrinking big and bumpy acne to some extent. I find this pack even more useful because it temporarily shrinks pores. If used before makeup application, the base makeup looks very polished. This pack gives deep cleansing effects. It takes the excess oils off the pores. You can actually see small spots of oil once the pack starts to get dry.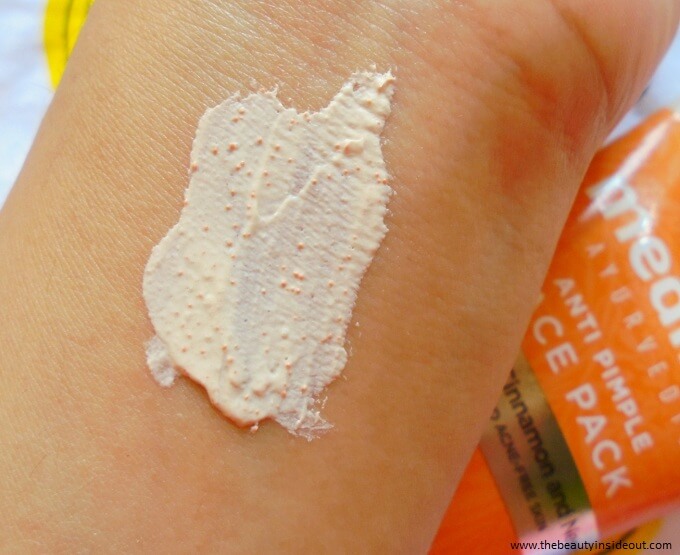 Pros:
Paraben free mud face pack for oily and acne prone skin.
Gets rid of excess oil from the pores.
Shrinks pores temporarily.
Smoothens out the face and downsizes active acne to some extent.
Vegan and pocket-friendly.
Cons:
The formula might feel a bit strong for sensitive skin people.
The fragrance might not be liked by those who despise ayurvedic medicinal fragrance.
The scrub beads do not do anything.
Rating: 4.5/5
Would I Recommend? I would definitely recommend this face pack to oily and acne prone skin people. If you love clay based face packs like Himalaya Mud Pack or VLCC Multani Mitti Pack then you'll definitely love this. Want to get a paraben free face pack for drying out pimples? Go for this one.