Finally, there is some awareness among consumers to ditch the harmful chemical ingredients in beauty care products. it's equally good that the companies as well are coming up with such harsh ingredient-free products. Though I strongly believe that Not all chemicals are evil as everything around us are a result of chemical reaction right from the air we breathe and water we gulp down. But the harsh surfactants like SLS, SLES do strip off the natural oils from our hair and cause irritation, hair fall, other scalp issues with prolonged use. So it's good to switch to shampoo which is free of harsh sulfates and has milder cleansing agents to remove the impurities, grime, and extra oil from our tresses. In my extensive search for affordable chemical-free shampoo, I bought this Wow Apple Cider Vinegar Shampoo a few months ago. Keep reading to know how it worked for me.
Product Description :



Wow Apple Cider Vinegar Shampoo is a natural hair strengthening formula made with organic essential oils. It claims your hair's shine and beauty.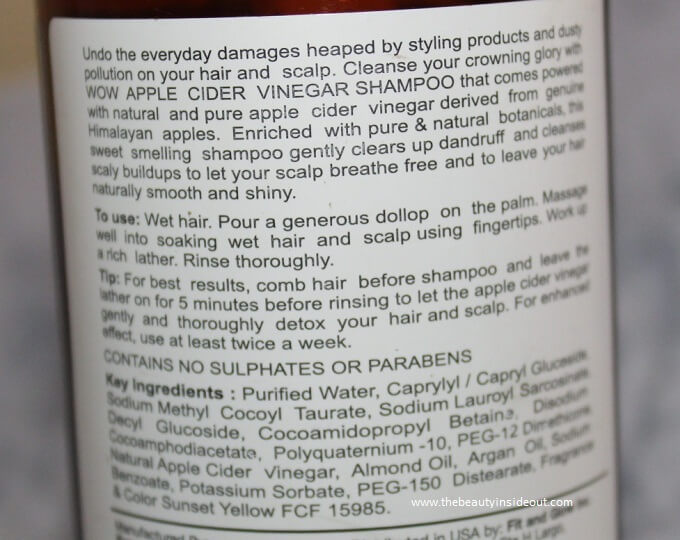 Wow Apple Cider Vinegar Shampoo Ingredients:
Purified Water, Caprylyl Capryl Glucoside, Sodium Methyl Cocoyl Taurate, Sodium Lauroyl Sarcosinate, Decyl Glucoside, Cocamidopropyl Betaine, Disodium Cocoamphodiacetate, Polyquaternium-10, Polyquaternium-73, Panthenol (Pro-Vitamin B5), Natural Apple Cider Vinegar, Nettle Leaf Extract, Saw Palmetto Extract, Almond Oil, Argan Oil, Sodium Benzoate, Potassium Sorbate, PEG-150 Distearate, Fragrance.
Wow Apple Cider Vinegar Shampoo is Free of Parabens, Sulphates, and Alcohol. It is not free of fragrance and essential oils.
Price: Rs.499 for 300 ml.
Shelf Life: 2 years from the date of manufacture.
Wow Apple Cider Vinegar Shampoo Review



Packaging: The Wow shampoo comes in a deep dark brown, sturdy plastic bottle with a pump dispenser. The dispenser has a lock mechanism, that is, it locks and opens to dispense with a twist & turn motion. Such dispensers makes the product easy to travel with, without any spillage or leakage. Though the bottle is on the bulkier side.
Fragrance: It has a very mild scented fragrance, that is not at all bothersome.
Color & Texture: The shampoo is actually very much pale yellow in color but looks like a transparent liquid. The shampoo is on the runnier side. As you can see in the image, it is quite runny.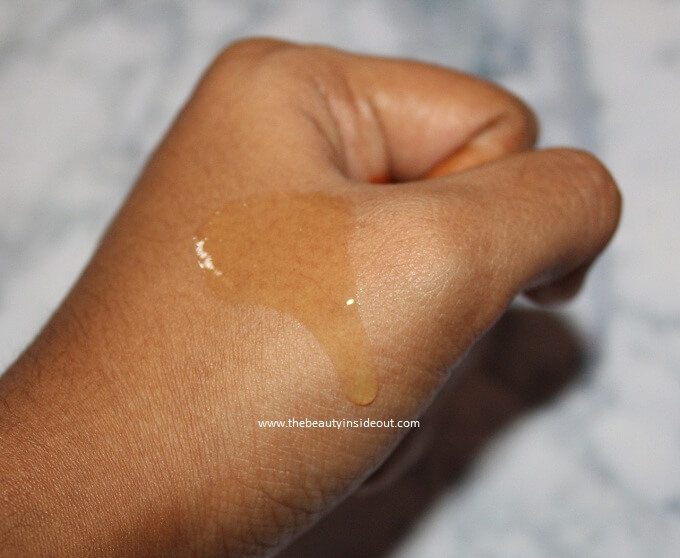 My Experience:
I have stocked this shampoo long back but I was not consistently using this for a while. But now its back again in my bathroom stash. So here is my take on this.
The first time, I tried the shampoo by diluting it with water (that's my way of using shampoo to reduce the harshness). But it was hard for me to work on it, as there was no lather at all and I ended up using a lot of product. So the next time, I tried without diluting and directly used this, this time it did lather up lightly and was effective to remove the oil and dirt from my hair decently.
It's only then, I realized this shampoo contains only mild cleansing agents, hence lathered up only a very little. Yes, don't expect too many lathers as other sulfate shampoos. But it was effective to remove the little oil I had applied before hair wash.
It does the job of shampoo, as like removing oil and other impurities from hair. However, you wouldn't feel squeaky clean like normal shampoos which would strip everything from the scalp. Also if you have gone overboard with oiling your hair, you may find it hard to remove all the oil and may also need more shampoo or a second wash to get rid of them completely.
I don't feel that this shampoo helped with my dandruff or with removing the scalp build-up, at least it wasn't for me. Also since it's free of silicones, it does not have that false nourished look, I mean the shiny silicone film layer most commercial shampoos leave. In fact, this shampoo makes the hair a bit dry, that's the only side effect of the Wow Apple Cider Vinegar Shampoo. Especially at the ends, so the use of a conditioner or a hair serum becomes really necessary with this shampoo.
In my opinion, if you are someone who is previously using or is used to less lathering, sulphate-free shampoos, this might suit your hair immediately. Otherwise, you may need an adjusting period and it may take a while for this shampoo to work for you.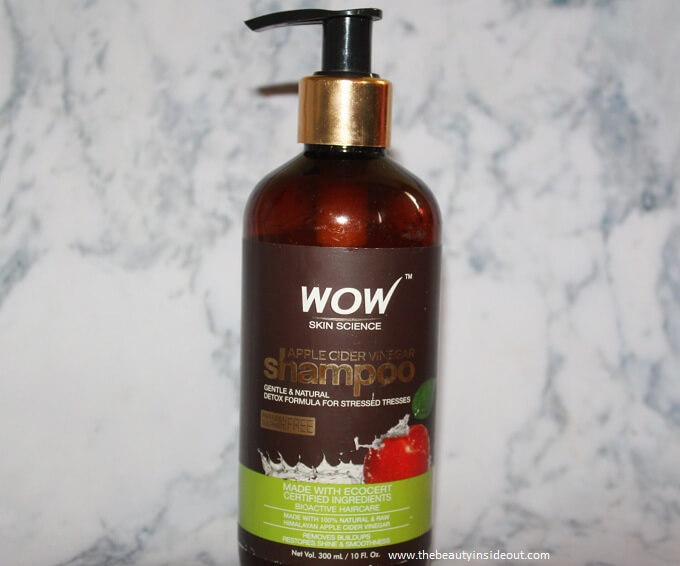 Pros

:
Paraben and Sulfate free.
Made with Ecocert Certified Ingredients.
Dermatologically Tested.
Mild and effective.
Lathers up decently and cleans up hair.
100 % Vegan & Cruelty-Free.
Cons:
Does not give a squeaky clean feel.
Doesn't clear up dandruff or restore shine.
Might be drying for those with dry hair.
Rating: 4/5
Would I Recommend? Personally, I found this shampoo to be working well for my hair as I am used sulfate free shampoos. I would recommend this for those looking for paraben and sulphate-free mild shampoo.