Have you seen a dog who drools as soon as she sees a bit of a cookie? Well that's me when I see voluminous shiny smooth tangle free hair and if I may say so..everybody dreams about that. We all have invested in conditioners shampoos, masques and serums to get shiny smooth hair and today I am sharing my experience with The Body Shop Grapeseed Glossing Serum. The Body Shop is one of the very famous brands that offers cruelty free and 100% vegan products. Some of the products like tea tree face wash and toners are legendary in proving their worth and few others that I have forgotten to mention. Since I stay at Kolkata where humidity hits you like a cop who wants to extract money at a crossing, I need a month's supply for hair serums for my frizz prone hair. I have used Habib's and Streax before, but I wanted something that is herbal and provides smoothness for longer time at least 3 days. I saw this at a TBS outlet and bought it, now lets see its performance.
Product Description
This serum smoothes hair and gives it natural-looking shine. A little goes a long way.
Smoothes.
Adds gloss.
Easily washed out.
For dull and frizz prone hair
Contains grapeseed extract
Community trade sesame seed oil
Application : Using fingertips, apply a small amount through towel-dried or dry hair and style as usual.
Ingredients:
Cyclopentasiloxane (Skin-Conditioning Agent/Emollient), Dimethiconol (Skin/Hair Conditioning Agent), Vitis Vinifera Seed Oil (Skin Conditioner), Sesamum Indicum Seed Oil (Skin-Conditioning Agent), Simmondsia Chinensis Seed Oil (Hair & Skin Conditioning Agent), Limonene (Fragrance Ingredient), Parfum (Fragrance), Linalool (Fragrance Ingredient), Citral (Fragrance Ingredient), Butylphenyl Methylpropional (Fragrance Ingredient).
Price: Retails at approx $12 or 995 INR for 75 ml at TBS outlets. Buy online at Amazon.com
My take on The Body Shop Grapeseed Glossing Serum:
Packaging: The Body Shop Grapeseed Glossing Serum bottle comes with a pump dispenser out of which the serum squirts out. What I mean is, it does not come out as a spray. So, some of the product will stick to the edge of the dispenser mouth and you need to wipe it off with your fingers. The bottle is a plastic one, which is sturdy enough for travel purpose. Since the cap on the dispenser is quite durable you can carry it in your big purse or tote without any tension. Like I said about the squirting tendency of the serum, if you pump it too hard or too many times you may create a mess and anyway you won't need more than 2 push because one push on the pump brings out good amount of product. Now, this may become an issue for those who have shorter hair and require lesser quantity of product. For that you will have to unscrew the pump completely take out desired amount of product.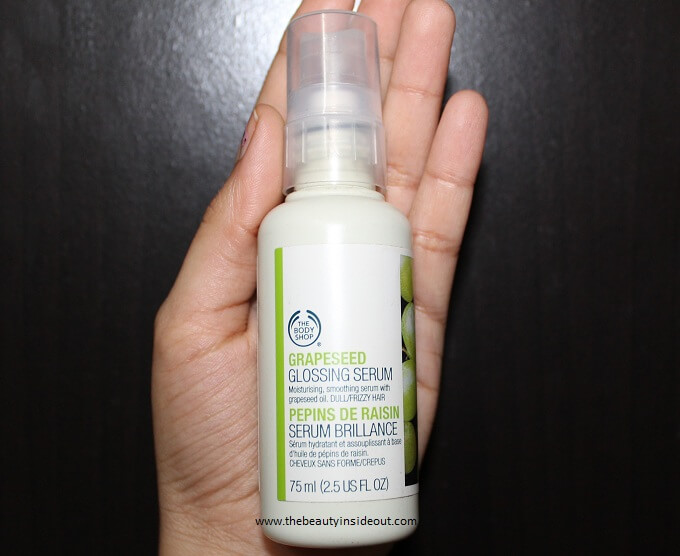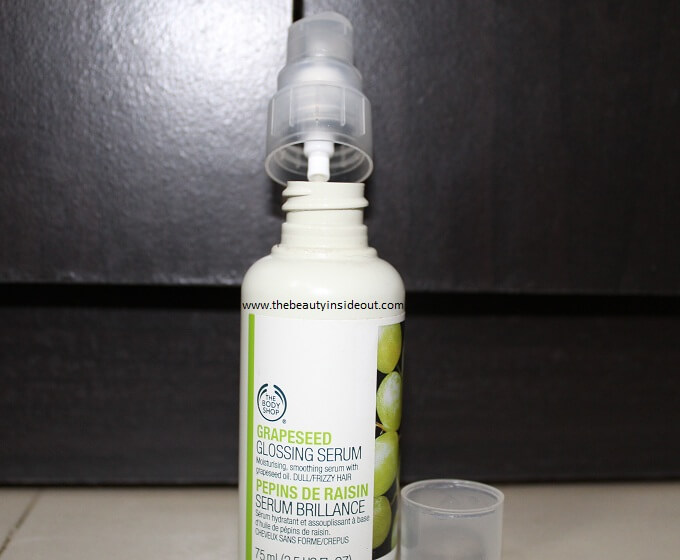 Color & Consistency: Its completely transparent and has a thick consistency like Habib's hair serum.
Fragrance: The Body Shop Grapeseed Glossing Serum has mild beautiful fruity notes. It feels like you are putting a fruit pack on your hair. The fragrance just lingers for half a day or so and then you won't notice it anymore.
Experience: IT WAS GREAT!!!! Well this is the best hair serum in the market if you don't want to spend more than thousand bucks. It smoothens your hair perfectly, will add a bit of volume too. I also noticed that I didn't have any static in my hair after application of this serum. Hair becomes bouncy and it will remove any tangles you may have in your hair dry or wet. I applied this serum to my towel dried hair and then blow-dried a bit to give some shape and my hair didn't get dry. It instantly imparted glossy shine to my hair and my hair looked so pretty. I have very fine thin hair and this is the first time that I really didn't have to do anything more to give it a volume and stop it from looking lank. My hair remained frizz proof for straight 4 days despite my crazy sweating and kolkata's humidity. It would have been so on the 5th day too I guess but I wash my hair on every 4th day so I couldn't check it but 4 days no frizz completely sealed the deal for me. I am definitely going to buy this after I finish this bottle
You don't need to use lot of product just one pump will be enough, and if you have very thick and long hair then maybe two. I started using this serum a month ago and I have more than half of the product in the bottle. Simply put, this baby is worth spending money on.
Pros:
Little goes long way; one bottle will suffice you for months
Instantly adds shine to hair
Removes tangles and prevents hair breakage
Pump dispenser so no chance of contamination
Travel friendly.
Can be applied on wet and dry hair
You can style your hair as usual after applying this serum
Removes static from your hair
Cons:
Bit of the product stays at the mouth of the dispenser so you need to wipe it off with finger. I know..lame..but I really can't think of anything wrong with it, its that good.
Rating: I give it 4.5/5!!!
Would I recommend? This is a must buy. You need to have it if you love your hair, please go and buy it!