Most of you would have known about Apple Cidar Vinegar. But still let me tell you ACV is an amazing ingredient that aids in effective weight loss. Unlike white vinegar, it is the most versatile vinegar that has numerous health as well as beauty benefits. Commonly made by crushing fresh apples and extracting their juices, it undergoes the fermentation process thereby yielding us the acidic Apple Cidar Vinegar. ACV with the 'Mother' is the best form of ACV as it contains proteins, enzymes and gut friendly bacteria. That is why it is often recommended to get the unfiltered, unpasteurized version of ACV. Zenith Nutrition is a reputed brand that offers such a high quality, unpasteurized Apple Cidar Vinegar with the Mother. Zenith Nutrition Apple Cidar Vinegar is made from fresh, delicious and healthy Himalayan Apples. Read on to know more about it.
Product Description:
Zenith Nutrition Apple Cider Vinegar is made from delicious & healthy apples. Apple Cider Vinegar has been highly regarded throughout history. In 400 B.C. the great Hippocrates, Father of Medicine, used it for its amazing health qualities and now you can enjoy it on a daily basis. It's a wholesome way to add delicious flavor to salads, veggies, most foods, and even sprinkle over popcorn.
The presence of the mother shows that the best part of the apple has not been destroyed. Vinegars containing the mother contain enzymes and minerals that other vinegars may not contain due to overprocessing, filtration and overheating.
Benefits:
Unfiltered & Unpasteurized
With Mother of Vinegar that occurs naturally as strand-like chains of connected protein molecules
Processed from Natural Himalayan Apple Juice
Fermented with scientifically optimized process
Rich in enzymes & potassium
Helps control weight and promotes digestion & ph Balance
Relieves muscle pain from exercise
Helps maintain healthy skin and helps promote youthful, healthy bodies
Ingredients & How to use Zenith Nutrition Apple Cidar Vinegar: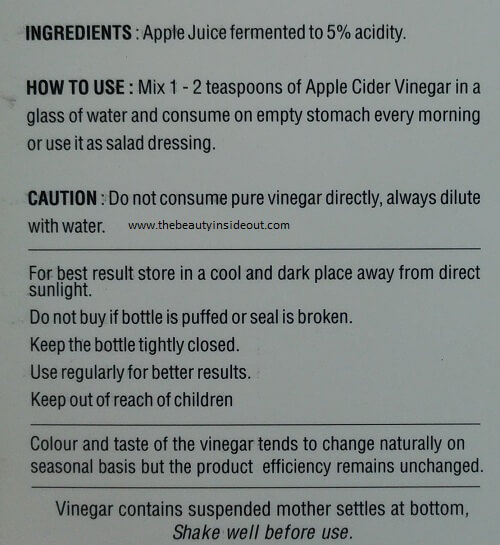 Price: 425 INR for 500 ml. Buy from ZenithNutrition.com
My take on Zenith Nutrition Apple Cidar Vinegar:
Packaging: I find the packaging to be quite attractive with a color combination of red and white. The outer card box has a picture of a dripping apple. The box holds all necessary information about the product starting from Dosage instructions to Precautions to be taken. The actual product, the Apple Cidar Vinegar, comes in a transparent plastic bottle with a white screw cap. The cap was sealed when it arrived and just like any water bottle cap, stays intact all the time once screwed properly. The bottle though looks big, this is a 500 ml bottle so you cannot expect it to be small, however it is travel friendly and does not leak or spill at any time. I did not find any flaws in the packaging, in fact I like how it looks.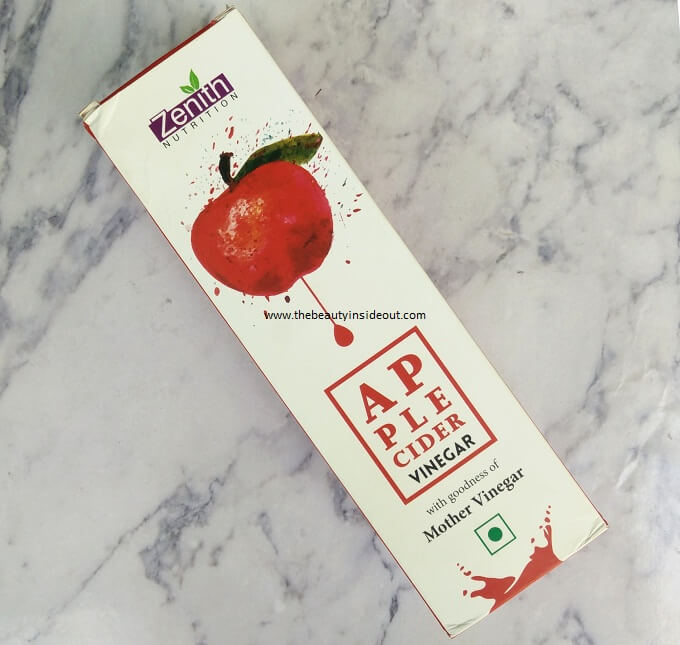 Fragrance: Zenith Nutrition Apple Cidar Vinegar smells strongly acidic, just like how an Apple Cidar Vinegar should smell.
Color: It is light brown in color in its concentrated form. Once you mix it with water, the color still persists with a lighter hue.
Taste: Everyone must be knowing that ACV should not be consumed in its concentrated form and it is a must to dilute it. The taste of the diluted form is sour. If you are new to drinking ACV, one definitely needs time to develop taste.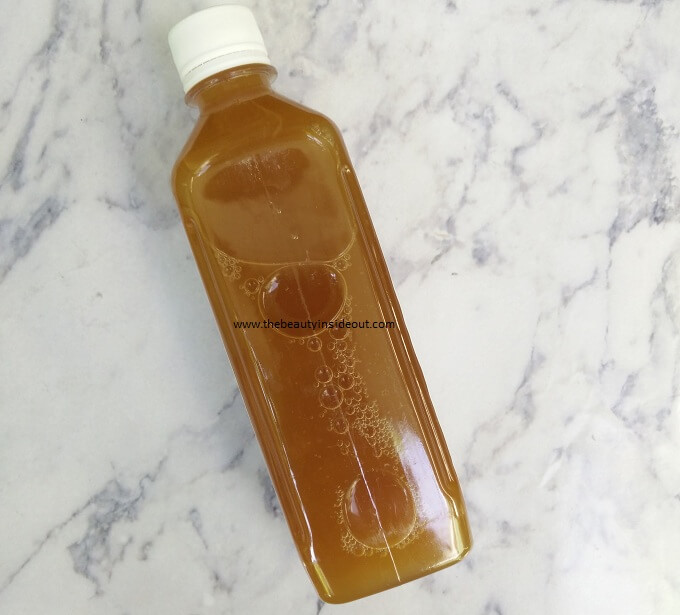 Experience: Though there are so many ways in which one can use Apple Cidar Vinegar, I'm going to share the ways in which I used the Zenith Nutrition Apple Cidar Vinegar.
As a morning drink: I mix half a tablespoon of ACV to one glass of water and drink it as a first thing in the morning. I followed this for just a week and could notice that my hunger cravings to be reduced greatly. I believe this leads to a healthy weight loss without affecting your metabolism.
As a post shampoo hair rinse: Using ACV as a last rinse post shampooing, helps you to get rid of umwanted residues from your hair. That can either the product build up which can be the chemical from your shampoo or the dandruff that has been accumulated on your roots. It also imparts a beautiful shine to your hair strands that lasts really long. You just have to mix 1/4th of ACV to one cup of water and use it as a last rinse.
As a toner : Apple Cidar Vinegar has anti-bacterial and anti-inflammatory properties which is a boon for acne prone skin. ACV treats acne, pimples, age spots and pigmentation significantly. After cleansing your skin, just swipe a cotton ball soaked into diluted ACV all over your face. Avoid using it on broken or open skin. ACV has natural AHA's  (alpha hydroxyl acids) hence it acts as a chemical exfoliant, removing dead skin cells and clearing out your skin.
As a foot soak: Bi-weekly I use diluted ACV as a foot soak. It helps to get rid of bad odor from my feet, relaxes my tired feet and removes dirt and dead cells from my heels.
As a detox mask: I love to use detox masks frequently and this ACV from Zenith Nutrition comes handy every time. I use a mixture of Bentonite Clay and Apple Cidar Vinegar as a detoxification pack. This pack can be applied all over your face, body and this is even a great underarm detox pack. It removes all toxins from your body and makes you and your skin healthy.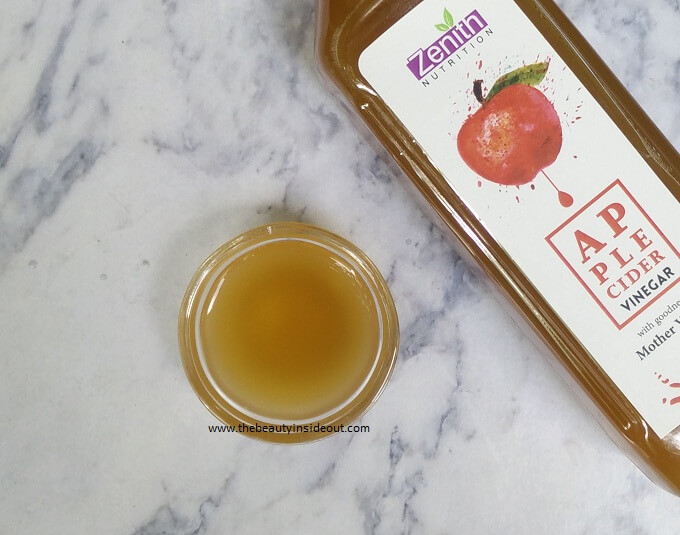 These are most common ways that I use Zenith Nutrition Apple Cidar Vinegar. This is one of the best ACV's that I have tried and I would highly recommend trying this. It is in its most purest form, unfiltered and unpasteurized. Do give it a try and let me know your thoughts of this product in the comments section below.