Since Childrens' Day is fast approaching, today let's talk about ways in which you can make this day a special one to your litlle ones. I still remember those days when I, as a kid, used to dress up in colors and go to school to have those cute little candies and cakes that our lovable teachers would give. Children's day was always fun for me with various activities conducted especially for us, where we would enjoy and be happy. Strictly NO books on that day! It was full and full of happiness, joy and delight. But now, days have passed and as a parent myself, I believe that we should take an initiative and be apart of our child's day on children's day. Children's day is not only a day to be celebrated at school, we as parents has to take a step forward and spend quality time with our children on this special day, rather than just celebrating at school. So here are 10 things that you can do with your children to bring fun home on this children's day.
1.Decorate your home
Why not? Is it rule that you should decorate your home only on birthdays and anniversaries! Grab those color papers, glitters, balloons, flowers and decorate your home with your children. Lead them to create their own designs and let them enjoy in what they do.
2.Get them dressed

Kids like it if they get to dress up. I mean who wouldn't be bored of their school uniforms, wearing almost 80% days in a year. Get them clothes that they would love to wear. After all its children's day, its their day. If your kid loves fancy dresses, get those and you could also enact a stage play in your home.
3.Bake cakes and cookies
Would there be any kid that don't love cakes and cookies. Bake them with your children on this occasion. Imagine your kid molding the pastry, they sure love doing them and making a mess. Well, that brings happiness to them.
4.Surprise them with gifts
Needless to say, kids love surprise gifts. Gift them with the best gifts that you can get your hands on. And yeah don't forget to wrap them in beautiful twinkling color papers. They love to open up the gift wrapper the most. Gifting them chocolates is also a great option. Probably there is no kid who doesn't like chocolates. You could gift a bar of Cadbury Dairy Milk which is quite popular and well liked by kids nowadays.
5.Organize fun activities
Kids love activity based games as they find them interesting and intriguing. Get those board games, coloring books, crayons ready. Activity based is not restricted to just indoor games, head out to your garden and play hide and seek with them. They love it when you play with them.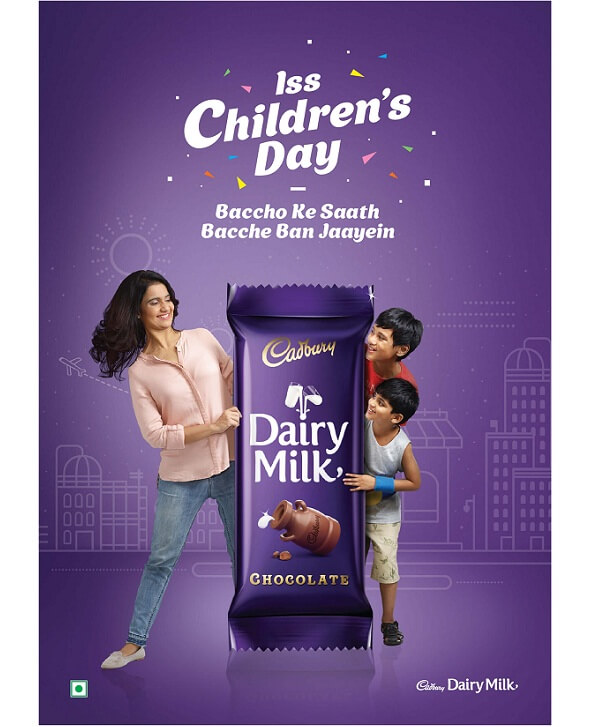 6.Invite your kids friends
All kids love to be around other kids. Together they get to play, giggle and share a good rapport among themselves. So invite them to your home and let all children have a fun time together with you.
7.Plan a one day picnic
Plan a trip to a nearby amusement park or a beach. I'm sure they love both. Those twisty twisty rides and huge sand houses that they build brings a lot of happiness within them. They are moments they would cherish for a life long.
8.Turn the music on
Music is an art loved by all. Have some music playing around in your home to bring some liveliness. Kids love to sing and dance. You could even have karaoke or dance parties at home.
9.Share your childhood memories
Its their day, but why not share your childhood memories with them. Share your funniest childhood moments and those souvenirs that you've kept treasured from those immature days. Your kids would definitely have a laughter moment hearing your silly stories.
10.Shower your love to them
Last but not the least, show your love for them. This is what brings a child the biggest happiness. Your children yearn to be loved and a parent's love is a no substitute to anyone in this world. So pour your warm, tender love to them on this day and make them feel delighted.
Also don't forget to check out this video created by Cadbury Dairy Milk in dedication to Children's Day
#CadburyDairyMilk #ChildrensDay #KuchMeethaHoJaaye