Be a makeup junkie or not, most of us have atleast one compact/pressed powder in our hand bags. Not many people carry a foundation or concealer or highlighter with them because we tend to do the base at home once and throughout the day we like to touch up using a pressed powder. So pressed powders have always been everyone's makeup product. Since I have oily skin, I wanted something matte so I got the Rimmel London Stay Matte Pressed Powder as it says 'stay matte'. So let's see whether this stays matte!
Product description:

Ingredients:

Price & Quantity : Rs.230 for 18 g
Shelf life: 3 years from date of manufacture
Availability: Rimmel London counters.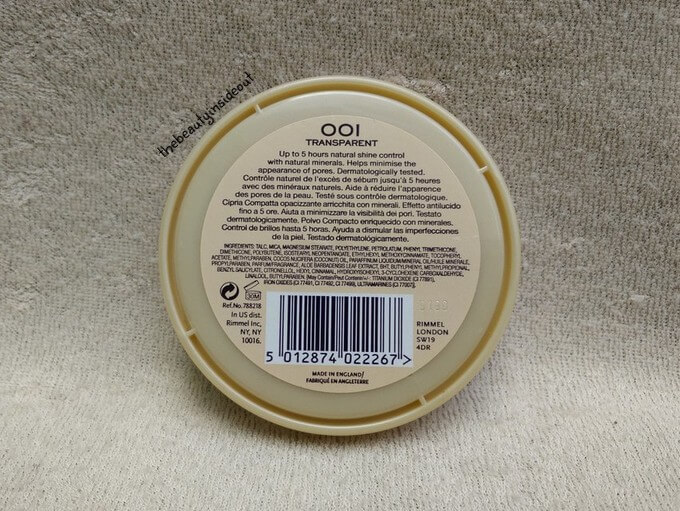 My take on Rimmel London Stay Matte Pressed Powder:
First of all, the packaging is so dud. The product comes in a round pan with a transparent lid which is so filmsy. I already broke the lid when I accidentally dropped it 🙁 Never ever carry this in your hand bag or else you are going to find it shattered and scattered inside 😐 Absolutely not travel friendly!! Also it does not come with either a mirror or sponge applicator. You might think what one can expect at this price, but Maybelline compacts comes with a mirror and sponge even though they are priced lower than this. I wish they would improve the packaging and include at least a sponge. So, enough of the bad points. Coming to the shade, it comes in a wide variety of shades, about 8 shades. I bought it in the shade 'Transparent' as I mainly wanted something to set my BB cream or foundation and didn't want to alter the shade of my base makeup.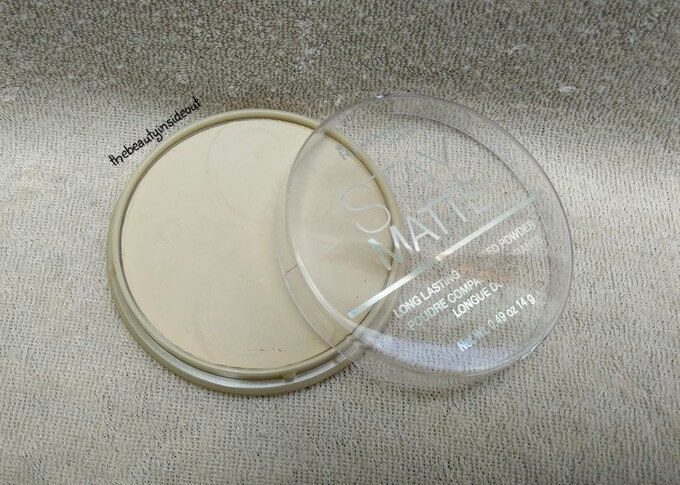 The powder is finely milled which is very soft and silky to touch. It has a mild fragrance which is not at all bothering. I like to use my elf powder brush as it evenly distributes the powder without making it cakey. You can even use a sponge and gently press it against your skin. This powder feels very lightweight on the skin and gives a smooth matte finish. Coverage wise, it is very sheer and light so it is not for those who are looking to hide acne marks and scars. When used alone without any base, I could see that it slightly evened out my skin tone giving a fresh polished look. It does not leave any white cast, it's obvious as it does not contain SPF. I love that it does not make tall claims. It claims to stay upto 5 hours which it does. It controls oil very well and stays matte for about 5-6 hours on my oily skin. It might stay more on dry skin but dry skin people would need to moisturize very well as it might accentuate dry patches. During the time I used this, it didn't not break me out or clog my pores. All in all, I love this pressed powder a lot! It sucks up all the oil, takes away the shine and makes my skin very smooth on touching 😀 . Matte lovers will definitely like this 🙂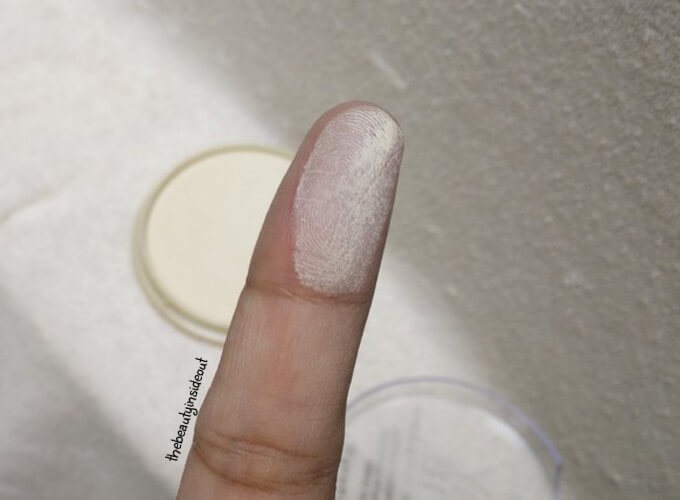 Pros
Affordable.
Smooth texture.
Works great setting powder.
Absorbs and controls oil for upto 5 hours.
Evens out skin tone giving a flawless matte finish.
Does what it claims.
Cons
Flimsy packaging.
Availability.
Not for dry skin beauties.
Overall, Rimmel London Stay Matte Pressed Powder is a very good powder that has good oil control and stays matte upto 5 hours. It removes shine instantly and gives even toned skin. Also it contains natural minerals which gives a natural looking matte finish. Oily skin beauties should definitely give it a try.

Rating: 4/5
I hope this review was helpful. Have you tried Rimmel London Stay Matte Pressed Powder? What do you use to make your skin stay matte? Share your thoughts in the comments section below.
Stay Beautiful <3