Hello ladies! After receiving my September 2016 Fab Bag yesterday, I couldn't wait to unbox it. So here are the details. This month's bag is themed "Eye Feel Pretty", probably because of the Sugar Cosmetics New Mob Lash Limitless Mascara launch. Day by day I have been loving the quality of their bags a lot. This month's bag too gets a big thumbs up from me. It is made of a good quality material and looks so cool and attractive, loving the quote ' My life may not be perfect, but my lashes most definitely are ' .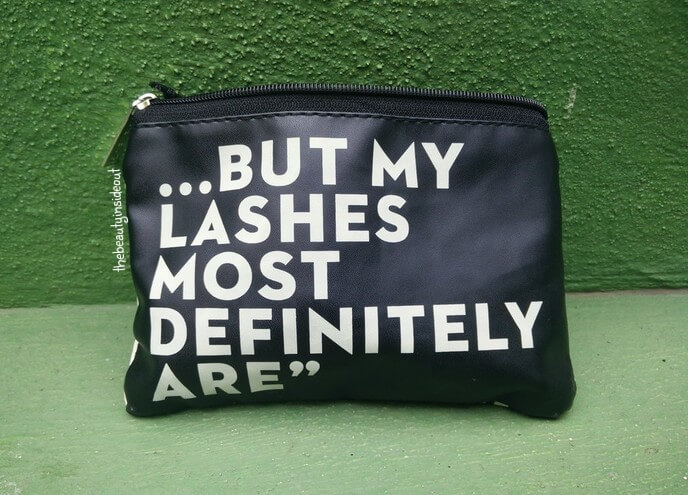 Let's see what I got in my Eye Feel Pretty September 2016 Fab Bag: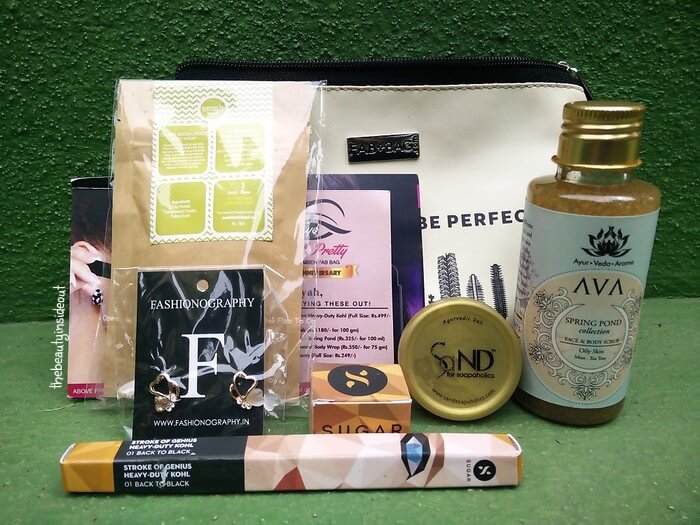 Sugar Cosmetics  Stroke of Genius Heavy Duty Kohl
Each one of us get to choose one eye product this month. I didn't opt for their new launch as I just received Geri G Mascara in my previous August bag and I didn't want another mascara so soon. This kohl has a wax based formula which gives intense pigmentation in a single swipe. Price: Rs.499.
Read
This is a grey-colored mud based mask which looks deadly 😛 . Honestly I did not like the smell of it, it smells weird. The product is thick like a paste which is fairly easy to apply. This reminds me of their tomato face puree cleanser which I loved it a lot. This is a sample-sized product which will last 2-3 uses. Full size Price: Rs.1180 for 100 gm
AVA Face & Body Scrub – Spring Pond
This is a face and body scrub with tea tree and lemon grass that is meant for oily skin. As soon as I opened the bottle, I was overwhelmed with the fragrance. It has a sweet citrusy scent which is so soothing to my senses, must be the lemon grass. I'm loving it 😀 . The best part is that it is SLS, paraben and sulphate free. This is a full-sized product. Price: Rs.325 for 100 ml.
Neemli Tulsi & Sandalwood Body Wrap
This will be my first time trying a body wrap, which is simply a body mask. Apply it, let it dry and rinse. This body wrap contains Tulsi and Sandalwood in Fuller's Earth base. I love that it is 100% natural and chemical free. This claims to be a skin brightener and softener, so let's see. I'm yet to try this one. This is sample-sized. Full size Price: Rs.550 for 75 gm.
Fashionography Accessory
This is a bonus product. It is a pretty butterfly earrings. I'm going to give this to my mom as she loves this kind of earrings. Price: Rs.249
That's all about this month's bag. Overall I'm quite happy with the bag, love the Sugar Kohl and AVA face and body scrub. Also it's nice that they let you choose one eye product of your choice. If you like this month's bag, you can buy it here. Or if you are already subscribed to them, let me know which product you liked in this month's bag. Hope you guys enjoyed reading.
Stay Beautiful <3