It is pretty normal for the skin on your feet to be dry as they have no oil glands. So it is ideal to keep them moisturized everyday, otherwise you are going to end up like me having rough, dry and cracked heels. As you know, it is good to scrub your feet before moisturizing them. After my Spa Ceylon Green Mint Foot Scrub got over, I had to get a foot scrub from a different brand. Not because I didn't like it, honestly I love it to bits but I did not want to splurge 1000 bucks for a foot scrub, so I got this Vedic Line Foot Spa Scrub. Let's get into the details.
About Vedic Line Foot Spa Scrub: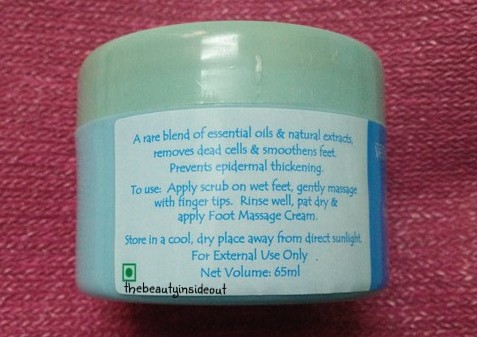 Ingredients:

Priced at Rs. 150 for 65 ml. It has a shelf life of 36 months. You can get it here.
My take on Vedic Line Foot Spa Scrub:
The foot scrub comes in a blue plastic tub which was sealed with an aluminum foil. The packaging is decent and compact, nothing fancy about it. The scrub is silvery grey in color with a lot of minute granules. The granules are so tiny that it does not slough off dead skin on my rough heals very well. I feel they should have been a little bit coarser and bigger. It has a minty menthol smell which is not so pleasing. But I'm ok with that as it does not linger post washing. Also for some strange reason I did not like the look of it, looks like shining aluminum foil crushed into a powder and mixed in a liquid medium ( please bear with my bad description! ).  One thing which I like about the scrub is its texture, it is so rich and creamy.
Before using this scrub, I soak my feet in warm water for 15 minutes so that my heels are soft and scrubbing becomes easier. Once my heels are soft, I take a very small quantity of the scrub, mix it with a little water and scrub it for a good 5 minutes. It removed dirt and dead skin on my feet but I did not get that squeaky clean effect which is something we expect from a scrub . Also if used without soaking, it hardly removes any dirt and grime. This scrub slightly moisturizes my feet but I follow it up with my current favorite foot cream as my feet tend to become drier soon. This spa scrub contains some good ingredients like Amla, Tomato, Mango and Tamarind. But just the word parabens will make me stay away from this in future. I'm wondering how I missed seeing the ingredient list before purchasing!! This will be a good scrub if you are someone with no/slight cracks, you can just use it as a regular foot scrub in order to prevent cracks.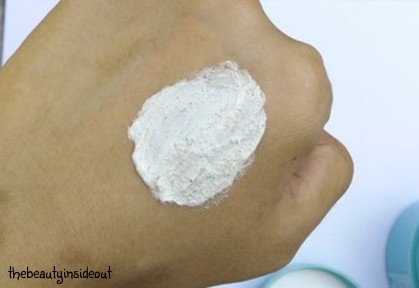 The  Good:
Affordable.
A little goes a long way.
Contains Tomato, Tamarind, Amla and Mango.
Prevents cracks from occurring on regular usage.
The Bad:
Contains Parabens.
Tiny granules gives no major scrubbing effect.
Does not give a squeaky cleaned feet.
Does not cure rough and cracked heels.
Rating: 3/5
Overall, it is an average product. If you don't have very rough, cracked heels and don't mind parabens, try it. Otherwise skip. Personally I did not like it and would not recommend this. I feel home remedies are best for these kind of things, so I am planning to try a DIY foot scrub and see if it works. I will be posting about it soon if it works. So stay tuned.
I hope this review was helpful. Have you tried Vedic Line Foot Spa scrub?What is your favorite foot scrub? Share your thoughts in the comments section below.
Stay Beautiful <3