I don't usually buy separate foot creams as I believe body lotions would perform the same work of providing moisture to my foot area. The only time I buy separate foot creams are when I'm suffering from major callus issues, due to my negligence of walking on bare foot on my rough terrace surface. If not for that, cracks are always far from me. Today I'll be reviewing a foot cream which I received in my December Fab Bag– IBA Halal Care Nourishing Foot Massage Cream which is supposed to be a nourishing cream and does not seem to make any tall claims. Let's jump into the product details first.
About IBA Halal Care Nourishing Foot Massage Cream :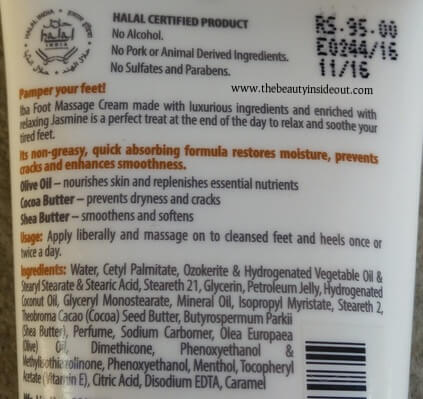 Currently priced at Rs.115 for 50 gm, you can buy it HERE.
My take IBA Halal Care Nourishing Foot Massage Cream:
IBA Halal Nourishing Foot Massage Cream comes in a fuss-free squeezable tube packaging which I find it, hygienic and convenient to use. This is one of a kind of foot cream that does not smell weird, minty or herbal. To be precise, it smells like Jasmine flower which is kind of refreshing to me and you'll like it if you love Jasmines.
The foot cream is milky white in color and has a creamy consistency that is rich yet lightweight. It spreads easily and gets absorbed within few seconds of application. There is not even the slightest stickiness and the foot area is instantly moisturized and hydrated. Though it instantly nourishes and softens my dry heels, I feel that it's lightweight formula would not be sufficient to treat cracked heels. It does not claim to do so too, so one can't complain.
This foot cream easily doubles up as hand cream as well as body cream; you won't find it disturbing to use a foot cream on your hands or body as the scent is so pleasant. I used it on my dry elbows too and it kept them moisturized for a good amount of time.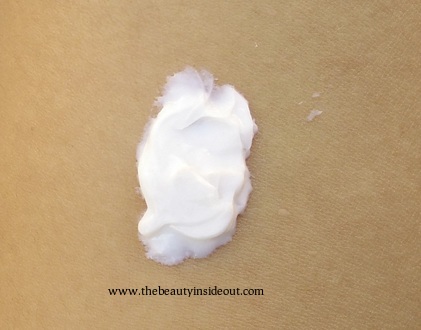 Pros:
Fuss-free tube packaging.
Pleasant fragrance.
Lightweight cream.
Instantly nourishes my foot.
Affordable price range.
No alcohol, parabens and sulphates.
Halal Certified.
Cons:
Contains chemicals.
Does not heal cracks.
Not for the dry winters.
Rating: 3.5/5
For me, this was a decent product. I liked it because of its scent and lightweight formula. I could see myself reaching for this during the summers and when I don't have major cracks. However for the winters, I prefer a heavy duty cream as my heels become super dry and cracked. I recommend trying it only if you are looking for a budget-friendly foot massage cream that keeps your feet nourished and does not expect it to treat cracked heels.
That was all about IBA Halal Care Nourishing Foot Massage Cream. I hope you find this review helpful. Have you tried this? Share your thoughts in the comments section below.
Must Reads:

Until Next Time,
Stay Beautiful♥