We all love gifts. You or Me. Be it anyone. One tiny present from our loved ones is sure to bring an immense joy to anyone. Indeed, Gifting is such a heartwarming gesture that not only strengthens your relationship with your loved ones but also becomes a cherished memory that is going to bring you a smile that is worth a million someday. When it comes to gifting, we all brainstorm ideas here and there and buy the one that we think is the most precious. At least that's what I do. Today I would like to share about an Indian Gifting Portal, a website to buy gifts online, that makes gifting super easy and pleasurable. You can choose from a variety of a gifting options at the comfort of your home and make it deliver to your loved ones the day you want, especially to those who are miles away from you.
About IGP.com
Established in 2001, Indian Gifts Portal (IGP.com) is one of India's largest online gifts store specializing in gifts for all ages and occasions understanding the consumer's gifting needs.
Indian Gifts Portal (IGP.com) specializes in flowers, cakes, chocolates, personalized products, festival merchandise, kids, home & living and fashion categories
Indian Gifts Portal (IGP.com) ships orders to 150+ countries (including USA, UK, Australia, Canada etc) and 7,000+ pin codes in India.
Indian Gifts Portal (IGP.com) has same day delivery network in 300 cities in India.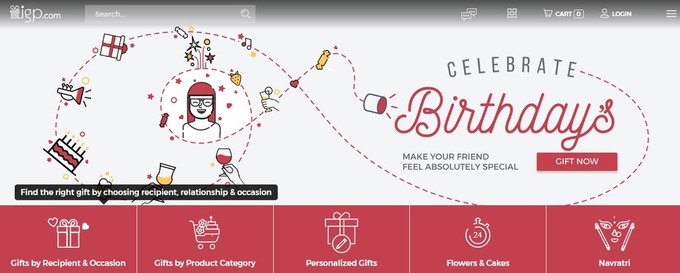 Buy Gifts Online with Igp.com
My review on IGP.com :
User Interface : I simply love it. It's super easy to navigate and browse through their website. They have categorized everything so well that even the most confused person can choose a nice gift within moments of landing into the site.
They have categorized the gifts by
Recipient – such as Women(20-50), Men, Teens(12-19), Couples, Elderly Women, Kids & Infants and so on.
Occasion – such as Birthday, Anniversary, Housewarming, Wedding, Thank You, Missing You, Sorry and so on.
Relationship – such as Mother, Sister, Friend, Wife, Girlfriend, Father, Brother and so on.
Category – such as Cakes, Flowers, Home and Living, Goumets, Jewellery, Fashion and Lifestyle, Personalized Gifts and so on.
Country – such as USA, UK, Singapore, Netherlands, Australia, Canada, Malaysia and so on
City – such as Bengaluru, Chennai, Delhi, Kolkata, Lucknow, Guragon, Jaipur, Pine and so on.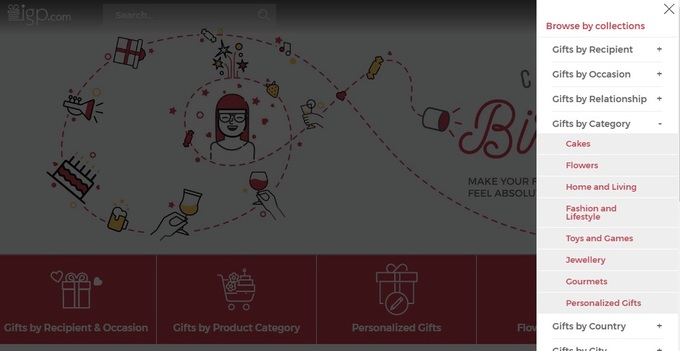 You can also use filters to choose according to Personality Type which is quite unique. Some of them are
Creative Women
Nature Lover Elderly Men
Romantic men
Geek Teens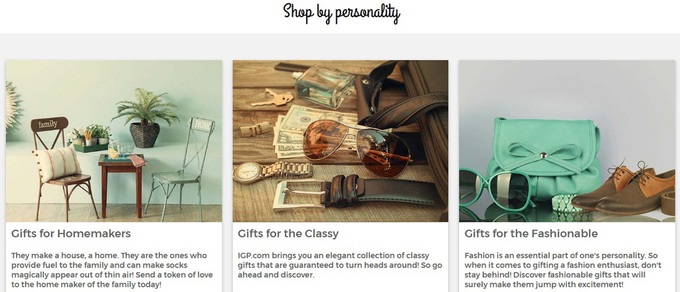 You can explore more on their website.
Delivery & Packaging: I had ordered for a Beige Faux Leather Tassel Sling Bag that is super trendy and goes well with casual outfits. Once the order was placed, I received a confirmation email along with a tracking number. I didn't choose any specific delivery date, so the package arrived in just two days of ordering. They also have same day delivery options for certain gifts which I feel is pretty cool. My gift came in a normal cardboard box that was securely packed and the bag was neatly packed inside. You can also opt for a gift wrapping if you wish to. I didn't since I was buying it for myself.
When shopping online, we always have the fear that, what arrives may be different than what it appears on the screen while ordering. This happened with this product. Yes, the bag looked brown on the website whereas it was actually a beige one, just as mentioned on the description of the product on the website. So I had no rights to complain, it was me who had this thought that it was a brown bag. Ok never mind, Beige looks good too and the quality is really good for the price it comes. I couldn't picture it as I'm traveling right now and I left it at my place. I'll try to update a pic of the bag sometime later on. Meanwhile see this, this is what I ordered.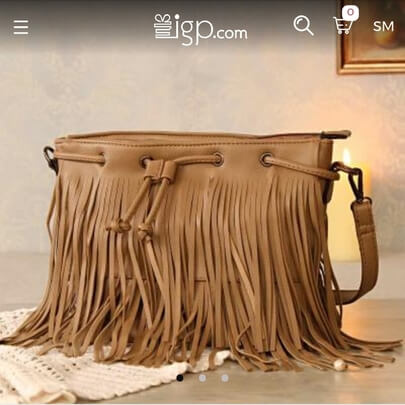 The only thing that I find it to be on the downside is that, there are not many affordable gift options to choose from in their website. I wish they look into that and add in more budget friendly gifts so that people of every budget can be benefited from using the site. In all, I had a pleasant experience ordering gifts from IGP.com . If you looking to buy gifts online, I highly recommend checking out this site, as they deliver both dosmetically and internationally.
Also check out
Until Next Time,
Stay Beautiful♥