Is there anyone who doesn't long for luscious rosy lips? Though lipsticks can help you achieve that, there are times when we don't want to wear a lipstick, Yet want to flaunt that no-lipstick natural soft rosy lips. And if you are someone with pigmented lips, that becomes a dream that never comes true. For all those ladies out there, here is a quick easy lip scrub to make your lips pink naturally using 3 ingredients that are easily available in your kitchen and are super affordable. When used regularly, this scrub is going to completely change your lip game and you would never want to go back to your MLBB lipsticks. This scrub also aids in providing a smooth canvas for your matte lipsticks. So don't think hard and just try this recipe. And the yummiest part; it's totally edible and tastes delicious 😉
Ingredients Required:
Granulated Sugar
Cold pressed Olive Oil (Buy HERE)
Beetroot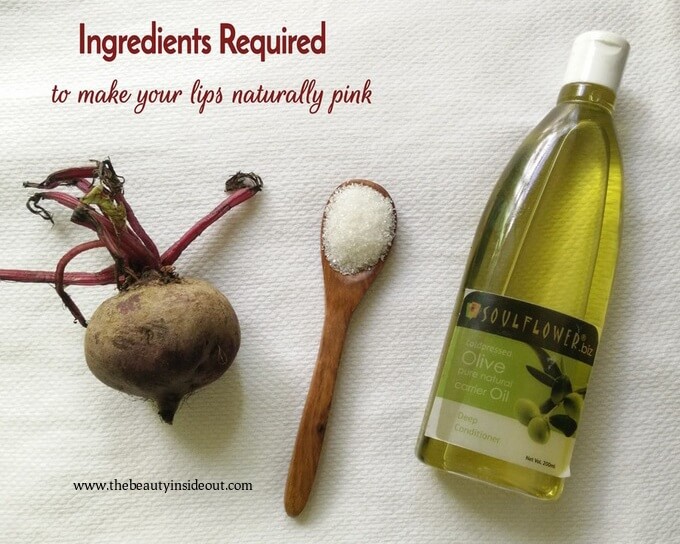 Ingredient Benefit:
Granulated Sugar : The main purpose of sugar in this recipe is to provide Exfoliation. Sugar is great at exfoliating that it removes the dead cells and rejuvenates the skin revealing the inner newer skin. Scrubbing gives you super soft smooth lips and also provide a smooth canvas for your matte liquid lipsticks. Sugar is also a natural humectant that provides moisture to your lips and is very suitable for sensitive skin unlike salt which may not suit everyone.
Olive Oil : Is there anyone who doesn't know its benefits? Olive oil is loaded with nutrients that is super moisturizing and helps to retain moisture for really long hours. Just like your face and body, your lips too need moisture. For that I'm adding this wonderful oil that is going to keep my lips free of cracks and blur my prominent lip lines. I personally love using the Soulflower Cold pressed Olive Oil for my DIY recipes.

Beet Juice : This is the secret ingredient that make your lips pink naturally. You might have seen that beetroot stains everything that it comes in contact with. The presence of Betanin in beetroot is the reason for that deep color which gives your lips the beautiful pink tint. Beetroot is not only an inexpensive natural dye, it is an anti-oxidant and anti-inflammatory that helps to heal your chapped lips in no time.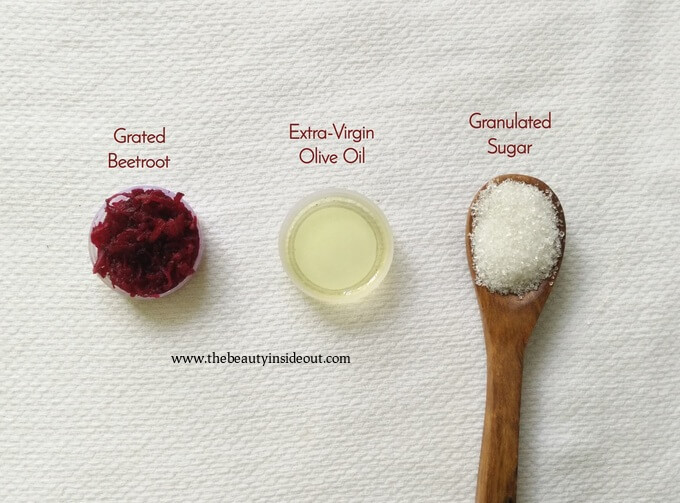 Steps to make it :
In a bowl, add 2 tablespoon sugar and ½ tablespoon Olive Oil and stir it using a light hand. Then slowly add in beet juice as much as required and start scrubbing. Try to use it once it's ready, or else the sugar starts melting and becomes a liquid as time goes on.
Step by Step Pictorial:

Bonus Tips:
1. Use the left over beetroot to stain your lips and make them instantly pink.
2. Add in a bit of lemon juice to the above scrub to lighten your pigmented lips faster.
That's it all. I hope you find this post on how to make your lips pink naturally helpful. Let me know your results after trying it out.
Also read:
Until Next Time,
Stay Beautiful♥