Physical scrubs have not been a part of my skincare routine until a year ago as I was religiously using exfoliating face washes such as a AHA Glow and Ducray Keranyl to tackle my acne issues. Such face washes are chemical exfoliants and you don't need separate physical scrubs when using them. It was only after I took care of my serious acne breakouts completely that I slowly switched to using milder face washes and so I introduced a physical scrub into my routine. I haven't experimented much with scrubs as I fell in love in my very first face scrub which is my HG scrub now. Sometime back in November I purchased a skincare kit from Aroma Essentials that included a scrub. Now that the tub is over, I wanted to share my review with you all. The product name is Aroma Essentials Strawberry Scrub, and as you can guess, the key ingredient is Strawberry. Let's see what else it has.
About Aroma Essentials Strawberry Scrub:

My take on the Aroma Essentials Strawberry Scrub:
It's so boring to always start with the packaging of the product. So I'm not going to go into that part today. Just have a look at the pictures to know about it.
The scrub is a gel based one with red-colored base gel and lots of red & brown scrubbing particles. The granules are uniform in size, non-soluble and are in the right size to provide exfoliation.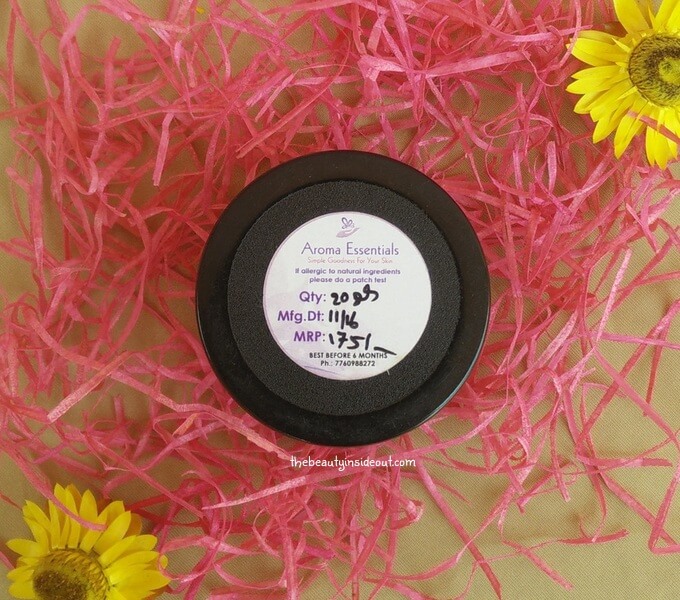 This scrub is to be applied like a mask for 10 minutes so I followed it as per the instructions. On my moist skin, I apply a thin layer of the scrub and since it's gel based, it dries off quickly within 5 minutes. My skin feels totally normal when I have the mask on, no tingling or irritation or whatsoever. I never scrub my skin when it's dry, so I moisten my face with few drops of water before starting to scrub. I could feel the granules doing its job of exfoliation well. I use a very light hand every time, scrubbing in circular motions concentrating more on my nose area, that's where I have stubborn blackheads.
Once I'm done scrubbing, I just wash off my face with normal tap water. And finally I'm left with a super cleaned, brightened face. The scrub removes every bits of junk from the face and makes your skin oil-free, shine-free. However, a moisturizer is mandatory with this scrub as I said it removes oil and makes your skin dry, not stretchy though. I used this scrub twice a week and I didn't have to face any new breakouts due to this scrub. Aroma Essentials Strawberry Scrub is specifically formulated for oily skin.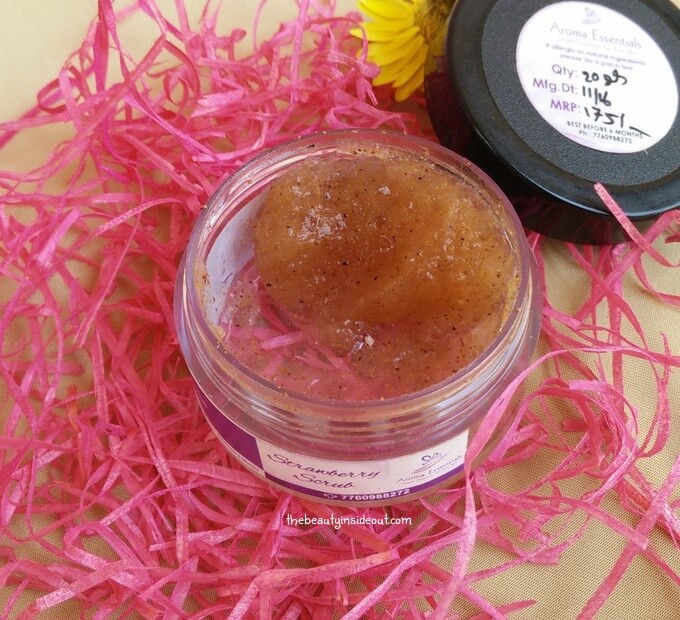 Didn't I mention about its fragrance. It smells completely natural with zero artificial-ness. The fragrance is that of Strawberry Jam, absolutely mouthwatering and soothing to my senses. I keep on smelling the jar every time I open up to use the scrub. Sadly, the fragrance dies down while using it and does not leave any trace post washing.
Pros:
Travel-friendly packaging.
Smells amazing.
Effectively removes dead skin and impurities.
Skin becomes clear and brightened upon usage.
The scrubbing granules are neither mild nor scratchy, apt for exfoliating.
Doesn't cause any skin irritation or breakouts.
Suitable for oily skin types.
No artificial fragrance or preservatives.
Dermatologically tested.
Not tested on animals.
Cons:
Slightly drying.
Full ingredient list not mentioned on the packaging. Can be known upon enquiring though.
Must be stored in refrigerator.
Available only through their Facebook or what's up number.
Rating: 4/5
This is a natural strawberry scrub that does it's job of exfoliation well without causing any skin irritation. I would recommend this for those with super oily and oily skin. As for repurchase, I would not as I have other scrubs lined up in my stash, also I love my HG scrub more than this.
Have you tried Aroma Essentials Strawberry Scrub? Share your thoughts in the comments section below.
Also check out:
Until Next Time,
Stay Beautiful♥