I know I'm pretty late to review the new subscription box Glamego that gained an instant spotlight, all due to its price tag of Rs.199 making it the cheapest subscription box in India. But is it worth the money? Read on to know my thoughts.
What is Glamego?
Glamego is a monthly subscription box that is personalized based on your beauty profile. You get to receive 4 products that is more than 3 times worth luxury beauty products delivered at your doorstep.
Subscription plans:
While compiling the post, I just happened to notice that they have increased the price for one month box to 219 INR including shipping but excluding tax; Previously shipping was free. Current prices are
Rs.219 for 1 month
Rs.597 for 3 months ( Rs.199 per month)
Rs.1164 for 6 months ( Rs.194 per month)
Rs.2268 for 12 months (Rs.189 per month)
You can buy it from www.glamego.com
My take on the Glamego Subscription Box:
Ordering, Delivery & Packaging: Ordering the box was super easy. Glamego has their own website with a good user interface and it took only five minutes to place my order including filling out my beauty profile. An extra tax amount of Rs.9 had to paid so the box costed a total of Rs.208 which is not really high. I received an email confirmation of the same as well as a tracking number.
The box arrived within 4 days of placing my order and I didn't have to wait for days to arrive. The products were securely bubbly wrapped and came in an eco-friendly cardboard box. I found no issues with the delivery or packaging. Everything was fuss-free and easy.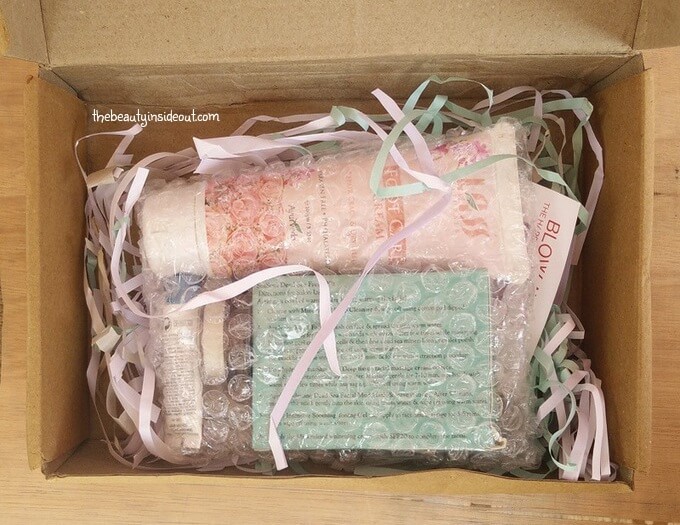 Theme of the March 2017 Glamego Box:
Blow Away the Harsh Cold Winds of Winter. Winter in March? I don't know about anywhere but it's freaking hot in Chennai. Weird that they chose this theme, winters are long gone by the end of January, at least in my place.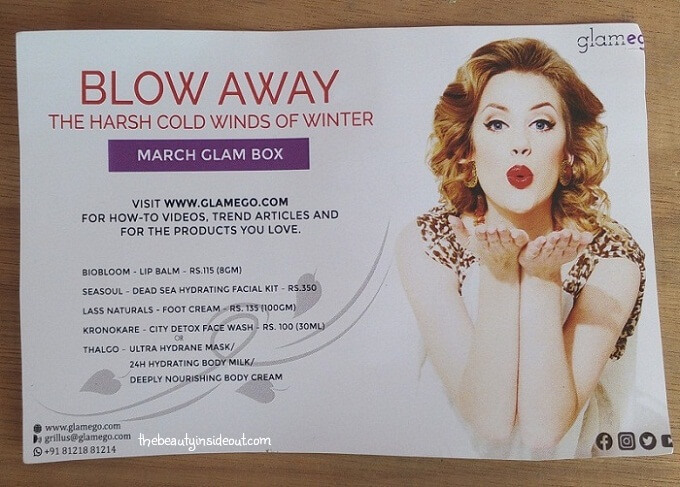 Products of the March 2017 Glamego Box:
Lass Naturals Foot Cream Rs.135 for 100 gm
Bio Bloom Lip Balm Rs.115 for 8 gm
Seasoul Dead Sea Facial Kit – Dry skin Rs.350
Thalgo Deeply Nourishing Body Cream
The total cost of all of them comes to Rs.600 approx. which is thrice the price of the box. I haven't tried any of the products yet so can't comment on their performance. But I am not really happy with selection of products especially the tiny Thalgo sample.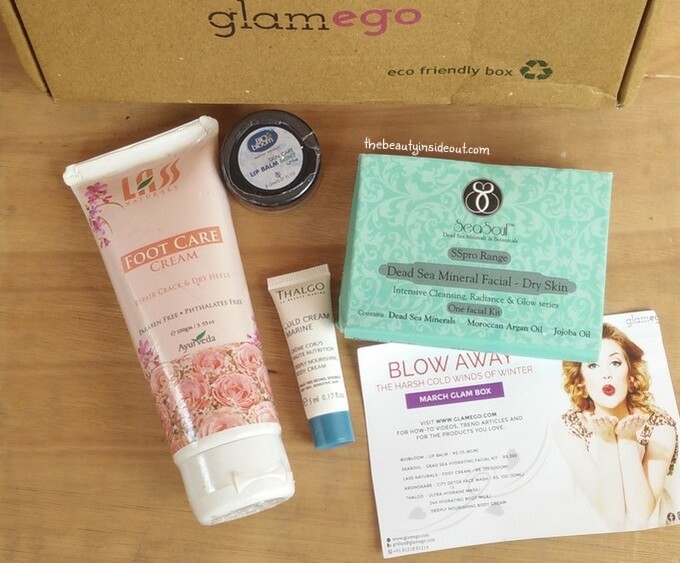 Is it different from other subscription boxes?
I don't think so. It claims to send products based on your beauty profile, but I am not convinced that the products I received are based on my profile. I skipped choosing foot creams, facial kits in my preferred products but that's what I got. Also I can see that almost everybody have received the same products, so they sure are not personalizing for each one of us, instead sending the same bundle of products to all which is really disappointing.
I feel they should have put in some more efforts to gain some loyal customers, considering that its their launch box. First impression is really important and a deciding factor for many, STILL I would like to give a month or two before coming to a conclusion about the Glamego Subscription Box.
That was all about my views on the cheapest subscription box Glamego. Have you got this box? Share your thoughts in the comments section below.
Also check out:
Until next time,
Stay Beautiful♥