Fancy advertisements are sure creating an impact in our minds. But it is with us whether we fall for it or not. Lately I fell for such an ad and when I noticed this brand called Lever Ayush everywhere in the department store, I just couldn't stop trying it out. They have several products from face washes to face creams to hair oils to toothpastes. To be on the safer side, I picked the Lever Ayush Moisturizing Cow's Ghee Soap. They also have two other soap variants – Turmeric and Saffron. As you might know, I have extremely dry body skin and when it comes to bath & body essentials I always try to pick products that aren't drying. So I picked this which is enriched with Cow's Ghee. Note that if you are into Vegan products, this is not for you as it contains milk derivative. Let's see what else it has got.
About Lever Ayush Moisturizing Cow's Ghee Soap: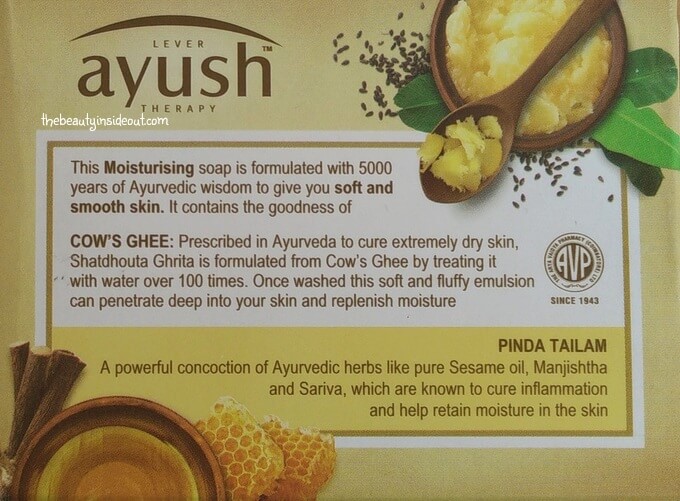 Explore entire Range of Lever Ayush Products HERE.
Ingredients of Lever Ayush Moisturizing Cow's Ghee Soap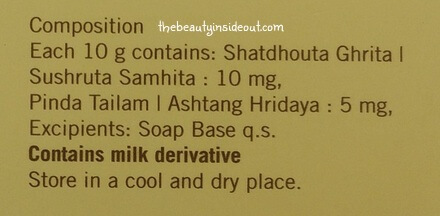 Priced at Rs.30 for 100 gm, it is a cost-effective soap. Buy from HERE.
My take on Lever Ayush Moisturizing Cow's Ghee Soap :
The machine-cut soap (yes it's commercial soap and not a handmade one) comes in an attractive yellow colored, biodegradable paper cardboard box. The imprints on the outer cover is indeed eye catching with a nice-looking bowl of ghee sketch.
The Lever Ayush Moisturizing Cow's Ghee Soap is a milky white bar that lathers really well and the foam it creates is a rich creamy one, similar to that of Dove soaps. The soap melts away very fast and I don't think that it'll last more than 15 days for someone who uses liberally. The soap washes off easily and cleanses the skin effectively without leaving any soapy or slippery residue behind.
Personally I don't expect a soap to moisturize my skin, as soaps are meant for cleansing and not moisturizing. The only reason I reach out for 'moisture' in my bath essentials is because they won't dry out and make my skin itchy and stretchy. This soap definitely does not dry out my skin and it leaves my skin soft and smooth. It did not cause me any skin irritation or itchiness. In terms of efficacy, I found this soap to be good. But what concerns me the most is the lack of ingredient list and the fragrance. The ingredient list is vague with only a three or four components mentioned and what forms the soap base is upto our own imagination. And the fragrance! The soap gives off a mild fragrance when bathing and does not linger post washing. But when I closely inhaled the bar I could get that pungent detergent scent which is really disturbing and this is the only reason why I would not recommend this soap, for what goes inside is really unknown.
Pros:
Nice packaging.
Affordable price.
Enriched with Cow's Ghee and Pinda Thailam.
Produces creamy rich lather.
Cleanse the skin effectively and efficiently
Makes the skin soft, smooth and nourished.
Does not dry out the skin.
Cons:
Peculiar fragrance.
Missing Ingredient list.
Melts away really fast.
Rating: 3/5
If you are into commercial soaps and don't mind the missing ingredient list and fragrance, you might want to try this as it leaves your skin clean, smooth and nourished. As for me, there is no place for this soap in my bath shelf!
That was all about Lever Ayush Moisturizing Cow's Ghee Soap. Have you tried this? Share your thoughts in the comments section below.
Also check out:
Until Next Time,
Stay Beautiful♥