Groomed hands and feet is not just a beauty cue, it is also a way of staying presentable and maintaining basic hygiene. Untrimmed nails, dry and scaly hands, cracked heels… none of these are desirable. They might damage the skin of your delicate hands and feet to make them look more aged than you actually are. Many of us make frequent salon visits just for a hand and feet makeover. It is also considered a must-do for all would-be brides. Salon manicures can be quite relaxing. But, in this pandemic situation, it is not at all safe even if you are opting for the best salon. Do you think manicures and pedicures should be left to the hands of trained salon professionals? No dear, that's not the case. Even you can conjure up a really pretty manicure or pedicure without anybody's help. Here's a Checklist for a Basic Manicure Pedicure Kit. Believe us, you can get any kind of manicure, from glittery bridal to classic office-wear, with just these products!
1. What Does A Manicure Pedicure Kit Include?
Every mani-pedi session starts with a relaxing hand and foot spa. Salon people generally have dedicated spa kits for this. They offer you different options like fruit spa, tan clear spa, sea-mineral spa. I only do manicure-pedicure at home so I use VLCC Manicure-Pedicure Kit which is easily available in the market. You can also customize your Manicure Pedicure Kit with products you already have in your personal care stash. Let's check out how you can do that.
Some of the Best Manicure Pedicure Kits To Buy Are: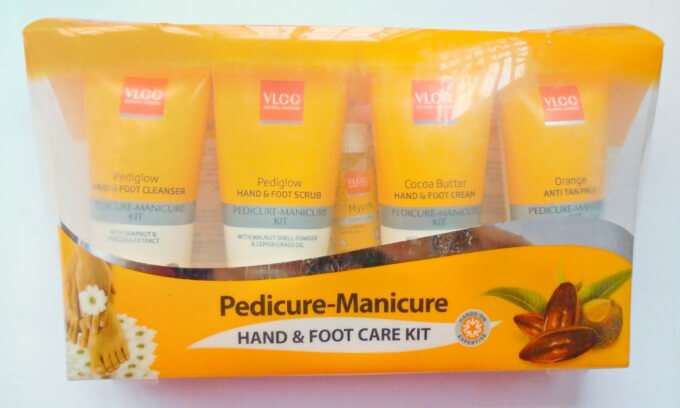 Cleanser: Cleanser is a much-needed product in hand and foot spa. You can't skip this step. You can use any mild liquid cleanser you have. If you have an unused face wash, your everyday shower gel, or a little bit of shampoo, you can use it as your cleanser. Take half a bucket of water and add 2 tablespoons of cleanser. Dip your hands or feet in it for 7-10 minutes. It will loosen the dead cells and calluses while relaxing tired muscles.
Scrub: This is the second step of hand and foot spa. A scrub exfoliates hands and feet, softens, and helps to get rid of calluses. Cream-based face scrubs work nicely as any hand and foot scrub. Just make sure, the scrub granules are coarse enough to exfoliate the thick skin of your feet. If your scrub is not gritty, add a little salt or sugar to it. You'll get an effective spa scrub for yourself.
Massage Cream: Our hand and foot skin do not have enough oil glands. Most of the time, our hands and feet turn rough and callused because of dryness. So, massaging once in a while with a deeply nourishing moisturizer is necessary for baby soft hands and feet. You have plenty of options to customize your spa massage cream. Use thick and greasy cold creams or any natural oil (coconut, olive, almond anything will do). You can even use the same massage cream as a cuticle softener.
2. What Tools Do I Need For A Manicure And Pedicure?
Let's talk about the essential tools for our mani-pedi kit now. We need certain tools and brushes to use through our hand and foot spa process. Here are the tools I use. You can add or opt-out according to your need and preference.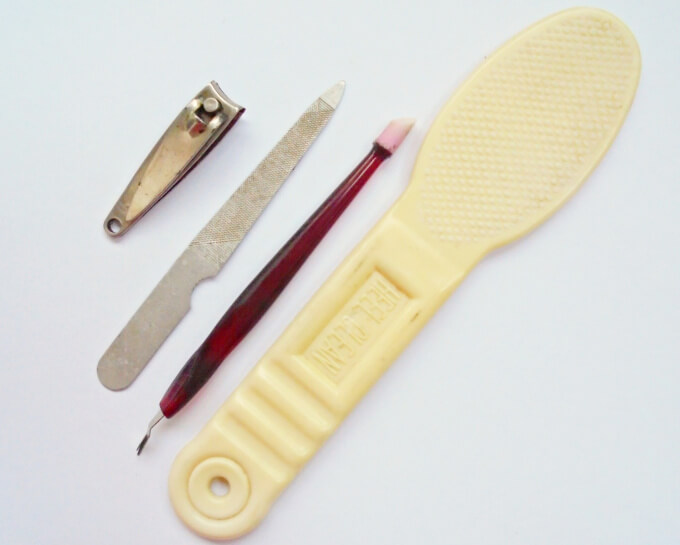 Nail Paint Remover & Cotton: Every manicure or pedicure session starts by removing traces of old nail color with a nail paint remover. Chipped nail paints do not look cool at all. That's the reason nail paint removers are one of the most common beauty products you'll see in anyone's dresser. Nail paint removers are basically the acetone-based volatile liquid that dissolves the base ingredients of your nail paint. Acetone can be quite drying for your nails. Frequent use of acetone-based nail color removers has other health hazards as well. Go for acetone-free moisturizing nail paint removers from reputed brands. You'll also need some cotton balls or cotton pads to use with nail paint remover.
Pumice Stone/ Scrubber Tool: Pumice stone or scrubber stick is a must for those having hard scaly calluses or rough foot skin in general. These stones are available in various shapes; choose what fits you. You can also try scrubber tools. They are plastic sticks with a pumice stone or sandpaper glued to them. I use a flat scrubber stick at the time of exfoliation.
Nail Brush: Nail brushes are synthetic bristle brushes to get rid of accumulated dirt and dead skin around your finger and toenails. This is a must-have if you keep long nails. This brush helps a lot to keep your nail clean. No worries, if you don't have a dedicated nail brush around. You can easily get away with a good quality toothbrush. Toothbrushes have similar making and they are equally effective at nail cleansing.
Nail Clipper: A good sharp nail clipper should be there in everyone's basic personal care kit. Nail clippers are mainly used to reduce the length of nails. You can even use it for shaping the nails with a little practice. I rarely use a nail file for nail shaping; the nail clipper does both shapings and trimming for me.
Nail File: Nail file comes in many sizes, shapes, and types. With nail files, you can shape your nails as per your liking. Salon people use nail files to give you that clean round or straight manicures. You can easily do that on your own nails. Buy nail files with buffer edges. Buffer smoothens out nail ridges and makes your nail paint shinier.
F. Cuticle Pusher: Cuticles are dead cells accumulated around the base of your nails. Thick layers of cuticle give an unpolished look to your nails. That's the reason salon people often cut them out during manicures. Cuticles give strength to our nail bases, so dermatologists won't suggest you cuticle cutting for aesthetic reasons. Instead of cuticle cutting, you can push your cuticles back. This way you get more space on the nail bed for nail paint. Keep a soft rubber cuticle pusher. Gently push back your nails with it after hand scrubbing but before the cream massage.
3. Last Step Of A Perfect Manicure Pedicure Session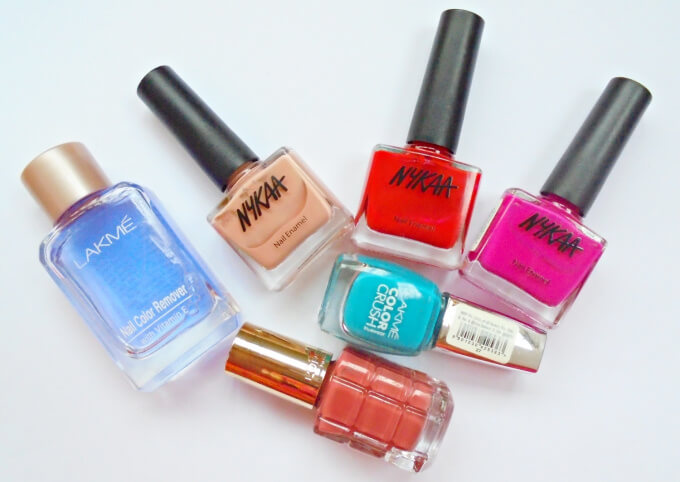 Nail paints are crucial for any professional-grade manicure-pedicure session. We ladies love nail paints. Every one of us has a considerate nail paint collection in our home. There are gazillions of brands that offer different shades and finishes. Unbranded nail paints often contain harmful chemicals such as phthalate. Choose your nail paints wisely. Look for good quality nail colors with long-lasting chip-resistant formula. Keep 5-6 basic colors in your manicure kit. I personally keep one bright red, one pink, a neutral color, a pink-nude, and one glitter topcoat. Glitter topcoats have better lasting power. They have a festive vibe that I love. I also keep a funky nail paint to match my mood. I am obsessed with neon blue these days.
That covers the basics of pampering yourself with a manicure-pedicure session at the comfort of your home.