First of all, let me Thank You all for showing immense support on this Brand Focus Series. I've been getting more reach on this series, which I am really happy about and thankful for from the bottom of my heart. Today I'm up with one of my favorite natural skincare brands – Just Herbs. I was an ardent fan of this brand, I still am. But since there has been a lot of new brands coming up in recent times, my blogger's mind influences me to check them out and sadly this wonderful brand has taken a back seat now. But still, I have a few more products on my wishlist from Just Herbs which hopefully I will try out soon. Anyways, today I am going to walk you through 7 Just Herbs Products that I have tried in the past, the ones that I liked and disliked? I wonder if there is any that I disliked. Let us see in this post. And please ignore those almost empty bottle pictures. As usual, this is going to be a super long and informative post, so grab your snacks and read on.
If you are skeptical about investing in Just Herbs Products, you can get trial-sized samples from Smytten App. Use my referral code: 2NYCU to avail of 6 trial points with which you can get 6 products by just paying the shipping cost of 200 INR (out of which 169 INR is redeemable).
Just Herbs Review: Best & Worst Products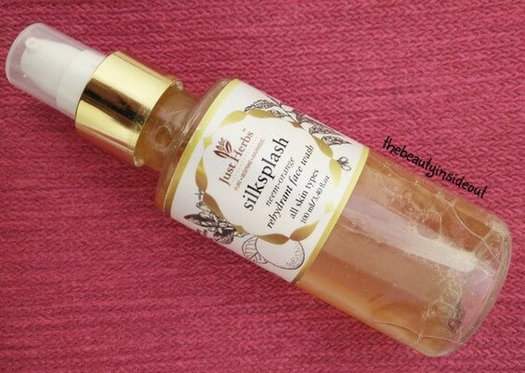 This is one of my favorite chemical-free face wash. It is a gentle, mildly foaming, everyday cleanser that cleans up the skin so well. The face wash has a semi-runny consistency and the presence of a pump dispenser makes it much easier to handle the product. Just two pumps are all I need to clean up my face and neck. The fragrance is also really nice, not strongly ayurvedic but at the same time, not chemical-ish. It is very subtle, refreshing, and soothing which instantly wakes up my morning mind.
Unlike most gel face washes, this does not leave a slippery residue, neither does it strip off natural oils from the skin. It cleanses leaving the skin rightly balanced, but still, never skip moisturizing is what I would say. This face wash is perfect for someone with normal to oily acne-prone skin. Although it doesn't claim to be one, this is a great acne control face wash and an alternative to those harsh acne cleansers. This face wash helped me to keep my frequent breakouts at bay whilst following a healthy diet at the same time. I believe the key ingredients Sandalwood, Neem, and Honey may be the reason for its wonderful acne-controlling ability. A must-buy product for me.
Rating: 4.7/5.
Where to buy? Amazon.in
Related brand reviews: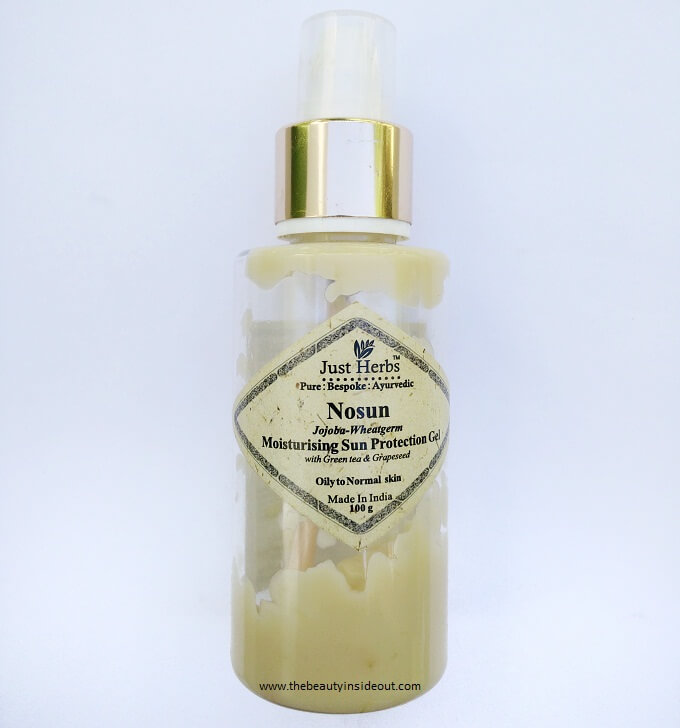 If you have been searching for a physical sunscreen in India, here is one for you. This Just Herbs Sunscreen has Zinc Oxide as its key sunscreen ingredient providing adequate sun protection. Since it's a natural sunscreen, we aren't sure of its SPF and broad-spectrum coverage. I have used this in all seasons, and I would say this best for someone who needs an indoor sunscreen and is not exposed to too much sunlight. Its sun protecting abilities is definitely not sufficient for beach outdoors vacations. I haven't faced issues of sun tanning or sunburns with this.  What I like the most is its formula; it's really nice and skin-soothing. This is basically a light gel cream-based sunscreen that quickly vanishes into the skin. It leaves no white cast or whatsoever and looks like I have nothing on my face. Just a well-hydrated supple skin.
Since this sunscreen doubles up as a moisturizer, you don't have the need to apply an extra moisturizing product. I normally cleanse, tone, and then apply this straight. During summers I like to powder up with a compact and during winters I am good to go without it. The sunscreen is light on the skin and does not clog pores. This is meant for normal to oily skin, though this would suit dry and sensitive skin types too. I would mainly recommend this as it's a sensitive skin-friendly, safe, physical sunscreen formulated without any harmful ingredients. It can be used all year round for minimal sun protection.
Rating: 4.6/5 (for the formula) 3.5/5 (for sun protection)
Where to buy? Amazon.in
3. Just Herbs LivelyClean Honey Exfoliating Face Cleansing Gel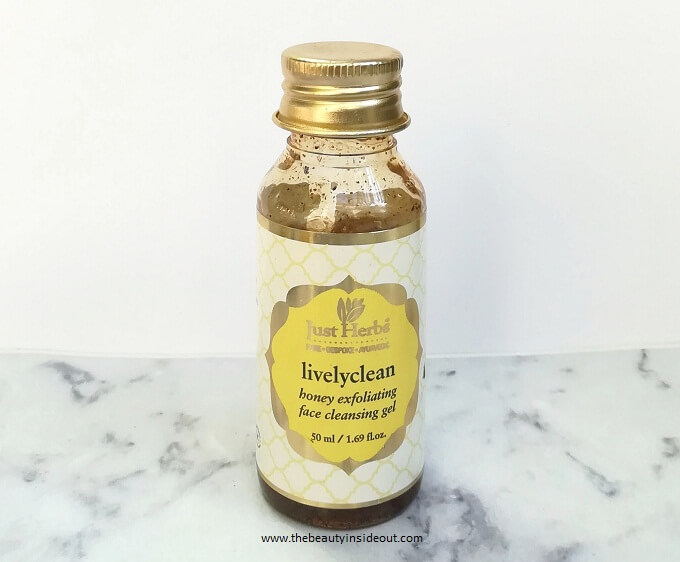 Physical scrubs tend to aggravate my pimples, so I mostly avoid them and use chemical exfoliants; mostly those products with AHA(Alpha Hydroxyl Acids). But this Lively Clean Exfoliating Gel is one of the rarest physical scrubs that suited my skin, next to the Biotique Scrub. The reason why I like it because it's gentle and not at all abrasive on the skin. It is a gel-based honey-like scrub with tiny particles(orange peel). It has a got a faint citrus scent that does not linger post-cleansing. The scrub cleans up the skin well and leaves the skin fresh and smooth like I have used a face wash. It is also easy to wash off and does not leave any residue behind. It's neither moisturizing nor drying on the skin. Due to its mild nature, this does not really work to remove blackheads, especially those stubborn ones on the nose area. This is an overall nice clean-up product but really not a must-have product, especially for people who prefer some great exfoliating action in their scrubs. This scrub is suitable for mild exfoliation and sensitive skin people.
Rating: 3.5/5
Where to buy? Amazon.in
4. Just Herbs Fagel Instant Glow All Purpose Beauty Gel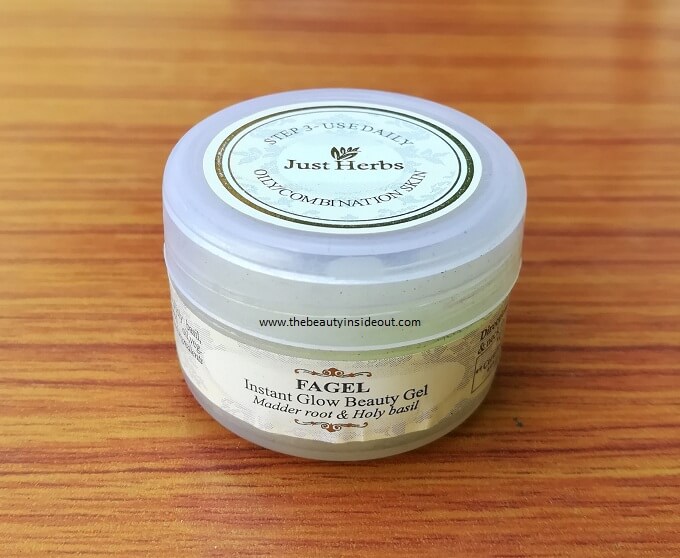 This is pure love! I had repurchased this twice already and it's simply amazing. Time flew and eventually, I got bored and stopped buying it. The other reason was also the price hike after GST. Earlier it cost around 300 bucks, and now it costs around 600. The product as such is really really good. This is supposed to be a massage gel that you can use to massage your face and then wipe off the excess. However, I used this as an everyday moisturizer after cleansing and toning. I don't wipe it and just leave it on. The gel has a perfect consistency, texture to provide balanced moisture and hydration to my skin. It is not at all sticky and gets absorbed within seconds of application. It does not make my skin oily or sweaty and never clogged my pores and broke me out. With continuous use, this gel made my skin healthy, radiant, and supple. When used as a massage gel using gentle circular strokes for 2-4 minutes, it noticeably brightens up the skin and imparts an instant glow. Above all, this has an exotic herbal scent of fresh roots that is fresh, and irresistible. I haven't found any cons with this gel except for the price. But I suppose the quality justifies the price and you also need only a little of the gel for each use, so the 100 gms easily last more than 2 months. This is one of the Best Moisturizers for Oily Skin in India.
Rating: 4.9/5
Where to buy? Amazon.in
Similar brand reviews:
5. Just Herbs Fairever Protein Fairness Pack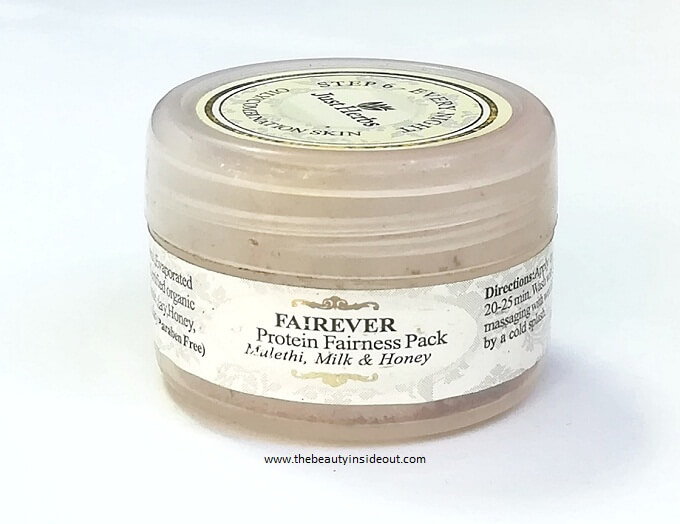 This is my least favorite among various Just Herbs Products. It's a muddy, clay-based face pack that is semi-wet and is supposed to be a ready-to-use pack. The texture of it is quite thick, so you can't really use it unless you dilute it in water or rose water, whichever you prefer. The pack dries off quickly and rinsing it off is similar to any other clay pack. Wet Sponge works better for removal, rather than directly rinsing. The results were pretty okayish, something that a basic Fuller's Earth Face Pack gives. It deeply cleanses the skin and leaves the skin dry post-cleansing. Oily Skin types may like it as it controls oil very well and leaves the skin shine-free and oil-free. The face pack also tightens the pores and gives a bit of glow and brightness that lasts for a day. Overall, this is just another face pack that gives a refreshed feel, whose results are the same as using a 10 rupees Muthani Mitti Pack. I wouldn't recommend spending on something that gives average results.
Rating: 2/5
Where to buy? Amazon.in
6. Just Herbs Rejuvenating Beauty Elixir Facial Serum With Gotukola Indian Ginseng
This is one of the raved Just Herbs Products. But my first impression with this serum didn't go well for me, so this was just lying unused for extra few months before I started using this. The major reason for my aversion to this serum was its fragrance. I wouldn't say it's bad and intolerable but was definitely not my cup of tea. This smells peculiar to me and the texture is also something different. It looks oil-based, but in actual it's water-based with an uneven clumpy consistency. The color is also distinct. Initially, it was pale mustard yellow colored which eventually turned a bit brown as days went by. It may be due to oxidation which may have occurred due to opening the bottle for each use. But then, I am convinced that it is normal for certain natural ingredients to change their color without altering their effectiveness. So I started using this in hope that it will benefit my skin.
Whenever I used this, mostly at night, this moisturized and hydrated my skin adequately. It is suitable for oily skin types, as it doesn't make skin greasy and gets absorbed quickly. The serum takes a long time to show actual results of nourishing and restoring glow and youthfulness(its claim). I was able to see a little difference in my skin texture when I was a little over finishing up the bottle. While finishing this up, I was still a bit neutral about this product. I do not dislike this product as such but at the same time did not love it as well, mainly due to its slower results.
I would recommend this as a beginner serum to someone who is in her mid-twenties. It would work great as a nice anti-aging product delaying signs of aging such as fine lines and wrinkles while imparting a natural youthfulness and glow when used continuously for a minimum period of one month. This wouldn't make the cut for mature skin and is strictly for below '30s.
Rating: 3.9/5
Where to buy? Amazon.in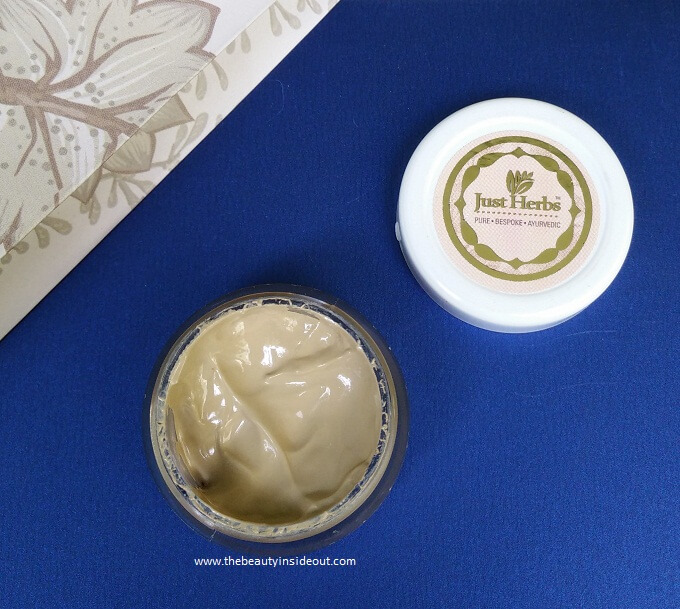 Call this a Tinted Moisturizer or a BB Cream, Just Herbs calls this as Skin Tint, a part Skincare part Makeup product. Available in five shades, the Skin Tint has a nice, smooth creamy texture that is very easy to apply. It blends easily into the skin and gives a second-skin-like feel with its semi-matte finish. The Skin Tint is light and comfortable on the skin. It does not cling to dry patches, in fact, it moisturizes the skin without making the skin greasy, hence can be universally used by all skin types.
As it is meant for a No Makeup look, the coverage is not high. It would not cover marks, spots, dark circles, etc. It does even out the skin tone and blur out pores giving smoother skin. Someone with naturally no skin imperfections will love the finish of this. It makes your skin look radiant and presentable. The product also claims to provide broad-spectrum UV protection which is an added plus. The fragrance is the only thing that might be a bother who has an aversion to ayurvedic fragrances. This is made with a lot of herbs so it has an earthy, muddy, herbal fragrance which I am not a fan of. Some of you may like it, but I don't enjoy it much. Overall, I would suggest giving it a try if you are looking for an Organic BB Cream or Foundation that acts as a both skincare and makeup product. It is available as a sampler kit, so you can get them and test them. If it suits you, you can a day get the full-sized version. Check out the Swatches of all 5 shades of the Just Herbs Skin Tint.
Rating: 4.5/5
Where to buy? Amazon.in

Final Thoughts on Just Herbs Products
If you are into clean beauty, this is one of the toxin chemical-free skincare brands that I would recommend checking out. None of their products have broken me out at any point in time. And I love the fact that Just Herbs is very transparent about what goes inside their products, unlike the Luxury Ayurveda Brands – Forest Essentials and Kama Ayurveda who fail to mention their inactive and preservatives used. My most recommended Just Herbs Products are the Fagel All Purpose Beauty Gel, Silksplash Face Wash, Skin Tint, and also Sunscreen. The Face Pack is totally skippable and the other two products were pretty decent. If you are going to be a first-time Just Herbs user, I would recommend checking out their 6 Step Organic Skincare Regime Kit, in which you get 6 deluxe-sized products to get an idea about the brand. This kit is available in two variants – for oily and dry skin types. So you can choose the one according to your skin type.
There comes the end of this post, I hope this review was helpful for you in choosing Just Herbs Products. Share your thoughts on this brand in the comments section below and if you truly find this post useful, do share it with your friends and family.