Biotique is not a new brand, rather it has been around for more than two decades. Biotique is an Indian brand whose products are formulated based on ayurvedic recipes, taken from authentic and original Veda texts. Their packagings always have the statement 'This is not a cosmetic product. It has therapeutic properties.' It also claims to be 'Organically Pure & Preservative Free, Dermatologically Tested for Safety, No Animal Testing. This sounds too good to be true, especially when it comes from a brand that doesn't mention its complete ingredient list! Duh! Anyway, let us see in-depth about how various Biotique Products performed on my skin and hair. As usual, all the products are purchased by myself and are not sponsored in any way. Let's begin.
10 Biotique Products Review
1. Biotique Soaps – Bio Almond Oil & Bio Basil Parsley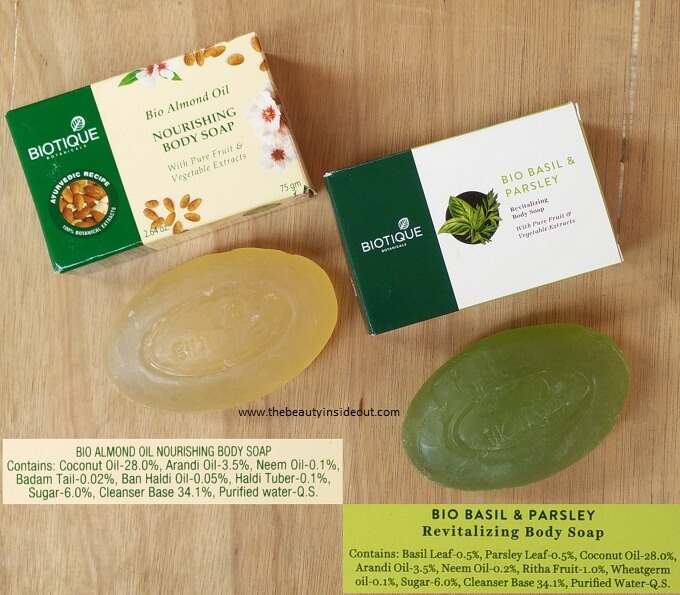 I wasn't aware that Biotique had Soaps until I saw them in the department store that I visit often. Certainly, I knew these weren't handmade soaps, so I thought to give them a try, just like other normal soaps.
I bought two soaps, Biotique Bio-Basil & Parsley Soap and Biotique Bio-Almond Nourishing Soap. Both of them are glycerin-based soaps and perform more or less similar. Out of the two, I like the Parsley Basil Soap more due to its refreshing smell of herbal plants. This beautiful fragrance also lingers post-cleansing. On the other hand, the Almond Soap has a very faint almond scent, which vanishes soon after the shower. Both the soaps lather mildly yet cleanses the skin effectively without causing much dryness. I did not face any itching or bad reactions after using these soaps.
Generally, I do not bother about the claims of any soap. Soaps are supposed to cleanse my body and yeah if they do not dry out my skin, that's an additional plus for me. Analyzing the claims of both soaps:
Bio Basil & Parsley Revitalizing Soap: It is nourishing but is not moisturizing enough. I still need a body lotion to go after. And it does not disturb the skin's natural pH balance.
Bio Almond Nourishing Body Soap: It nourishes and leaves skin soft and smooth. But the claim to combat ringworm, scabies, and dermatitis is a bit exaggerated.
Overall, these are average glycerin soaps that are highly priced.
Rating: 3.5/5 (Basil) 3/5 (Almond)
Where to buy it? Amazon.in
2. Biotique Bio Morning Nectar Flawless Face Wash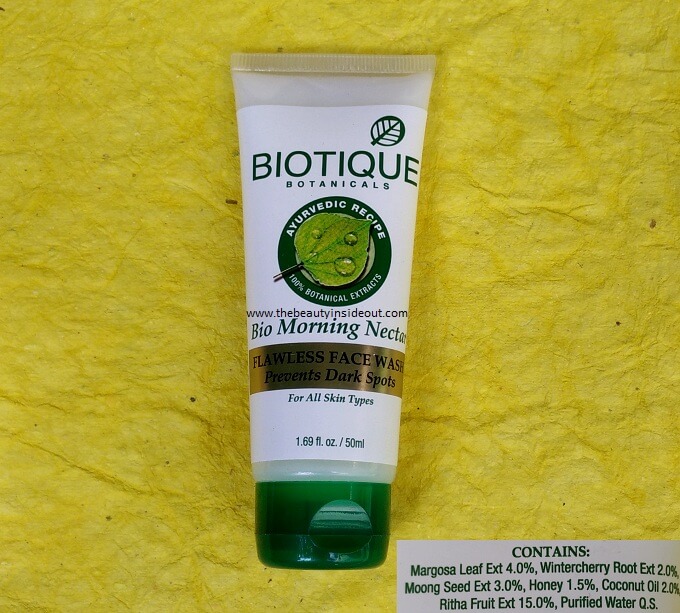 Biotique has a wide range of face washes, targeting different skin types and skin concerns. I chose to buy the one from the Bio Morning Nectar Flawless Range as its skin lotion is quite popular, so I thought this would be a good buy.
The Biotique Bio Morning Nectar Flawless Face Wash has the look of a cream-based cleanser but it has the feel of a gel face wash. The face wash is white in color and has a glistening appearance. It has a lotion-like consistency, that is towards the runny side. The fragrance is quite strong with floral notes. I could relate it to a shampoo that I used years ago.
The face wash lathers moderately, cleans the skin from dirt and grime, leaving the skin smooth and soft. It leaves a slippery residue upon washing, which is a trait of some gel cleansers. That is also the reason why the skin doesn't feel dry and is left hydrated. Someone with dry skin types will like this feature. Myself, I don't like face washes that tend to leave such slipperiness.
The face wash is mild and doesn't give that squeaky clean, purified effect when my skin is loaded with junk and oils at the end of the day. This is a gentle morning cleanser suitable for most skin types. I have finished this tube of face wash and as for its claim of preventing dark spots, it might be true to a certain extent. But this doesn't really work on existing pigmentation spots if that is what you're looking for. This also claims to visibly lighten and brighten complexion which it doesn't, except the slightly brightened and fresh-looking skin immediately after cleansing. The brightening effect is also not that great as compared to other face washes I have tried.
Overall, this is an affordable, mild face wash that leaves the skin hydrated and supple.
Rating: 3.8/5
Where to buy it? Amazon.in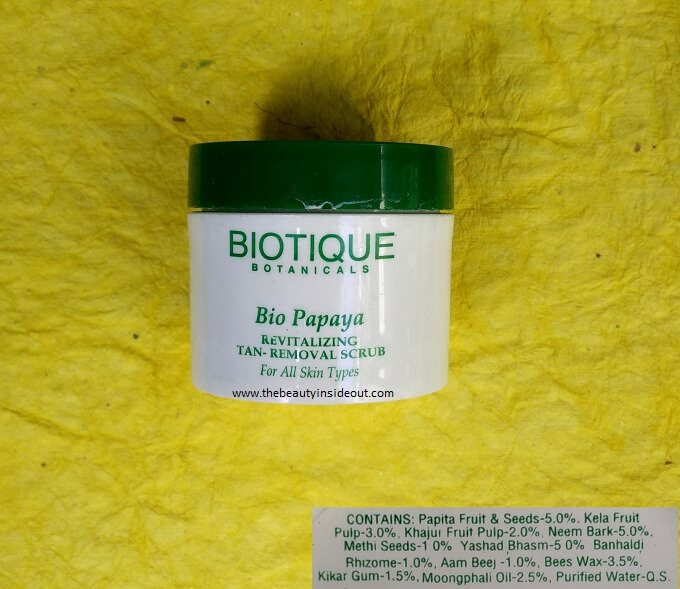 This is one of the best Biotique Products and my favorite too. I use this as a face scrub, body scrub, and foot scrub as well.
Biotique Bio Papaya Tan Removal Scrub is a cream/clay-based mask with an ample amount of tiny scrubbing particles. The particles are slightly harsh, hence would be loved by those who love some great exfoliating action. Due to its thick texture, I apply this either on damp skin or add in a few drops of water before scrubbing. Otherwise, it gets difficult to spread. I require only a dollop of the scrub for my face and neck. I massage it using a light hand for 2 mins or less and then let it sit on my skin for 5 more minutes. Rinsing it off is easy and I'm always left with smoother, clearer, and brighter skin. It instantly lifts up dull skin, deeply cleanses the pores, and removes blackheads on my nose to a great extent. The scrub does not dry out the skin, rather hydrates and leaves it supple.
As for Tan Removal, this does work. It removes fresh tan in a couple of uses and takes longer for a stubborn tan. Since too much exfoliation might damage the skin and this being a harsh scrub, I would suggest limiting it to one time a week on your face.
This scrub also works amazingly well as a foot scrub and body scrub. It effectively removes callus from my heels and leaves it immensely smoother. If you are skeptical about using this on your face, just get it as a foot scrub. You will love it.
Overall, this is a highly recommended product from Biotique, that stays true to its claim of removing tan.
Rating: 4.9/5
Where to buy it? Amazon.in
4. Biotique Bio Coconut Whitening and Brightening Cream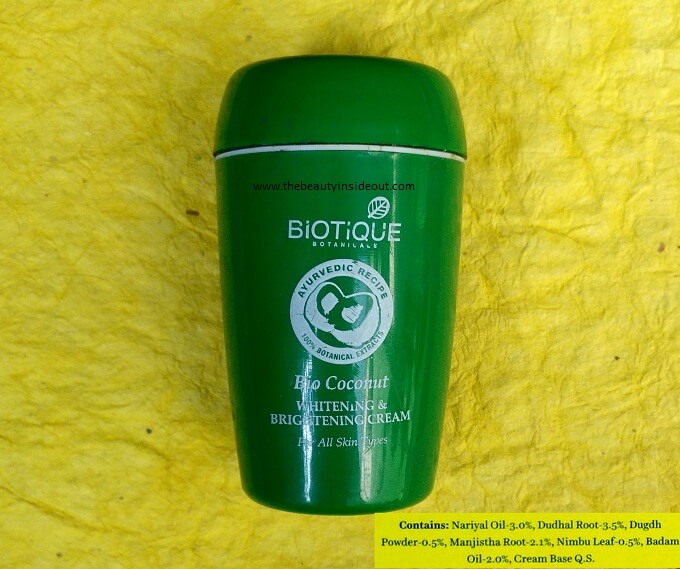 This was purchased by my mom long back, hence the older packaging. Biotique Bio Coconut Whitening and Brightening Cream was the first Biotique product in our household to be precise. It was recommended by one of the SA's in the Health & Glow center when my mom had enquired about products that would help with her pigmentation spots.
It should be noted that it contains Coconut Oil which is comedogenic, hence it is likely that it will break you out if you have acne-prone skin. My mother has dry and mature skin, so that wasn't a major hindrance for her.
The product is milky white and has a dense, fluffy, elastic texture. The cream is thick but has good spreadability due to the presence of oils. She used it during the nights as she felt the formula to be heavy for daytime use. Remember she has dry skin!
In the time span of using it for two months, she did not see any reduction in her pigmentation spots. However, it did slightly brighten up her overall skin tone. The cream also provided her the needed moisture and hydration. Every morning her skin would be highly nourished rather than dry.
Overall, this worked well as a moisturizing night cream for her dry skin. But did not work to lighten her spots. This cream is strictly for dry skin types, so oily skin types, don't even bother to try this.
Rating: 3.6/5
Where to buy it? Amazon.in
5. Biotique Bio Carrot Ultra Soothing Face Lotion SPF 40+ UVA UVB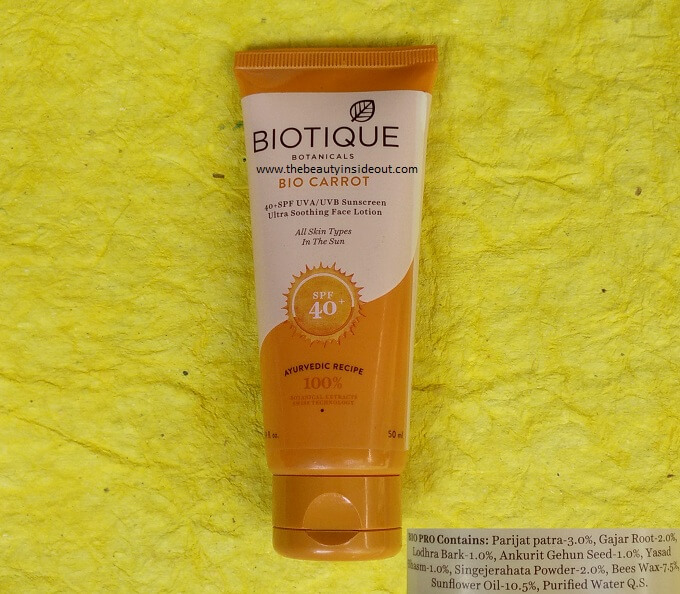 When I bought this months ago, I didn't check for reviews if it would suit my skin type. The description said it is meant for all skin types and I picked this on the verge to fill up my cart to avail free shipping.
This is a lotion-type sunscreen whose formula is perfect for someone with dry skin. The sunscreen has high amounts of Sunflower Oil, which is a comedogenic ingredient and a big No for acne skin. I tried it on my face only once and I was right. The sunscreen is highly moisturizing and leaves my face greasy. So I used it on my body as it serves as a body moisturizer plus sun protection for me. When used on my extremely dry body skin, I couldn't feel any stickiness and my skin felt moisturized and healthy. The sunscreen has broad-spectrum SPF 40 UVA/UVB which is really good for our weather. In any case, it is ideal to re-apply your sunscreen every two hours.
In short, Biotique Bio Carrot Ultra Soothing Face Lotion is not suitable for all skin types as claimed. However, due to its highly nourishing formula and high SPF, dry skin types can give it a try.
Rating: 3.8/5
Where to buy it? Amazon.in
Looking for other Brand Reviews?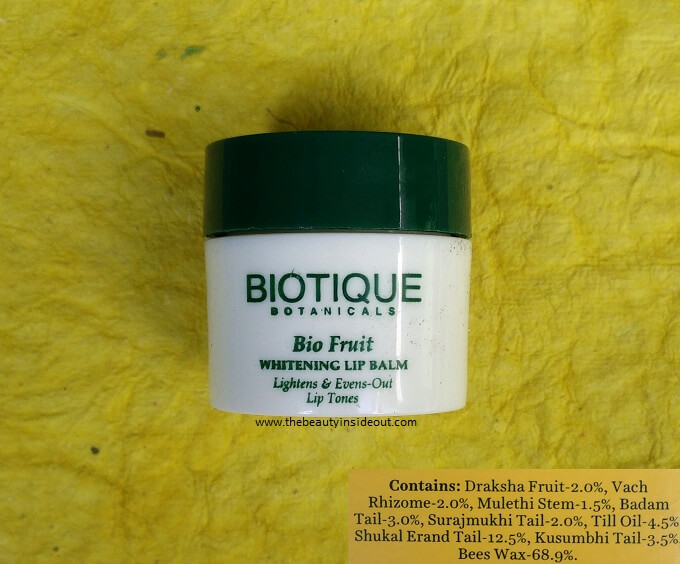 The first thing one will notice in this lip balm is its bubble gum like fragrance. It's quite loud yet does not bother me. But I guess, some will not like its scent. Because someone nearby you are surely going to get a hint of the smell. The tub packaging would also score a negative point from those concerned with dipping their fingers in the tub each time.
Coming to the formula, the lip balm is orange colored and beeswax-based which feels quite thick and heavy on the lips. Certainly, it is highly moisturizing and nourishing on the lips. I use this only during the night, mainly I wanted to get over it sooner, also because of its dense texture. This lip balm cannot be used under lipsticks as it interferes with its application. It also lacks SPF which is something that most of us look for when used during the day.
Most important of all, this does not stay true to its claim of lightening your lips or even out your lip tones. I would never recommend this product.
Rating: 2/5
Where to buy it? Amazon.in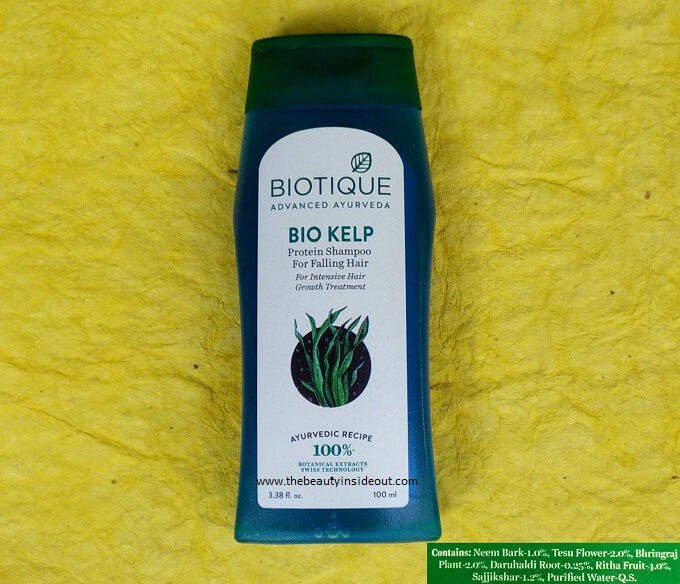 If you are planning to get this shampoo thinking that this would prevent hair fall, I advise, Please stay away from this shampoo. This is one of the worst shampoos I have tried in recent times. It caused me a lot of hair fall. Not only that, I developed scalp acne and dandruff after using this. Too bad.
Biotique Bio Kelp Protein Shampoo is bright blue in color and has a peculiar fragrance. Both of which do not give a 'natural product' vibe. The shampoo lathers mildly and gives a cooling sensation upon washing. It rinses off easily cleaning the hair well. It removes oils at one go and eventually dries out my hair. Hair conditioning becomes mandatory with this shampoo as it causes frizz and dry ends which leads to more tangling and more hair fall.
Overall, this shampoo did more bane than being a boon for my then good hair. Totally not recommended!
Rating: 1/5
Where to buy it? Amazon.in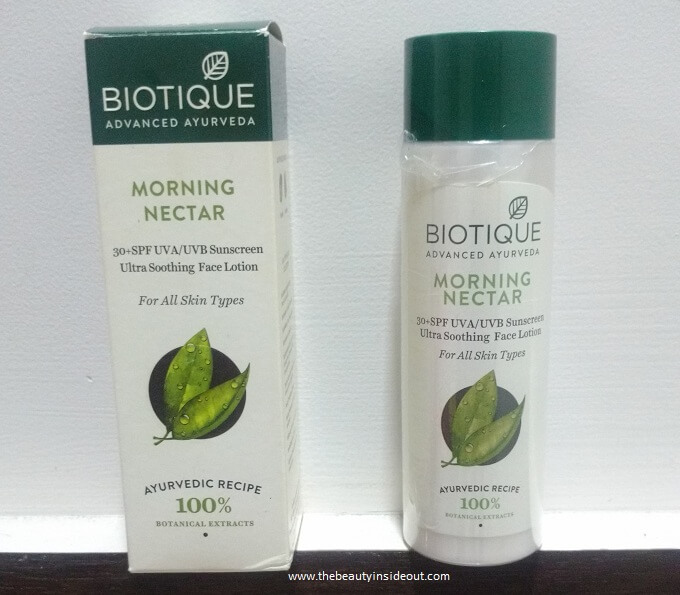 The Biotique Bio Morning Nectar Ultra Soothing Face Lotion is a nice herbal lotion with SPF. Its texture is that of a smooth lotion and a tiny bit of it is enough to moisturize the skin. For my oily skin in summers, I found this to be a bit heavy and greasy, so I used it on my body. But on the other hand, the lotion was well hydrating and not at all greasy during the winters when my skin was dry. I would say if you have normal to dry skin and are looking for an affordable 2-in-1 moisturizer having SPF, then this one is a must-try! It hydrates, moisturizes, and nourishes the skin well. The fragrance is herbal which dissipates into the air quickly, but the unique herbal fragrance may not be liked by all. Still, it's a great product for dry skin.
Rating: 4/5
Where to buy it? Amazon.in
9. Biotique Bio Apricot Refreshing Body Wash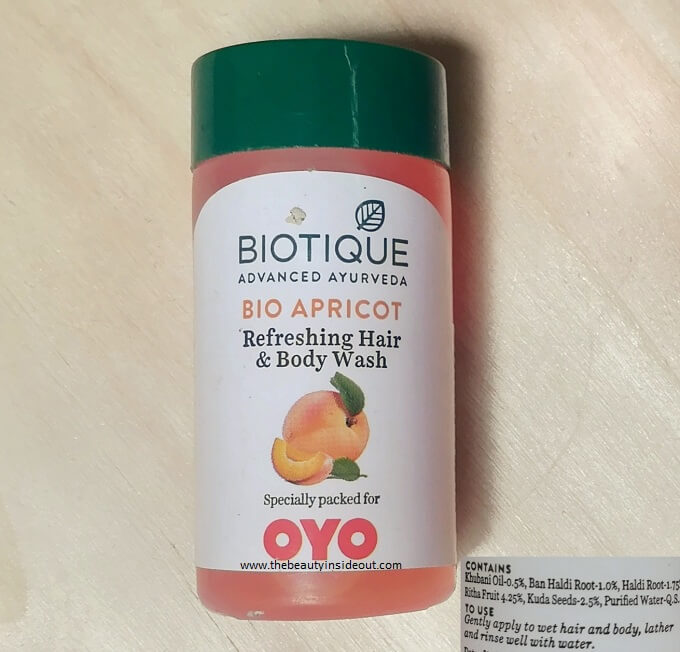 Biotique Bio Apricot Refreshing Body Wash is a soap-free gel-based wash. It contains Apricot Kernel Oil, Wild Turmeric, and Soap Nuts. Soap Nuts is a natural cleanser responsible for the mild foaming action and therefore it cleans the skin well by removing odor and impurities. The body wash does not make my skin dry or stretchy; instead, my skin feels soft and smooth. The body wash has got a refreshing fruity fragrance and makes you smell good after a bath. The scent does not linger for long though. Overall, it's a nice refreshing bath gel for the summers. It is also affordable and easily available. It also doubles up as a hair wash.
Rating: 4/5
Where to buy it? Amazon.in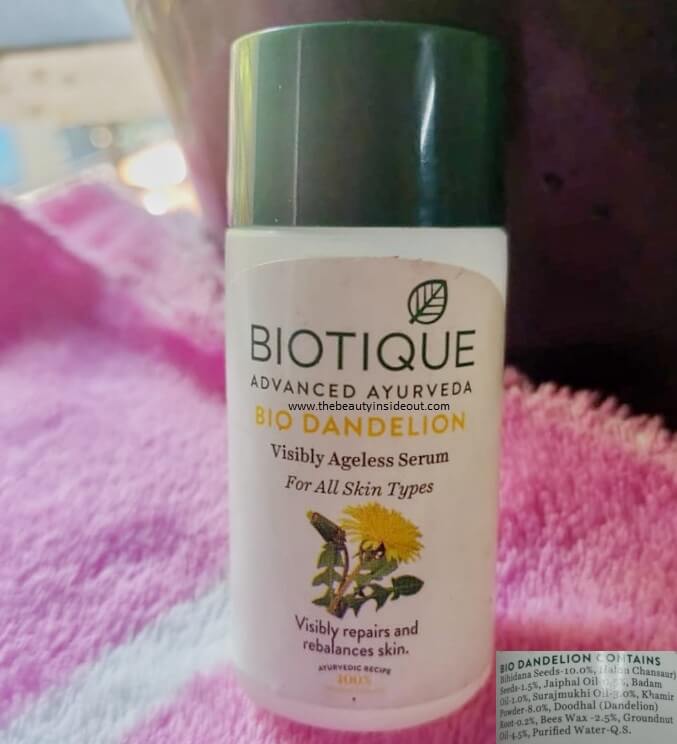 Biotique Bio Dandelion Ageless Lightening Serum is the best affordable serum in India. Usually, serums are expensive, but this one is cost-effective. Not only that, it works as well. Unlike most serums, this has a watery gel consistency that melts on the skin. Application is quick and easy and within few seconds this leaves the skin soft and hydrated. The serum is totally non-oily and non-greasy, perfect for all skin types. It gives a mild cooling sensation and calms down irritated skin. After having used it for 3 weeks, I can say that it helped to fade away from my pimple marks to a great extent. It also improved my overall skin tone and texture. The serum has a concoction of Vitamin E rich Dandelion and nourishing Sweet Almond Oil, Sunflower Seed Oil, and Nutmeg Oil. Hence the serum has a strong herbal fragrance which may not be liked by all. But since it's a chemical-free product I'm fine with that. The packaging is also a bit inconvenient to use. The bottle has just a small stopper hole through which the product comes and since it's lotion gel-like, you need to press the bottle in which the product sometimes comes out in excess. Other than the fragrance and packaging, the product is pretty good. For the price point, I would definitely recommend giving this a try. It's a great beginner-friendly serum that's cheap and effective.
Rating: 4.4/5
Where to buy it? Amazon.in
(Skip to) Quick Review of Biotique Products

| | | |
| --- | --- | --- |
| Product Name | Quick Review | Where to buy it? |
| Bio Almond Oil & Bio Basil Parsley Soaps | Decent Glycerin based soaps. Has a mild fragrance and cleans the skin really well. Fine to try it once! | Amazon | Nykaa |
| Morning Nectar Face Wash | Typical cream based face wash. It Lathers well, cleans well, makes you feel fresh and nice. | Amazon | Nykaa |
| Papaya Tan Removal Scrub | This is one of the best Biotique Products. It removes tan like nobody's business. I love this and have repurchased it twice. | Amazon | Nykaa |
| Bio Coconut Whitening & Brightening Cream | A rich cream that suits dry & mature skin types. Improves overall complexion with consistent use. Slow results though! | Amazon | Nykaa |
| Bio Carrot Ultra Soothing Face Lotion SPF 40+ UVA UVB | Since this has a slightly heavy formula for an oily face, I liked using it as body sunscreen. This doesn't leave any white cast. | Amazon | Nykaa |
| Bio Fruit Whitening Lip Balm | It doesn't lighten lips as claims. Other than that, this is a super thick, very nourishing lip balm that heals chapped & cracked lips overnight. | Amazon | Nykaa |
| Bio Kelp Protein Shampoo | Sadly, this did not work for my hair type. It caused me more hair fall as the shampoo was too drying. Wouldn't recommend it! | Amazon | Nykaa |
| Biotique Bio Morning Nectar Ultra Soothing Face Lotion | An affordable 2 in 1 moisturizer plus sunscreen, best suited for normal, dry & combination skin types. | Amazon | Nykaa |
| Biotique Bio Apricot Refreshing Body Wash | A very refreshing body wash made without harsh chemicals. Perfect for the summers. | Amazon | Nykaa |
| Biotique Bio Dandelion Visibly Ageless Serum | One of the most affordable serums in the Indian Market, that is quite effective in lightening dark spots as well. Highly recommended. | Amazon | Nykaa |
Looking for other Brand Reviews?
Final Thoughts on Biotique Products
Biotique is one of the oldest herbal beauty brands that I've to know, next to Lotus Herbals and VLCC. Like every other brand, Biotique has its own plus and minuses. On the plus side, Biotique Products come at an affordable price. They are also quite easily available both offline and online (at great discounts). On the negative, I believe this may not be a pure natural brand, due to the nondisclosure of the full ingredient list. Performance-wise, the Tan Removal Scrub, the Nectar Lotion, and the Ageless Serum are top-notch. The others were decent. I recommend trying out their skincare products. As for hair care, their shampoos are skippable. But you could try out their Bio Musk Root Pack. I used it when I was in college and I found it quite effective.
Do share your experience with Biotique Products in the comments section below.