You must be knowing how crucial it is to regularise a CTM Routine (Cleansing, Toning & Moisturizing), based on one's skin type. Today I'm up with a product that adds a boost to your existing skincare routine. Yes, its about serum. Serums usually contain concentrated active ingredients targeted to treat a specific skin concern. I bought this Biotique Face Serum from Purplle.com along with a couple of other products. This serum has a unique ingredient called Dandelion Extract that is meant to reduce skin inflammation and irritation while also increasing hydration and collagen production. This is what lured me into buying this. Well, plus it's budget friendly. In fact, this Biotique Dandelion Visibly Ageless Serum is the most affordable face serum in India priced under Rs.250.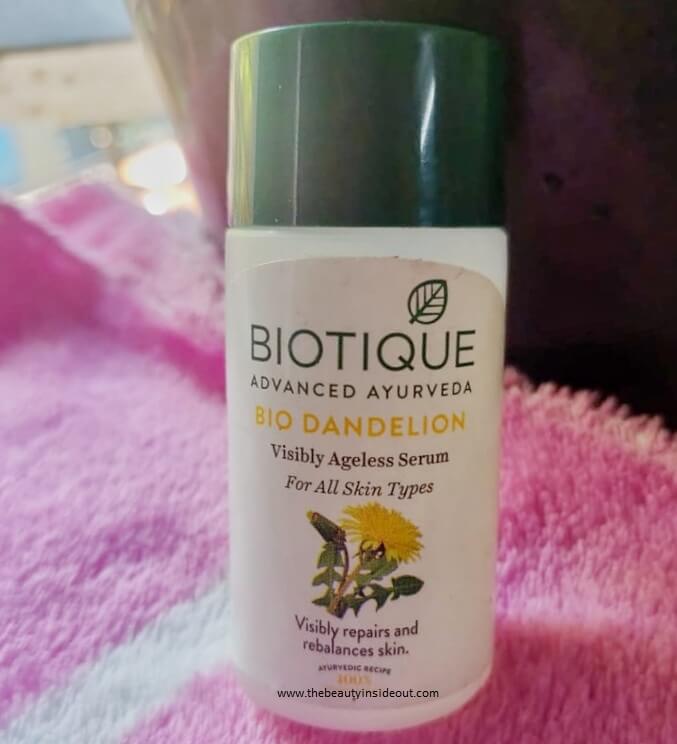 Product Description:
This lightening serum is a rare combination of pure dandelion, rich in Vitamin E and minerals, blended with nutmeg oil.  When used regularly, it helps brighten skin, fade dark spots and even ease away the wrinkles and fine lines for a flawless complexion is what the brand claims.
Ingredients:
Bihidana (Pyrus cydonia), Halon (Chansaur) Lepidium sativum), Jaiphal (Myristica Fragrans), Badam tail (Prunus amygdalus), Surajmukhi (Helianthus annuus), Khamir (Sacchromyces), Doodhal (Taraxacum officianle), Ground nut Oil, Hlmalyan Water Q.S.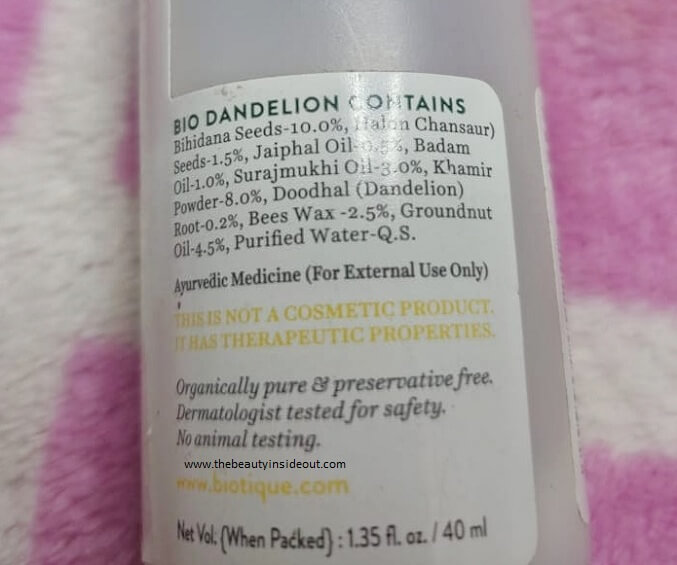 How to use Biotique Bio Dandelion Visibly Ageless Serum?
After toning your face with a Toner. Take a pea size amount of the serum on your two fingers.
Warm it, up in between your fingers so that the serum doesn't get absorbed by your palm.
Lastly, pat the serum on your skin for best results and then you can moisturize your face with your regular moisturizer. You may use it in the morning and evening.
Price:
Rs 690/- for 190ml
Rs230/- for 40 ml
My take on the Biotique Bio Dandelion Visibly Ageless Lightening Serum:
Packaging: The Biotique Bio Dandelion Ageless Lightening Serum comes in a basic plastic bottle with a green screw open top. There is no nozzle or pump in it, but just the wide opening of the bottle. The serum bottle comes with a box packaging which has all the details about the product. The ingredients are listed on the outer carton box as well as on the bottle which is really convenient. The brand has kept the packaging simple as well as informative.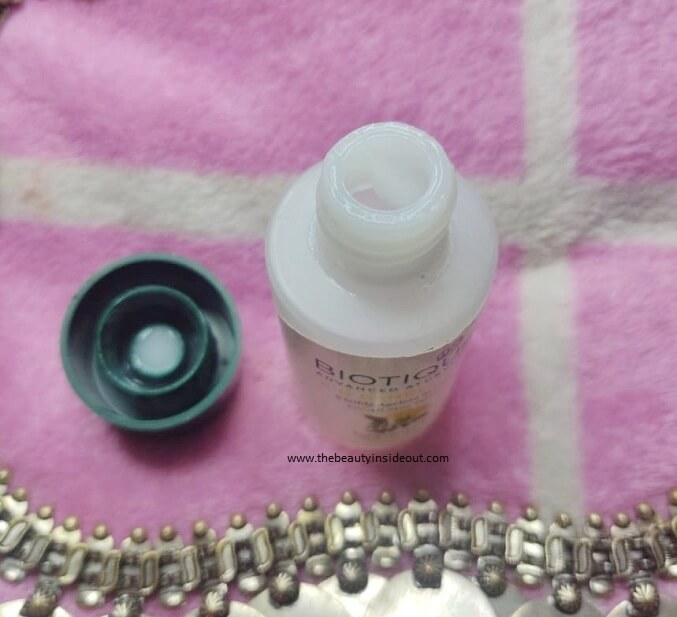 Texture: This doesn't have the typical serum consistency like those watery, thin serums. It has a white gel texture. It's not super thick gel, rather a lightweight semi runny gel that melts on contact with skin.
Fragrance: It's got a very minty herbal scent like all other Biotique Products fragrances. I am totally in love with this particular fragrance.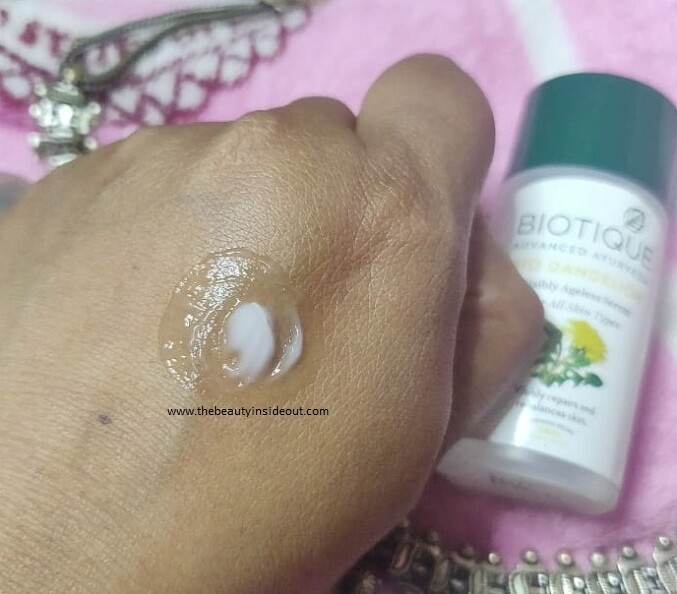 My experience: I have used this for a month and I totally love. It absorbs so fast and feels so comfortable on the skin. It's completely non oily and non sticky. Those with oily skin types will love such a formula. The serum is not very hydrating but it does remove dry patches if there is any. But since this is a serum, it is essential to follow up with a moisturizer, be it any skin types. The serum is such that it can be used by any skin type, any age group and anytime (both day and night). With regular use for 3-4 weeks, this gave me a healthy glow. It brightened up my overall complexion a bit and recent acne marks have gone lighter. The serum hasn't irritated my skin or caused me any new breakouts. It works well under makeup and with other skincare products without balling up.
Overall, I'm pretty much impressed with the serum. For the price, it justifies its performance. I would recommend this for beginners and those who are on budget.
Pros:
Small, Travel friendly packaging.
Claims to be an ayurvedic recipe.
Lightweight Gel based Serum.
Very comfortable and soothing on the skin.
Visibly lightens marks with consistent use.
Works as a day time moisturizer for oily skin.
No breakouts or irritations.
Can be used by every skin type.
Affordable and value for money.
Cons:
The bottle doesn't come with a pump.
Rating: 4.5/5
Would I recommend? Absolutely.
Where to buy? Amazon
Guest Author: Madumitha